This lightened up French Onion Soup has all of the taste of a traditional version, but not nearly as many calories.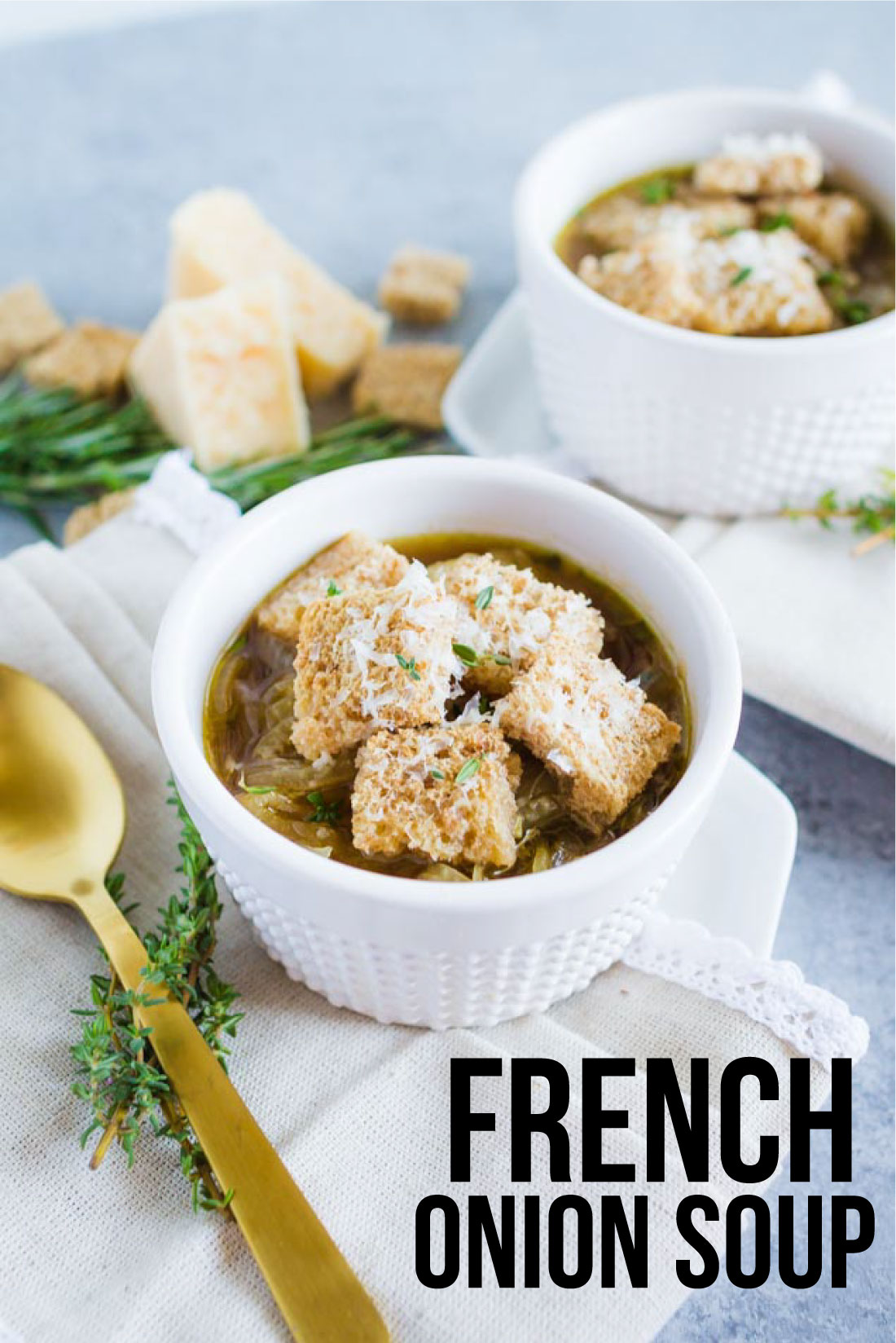 I'm a big fan of soup.  I would eat it for every meal if I could.  My family isn't quite the same… I've to convert them over the years.  French Onion Soup is one of my all time favorites because there is so much flavor.  But it usually has a ton of calories.  After my recent trip to Movara and tasting Roasted Pepper Soup, I knew this was worth a shot!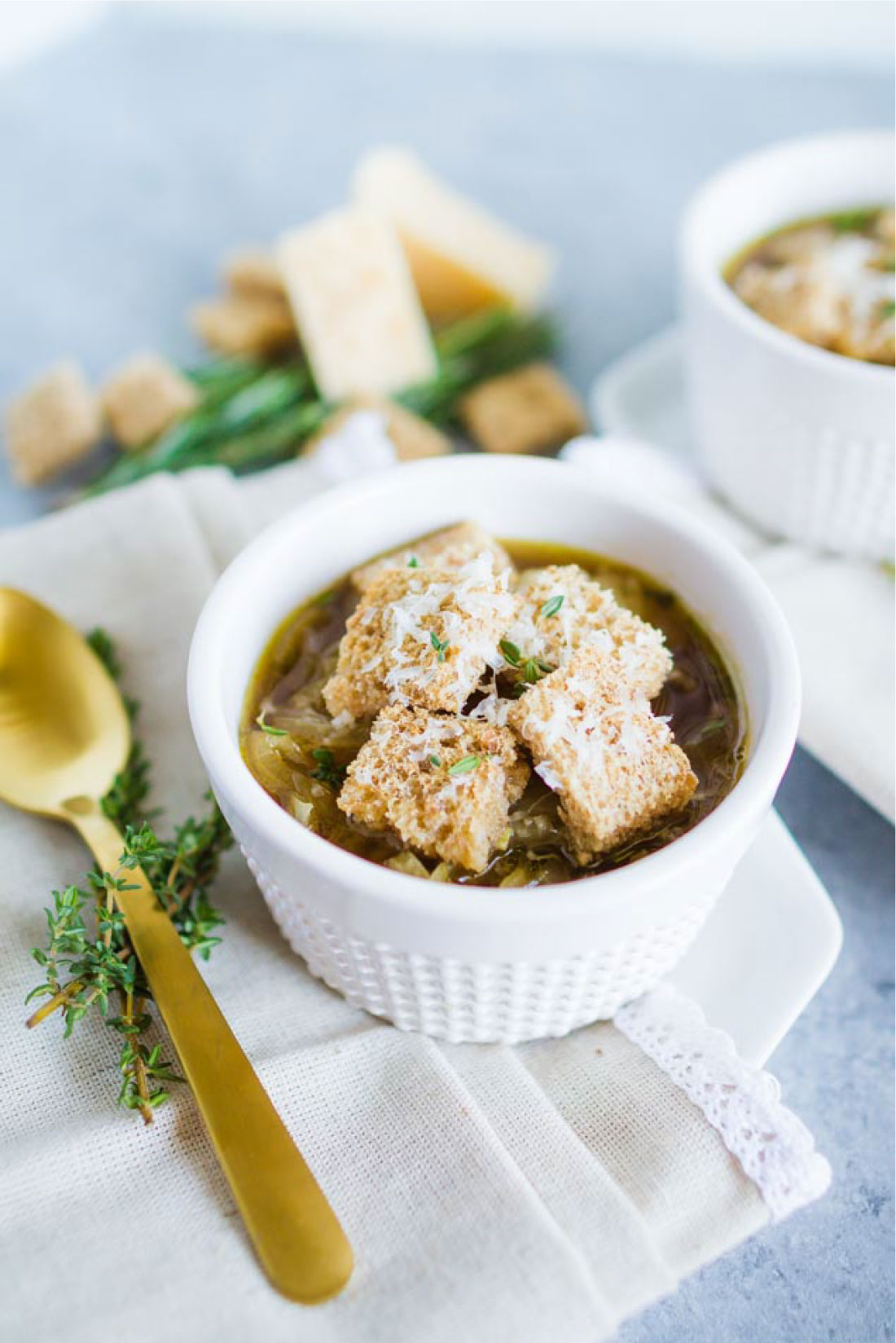 Doesn't it look so good!?  You won't even miss all the fattening stuff..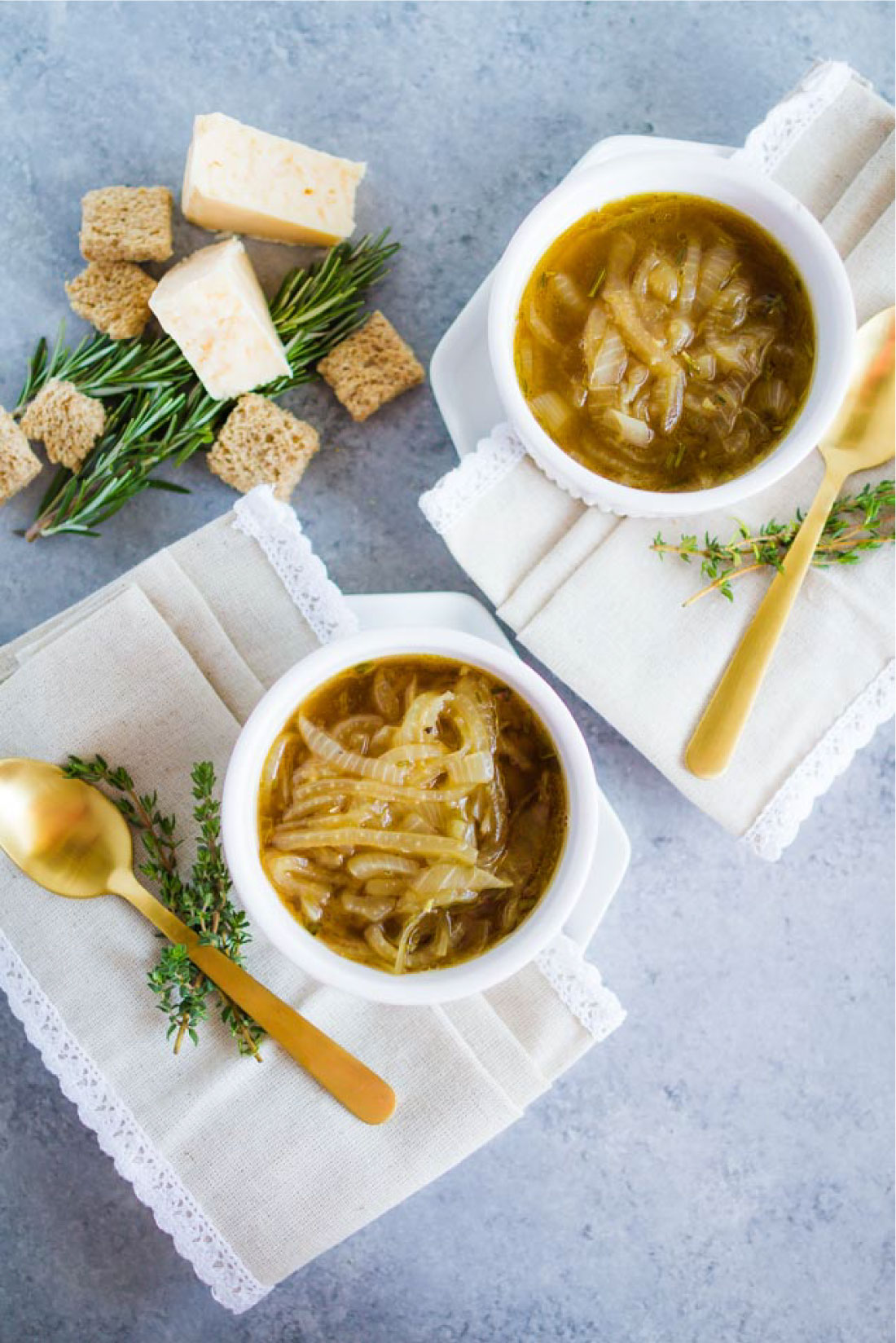 This is another one from the amazing Sam at Movara.

Lightened Up French Onion Soup
Ingredients
3 cups Vegetable Beef Broth or a low sodium beef broth
1 cup yellow onions, thinly sliced
1 tablespoon garlic, chopped
1 teaspoon garlic powder
¼ teaspoon black pepper
½ teaspoon sea salt
1 tablespoon corn starch + 1 tablespoon water, mix to make slurry
½ teaspoon rosemary, chopped
½ teaspoon thyme, chopped
Croutons
2 slices Ezekiel bread, chopped into 1" squares (Wheat bread can be used)
½ t. Garlic Powder
½ t. Onion Powder
½ t. Black Pepper
½ t. Sea Salt
½ t. Parsley Flakes
Instructions
Bring beefless stock up to a boil and add cornstarch slurry to the soup.
Mix 1 tablespoon of cornstarch to 1 tablespoon of water.
Mix together until smooth and add to the soup when simmering.
Add the sliced onion, garlic and rest of the seasoning, herbs and simmer for 10-15 minutes or until onions are soft.
Ladle soup in a bowl and top with 5-6 croutons and a pinch of parmesan cheese.
Croutons
Preheat oven to 275 degrees.
Cut the bread into 1 inch squares.
Toss bread and seasonings together in a mixing bowl.
After all spices are mixed in well, spread bread evenly onto a small sheet pan and bake for about 25 minutes or until dried.
Stir the bread about every 10 minutes to ensure all sides of the croutons dry out.
When serving with most meals, serve each person 6 croutons each.
Have you made your own French Onion Soup? Do you have a favorite soup that you like making?