If you're looking to get into shape, these are 15 of the best women's health hacks to help you!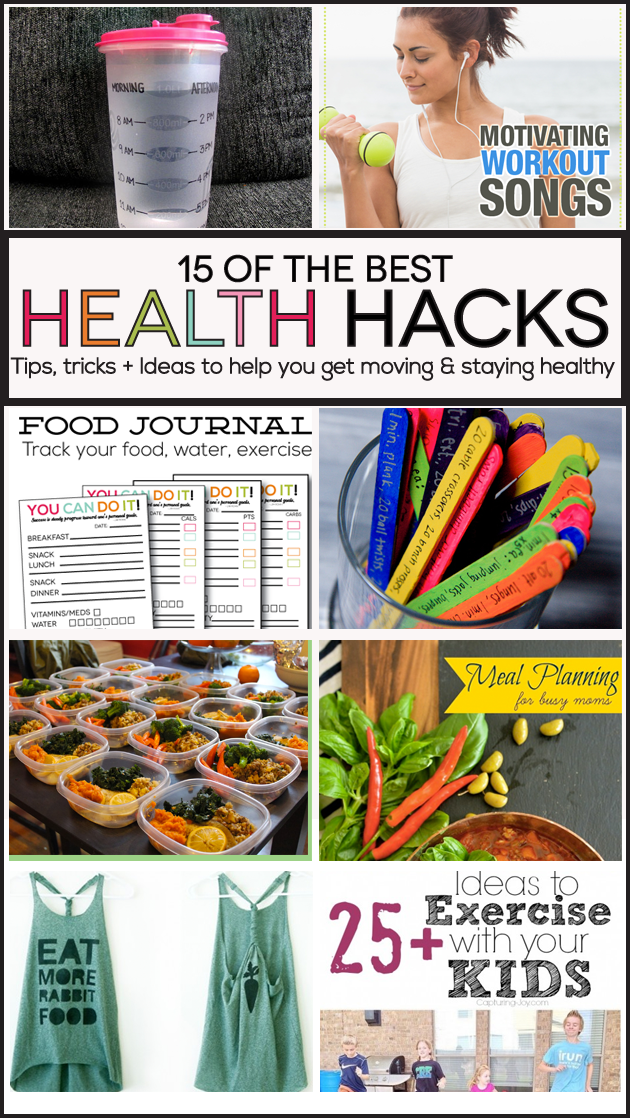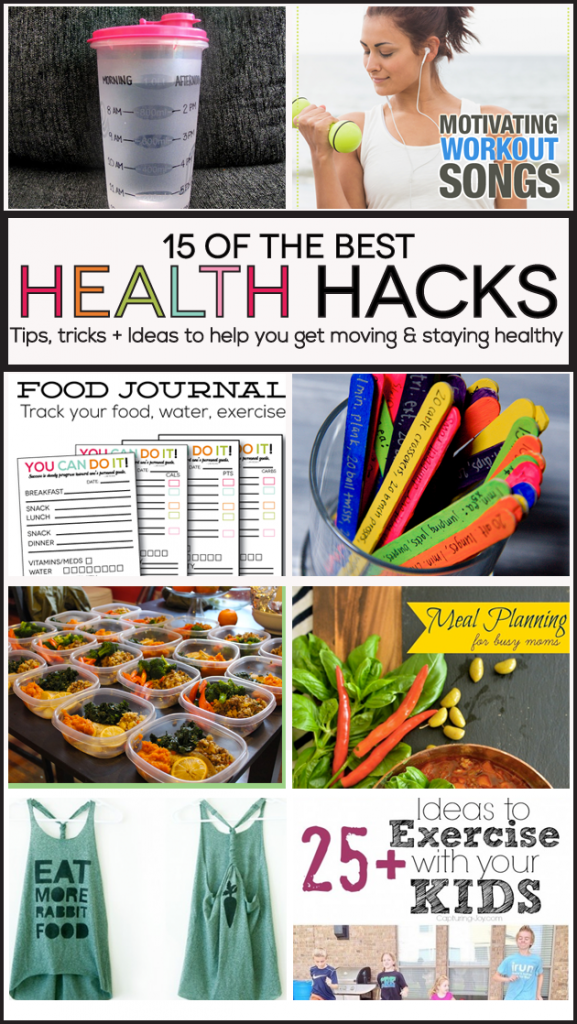 I've been on a roller coaster of a health journey. Some ups and some downs. I've tried different diets and types of exercises. Unfortunately I've been on a down for the last several months. That's about to change (more on that soon). I'm in the beginning stages of taking back control. For me that means researching and finding out what will work best for me and for my family. I found some pretty cool posts that I thought might be worthwhile to share here.
Not sure what a "hack" is? A hack is just a cool term that means something that makes life easier in some way. It often helps us save money, time and resources. So these are 15 of the best health hacks that I have tried or that I can't wait to try —

Make sure to get 8 glasses of water in daily. Use a sharpie on your water bottle. One of those "why didn't I think of that?" ideas! Genius hack from Jewel Pie.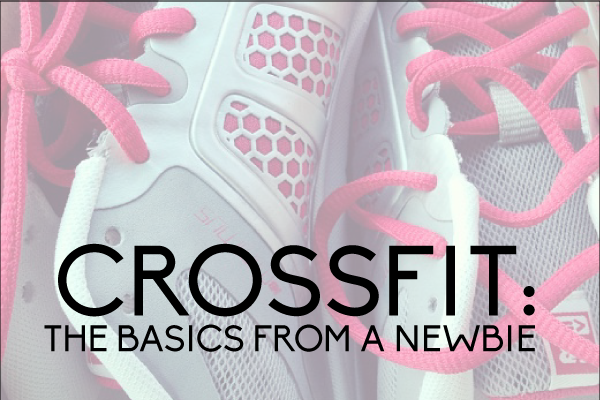 Consider CrossFit. It's not for everyone. But it definitely is worth a try. I explained why I started CF, what I loved, what I didn't.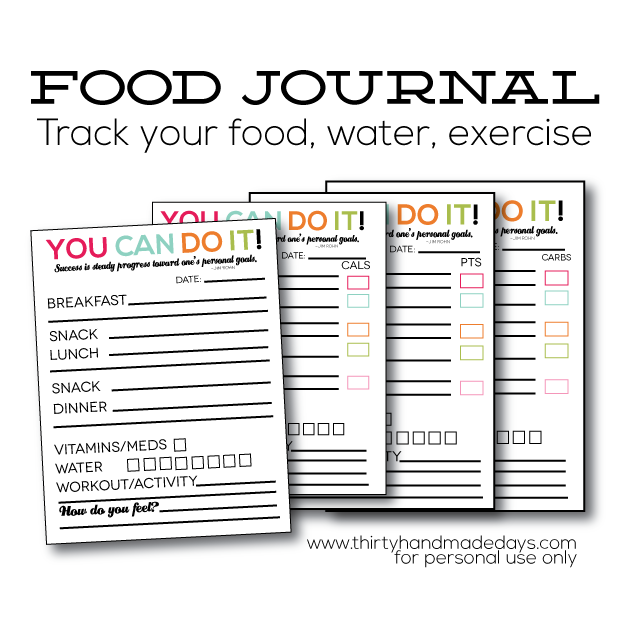 Track your meals with this printable food journal. This is an accountability thing. If you have to write everything down, you will be more likely to stick the plan, whatever that may be. There are several versions to print out so choose whatever works for you.
Make a playlist. Maybe it's because I am music obsessed but I can't run or workout without some kind of music. It's amazing how songs can get you through some of the toughest workouts. Sometimes I hear a song playing on the radio and get a flashback to a certain run or a Zumba class. Try this one out from Skinny Ms.
Get your family involved. And make sure to surround yourself with a great support system. Most family members will jump at the chance to work out with you. If you make it fun, they won't even know that it's a workout session. From Capturing Joy with Kristen Duke.
Don't be afraid to try new products/recipes. I know. It can be scary. You want me to try what?! When I first started eating Paleo last year I was nervous. But the more I explored and tried out, the more I realized I was missing out on all kinds of good stuff. 
Find workouts that you love and go with them. I love this index from Tone & Tighten. Not all of them are for me. But there is a huge variety and I love that I can do.
Make a workout sticks. A fun idea to switch things up! Make workout sticks to add variety to the daily grind. I love this set from Back to Her Roots. Another idea that goes along with this is to pick a race or event — having accountability like that ensures consistent workouts.
Make a set of workout dice. Another one to add variety to your workouts so you don't do the same thing over and over and over. You can add whatever workouts you want to the dice. Fun idea from Unconventional Homemaker.
Prepare meals once a week and divide into containers. This makes for healthy meals that are less expensive. It might take some experimenting to find what you really love. But once you do, make it in bulk. Tips, shopping list and recipe from Runaway Apricot.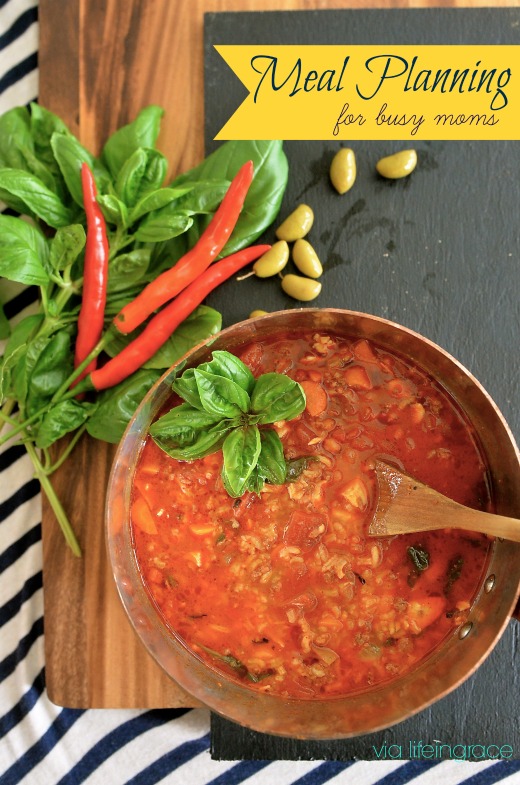 Plan your meals out. Even if you don't want to prep your food all at once (because yeah, that's a lot)… menu planning is VITAL to sticking to a healthy lifestyle. I love the way Edie does her meal planning. From Life in Grace.

Bag and freeze green smoothies so that they are ready for you. This is another make ahead idea that can save time and energy. It takes organization to get it going but then you're all ready to go when you need them. From Tidy Mom.
Make a cute headband. I mean this is a primarily a craft blog. You didn't think I could go without a few DIY projects, right? This DIY workout headband is perfect! From Rabbit Food for My Bunny Teeth.
And make a cute workout shirt. Another one to love from Rabbit Food for My Bunny Teeth.
Or buy some cute workout clothes/gear. Because wearing sweats and ratty gym clothes won't make you want to workout more. I feel SO much better when I'm looking (sorta) presentable and wearing something flattering. That doesn't mean you have to go out and spend tons of money. But get a few key things that you'll use over and over. From A Girl's Guilty Pleasures.
Do you have any health hacks to share? I'm all ears. Leave them in the comments below.
Looking for healthy recipes? Check some of my favorites out:
[catablog_gallery id="23695″ template="gallery"]