I'm so excited to share this new recipe for slow cooker chicken fajitas.  It's a simple, healthy, and delicious recipe that your whole family is going to love!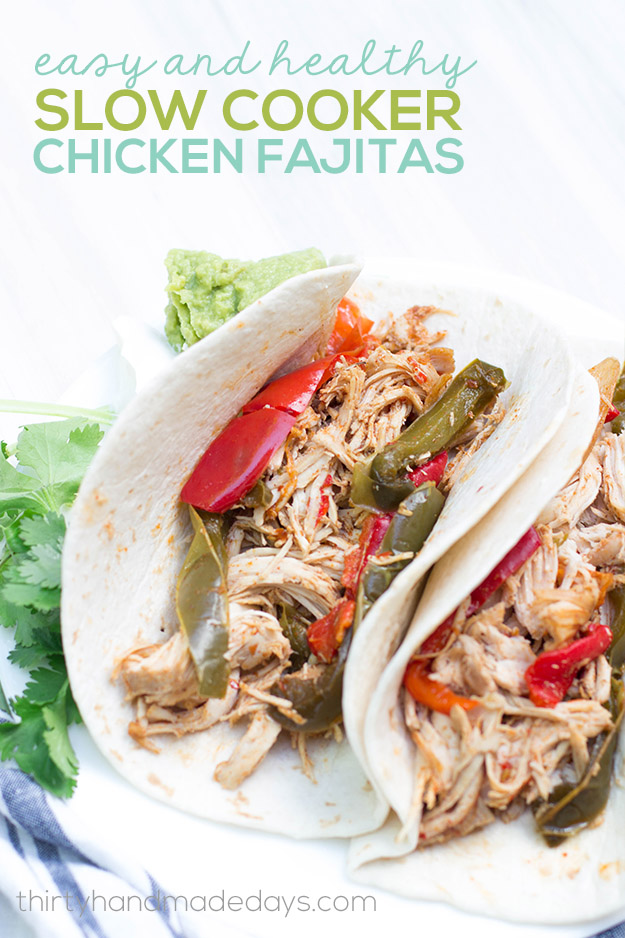 What's so great about this slow cooker chicken fajitas recipe?
It's easy to make.  Simply combine the ingredients in the slow cooker and turn it on.
It's budget-friendly.  I keep the spices on-hand, so I only need to pick up a few ingredients from the grocery store.
It's healthy and delicious!
In fact, my husband requested this recipe for his birthday last week.  That's a huge win in my book.  I've made hundreds of slow cooker recipes over the years, but this is one of our new favorites and I know you're going to love it too.
The chicken is softer than traditional fajitas and the spices are on-point.  The peppers release a lot of liquid while cooking, so be sure to serve with a slotted spoon.  Add some soft tortillas, cilantro, sour cream, guacamole, and dig in!

Easy and Healthy Slow Cooker Chicken Fajitas
Author:
Kelly @ New Leaf Wellness
Ingredients
2 pounds boneless skinless chicken breasts
3 bell peppers (I use two red and one green)
1 sweet yellow onion, sliced
3 tablespoons olive oil
the juice from one lime (about 3 tablespoons)
1 tablespoon chili powder
2 teaspoons paprika
1 teaspoon onion powder
1 teaspoon garlic powder
1 teaspoon cumin
1 teaspoon crushed red pepper flakes
1 teaspoon salt
Instructions
Add all ingredients to your slow cooker and cook on "low" setting for 4-8 hours (depending on the size/strength of your slow cooker).
Shred chicken and mix with sauce in slow cooker.
Serve with a slotted spoon (the peppers release a lot of liquid while cooking).
Notes
This recipe can be frozen without any cooking ahead of time. Add all ingredients to a gallon-sized plastic freezer bag and freeze for up to three months. When ready to cook, thaw and follow cooking directions above.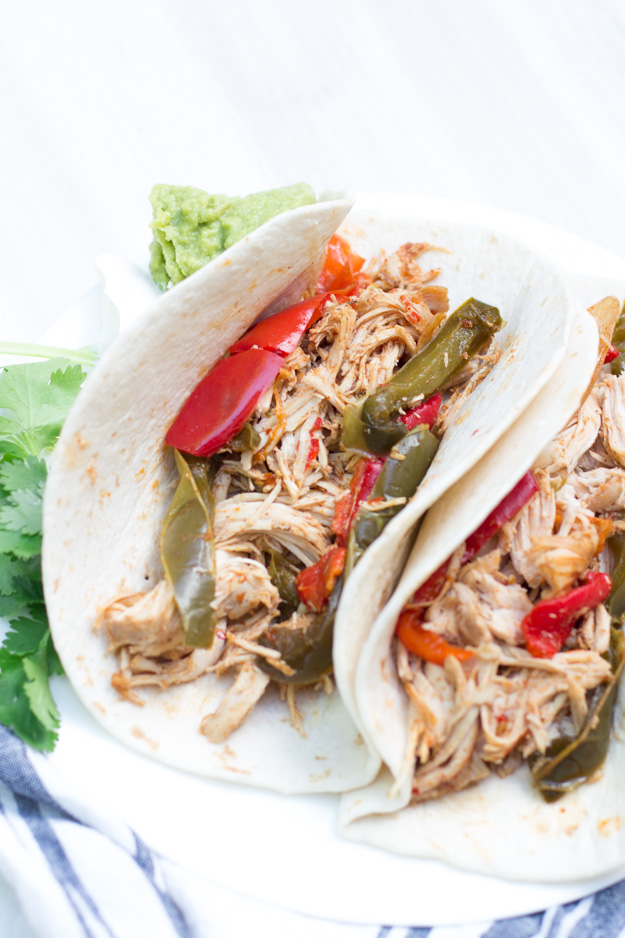 Thoughts or questions?  Please leave a comment below and I'll respond as soon as I can. X+O, Kelly