December 3rd already? Wow. Hard to believe that 2012 is almost over! Are you knee deep in present buying, holiday tune listening and party planning? I'm here with some holiday entertaining tips. Let's jump into them…

5. It pays to plan ahead.It wasn't raining when Noah built the Ark. There are so many things that go into a well executed party. Make a list of all of the dishes you plan on making, your grocery list, where people should sit list, any kind of list that will help you feel prepared.
4. Don't be afraid to try something new. This goes along with planning ahead. See a new recipe you think you'll love? Try it beforehand but don't be afraid to shy away from the traditional ham and potatoes. You might find a recipe or two you like here on 30days.
3. Set the holiday mood. Already have stockings hung and the tree decked out? Remember to light some candles and compile a playlist. Check out some of my favorite Christmas songs.
2. Send your guests off with a parting gift. It doesn't have to be something extravagant. It can be as simple as a handwritten note thanking them for coming or a frozen batch of your favorite cookie dough. Print some cute holiday bags for your send off treat.
1. I love having my kids help me cook and bake. I want their help during the holidays too. So they will get involved in the food preparation. But then once everything is baking or ready, the biggest thing is to keep little hands out of the kitchen! Nothing is worse than presenting a cake with hand prints on it. (yes that has happened a time or two at my house)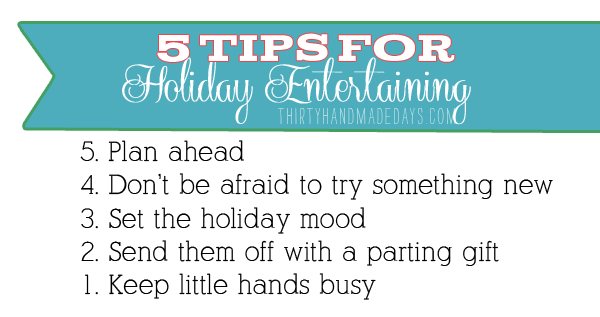 Need an idea on how to keep little hands away? I created some fun BINGO cards to go along with some of our favorite holiday movies. You can turn on a movie while you're finishing up getting ready to keep your kids attention or you can have little guests watch and play along during your get together.
These BINGO card should work for just about any holiday movie. Look at this full list of Christmas movies that will be on TV over the next few weeks and record them so they are ready to go!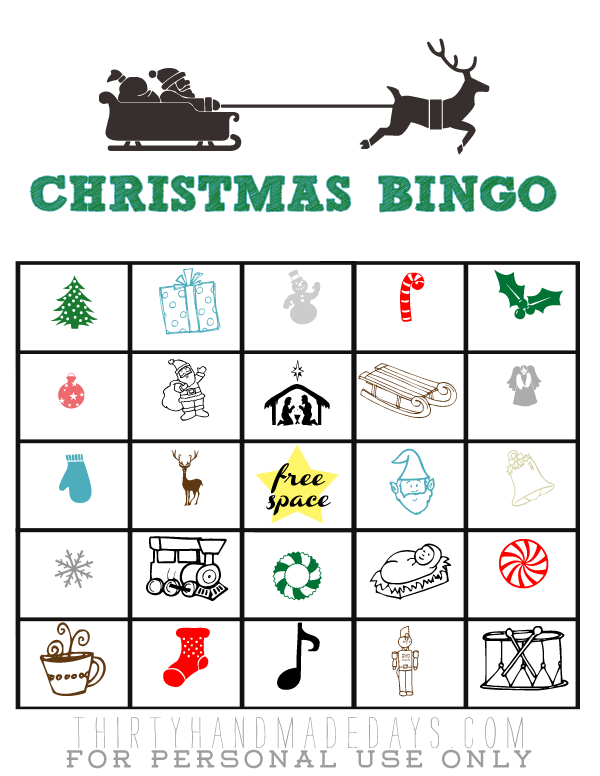 Print these Christmas BINGO cards: 4 BINGO color sheets& 4 BINGO black and white sheets.For 30days readers and personal use only. Thanks!