The other day I shared Guidelines for Babysitters because that's we're in that stage of life.  My oldest is 16, middle is 14 and youngest will be 10 in a couple months.  When they were little there were days that I doubted we'd ever get here.. oh there were days!  A lot of the younger years is a big blur for me.  But there were a few things that were lifesavers.  One of those things that saved my sanity a bit was being a part of a babysitting co-op.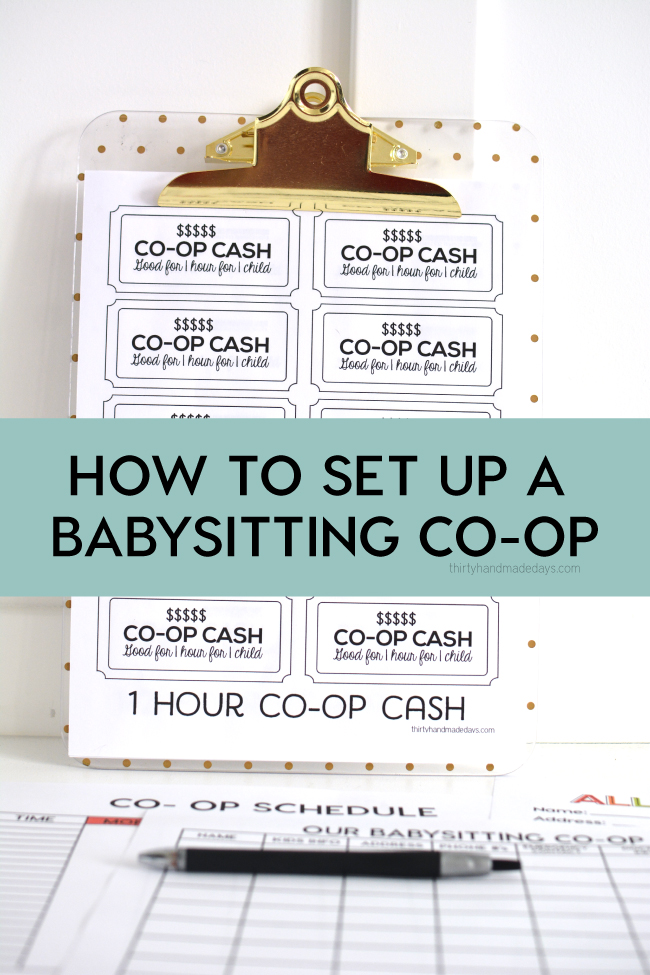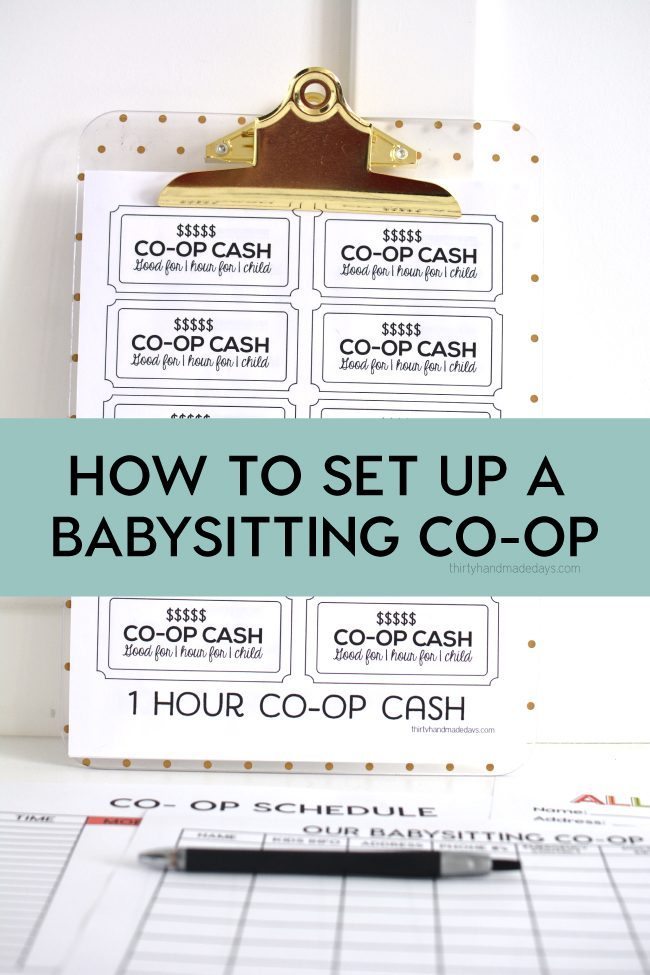 I was talking with my sister, who is in the thick of raising little kids.  No sleep, potty training, and tantrums oh my! I mentioned that we had a babysitting co-op and how it was so nice to have friends to rely on when I needed a little break or had appointments that I didn't want to take my kids to.  My friend Lindsay organized it since she had been in a co-op in the town she lived in before moving to our area.  She set up a meeting to discuss how it all worked and to set expectations for our group.
Right out of the gates things you need to know:
Organization is vital
Communication is key
This works with people you are close to and trust (they will be taking care of your kids after all)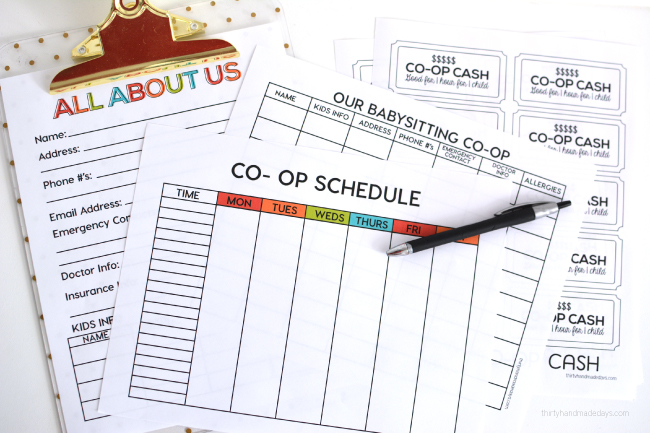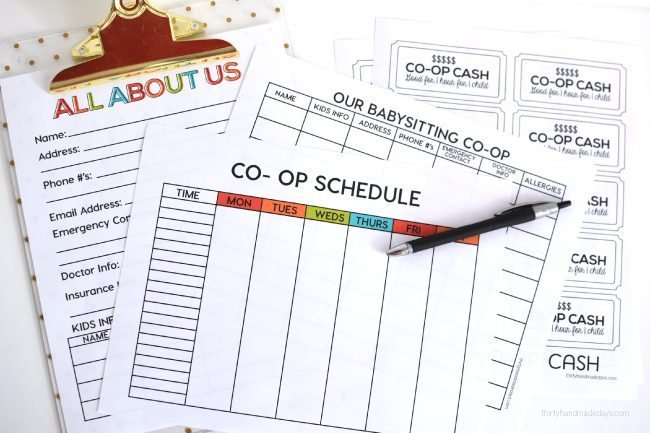 This is how we ran ours, but make your co-op work for you: 
Everyone started with 30 hours worth of co-op tickets, broken up into hour and half hour tickets.
You "pay" one hour per child that your kids are at co-op.  For example – if you have 2 children you would pay (2) 1 hour tickets.  We printed our co-op cash out on a different colors.  The hour tickets were one color and the 1/2 hour tickets were another.  That made it easy to tell them apart right away.
We set up a calendar and blocked out days on the schedule.  The more people you have, the more opportunities for babysitters but it can also be harder to keep on top it if there are tons.   Depending on how many people that are signed up, you can do shifts throughout the week.   We did Monday through Friday with two shifts: 9am-12pm and another shift from 12pm-3pm.   So I would sign up for the 2nd Tuesday from 9am-12pm.  If I watched 3 kids for those 3 hours, I would earn 9 tickets total.   People would hand me their bucks when they pick up their kids.
Because each family and home is different, there will be a different max of kids per babysitting session.  We discussed babies vs. toddlers and bigger kids.  Obviously having 4 babies in a 3 hour shift would be super hard.  So each mom needs to decide how many kids she can have at her house at a time.
In order to reserve time, you'd call or text the person and ask if they had space.  It's NOT just a drop off situation where whoever shows up at whatever time.  If it's the morning of your shift and nobody calls, then you're off the hook.  Although if you're okay with more of a drop off approach, go for it.  It just gets tricky with logistics.
Before actually starting the group, we had a mandatory meeting to go over rules and fill out information.  We each agreed to a certain amount of time for the "session" (like 3 months) and then if you didn't want to do it again, no big deal.
Set up rules:
-NO sick kids whatsoever
-Be on time for pick up unless previous arrangements have been made
-No potty trainers — (we also discussed how many kids we could have in diapers at once)
-Provide a snack during the co-op for the kids (making sure to avoid allergies, if any)
– Fill out all of the information for your family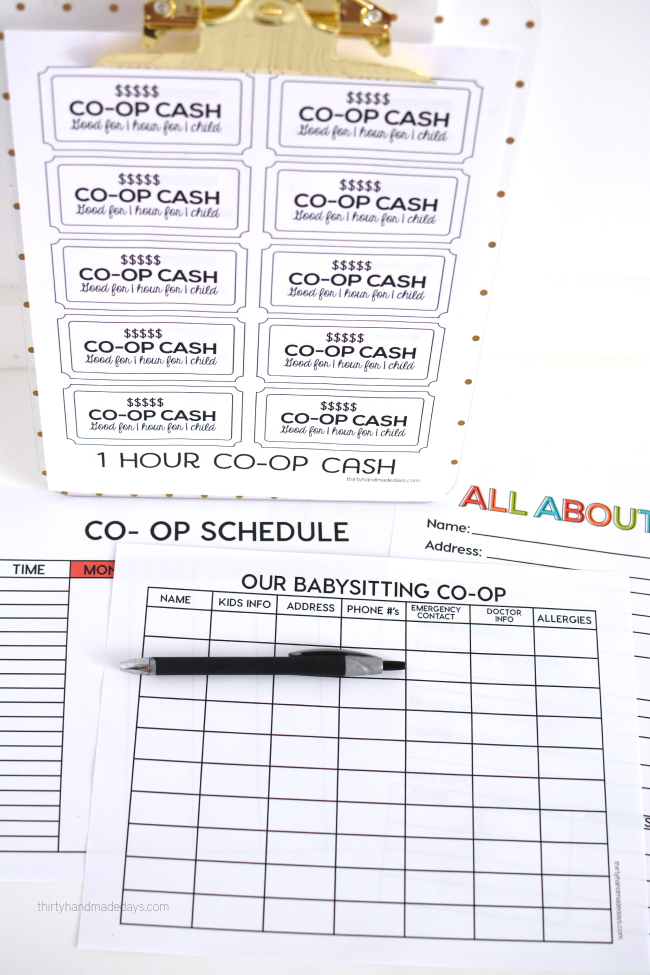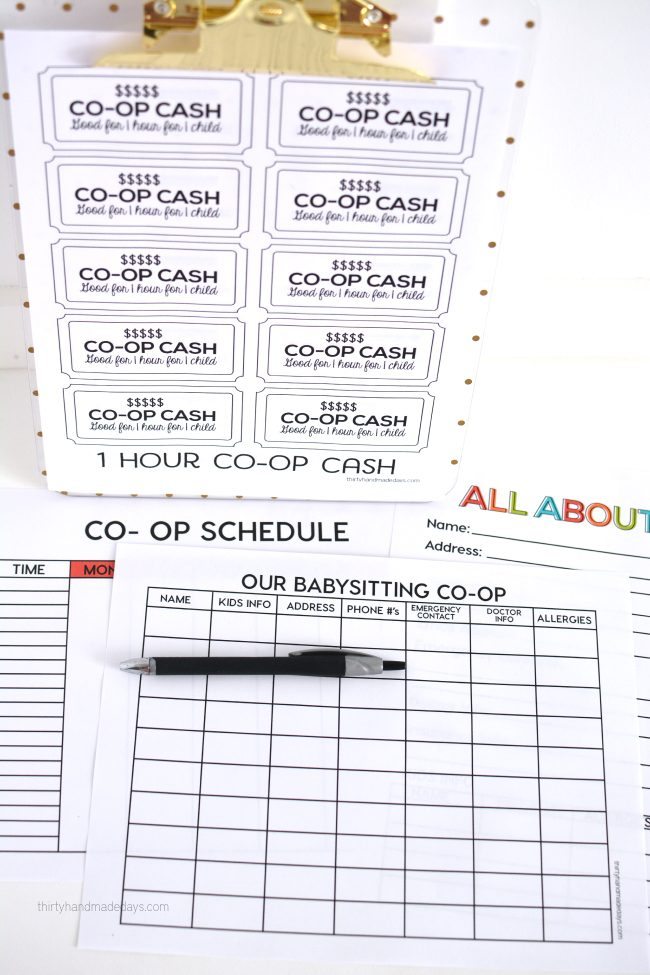 I created a packet to start your own babysitting co-op.  Included you will find an "All About Us" sheet- each mom will fill out a sheet for her family.  A "Babysitting Co-Op" general sheet- this will have everyone's info in one spot.  A "Co-op Schedule" to block off your times that you're available.  And "Co-op cash"  in 1 hour and 1/2 hour increments.
Download this Babysitting Co-Op Packet.  For personal use and 30days subscribers only.  Thank you.