It seems like overnight I am the mom to a teenager and a tween. Wedged right in between my two boys I have an eleven (almost twelve) year old daughter who loves music, especially One Direction, playing the piano, chatting with her friends and playing on her iPad. I've always felt strongly that I wanted Julia to know that she can do ANYTHING she puts her mind to.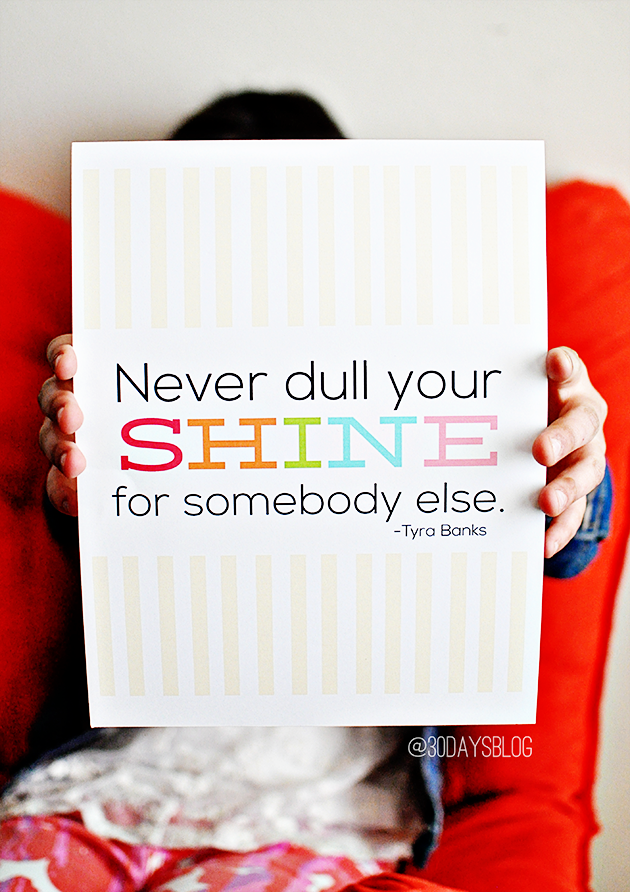 My parents instilled in me that I could do whatever I wanted if I worked hard enough to achieve it. I hope that Julia grows up knowing the same thing. She's had lots of confidence building experiences as she's tried to find her "thing." She hasn't gravitated towards sports like some of her friends but has tested out all kinds of extra curricular activities. Orchestra, the choir, hula dancing, tap and ballet as a bitty little thing, theater group, hip hop to name a few.
Actions most definitely speak louder than words. But that doesn't mean that you can't be surrounded by inspirational quotes, right? To encourage my sweet girl, I created some printable quotes.

Ok so I'm definitely biased but isn't she beautiful?
Do you want to encourage the girls in your life that they can do anything they put their minds to as well?

You can download these three 8×10 quotes to hang as reminders to them! (or to you too)
I've got all kinds of other encouraging printable quotes to download. Make sure to check them out!