There's been some chatter about back to school around here. I know some of you are still on break for awhile but my kids go back in under two weeks so we're finishing up the last minute prep. Today's post focuses on kid approved lunch box and snack ideas! I hope to help inspire some new lunches and also encourage kids to make healthy choices too.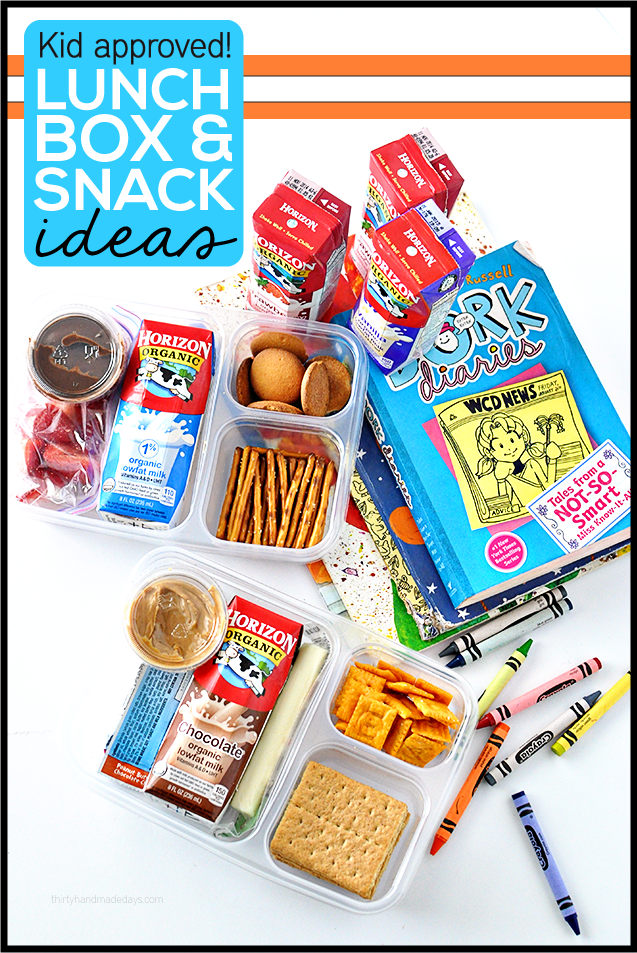 Ok so you don't have to go out and buy a bunch of stuff. But there are some things that I've fallen in love with when it comes to making lunches. Does that sound weird? Probably. Moving on… If you visit the lunch/container aisle of any store there are lots of options. Here are some of my favorites: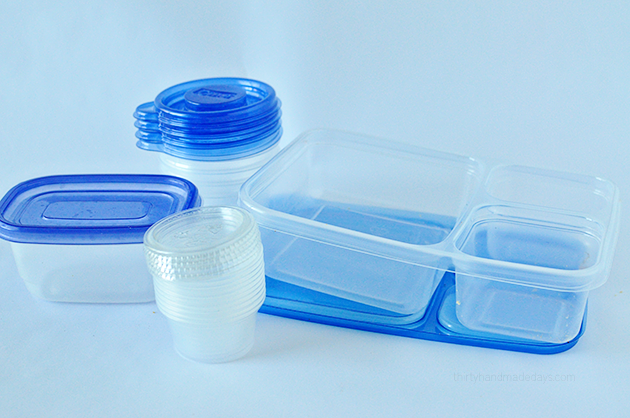 I like having a variety of sizes to use. There are containers with sections that make it SO easy to make lunches. Woohoo! It's like making a homemade version of Lunchables for a fraction of the cost and putting in exactly what your kids favorites are.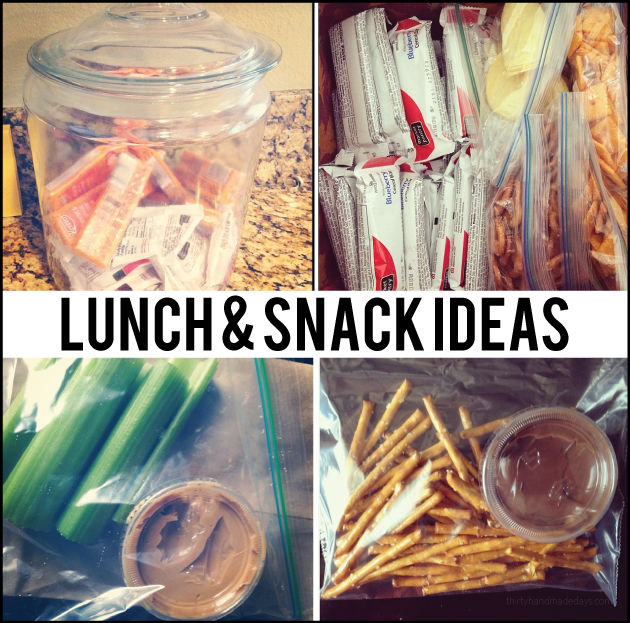 So now that I've talked a little bit about containers, let's chat food, shall we? The biggest thing for us is not getting into a slump. Making the same thing over and over and over. I created a chart (see below) full of ideas to keep it fun. Some of my family's favorites:
Pretzels and peanut butter
Graham crackers and hazelnut spread
Crackers and cheese slices
milk – a few different flavors are available in lunch box size: regular, chocolate, strawberry and vanilla
As my kids have gotten older, they have required way more food. The small little lunches just aren't cutting it anymore. I'm going to try out sending more things in containers this year. Some pasta, taco meat, soups, etc. You can read more about What to Feed Teenage Boys (or Girls) to Keep Them Full and Happy!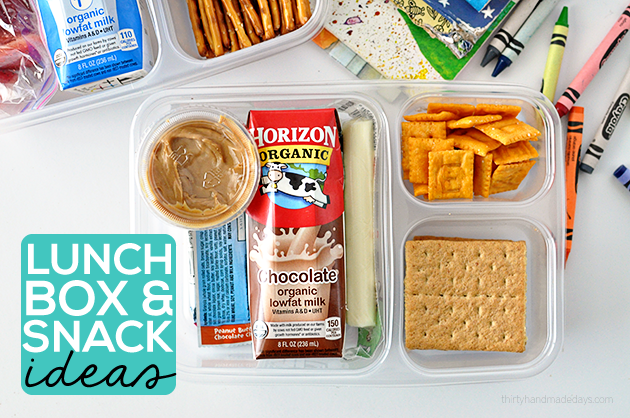 These little snack containers are the best! You can easily add small portions of anything – crackers, fruit, etc- to these and put into a lunch box. They are also perfect for sauces.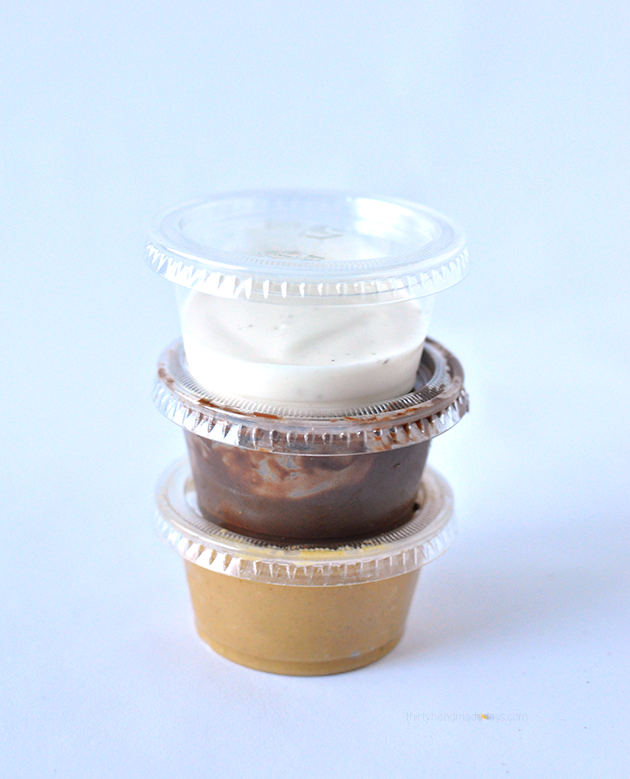 One of the things I'm determined to be better about is having a well balanced lunch box for my kids. To give you some ideas to mix it up I created a simple printable with a month's worth of lunch ideas. You can take one from each category each day and then mix and match. You can also print this out for your child to let them do the picking and packing.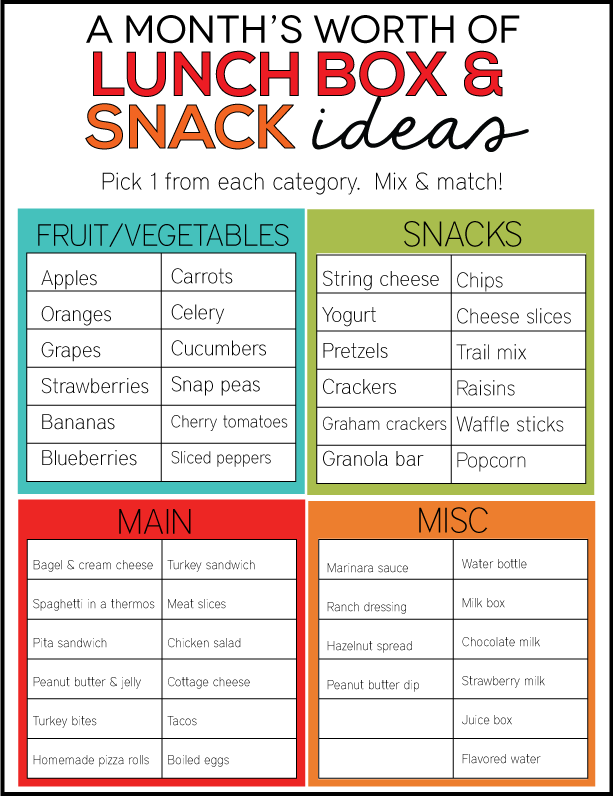 Download these lunch box ideas. For personal use only.  Thanks!
You can now download a blank lunch box idea sheet to fill in your preferences too.
It would be perfect laminated and hung in your kitchen. (yes I love my laminator – here's why you should love it too)