With more and more people going towards a capsule wardrobe, why not make one for your kids?  Back to school is the perfect time to clear out the clutter and get some staple, quality pieces for your kids.
This post is brought to you by Abercrombie Kids. While this was a sponsored opportunity, all content and opinions expressed here are my own.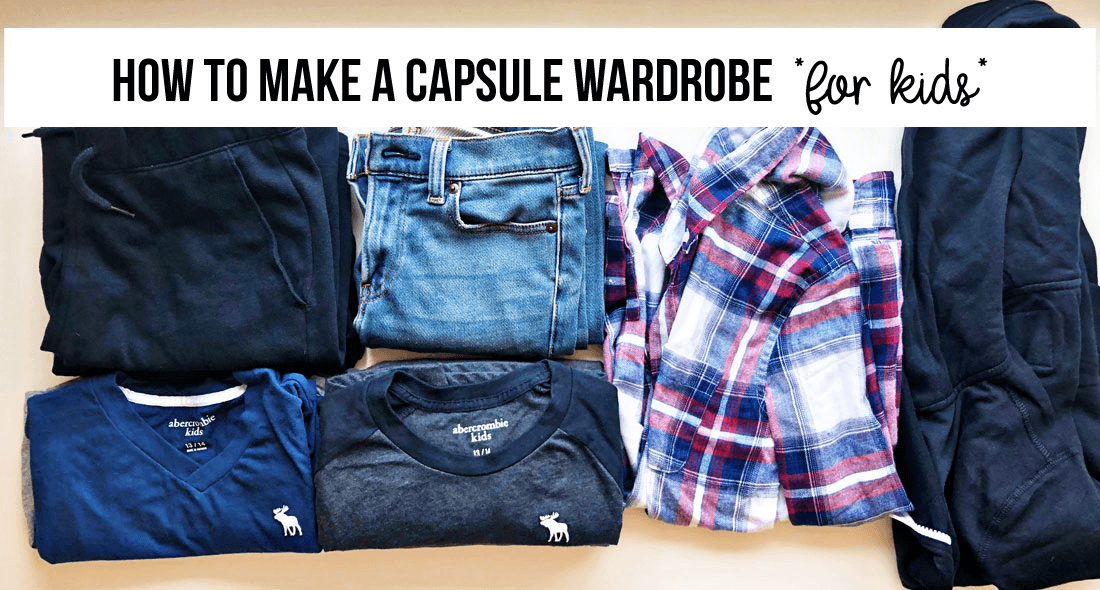 What is a capsule wardrobe?
The simple definition of a capsule wardrobe is a small collection of clothes that all go together and can be rotated often.  The idea behind it is to have less (but higher quality) clothes (and less laundry!). And although the idea has been around for decades, it feels like more and more people are moving in this direction.
How do you make a capsule wardrobe? And why would you want to make one for your kids? Well that's what this post is all about!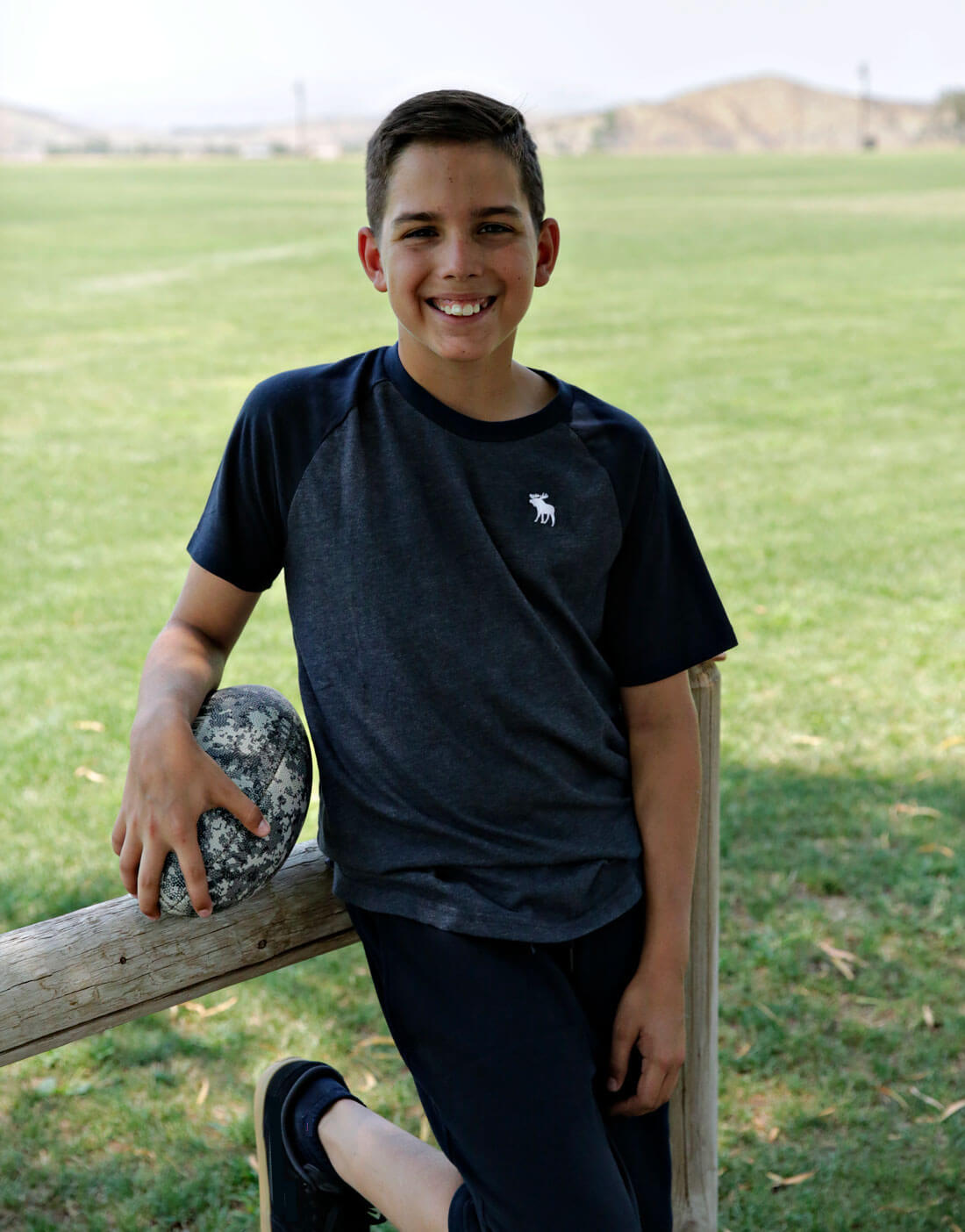 Capsule Wardrobe
While there are lots of ways to make one, I'm going to simplify this whole process for you and spell it all out.  As with anything that I share, you do what works best for you and your family. You can switch it up however you want, but these are the basics:
Clear out the clutter.
At the end of big seasons, it's the perfect time to pare down.  You can get rid of clothes that don't fit, or separate the clothes out that your child won't be wearing.  Where we are in California, the weather doesn't change a ton but it is really hot in the summer and then dips into the 50s in the fall and winter.  (I know, I know… not really any kind of bad weather here!)
You need to decide if you want your kids to be a part of this process or not.  Some kids have a hard time getting rid of anything, clothing included. But having your kids involved and letting them be a part of getting rid of things will help them be better at it as time goes on.
Survey what you already have.
While the goal is to get down to under 40 items of clothing in a capsule wardrobe, you don't need to throw everything away and start from scratch.  Use what you have on hand that is good quality, neutral pieces and then fill in the gaps.
Decide on a color scheme.
One of the easiest ways to make a capsule wardrobe work is to use a limited color palette.  If you have a basic color scheme, everything will go together naturally. Knowing what colors you want to work with will help you when you shop for the wardrobe.

That doesn't mean that you should avoid all pattern.  Having a few patterned items that go with your neutrals will make them stand out more and easier to mix and match.
I love these color palette sites like Design Seeds.  If you want your kids to really on board with this, let them help pick the colors.

Make a checklist.
I'm including some of the items in this post below to make it even easier!
(3) plain tees
(2) long sleeved shirts
(1-2) button-up shirt
(3) shorts
(2-3) denim jeans
(2-3) joggers/knit pants
(1) sweatshirt/hoodie
(1) jacket
under clothes – underwear, socks, camis for girls
5. Shop for clothes and organize.
With less clothes that all go together, organizing clothes should be easy.  Take the time to show your kids how they all work together and mix and match.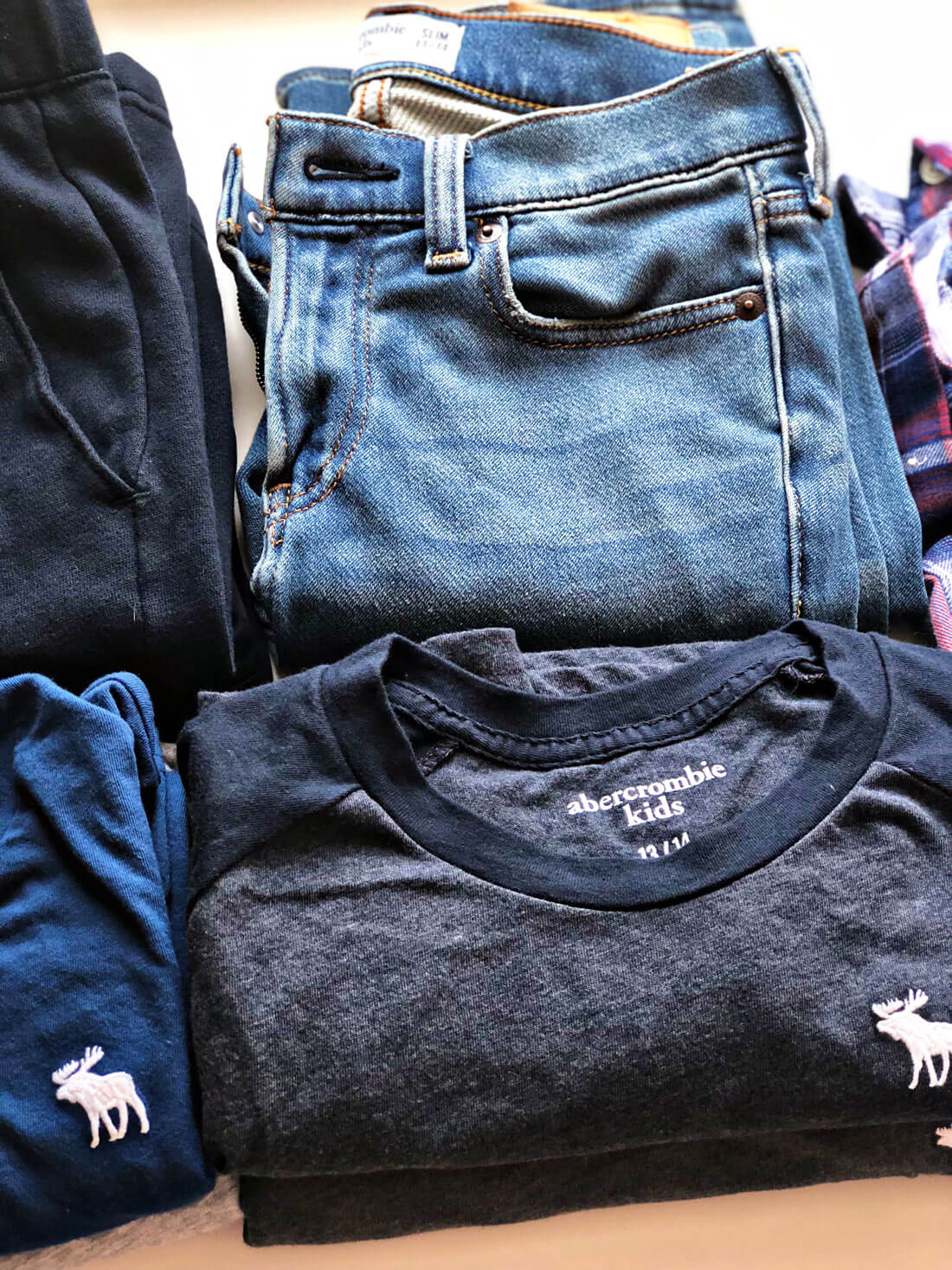 Abercrombie Kids
So why use Abercrombie Kids to create this capsule wardrobe? Abercrombie Kids makes good quality, comfortable and neutral clothes that work so well together.  They have a gender neutral collection, Everybody Collection, that can be worn by both boys and girls.  That makes it really easy to shop!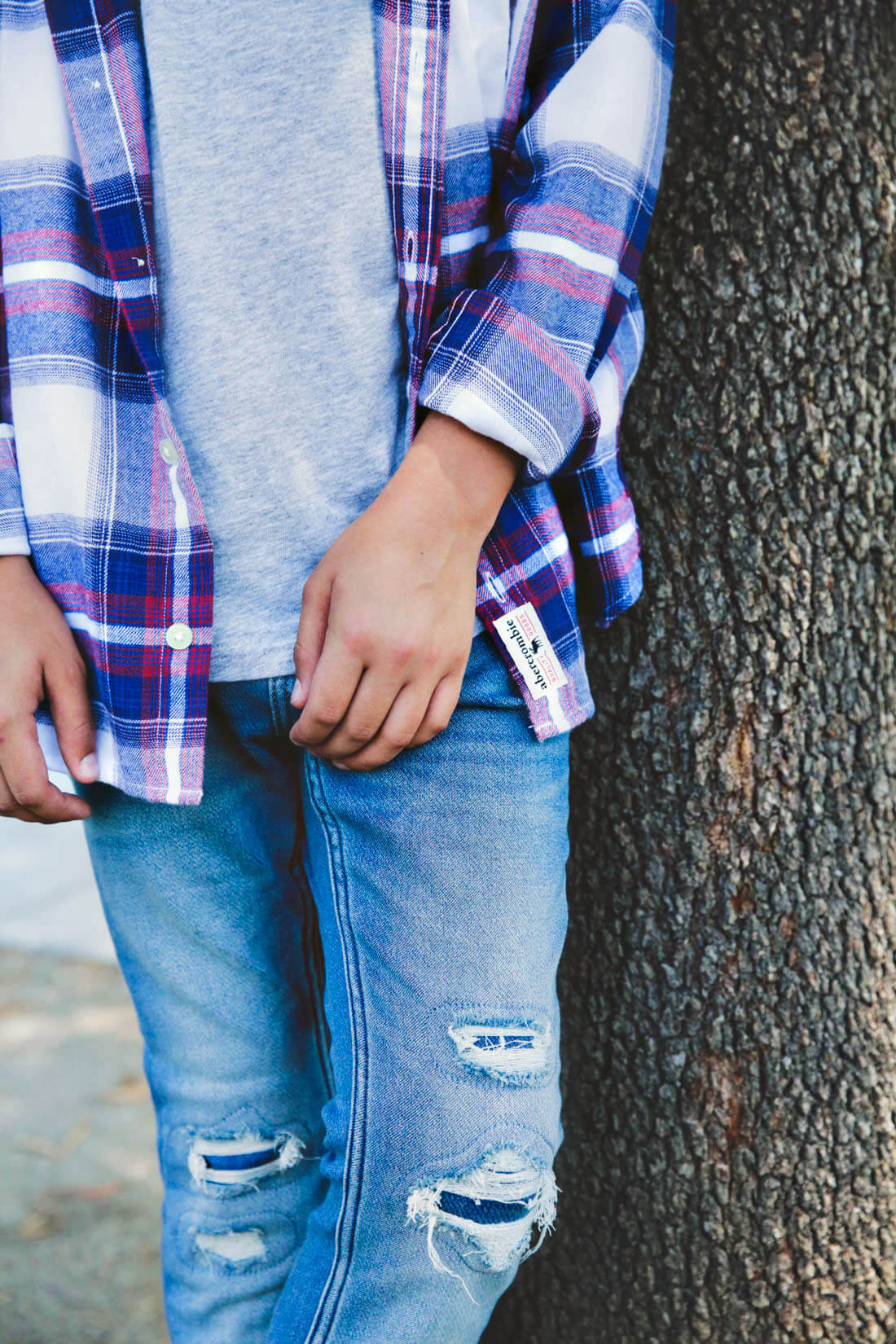 Lightweight flannel shirt || Icon Vneck Tee || Sweatpant Stretch Jeans
Any good capsule wardrobe has denim as a cornerstone piece and Abercrombie Kids has amazing denim.  For the boys they have taper jeans and jeans made out of a soft, stretchy fabric that they're calling sweatpant stretch. For girls, they have super skinny ankle jeans with the same extra-slim fit, new cropped cut and pull-on jean leggings.
Drew fell in love with the sweatpant stretch jeans as soon as he put them on.  They look like jeans but feel so soft. He made me feel the inside of them because he couldn't believe how awesome they were.  But they have holes with patches sewn in so they look and act like regular jeans.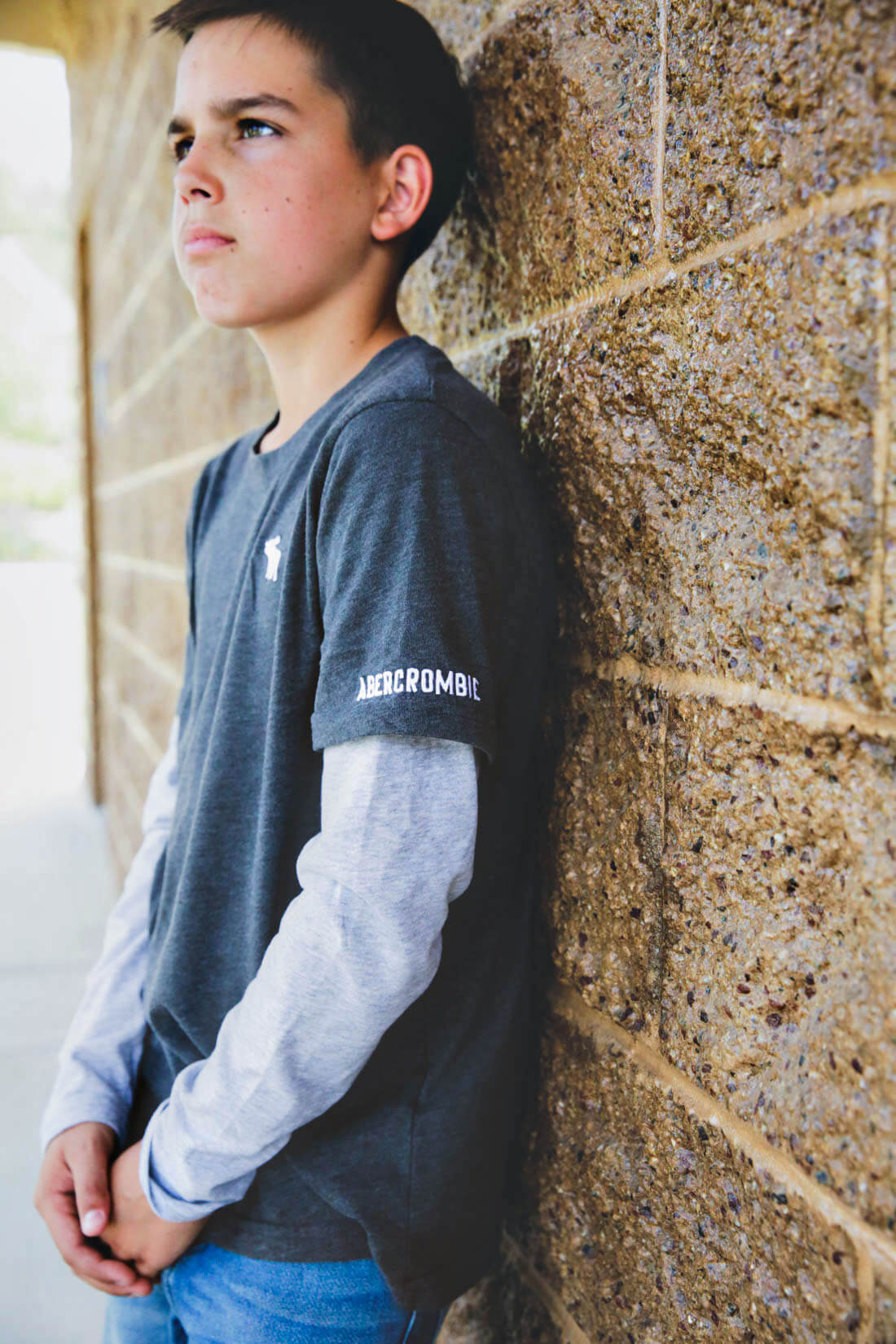 Twofer Crew Tee || Sweatpant Stretch Jeans
The thing that I LOVE is that they have sizes that work for everyone.  My Drew, for example, is in between sizes and wears a slim. All of the clothes we ordered fit him well. Abercrombie Kids has sizing from 3/4 to 15/16.  One of the things that was so hard with my older kids was finding clothes when they were tweens/early teens that were appropriate and this line of clothes is just that. Check out current the sales for Abercrombie Kids HERE.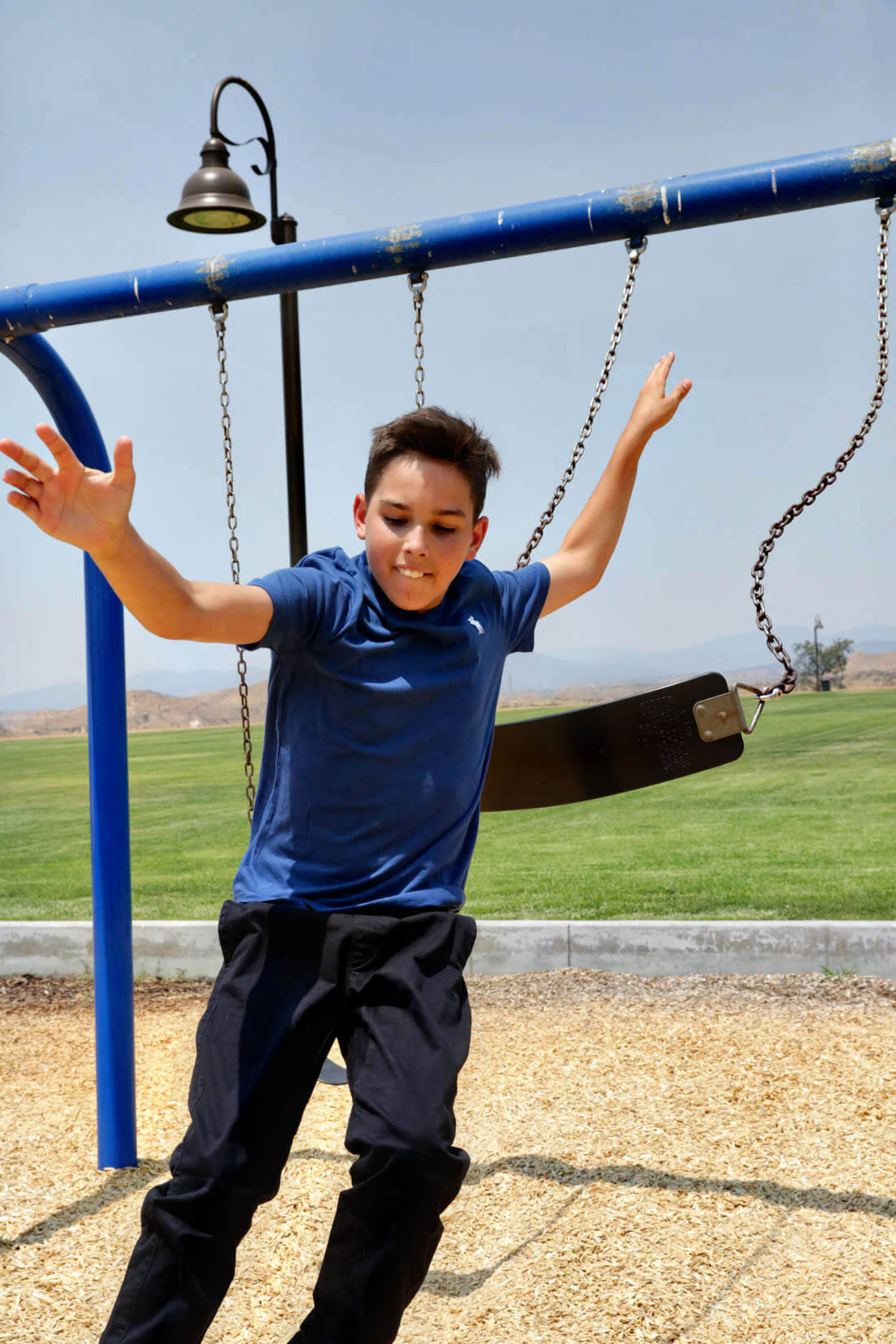 Icon Vneck Tee || Jogger pants
Ordering clothes like this makes it super easy to mix and match everything.  For my last minute guy, it won't take him long to get ready in the morning.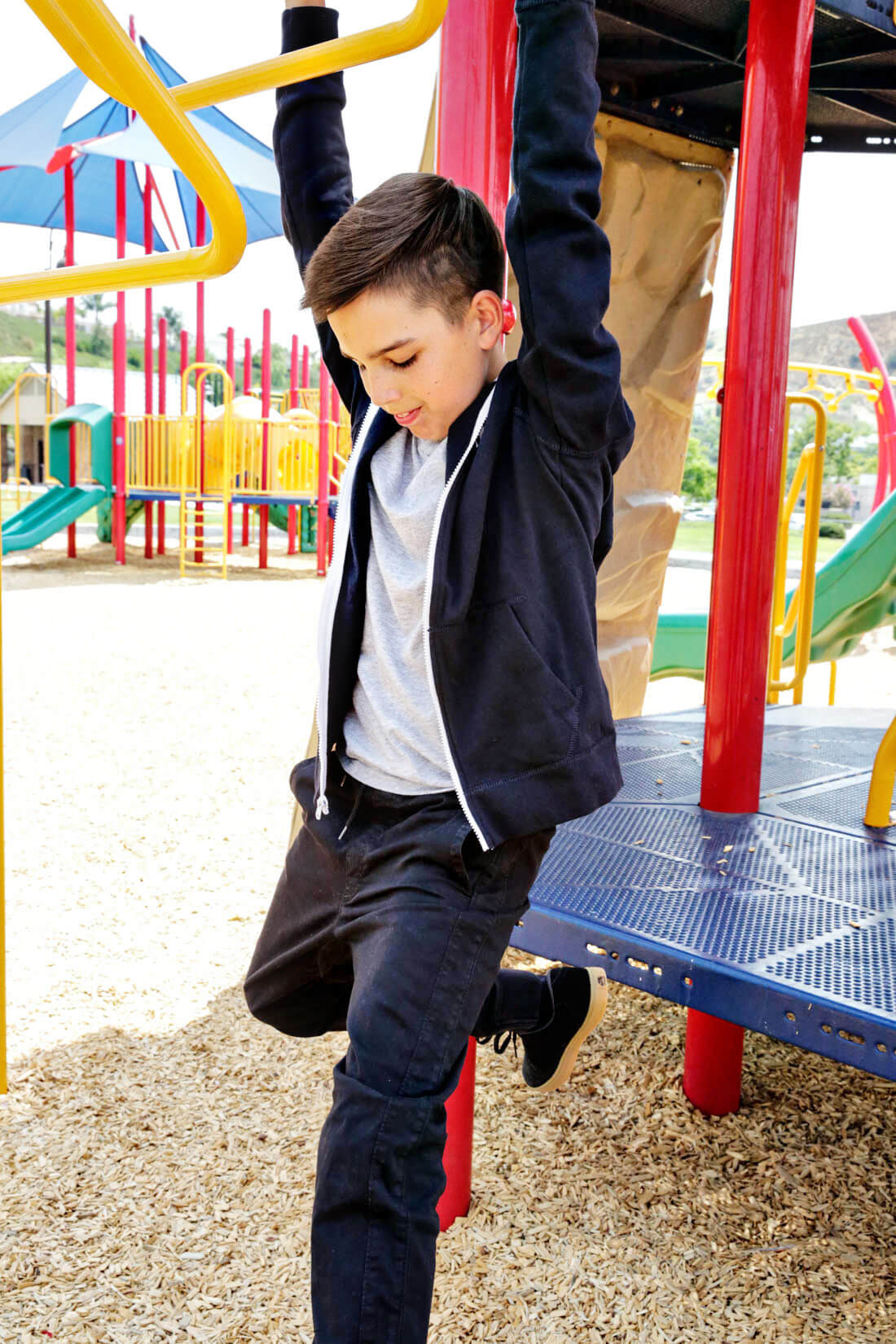 Icon full zip hoodie || Icon Vneck tee || Jogger pants
So what do you think?  Have I convinced you that a capsule wardrobe for your kids is the way to go?