Growing up it seemed like we had some form of potatoes as a side dish to dinner.  We didn't really have rice or pasta because my mom wasn't a huge fan of either.  I've had potatoes cooked almost every way possible and a baked potato is still one of my top favorite ways to eat them.  I even wrote a whole post about it here on how to cook the most perfect baked potato.  Super crispy skin with a very tender inside!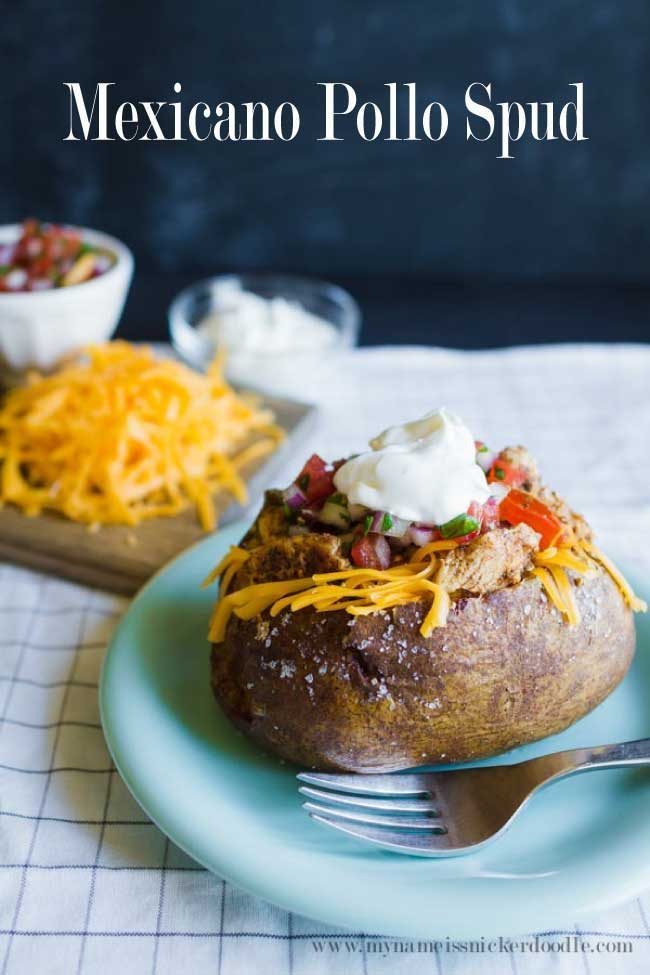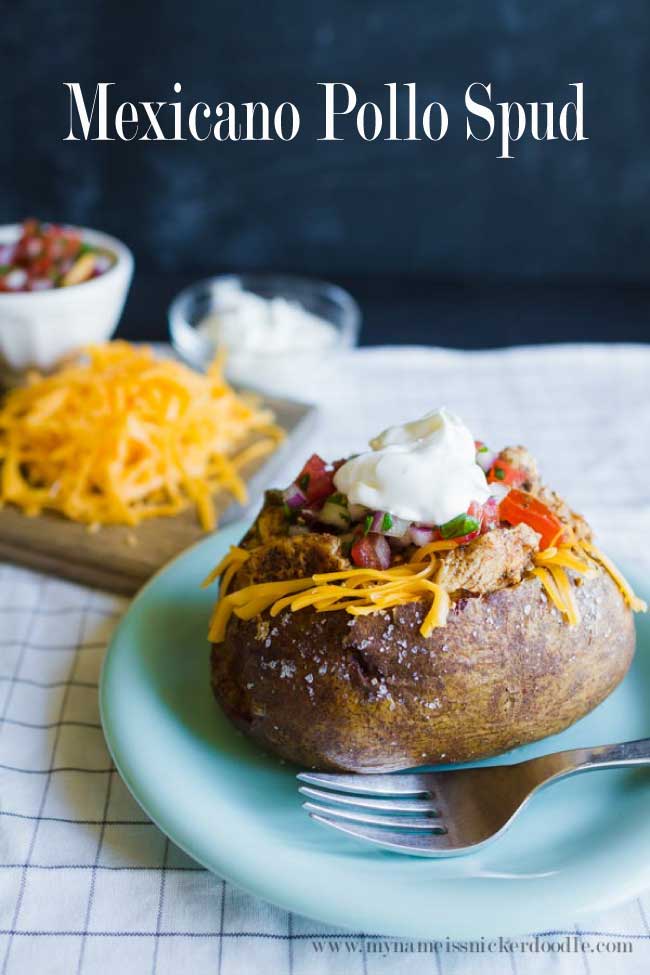 I've come to love making baked potatoes not as a side, but as the main course by adding sensational toppings to it!  I've tried chili and cheese, broccoli cheese soup and this Mexicano Pollo Spud.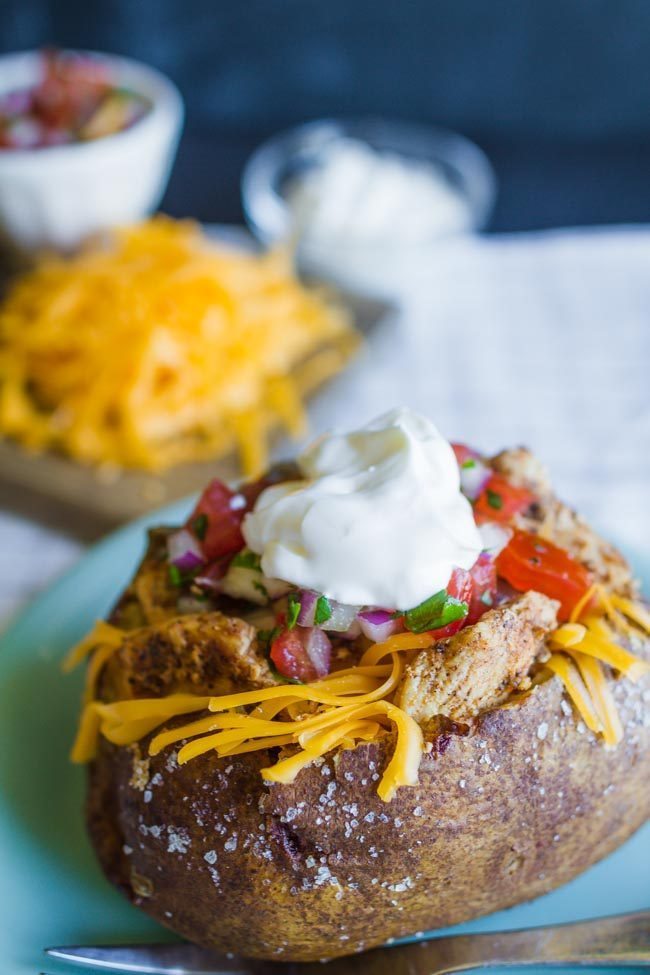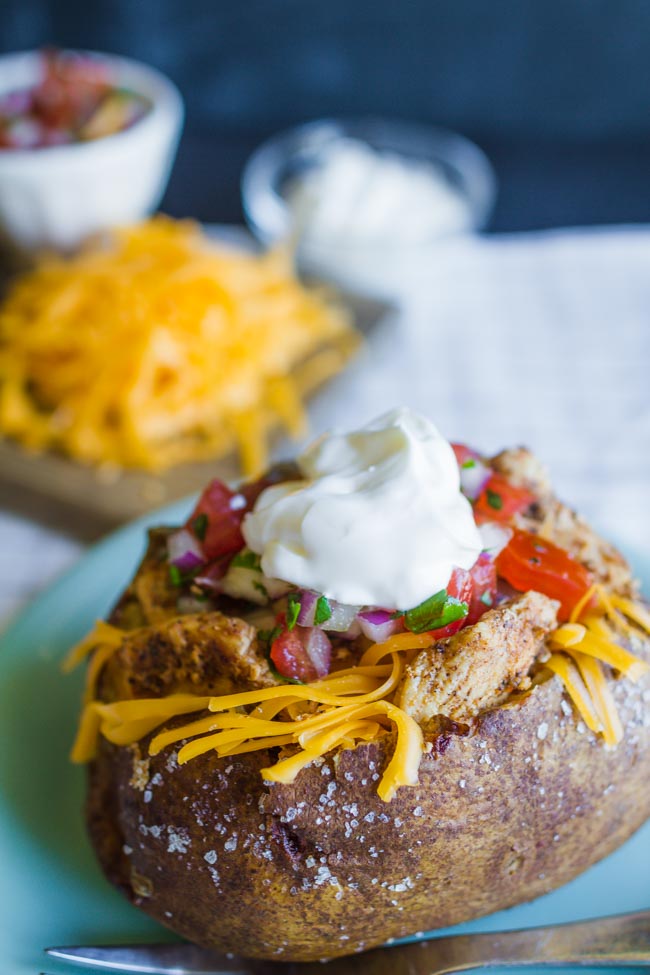 All of the flavors combine well with each other and is a completely satisfying meal.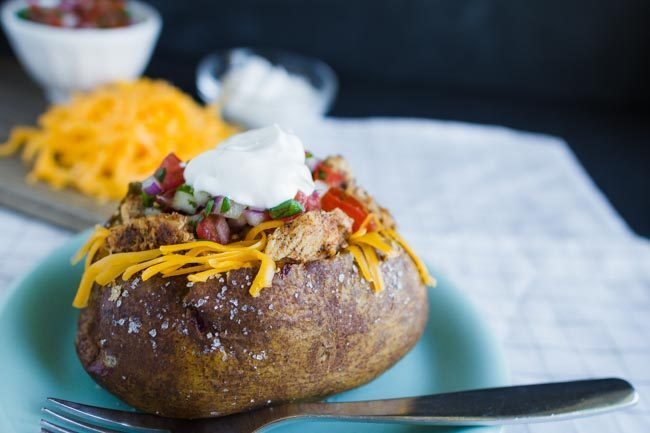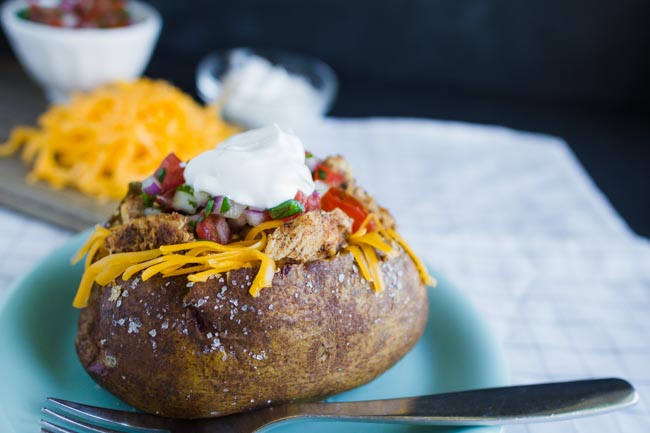 You could even turn this dinner into a fun baked potato bar fro your family and friends.  Then everyone can top it with what they prefer and make it their own.
Mexicano Pollo Spud
Ingredients
4 Large Baked Potatoes
2 Chicken Breasts, cubed
1 TBSP Vegetable Oil
½ tsp Cumin
1 tsp Chili Powder
½ tsp Garlic Powder
½ tsp Onion Powder
¼ tsp Oregano
½ tsp Salt
¼ tsp Pepper
2 Roma Tomatoes
½ Purple Onion
½ Bunch Cilantro
2 cups Shredded Cheddar Cheese
Sour Cream
Butter
Instructions
Finely dice the tomato and onion and place into a bowl.
Remove the stems from the cilantro and finely chop the leaves.
Stir the cilantro into the tomatoes and onions to make a pico de gallo. Set aside.
Heat oil in a large skillet over medium high heat.
In a small bowl mix together all seasonings and sprinkle over chicken.
Place chicken into the hot skillet and cook for about 3-4 minutes in both sides or until completely cooked though.
Once chicken is cooked remove to a plate and set aside.
Make a large slice on top of the hot potato and holding on to each side, pinch and push in to open it up.
Add a few pat of butter to the opened potato.
Top with shredded cheese, chicken, pico de gallo and a dollop of sour cream.
Serve.