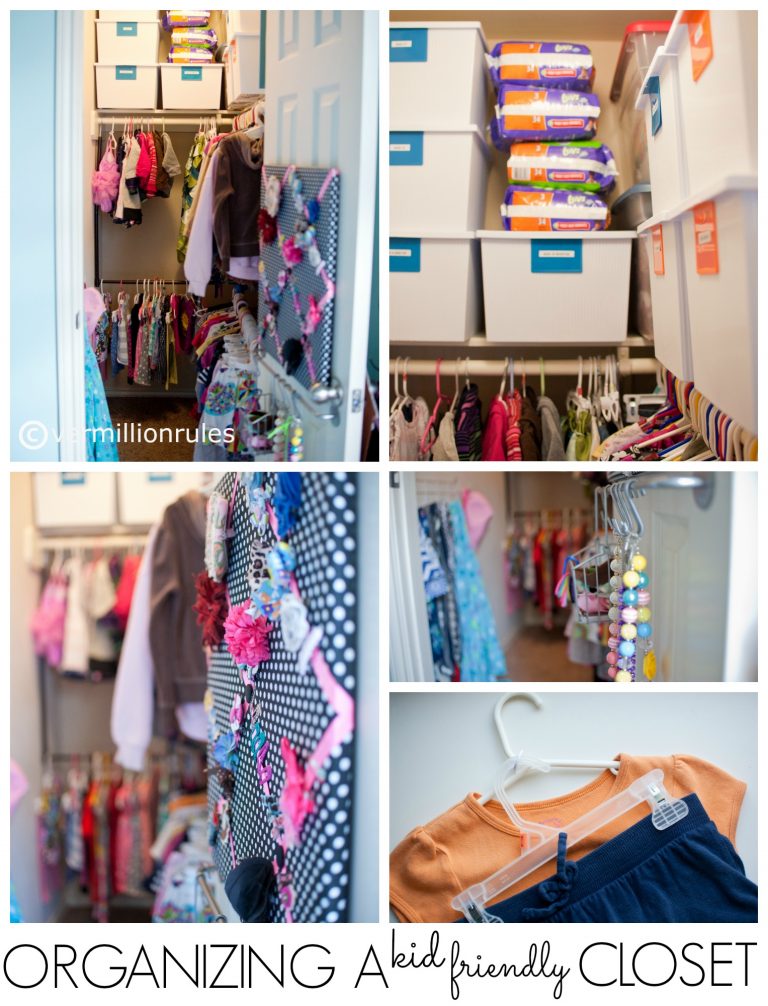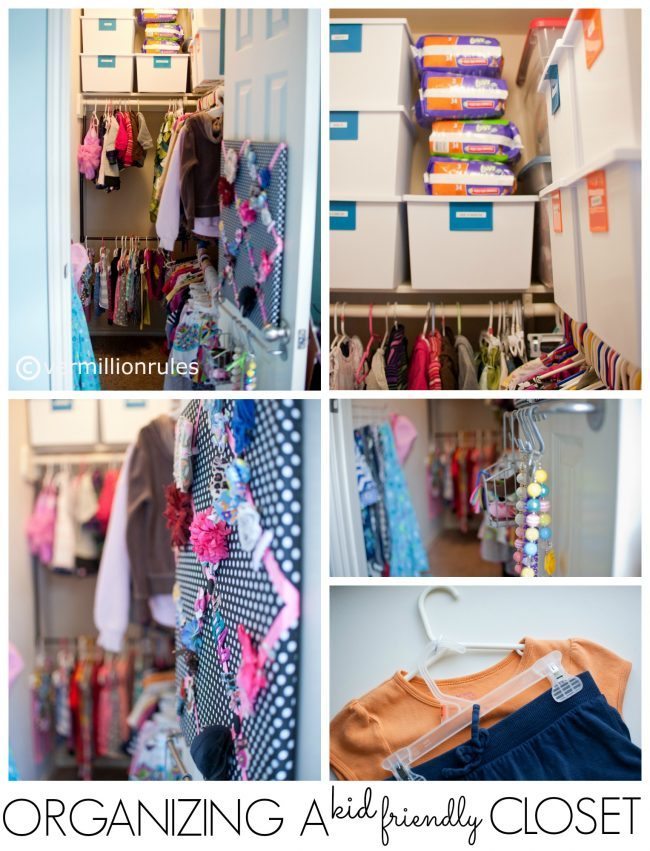 My daughter has a nice large walk in closet, but the space was not utilized well.  It wasn't a big deal until I realized that it will soon be accommodating the clothing and accessories of not one, but TWO little girls!
Also, I have realized, after parenting for a little while, that children like some semblance of independence.  My goals for this closet makeover were threefold.  1) Make the space more functional, 2) Provide the opportunity for dressing independently (with only the top rail, the original layout of the closet was not reachable for kiddie hands) and 3) stay within a reasonable budget.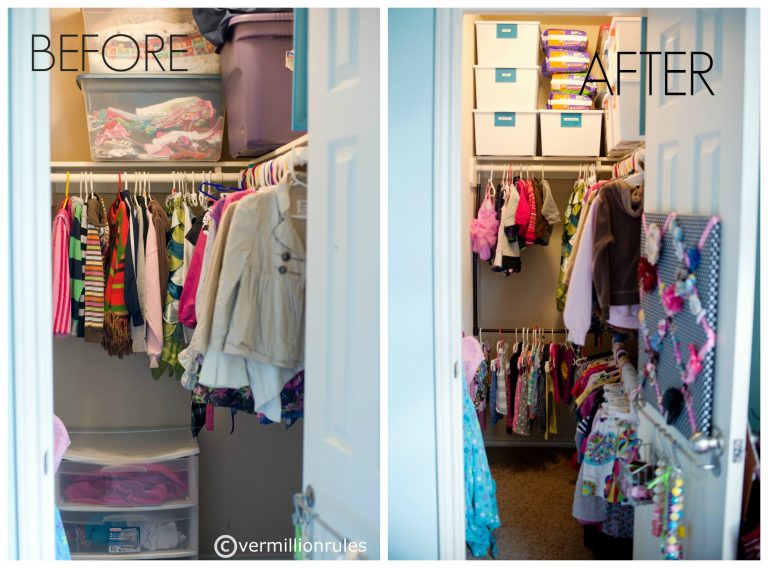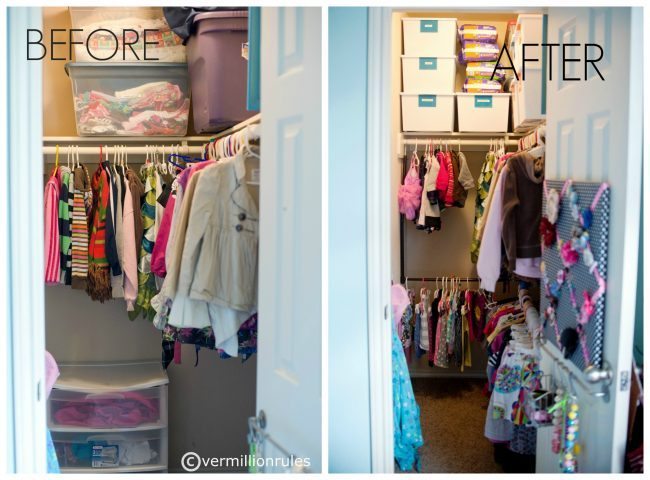 I started by purchasing these Sterlite white bins at Target.  Great size, good price ($5.99), come with a lid, and they have interchangeable colored plastic tabs that attach to the bin so I can use a different color for each girl.
I then bought two adjustable hanging closet rods.  These provide a rod closer to the floor (where little ones can reach) and more storage space.  Mine were from Walmart for $10, but Target has these (online only).
I left Hobby Lobby with a cute memo board (use a coupon!) and possibly my favorite part of this makeover, small plastic rings (1″ diameter, found in the curtain making aisle, but Walmart and Joann's sell them too).  Strange for a closet, but just wait!!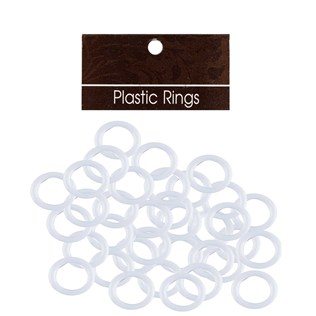 I already had the rod/hooks for necklaces and the basket for fabric headbands, but they are from IKEA.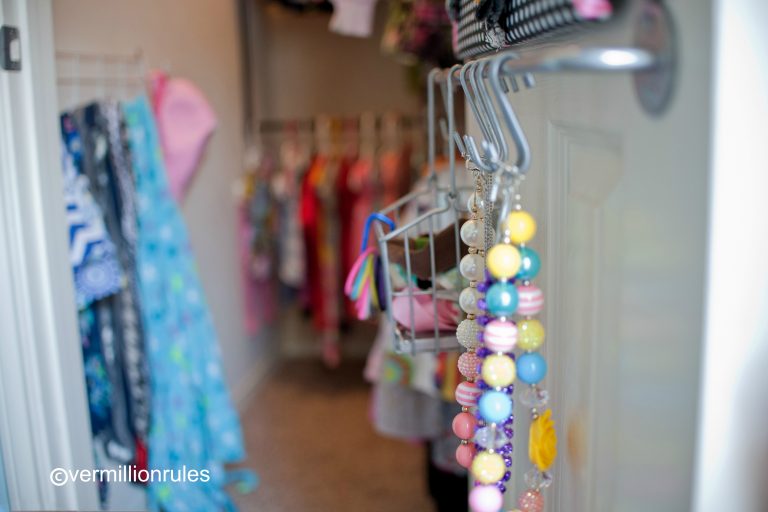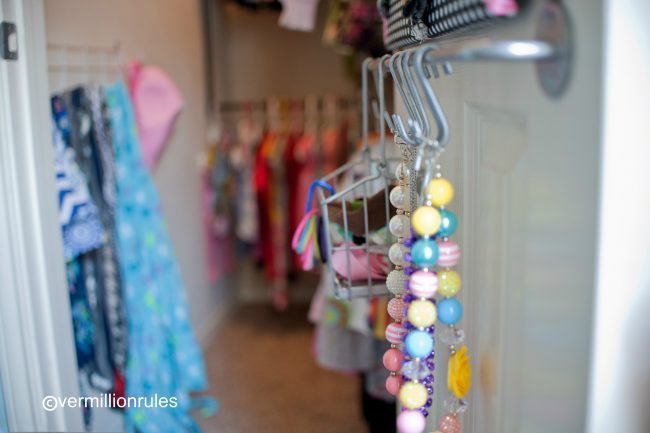 Normally, I have a couple of large bins in the closet holding all of the clothing that is currently too big for my girls.  Unfortunately, it's a lot to rummage through and there have been times when I didn't realize I had an item of clothing until it was too late and my daughter had grown out of it.  I used the bins from Target to organize all of the clothing by size and kid.  Those colored plastic tabs came in really handy!  I used my label maker to place size labels on each one.  The smaller bins utilize the space much better as well.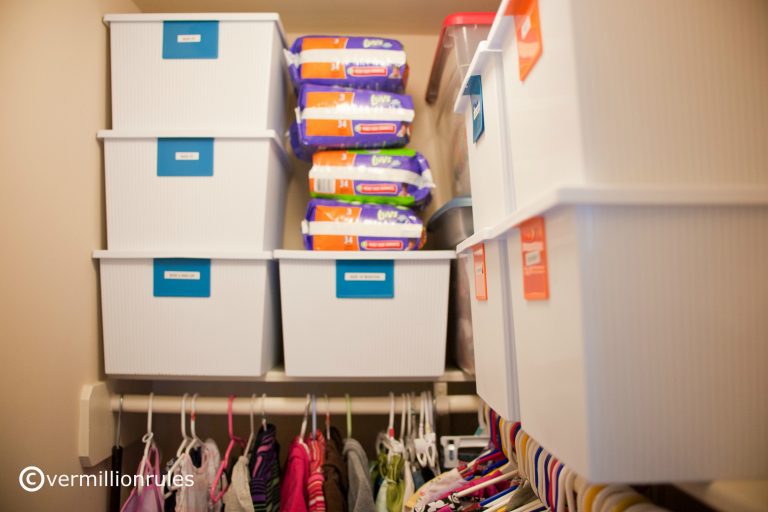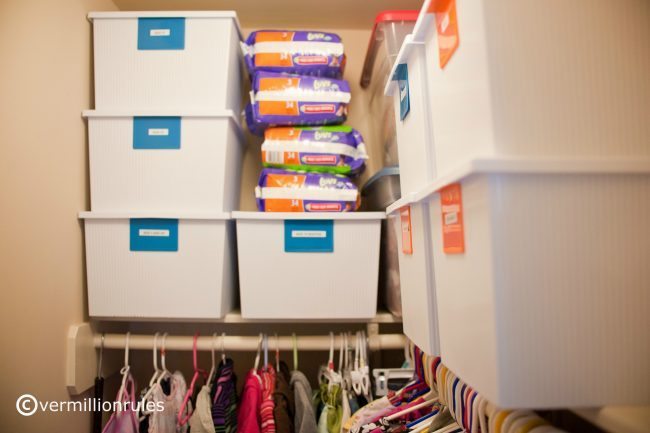 After hanging the adjustable rods, I arranged the clothing that my older daughter wears to school on the bottom rod and her church dresses on top.  I want her to be able to choose her own school clothing on a daily basis, but she really loves to be, uh….creative.  That's where the plastic rings come in.  I put a plastic ring around each top hanger and she helped me put together outfits for the week.   This way, she can go to her closet, choose an entire mom/kid approved outfit, and we all have a less stressful, whiny morning!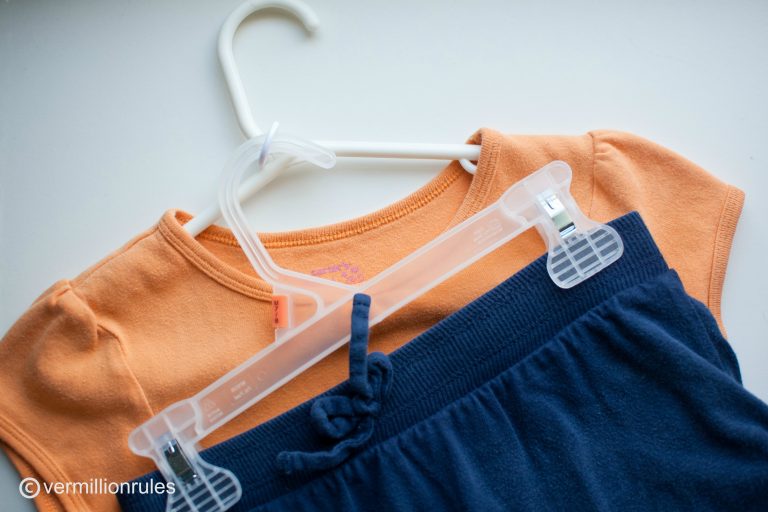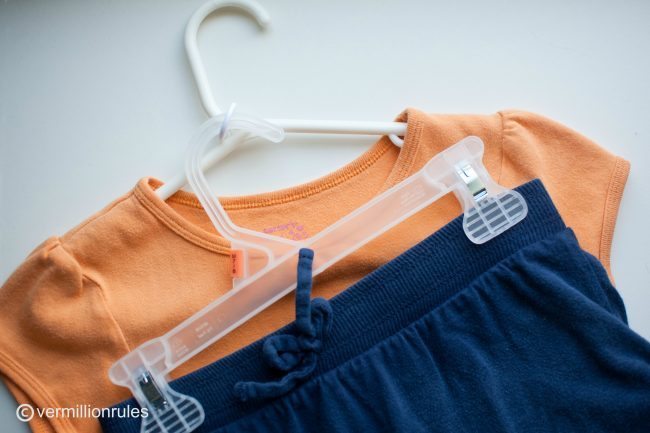 That adorable memo board became the perfect hair clip organizer.  If you can't find a board that you love, you can always make one yourself!  Here's a great tutorial (and easy!) from Motherhood for Dummies.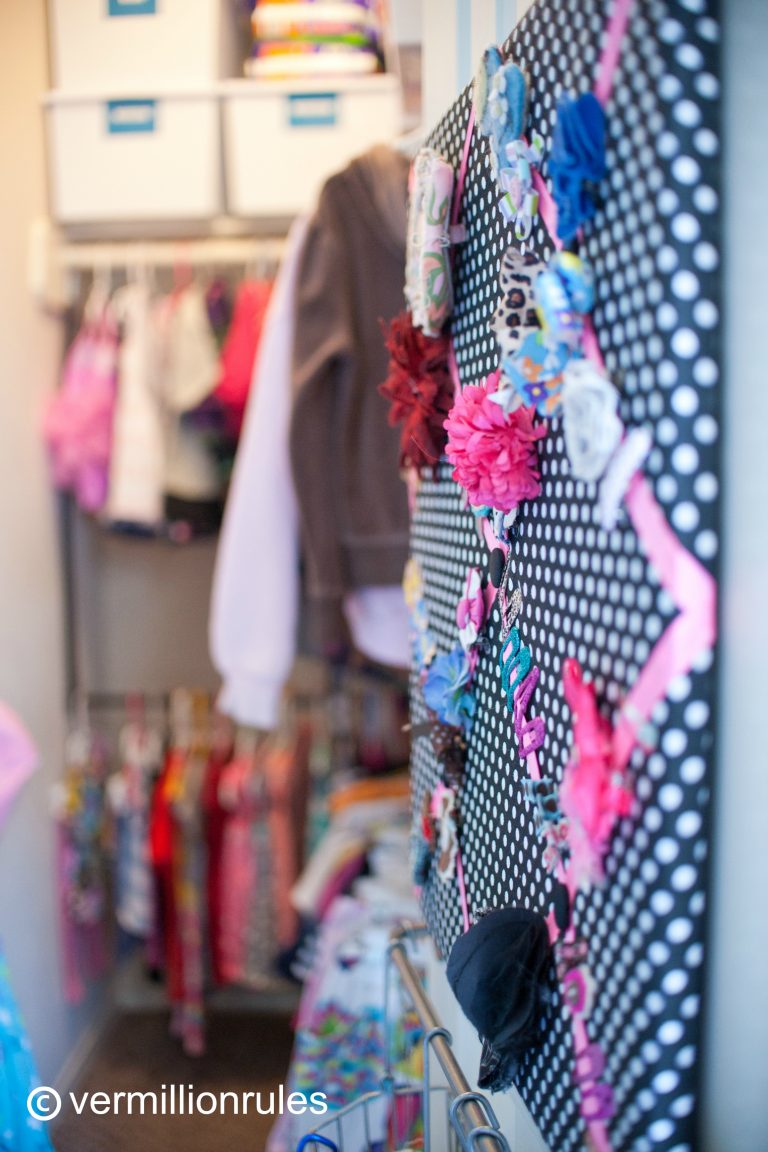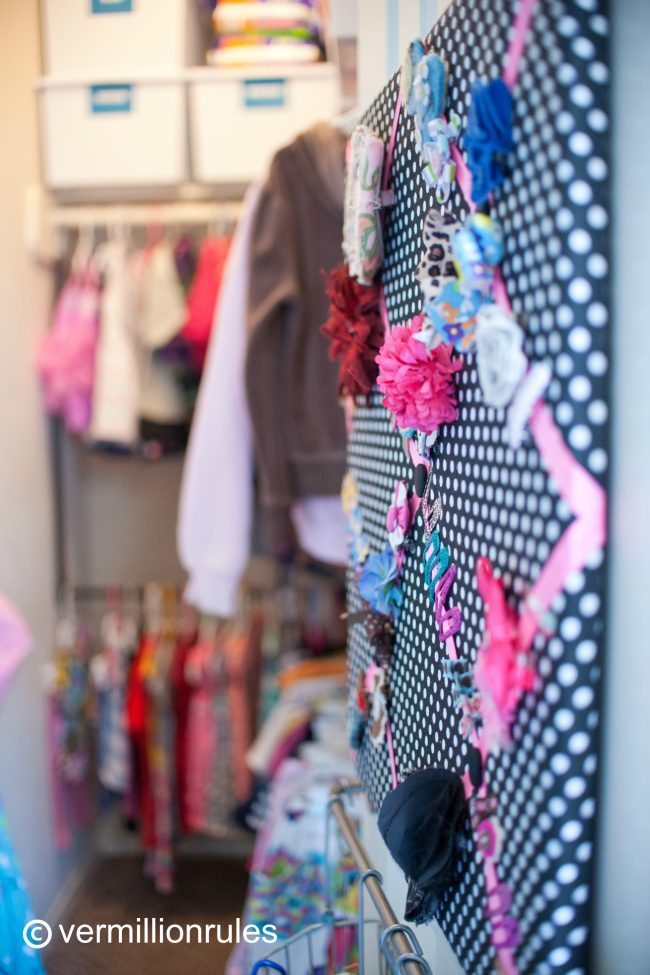 For extra accessories (scarves and hats), I attached wire hooks to the wall (from Dollar Tree!!) on the inside of the closet at kid height.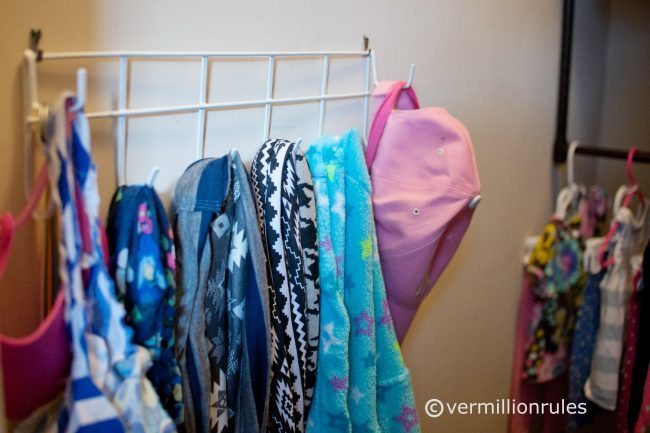 I love the way it turned out!  So much more functional and easily accessible for the kids!
Here are some more great ideas and tips for organizing a kid friendly closet space: