This post is in partnership with Shutterfly.  I am beyond thrilled to work with a company I absolutely love.
It's always a challenge finding the right gift for the dads in our life.  I'll take away the guesswork with this Father's Day gift idea– a one of a kind photo book.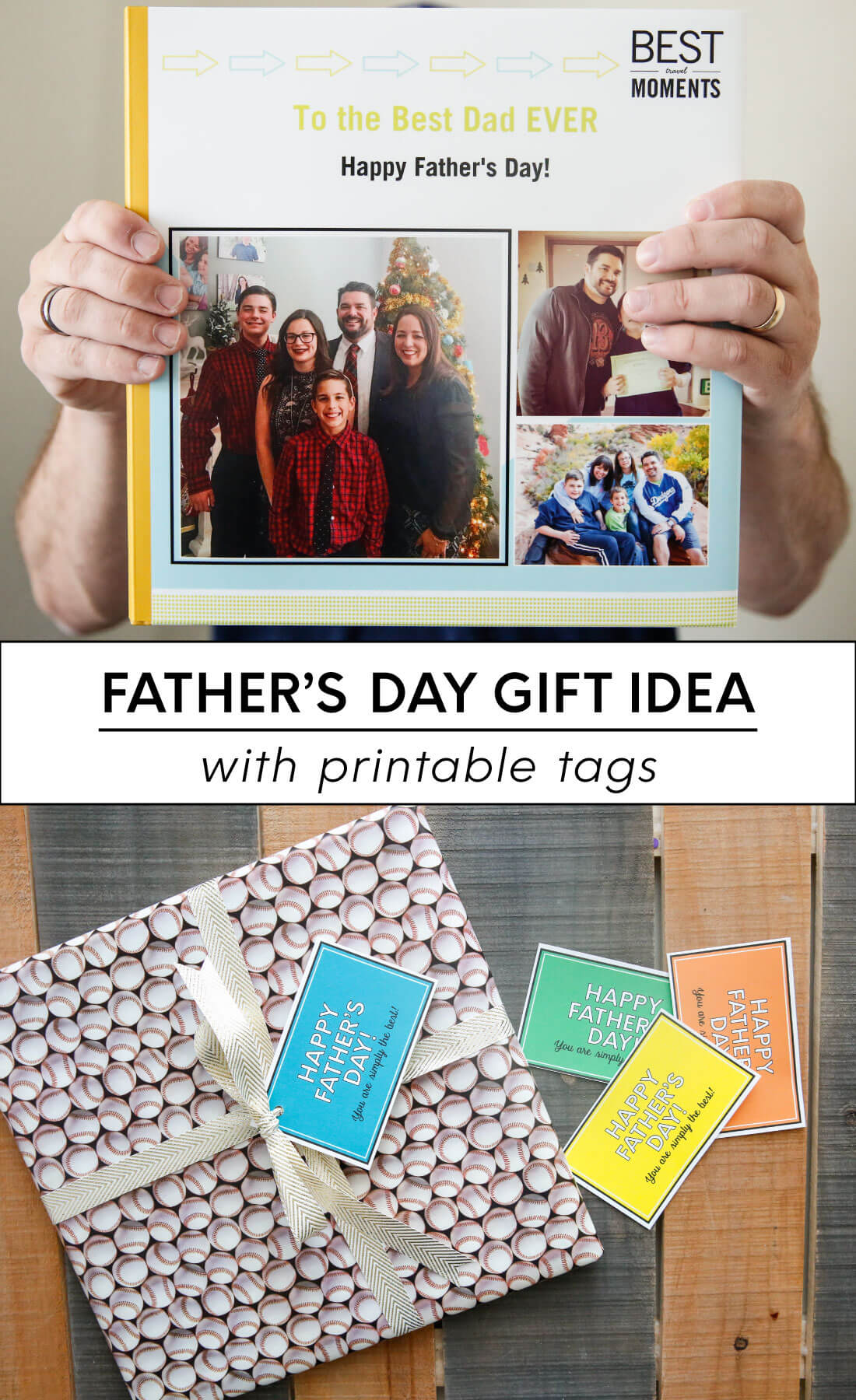 As much as I love finding the perfect gift for my husband Josh, it sure can be a challenge.  Anything he really wants, he goes out and buys.  Ugh.  And socks don't really scream "you're the best dad ever!"  This year I was able to create a custom photo book that I know he'll love.   Nothing gives him more pride or happiness than his kids do.  This photo book highlights all of that perfectly.
I used Shutterfly's new Make My Book service and it was magical.  All you have to do is upload images, title the book and include important information.  It's free to get started and you only pay a small design fee if you actually order the book ($9.99 plus the cost of the book).  After you upload your pictures, it will ask you for a title and some information to best suit your needs.  For example – it asks if you want a lot of embellishments (clipart, extra designs, etc) in the book.  You give guidance and they go with it.  You then click submit and in 3 business days, they send you a book to review and can then order.  Ta-da!


I used to be a huge scrapbooker back in the day.  I spent hours and hours and hours printing, cutting out, adhering and designing pages.  Long gone are those days, but I still have a ton to catch up on.  I think I'm going to just upload pics and use this service.  No more guilt for not getting any of it done.  That will be worth every penny.   They make it super easy because you can upload pictures from your computer, from social media channels or anything you already have in your Shutterfly account.  And I didn't realize it until recently that Shutterfly now has free, unlimited photo storage. All your photos can be auto uploaded from your phone to the Shutterfly app or from your computer to your Shutterfly account. I'm going to do that as soon as possible as well.  One of my biggest fears is losing all of my pictures from over the years and now that I know Shutterfly has that option, I will definitely take advantage of it.
They make it so easy to gather your photos, find the perfect ones and create beautiful books too!  (and you know how much I like things that are easy to put together)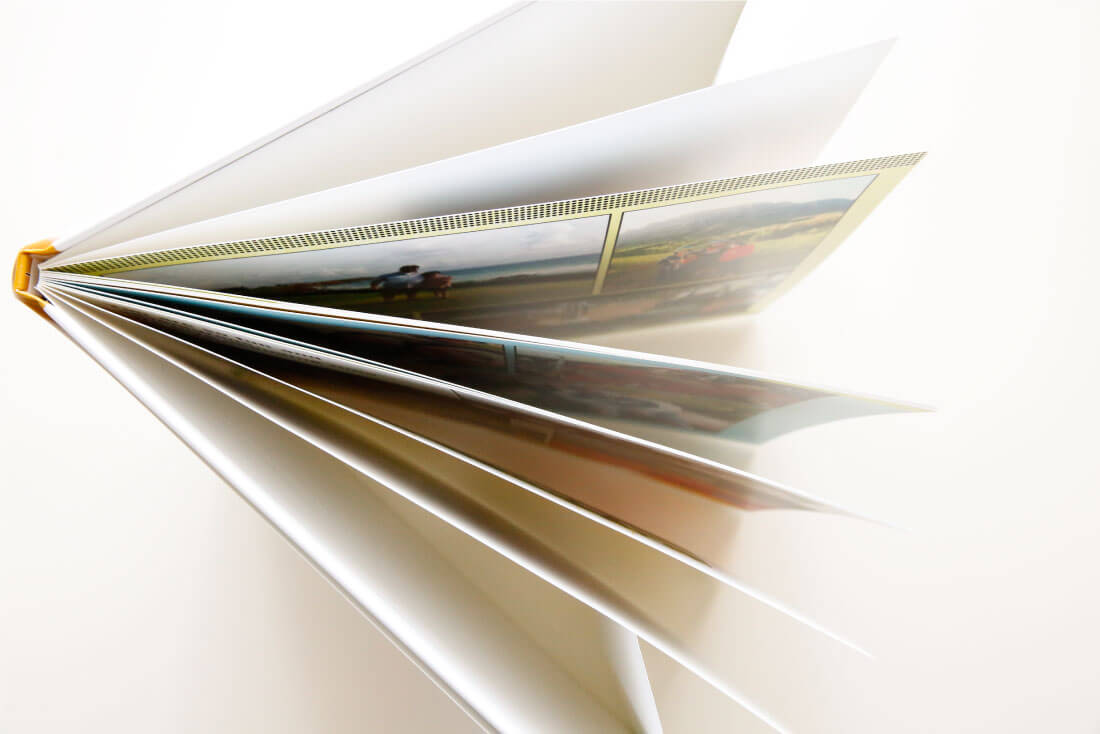 There are a bunch of options to choose from with Make My Book.  I picked a hard bound book with thick, layflat pages.  The quality is amazing.  I imagine this book sitting on our coffee table so that Josh can pick it up and look at all of the incredible memories he's made with our kids.
When the book came, I was so anxious to open it to see how it turned out.  I flipped through and got teary eyed thinking of how awesome of a dad Josh really is.  And even though he isn't much of a crier, I have a feeling this gift will get him.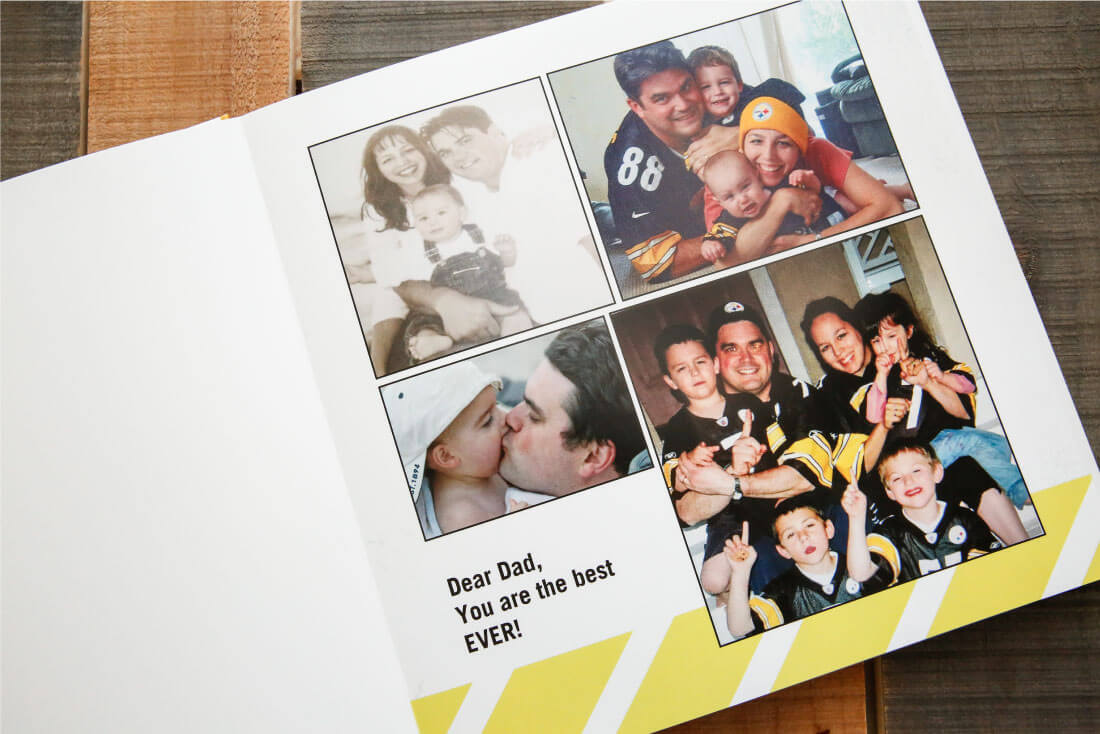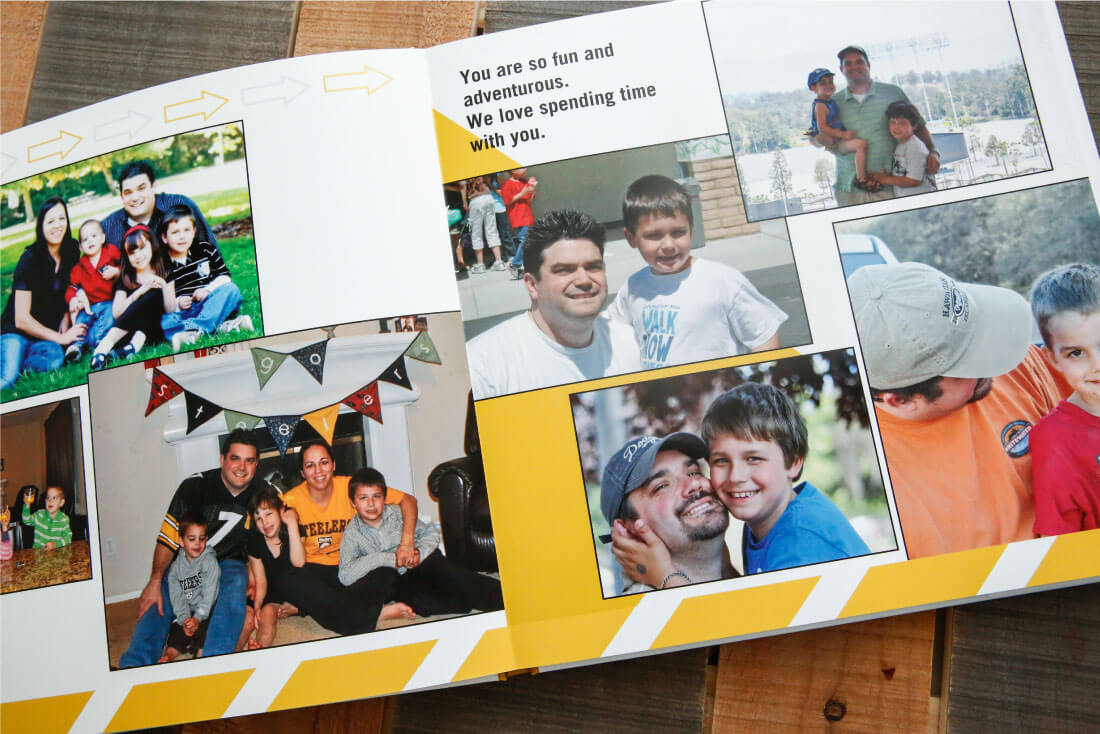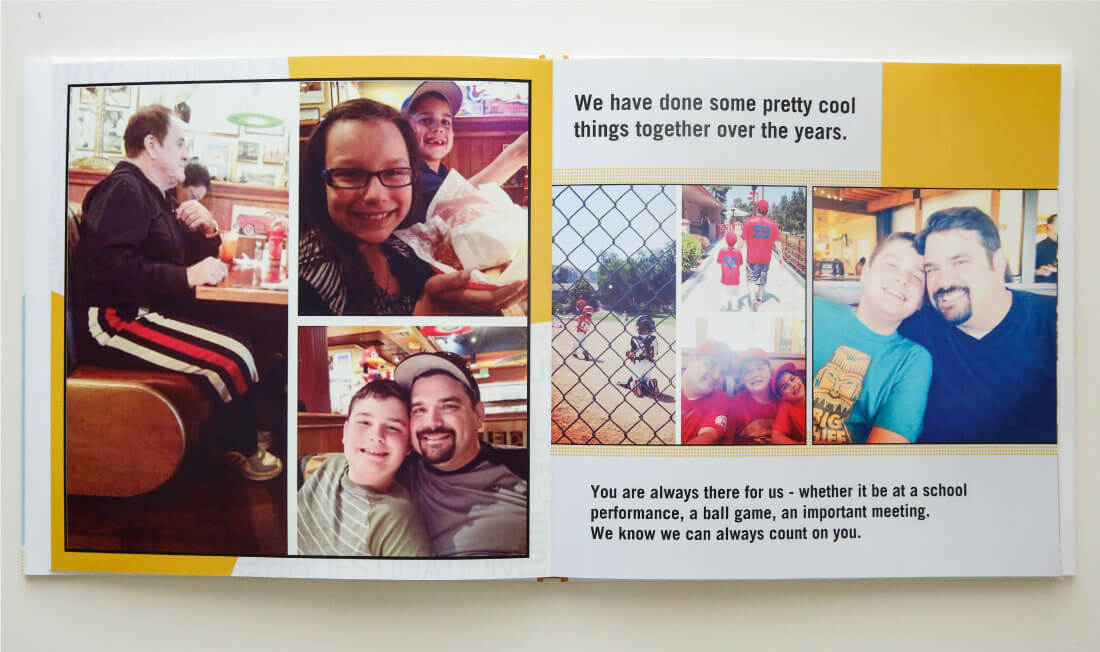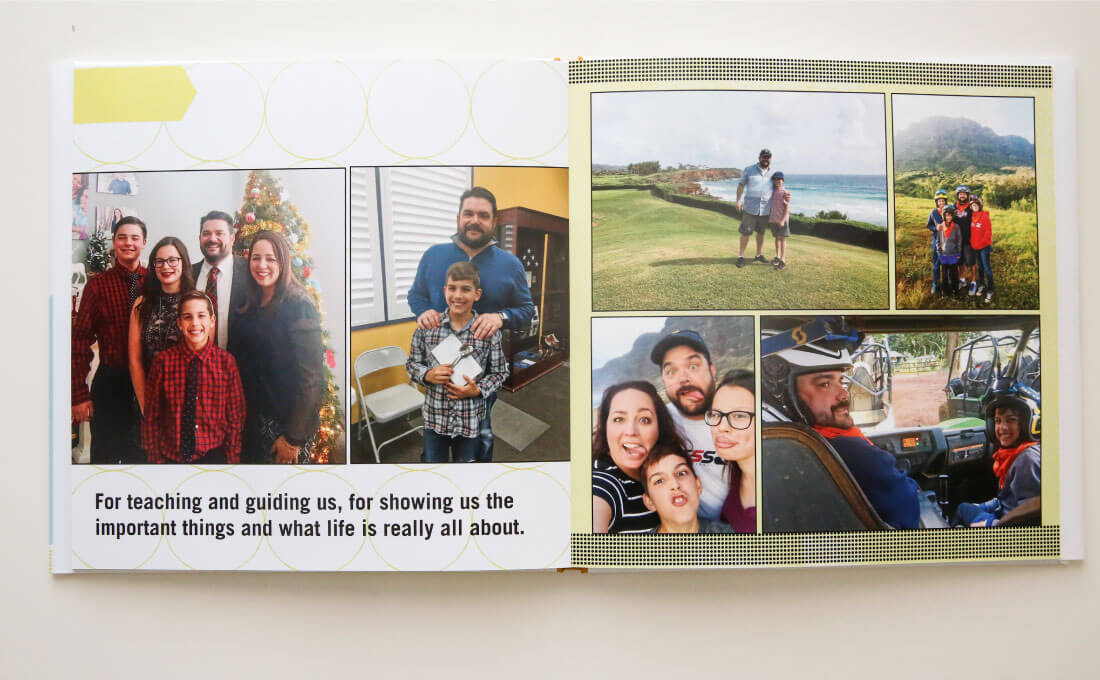 Since he is a big time baseball dad, I wrapped the book up in some baseball wrapping paper and attached a tag to it.   You can use them on any Father's Day gift that you want… but I'm pretty sure you'll win big time with a photo book like this one.  Wink, wink.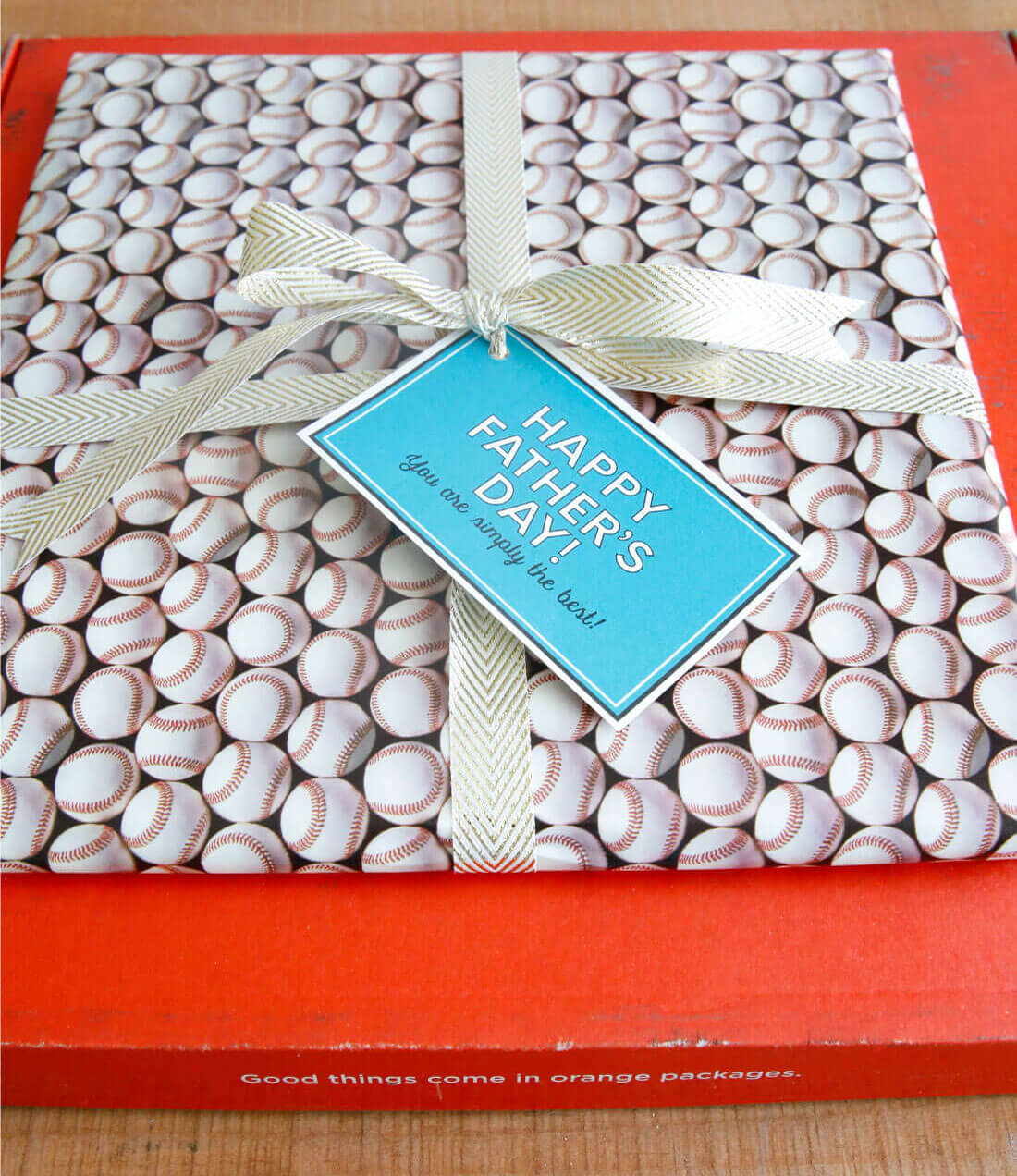 Download a sheet of printable Father's Day gift tags.  For personal use only.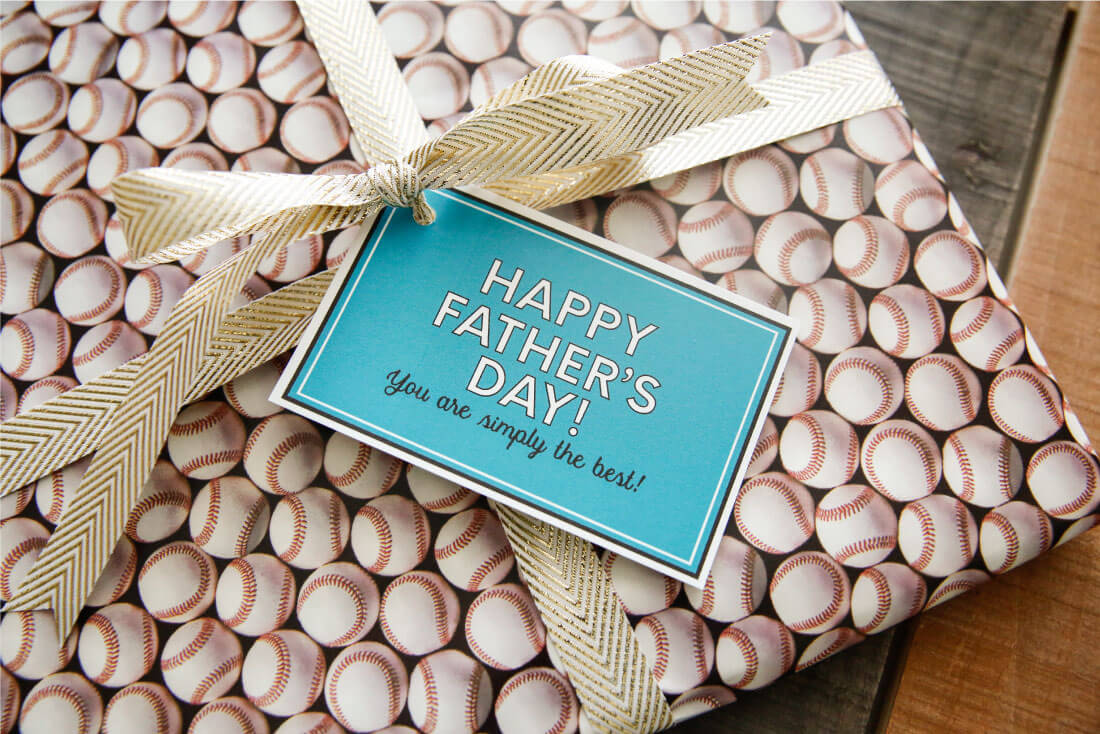 Do you have pictures sitting on your computer?  Make them into a photo book! Or make a photo book for Father's Day for the dads in your life.