This post is sponsored by NexGard.  All opinions are 150% my own. 
I talk about my family members but have failed to mention an important part-   our dog Shortcake.  "Shorty" got a little makeover in the collar and I thought I'd share how I made it for all of my animal loving friends.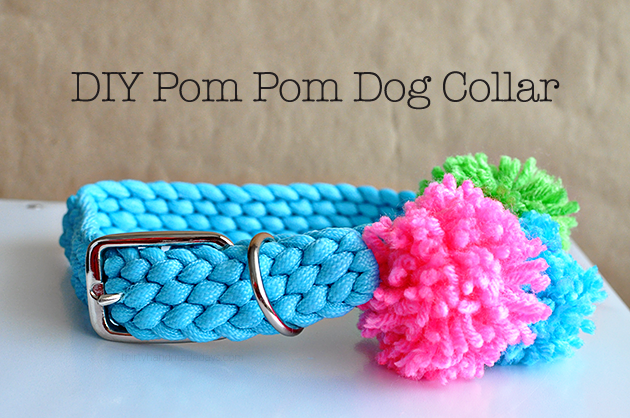 But first a little background: Josh grew up with lots of animals.  They had pigs, a cow, dogs, and even harvested bees.  My family always had cats.  When we were getting ready to buy our first house he mentioned over and over how much he wanted a dog.  So for our first anniversary I drove far away to get a beautiful lab puppy.  Josh named her Maxine, Max for short.  Sadly Max went to live with another family shortly after our oldest was born because she was a little too into our baby.  Years later after a lot of research, Josh found a sweet pup that we drove hours to get — Shortcake immediately won over my kids and solidified her place in our home.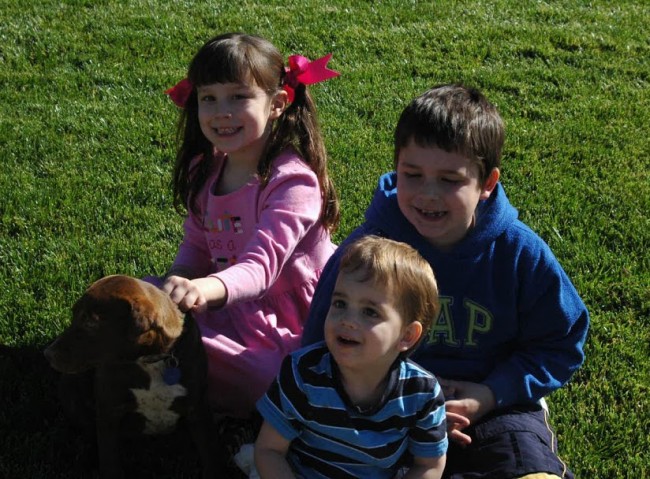 I can't believe those itty bitties are my kids! They have grown so much over the last several years.  So has Shorty.   This is the day we got her.
In that time she's gone on hikes, walks, and sleeps on a couch in mine and Josh's room each night.  We just recently took her on our camping trip and she was fantastic.  I was apprehensive about having a dog in our home with three young, rambunctious kids but she has definitely done well with all of them.  She is protective and sweet.  If only I could get her to stay away from our trash bins……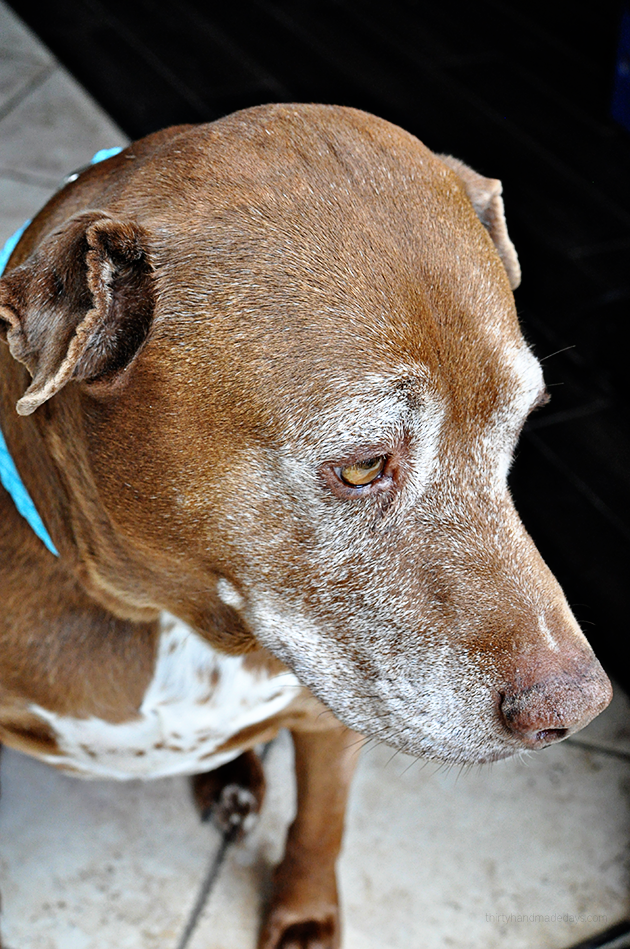 To treat Shorty to a little something, I created a super duper easy Pom Pom collar.  I wasn't sure what my boys would think but knew that my 12 year old daughter would love it.  Sure enough, Julia said "Oh how cute! Look at you girl!" right after she saw Shortcake with her little collar upgrade.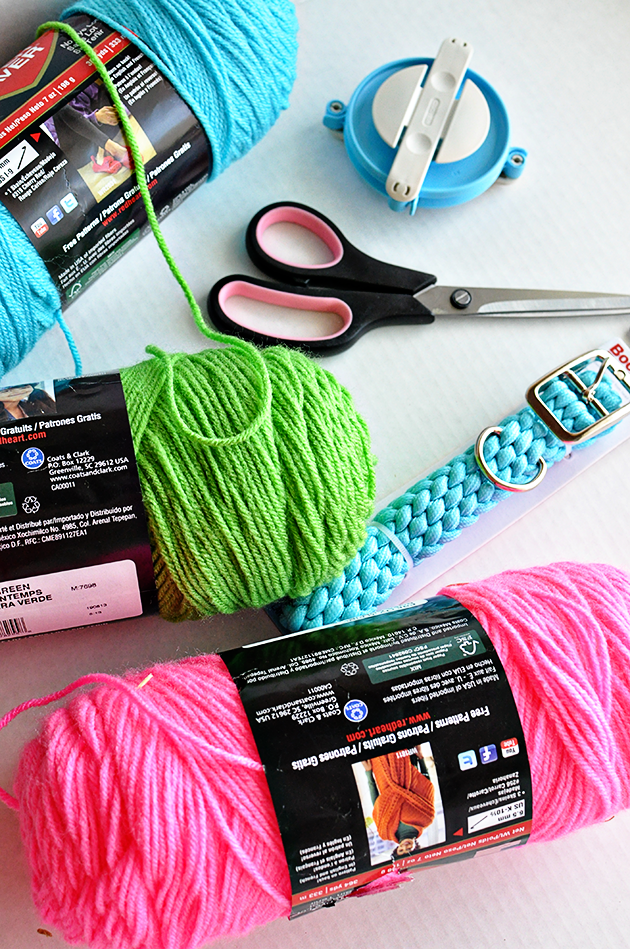 You only need a few supplies:
Dog collar
Yarn
Pom Pom maker (you can do it on your own but the pom pom maker makes it such a cinch)
Scissors
Make the pom poms with your maker in various colors.   Cut off any stragglers to make sure each pom pom is uniform.  Instead of cutting the string used to tie it all together, leave it hanging out.  Take that string and wrap it around the collar, tie a not to secure each one tightly.   You could use a glue gun to secure the pom poms even more to make sure they don't move at all.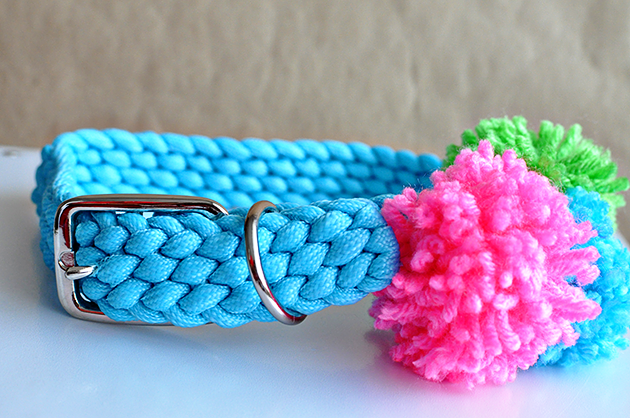 I mean doesn't Shortcake look happy with her new collar?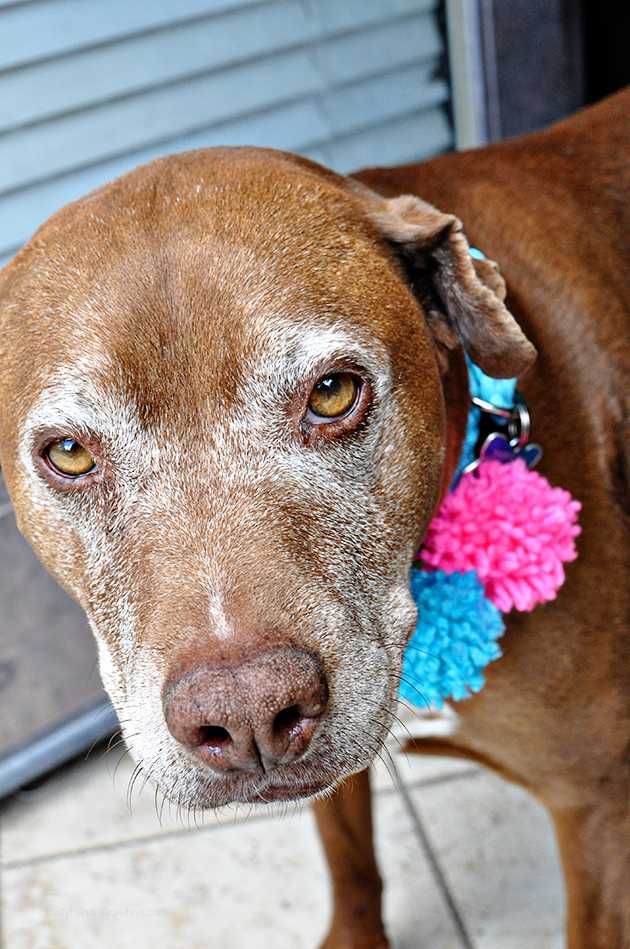 Shortcake has found a way into my heart.  And it's her birthday this week!  She'll be 49 (in dog years) on the 25th.  Happy birthday sweet girl!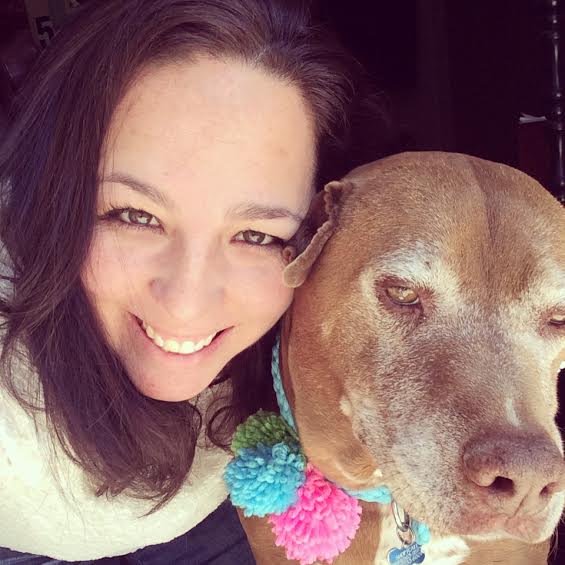 Do you have a family dog?   You can enter to win a prize pack for your dog by tweeting and instagramming #lovemypet.   I'd love to hear all about him or her so share your story!
Important Safety Information
NexGard is for use in dogs only. The most frequently reported adverse reactions include vomiting, dry/flaky skin, diarrhea, lethargy, and lack of appetite. The safe use of NexGard in pregnant, breeding or lactating dogs has not been evaluated. Use with caution in dogs with a history of seizures. Read prescribing information here.
™NexGard is a trademark of Merial. ©2014 Merial Limited, Duluth, GA. All rights reserved.