Who else loves Disneyland?  We've learned the 5 BEST tips for Disneyland with kids and are sharing them with you, hopefully to make your next magical vacation even better!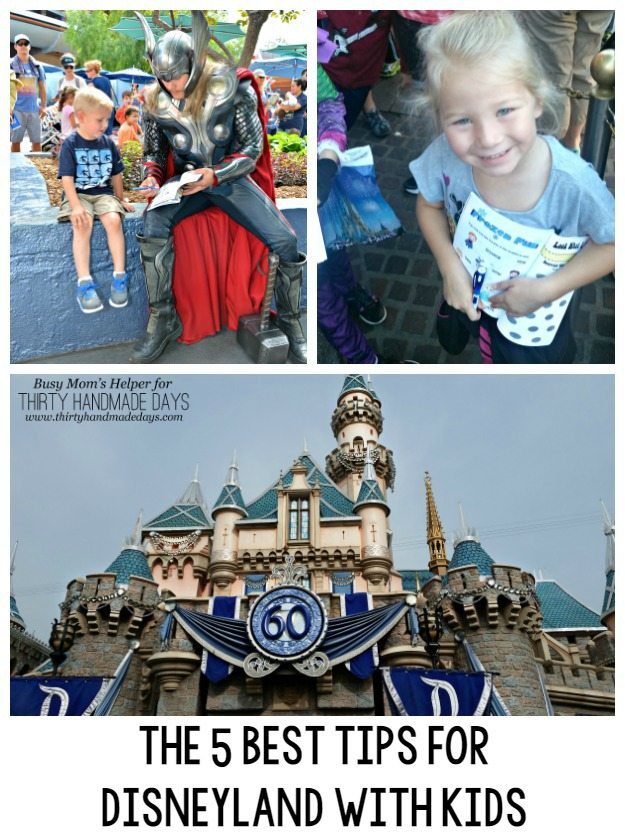 Hey, it's Danielle from Busy Mom's Helper again – and I LOVE Disneyland!   Here are my tips – 
Tip #1: Strollers are your friend
Almost every year I say 'maybe we shouldn't worry about the stroller this time' – but each time we take it, and I'm SO glad! Yes, it's a bit of a pain getting through crowds, and one more thing to remember. BUT – you can store your stuff there, from jackets, to souvenirs, snacks for the kids, even ponchos for Grizzly Rapids. I do NOT recommend leaving valuables in it, as we had our cellphone stolen right next to us from the top handle of the stroller last year. But when we've left jackets and such underneath in the basket, we've never had anything stolen. So just be smart and cautious. Strollers are also great for when your kids' legs get tired, or if they need a nap. Lastly – they can help save your spot for parades and fireworks!
Tip #2: Have a BIG pen for most of the characters
While Thor has no issue holding a regular pen – and playing with little friends in our Disneyland Activity Book….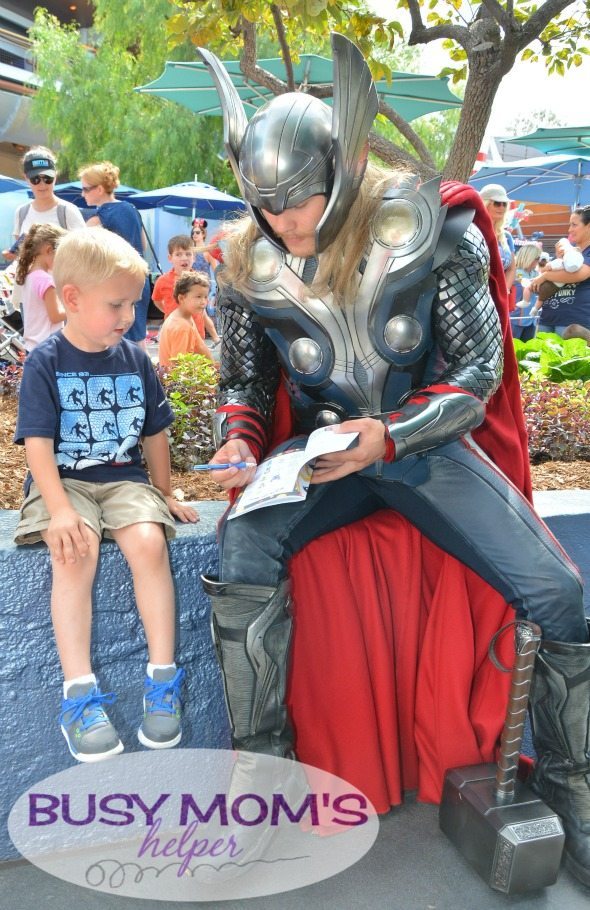 ….and Donald seems to have 'regular' sized hands….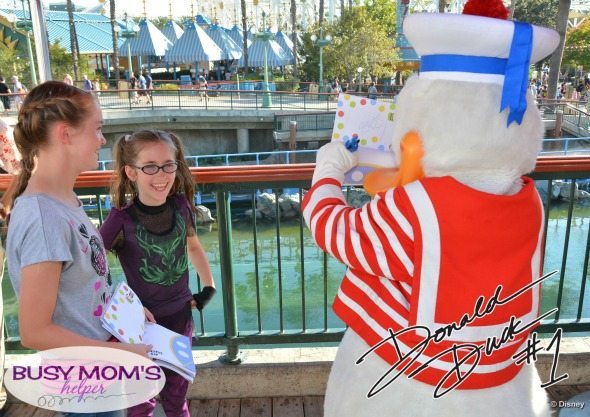 ….others like Minnie Mouse can have a bit larger fingers, so need a thick pen to really grasp it.
Tip #3: Kids under 7 need a grown up on most rides
This was a new policy on our trip last year – but apparently, on many rides kids under 7 need to be accompanied by someone over 14 (unless it's changed again) even if they meet the height requirement. Even on rides like Mater's Tractors, our boys had to have an adult with them, but my niece who was 7 could ride by herself if she wanted.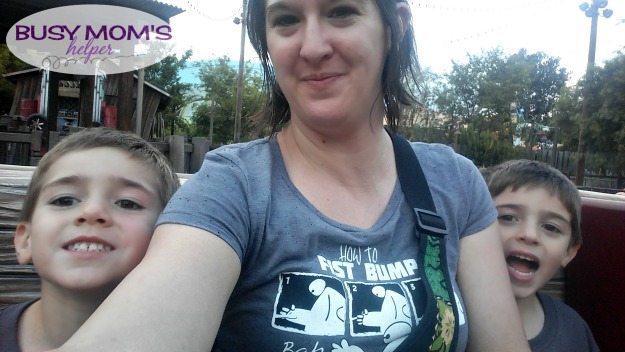 Tip #4: You can fit 3 on many rides if you have kids
I was worried we wouldn't be able to do some of the rides because our boys weren't 7 (so 2 adults, and 3 kids under 7 – plus our girl age 9) but we found out on many of the rides you can seat 3 in a row if you're with a kid. For example, on Maters Tractors we could do 2 adults and a kid, or 2 kids and an adult. For Toy Story Mania, we were able 3 per row so we could all go together. Don't be like we were at first and just assume you can only do 2 – just ask :)
Tip #5: Take sandals for the wet rides & water park
This is easy to pull off when you have a stroller to store them in. For rides like Grizzly Rapids, Splash Mountain or while playing in Princess Dots Puddle Park, kids' shoes and socks can get soaked! This can lead to a miserable walking experience, so we just slip on their sandals for getting wet, then put back on their good-for-walking socks and shoes afterwards. Another wet ride tip – keep a couple of ziploc bags handy to slide your wallet/phone/tickets in when you go on them to keep them safe.
BONUS TIP: Keep long lines and waiting entertaining for kids
Waiting in line with kids can be the WORST part of a vacation, and there's a lot of that going on at Disneyland! Luckily, our kids now love ride lines because of our 'Unofficial' Disneyland Activity & Autograph Book. Over 60 pages of games, mazes, matching, trivia and jokes, and creatively designed autograph pages for nabbing signatures from your favorite characters.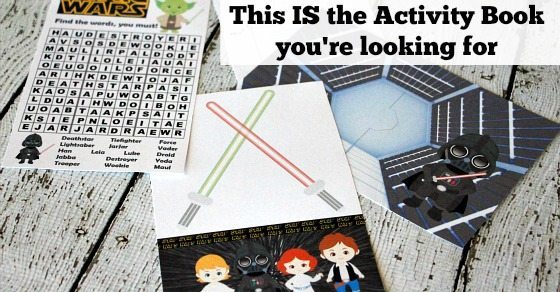 They love having something to do – and we love the fun ride checklists (divided by land for ease) with height requirements. They're only 6×9 in size, so really easy to bring with, and even have several pages for recording favorite memories from the trip.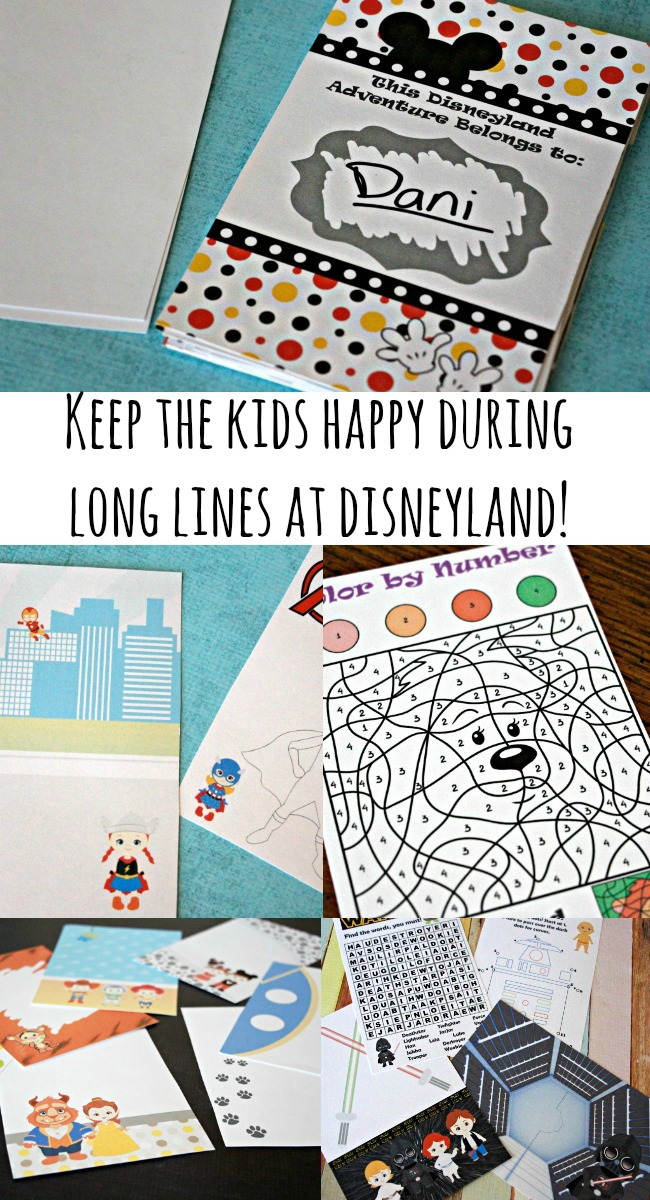 No more boring lines at Disneyland or California Adventure – just nab your pdf download or pre-printed book now!