I love sharing bundles with all of you because they are full of amazing products at a killer deal. I can't ever pass up a good deal and this one is absolutely amazing. Really, there is so much stuff in this Ultimate Homemaking Bundle that you won't ever get through all of it.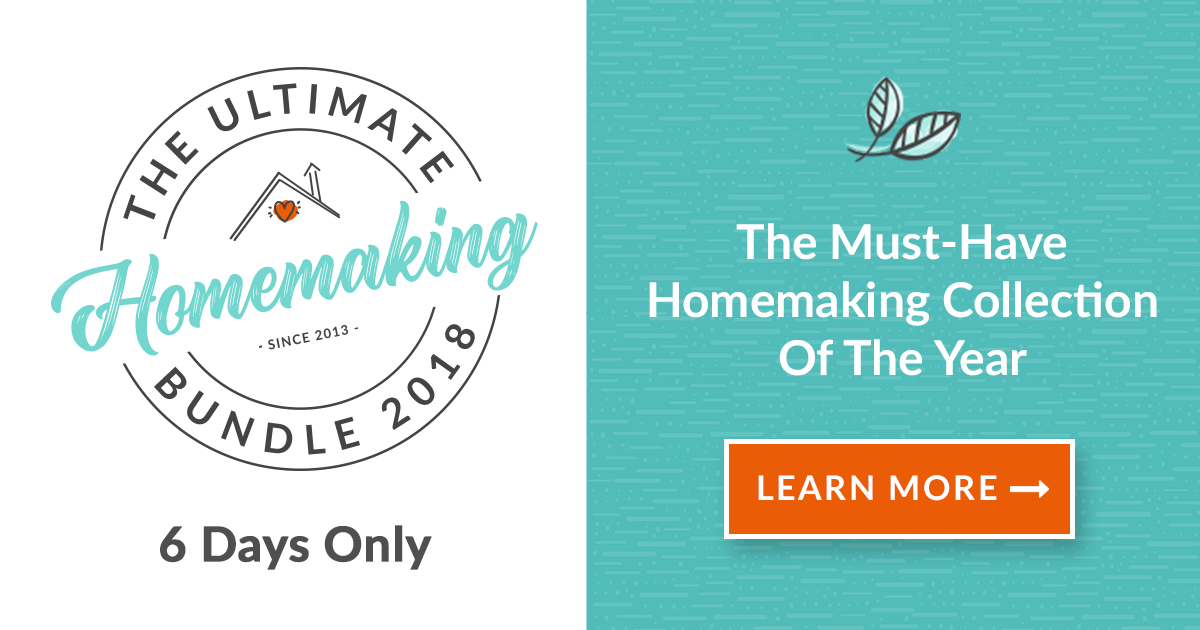 It's the crazy time of year when we're just barely trying to hang on to all of the insanity that the end of the school year brings. Or is it just me? Thinking about adding one more thing to my plate makes me tired. But this bundle is worth sharing because it has a little bit of everything. Ideas for organization, budgeting, motherhood, marriage, recipes and more.

Here's the low down:
The total value of the bundle is $3,687.47
And it costs only $29.97
It includes-
62 eBooks, 34 printable packs & workbooks, 3 memership sites, 30 eCourses, videos & audios

The Ultimate Homemaking Bundle is only available until April16th. So don't put off getting it because it will be gone after that date.
Here are some of the hot topics included in the bundle:
BUDGET

2018 Budget Binder by Kaitlin Stearns ($7.00)
Financial Foundations: Everything You Need to Build a Strong Financial Foundation by Jennifer Roskamp ($37)
Finding Your Greatest Worth: A Starter Kit by Nicole Rule ($49.00)
Growing Up Centsible: A No Nonsense Guide to Helping Kids Become Financially Responsible by Marnie Craycroft ($9.99)
How to Make a Budget Work For You: A 31 Day Guide to Creating a Personal Budget that Fits Your Lifestyle by Heather Schisler ($9.99)
Merry Debt-Free Christmas: Holiday Solutions For The Financially Stressed! by Joyce Zahariadis ($17.99)
Real Food Savings: How to Save Big on Produce, Dairy, Meat & Grains by Angela Davis ($4.99)
Real Life on a Budget Planner by Jessi Fearon ($19.97)
The 90 Day Budget Bootcamp Workbook by Rosemarie Groner ($7.00)
The Complete Grocery Budget Solution by Elise New ($49.00)

HOME MANAGEMENT/CHORES
Instant Hospitality, Just Add Guests: The Go-To Guide for Last-Minute Gatherings by Mauri Jane King ($15.00)
12 Months of Simplified Living: Printable Calendar Subscription by Stephanie O'Dea ($47.00)
31 Days to an Everyday Clean Home: One Month to Calm the Chaos and Simplify Your Life by Amy Scheren ($8.99)
Housekeeping Chore Box by Kemi Quinn ($9.00)
How ADHD Affects Home Organization: Understanding the 8 Key Executive Functions of the Mind by Lisa Woodruff ($7.99)
Living With Less by Stacey Ogden ($10.00)
Motivated: Caring For Your Home When You Don't Feel Like It by Hilary Bernstein ($9.99) '
The LWSL Ultimate Cleaning Guide by Ruth Soukup ($20.00)
The Peaceful Press Chore Pack by Jennifer Pepito ($5.00)

To get a full list —-> get out the Ultimate Homemaking Bundle HERE!
Ok. The truth is – you won't download and do every one of these items. If you do, you are amazing. BUT even if you download one thing from each section, you will be happy you did. Promise.