If clutter is a problem in your house (even if it's just a minor annoyance) it won't work to simply clean up the clutter, you need to find a solution to keep the clutter from reappearing. Let's talk about clutter traps…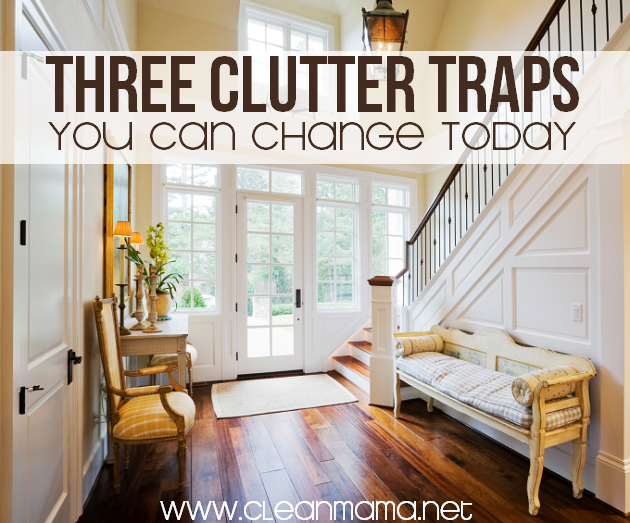 If your kids always pile up their backpacks in the entryway, just putting the backpacks on a bench or hook probably won't cure the problem, you need to find something for them to contain the backpacks in or a place to keep them that's easy for them to use.
Feeling overwhelmed by clutter or unsure of where to start?  How about 3 simple clutter traps you can do something about today?
ENTRYWAY or MUDROOM – If you have an entryway or a mudroom without designated places to put coats, shoes, purses, and other gear, go into that space and remove everything that you can.  Set it aside into 4 specific piles – keep, toss, donate, re-locate.  Looking at your space, determine the best way to help your family utilize this space.  Do you need to add hooks for coats?  A basket for backpacks?  A cute dish or hook for keys?  Recently I moved all our 'sometimes' shoes to our bedroom closet.  This was a simple game changer in the clutter department and our mudroom has so much more space.  I'd like to encourage you to find a game changing solution in your entryway or mudroom.  Once you've decided on how you're going to arrange this space to minimize your clutter, put everything back where it belongs.  If you are changing up or adding a system (like a basket or bin), make sure you explain to other family members what your expectations are for the space.
COUNTERS – Counters are a big clutter trap.  Survey the area and see where your clutter is piling up on your counters (kitchen or bathrooms).  Once you've found a spot or two to concentrate on completely clear your counters.  As long as the counters are cleared off, take a minute to wipe them down too.   Edit your counters a bit and be honest with yourself.  If you only use your toaster or blender once a week maybe it would be better stored elsewhere.  A little space on the counters is a good thing – you don't need to fill them up!  I find it helpful to think about zones as I return the items to the counters.
CLOSETS – If your closets are in complete disarray, obviously this will take more than a few minutes, but start with one closet or one shelf and clear a little clutter and make some progress.  Empty your closet or shelf completely and separate items into 4 specific piles – keep, toss, donate, re-locate.  What area(s) in your closet just doesn't make sense?  Do you need to add or move a hamper or clothes basket?  Is the way you have it set up unrealistic?  Do you need to add a divider to keep the clutter out?  Maybe you just need to purge some clothes so you limit the clothing options and keep the closet a little more simplified.  Put the 'keep' items back in place and eliminate clutter traps while you're working on this space.
Getting and staying organized can seem impossible or futile at times but with a little effort and planning, you can eliminate some clutter spots for good.
What area are you going to tackle today?
If you liked this post, I talk about all things clean and organized on my blog, Clean Mama, I'd love for you to come visit!