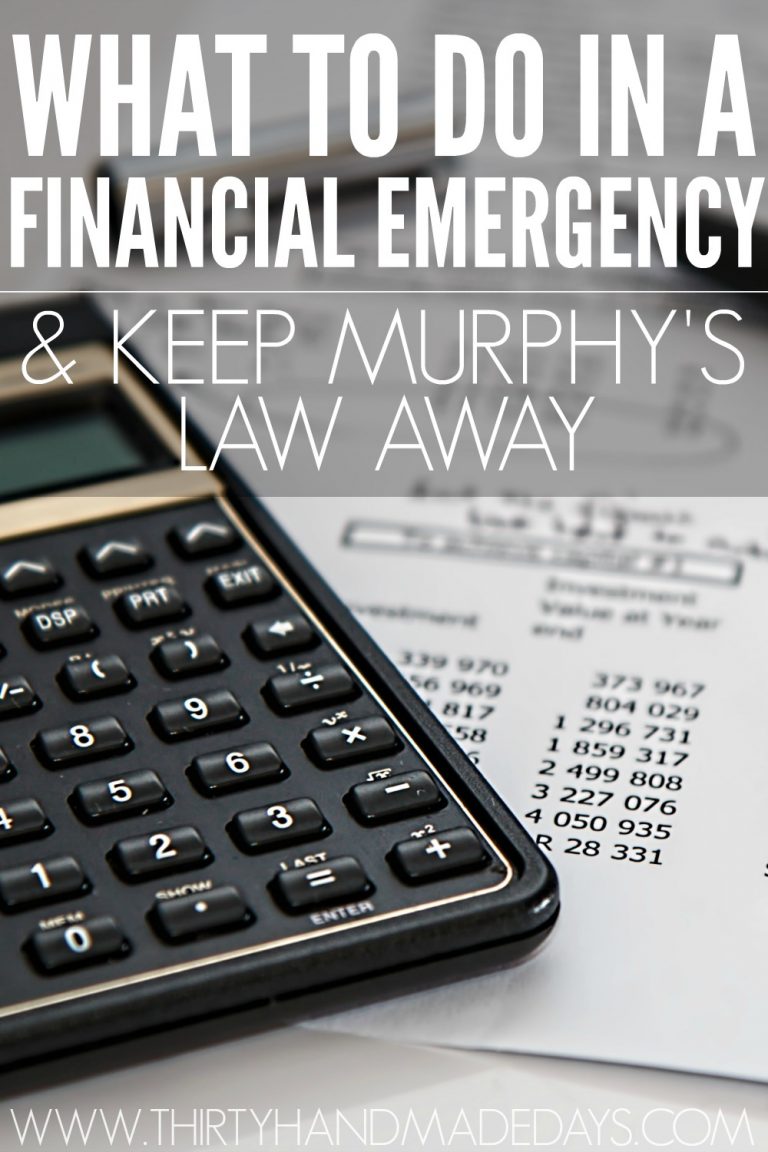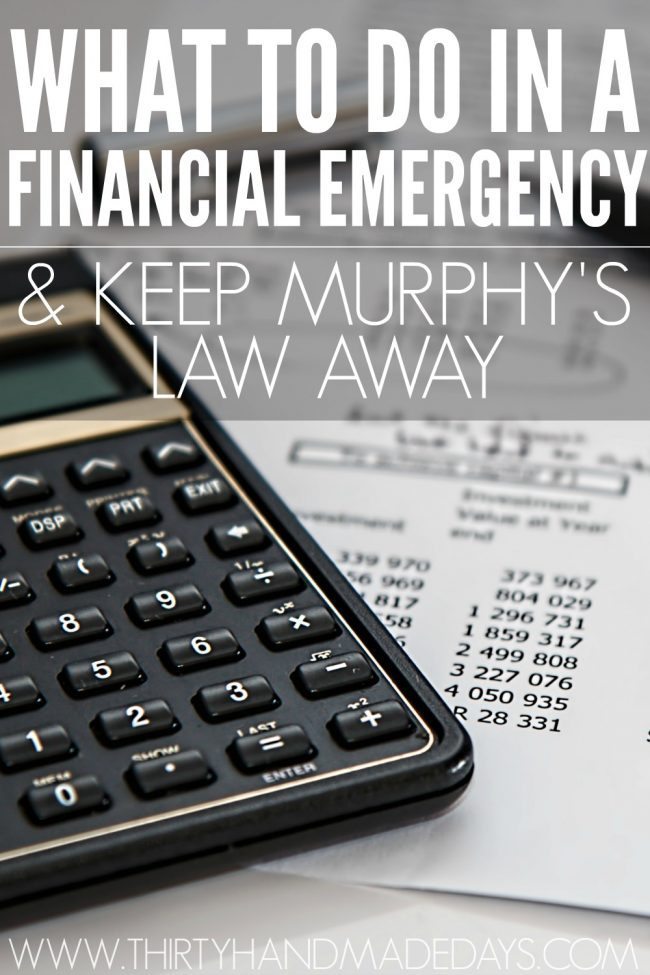 You've been doing great. You've been effectively managing your money, budgeting every penny, using the half payment system, paying everything on-time, saving up your emergency fund, and avoiding debt.
But then it happens. It's inevitable and it will happen to you, no matter how long you've been making your money work for you nor will it matter how well you've been doing slashing your spending.
Murphy's Law. Something will go wrong – the A/C will break, the car will be totaled, your child will need stitches, an unexpected death in the family, or even a natural disaster destroying your home.
Just because you have a budget in place and are making your money work for you does not mean that you'll never meet catastrophe or never ever again struggle to make your budget work.
It happens. It's called life. Now what do you do about it?
Emergency Meeting
If you're married or share money with others, you need to call an emergency budget meeting. That might sound lame but you both need to be on the same playing field when it comes to money and if there is an emergency and you don't let the other one know about it, you are setting yourself up for failure.
Make sure during your meeting, you go over everything that has changed your budget to suddenly stop working – did the car break down requiring more money than was expected to be pulled from the emergency fund? If so, what can you do to quickly re-fund the amount that was lost?
Come up with a game plan together.
Emergency Fund
Do you have an emergency fund? I'm hoping you do, because if you don't Murphy will find you – he will hunt you down and keep hitting you where it hurts until you establish one. As Dave Ramsey says, "an emergency fund is like Murphy repellent", and it is. Even though I hate taking money from our emergency fund, it is beyond a blessing to be able to do so – knowing that the money is there and that we don't have to dig through couch cushions and live off Ramen noodles for a year to pay for the expense.
So, if you don't already have an emergency fund established (a fully-funded emergency fund should have at least 3-6 months' worth of expenses), make a plan to establish yours today.
Avoid the Four-Letter Word
In my opinion, this word should be avoided at all costs but I get it that many people still like using it in their lives. However, it should 100%, without a doubt be avoided in moments of budget failure – period.
Debt. Avoid it; stay clear of swiping a credit card to pay for the car repair or to fix the A/C. Avoid taking out a home equity loan to pay for your roof to be replaced. Why? Simply because sinking yourself and your family into debt in moments of crisis only cause more moments of crisis later on.
This is why it is imperative to have your emergency fund established because the emergency fund is where the money to pay for the emergencies should come from. Not your credit card and not a banker. You will feel more at ease knowing that you don't have to pay back money you borrowed once your crisis is over.
No One Cares
Okay, this will seem harsh but it's true. As a girl that has walked through the fires of financial hell, I can attest that no one cares a lick about your whining and complaining. Sometime after you left your parents driveway with your car loaded to the brim of your childhood things, you became an adult and no one has time to hear about the problems that you refuse to do anything about.
If you're failing with money, it's okay to ask for help in the way of advice, accountability, or just moral support but it's not okay to whine and complain about the terrible lot you've been given. Eventually, everyone stops caring and you just become a Negative Nancy that no one wants to be around because you bring everyone else around you down in your self-wallowing.
Instead of complaining, make something happen – sell something to help re-fund your emergency fund (or start it), cut up your credit cards so you're not tempted to use them, make a budget and take ownership of your money.
These won't cure every financial problem that you run into but they will make Murphy think twice before knocking on your door. And best of all, you don't have to be a money master to do these things, you just simply have to want to work through the struggles that come with life.
What are your best tips for navigating times of financial struggle?