Laundry has been the bane of my existence for about 20 years now.  The funny thing is that I worked in the PE laundry room in college for awhile.  I sorted, washed and folded clothes every day as a job.  BUT I didn't have to put it away.   Maybe that's what did me in.   Some of you reading this will think I'm nuts because laundry has never been an issue for you.  And then there's the rest of you that are stuck at some point in the process.  I've spoken to many friends about how they do well with sorting, washing and folding but putting away is where they struggle (anyone else have family members who dig through baskets of clean clothes to find what to wear for the day?).  Others just get overwhelmed with the amount of clothes their family has and they haven't found a good system that works for them.  So let's figure out something that will work for you!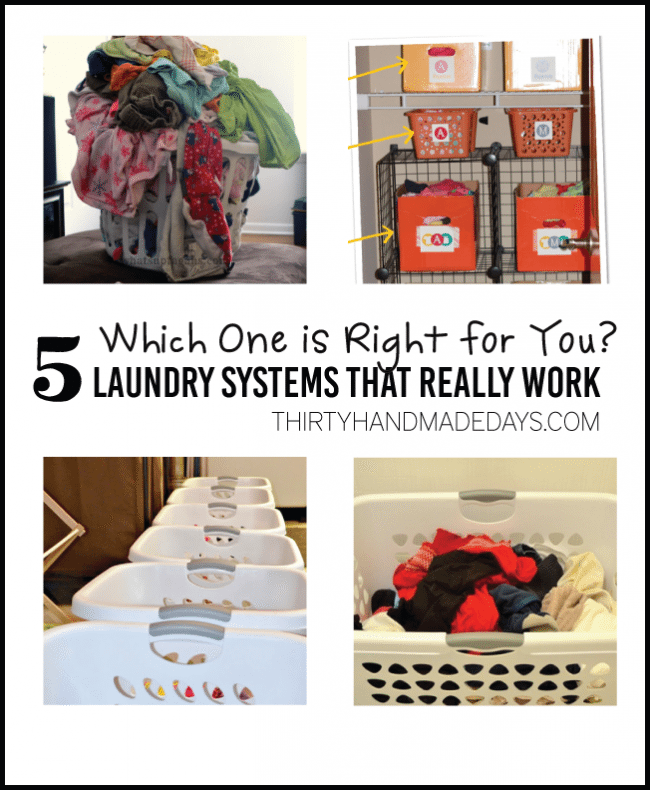 Even though it's my Achilles heal, 2 things that will definitely help across the board:
Pare down your clothes.
This is hard but right now is the perfect time (start of fall and colder weather) to go through everything and get rid of clothes you don't want/need/use.  Maybe look into the KonMari Method if it's tough for you!
Don't do it alone! 
I know, I know, it's sooo much easier to do it yourself (sorta) and it's done right.   But you not only get overwhelmed by having to do it alone, your kids won't learn how to do it and you're doing them a disservice for later in life.  They need to know all the aspects of laundry.  So get them involved!  If you need a little push, here are 5 reasons kids need to help clean and a breakdown of what they can be doing at what age, including laundry.  (Btw-  you'll see that everyone in these posts gets their families involved.  None of them are doing it alone)
Before I go any further, I have to come clean on something.  (get it? a little laundry humor)  Last year after a whole lot of struggling to keep up with everything, Josh took it upon himself to find someone who could clean our house AND do laundry.  I am so so grateful.  It might be one of the nicest things he has ever done.  I have had other working mom friends who have taken their clothes to a fluff and fold – they drop it all off and pick it up folded nicely the next day.  There are other solutions if you are at the end of your rope.  Having someone come and do laundry often might not be feasible for everyone but saving up to come one time to get on top of things just might be an option.  Or even when someone asks you what you'd like for a birthday or Christmas present, you could ask for help with this.  I am now able to focus on what I do best and maintain the laundry and my house sooo much better with this help.
These are the systems that work for other people.  Try them out and find something that will fit your family:
  3 Day Laundry System by What Up Fagans:
Katelyn talks about her 3 day system in this post.  She shares tips and tricks but breaks it down easily –  she washes everything on the first day, folds and organizes everything the second day, and hangs and puts it all away on the third day.
2.  Laundry for 7 from an Inviting Home:
This mom of 7 talks about her whole routine and how it works well for her large family.  Hint: she gets the rest of the family involved!

3.  The Laundry System that Changed My Life from I think we could be friends:
Great tips in this post about the laundry system that makes her not dread it.  Wouldn't that be lovely?  I like the storage solutions

4.  How to Keep Your Laundry Basket Empty Everyday by the Frugal Homemaker:
This system is a daily one.

5.  Single Laundry Day by Organizing Made Fun
Becky talks about how having one day for laundry is the best for their family.  She prefers to get it all done and then have the rest of the week to focus on other things.  I appreciate the other tips she has for how to make it most effective.

I also like Clean Mama's breakdown of having a laundry day vs. laundry every day.  She does a good job of describing both types of systems and why one might be better for you over the other.

So– what do you do in your house?  What works for you?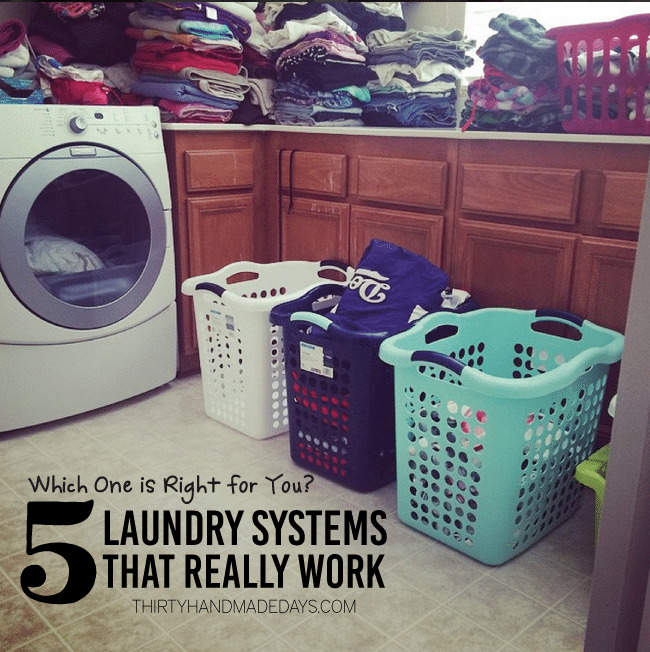 If you like this post, you'll probably like these too: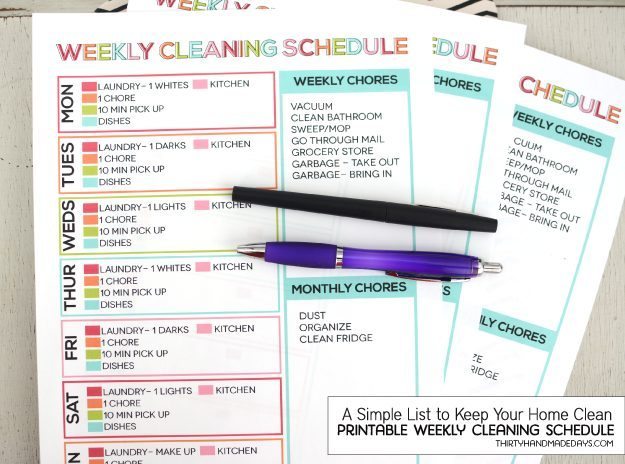 Printable Weekly Cleaning Schedule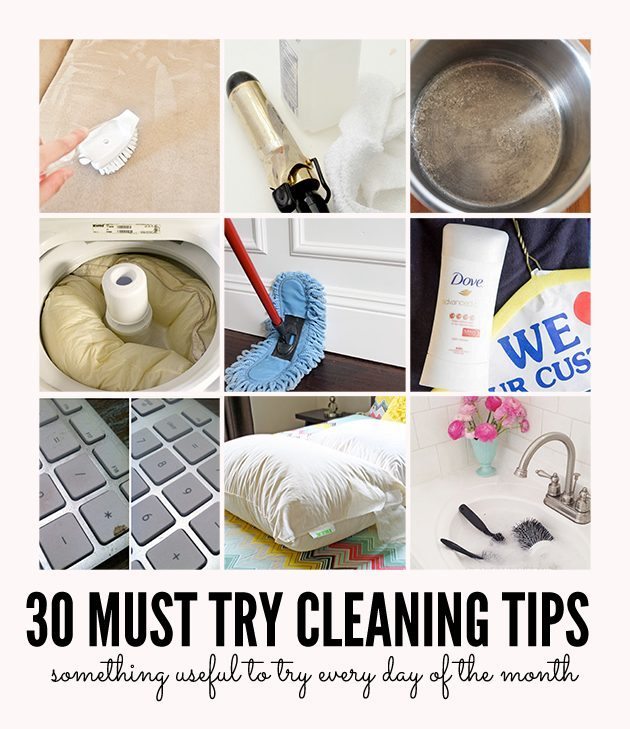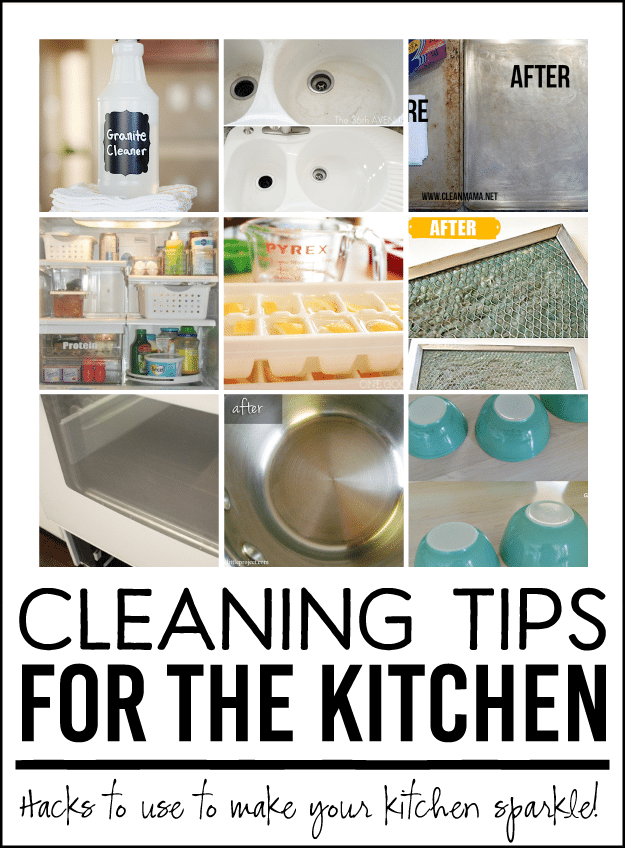 Cleaning Tips for the Kitchen
and my whole organization section!