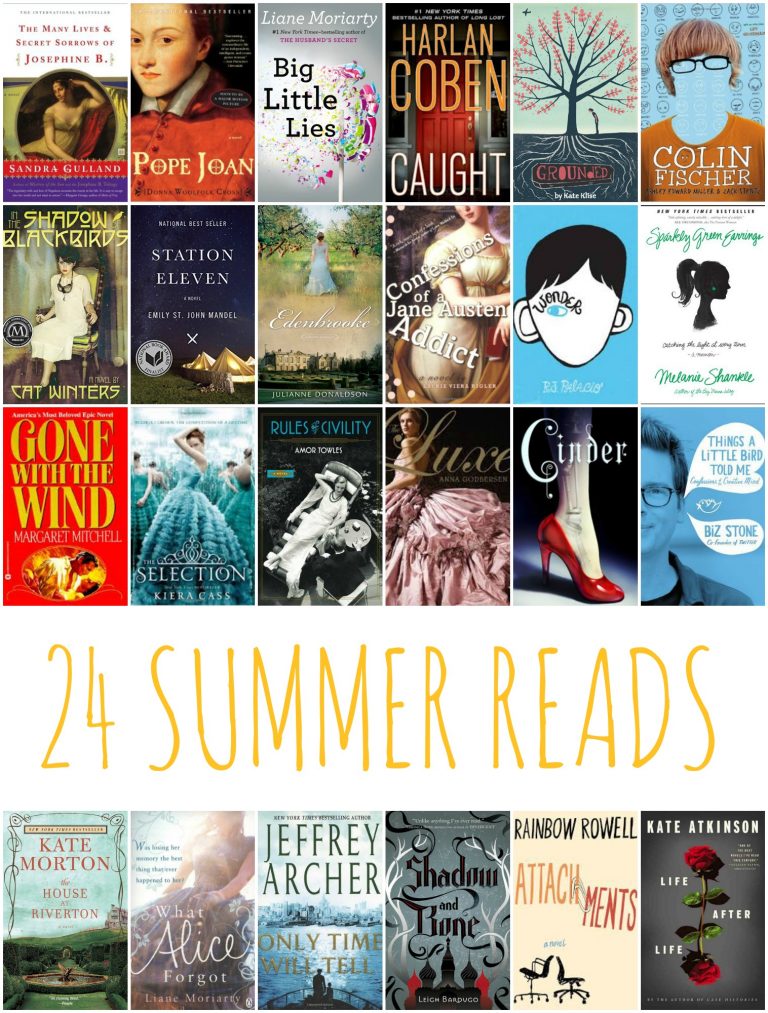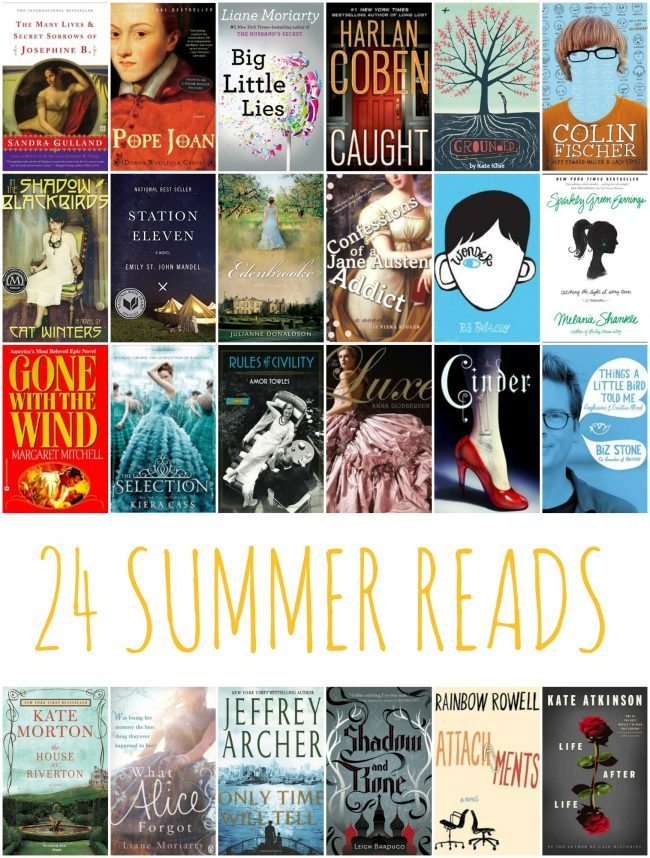 Summertime just seems to lend itself to reading.  Sitting by the pool or on the beach is not completely relaxing without a book in hand, in my opinion.   But there are so many books in the world that it's hard to know where to start.  Here I've compiled 24 of my best loved summer reads.  All of them won't be favorites for everyone, but I hope you can find one or two that you want to add to your library.  As a former middle school teacher and reading specialist, I tend to read a lot of young adult (YA) literature.   And I'm a sucker for historical fiction.  You've been forewarned.
If you want to read more about a particular book, just click on the link and it will take you to the Amazon synopsis.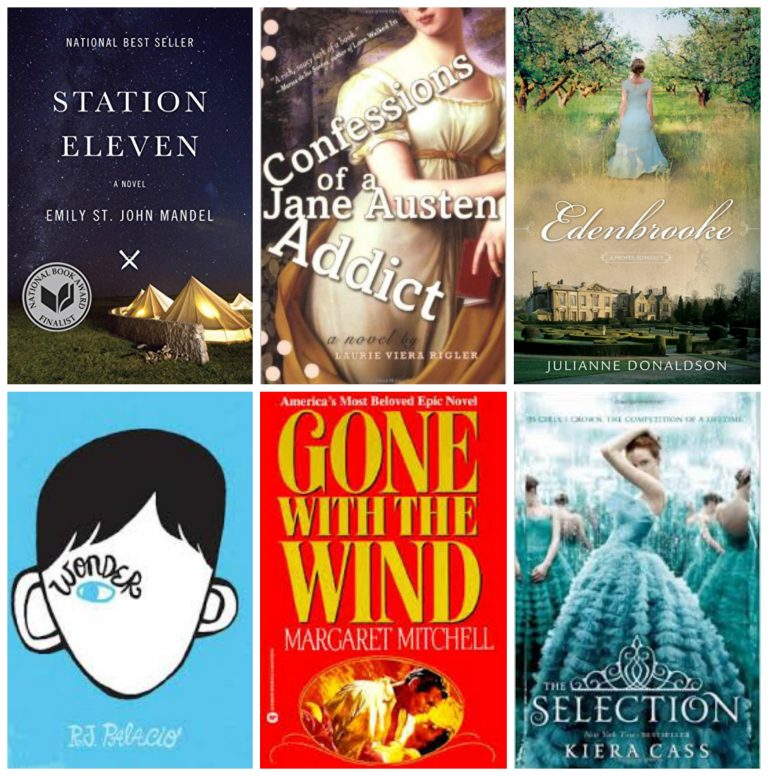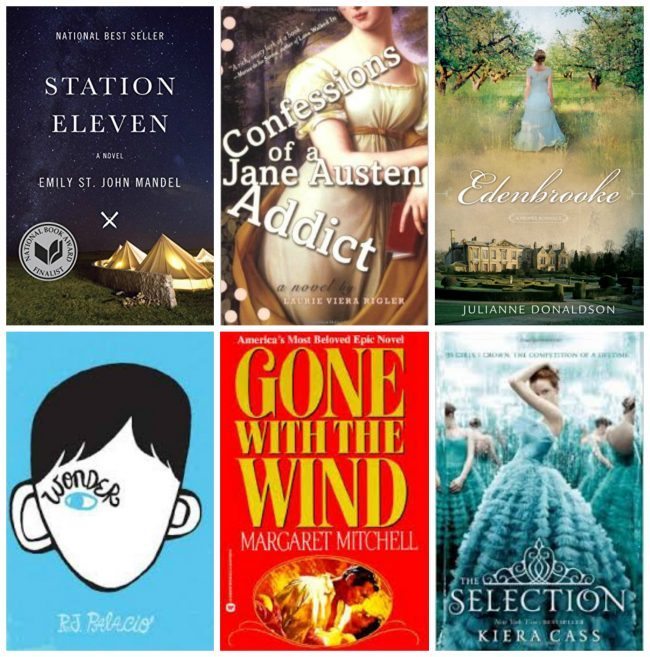 Gone With The Wind by Margaret Mitchell
I know this one is, oh, 1037 pages, BUT it is a spectacularly awesome read and I would be doing you a disservice by not mentioning it.  It's like a historical soap opera, which definitely qualifies it as a beach read.  If you love Gone With The Wind, I recommend the authorized sequel, Rhett Butler's People, though don't expect a classic.
Station Eleven by Emily St. John Mandel
An apocalypse story. Very interesting premise and well written.
The Selection by Kiera Cass (YA fiction)
If "The Bachelor" and "Hunger Games" got married, The Selection would be their baby.
Wonder by R.J. Palacio
This book will make you want to hug everyone.  In a good, not creepy, way.
Edenbrooke by Julianne Donaldson
If you love Regency Romance (like Pride and Prejudice), you'll love this. And better yet? It's totally clean.
Confessions of a Jane Austen Addict by Laurie Viera Rigler
A fun, quick read about a modern woman that is transported back into Regency England.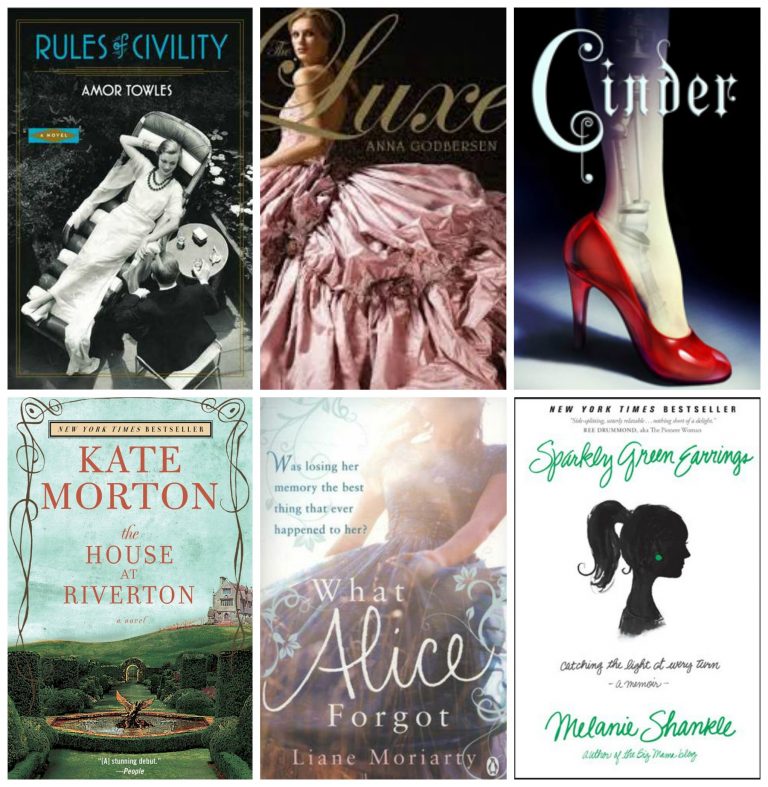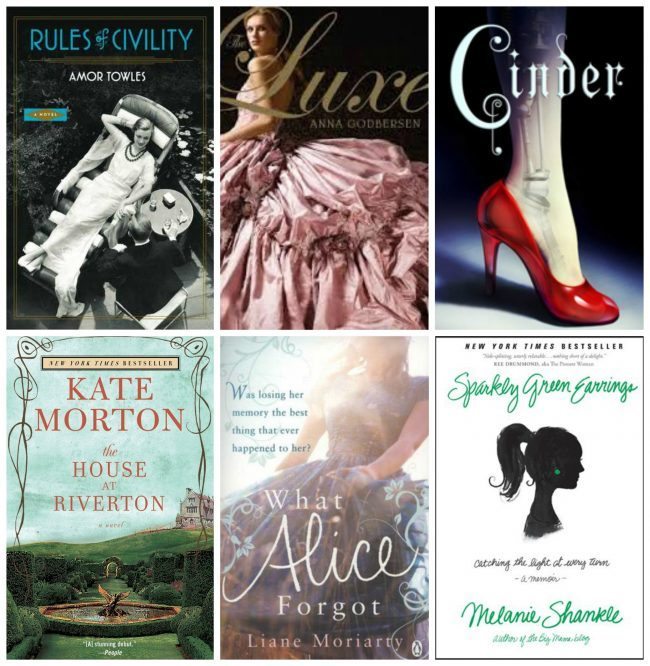 What Alice Forgot by Liane Moriarty
Smart chick lit.  Will make you wonder what you were doing ten years ago.
Cinder by Marissa Meyer (YA fiction)
It took me awhile to pick this up because I normally steer clear of fantasy, but this retold fairy tale was fabulous. The rest of the series is great as well!
Sparkly Green Earrings by Melanie Shankle
A compilation of true, short stories (mostly about parenting) that are laugh out loud funny.
The Luxe by Anna Godbersen (YA fiction)
Mystery, romance, and historical fiction-can't go wrong with that combination! Subsequent books in the series are even better.
The House At Riverton by Kate Morton
A story full of family secrets and mystery told when a reporter comes to interview a 98 year woman about a family that employed her years before as a housemaid. Read this one in two days. Couldn't put it down.
Rules of Civility by Amor Towles
Takes place in New York during the 1930s, it has a bit of a Great Gatsby feel.   Not necessarily a happy story, but an interesting one!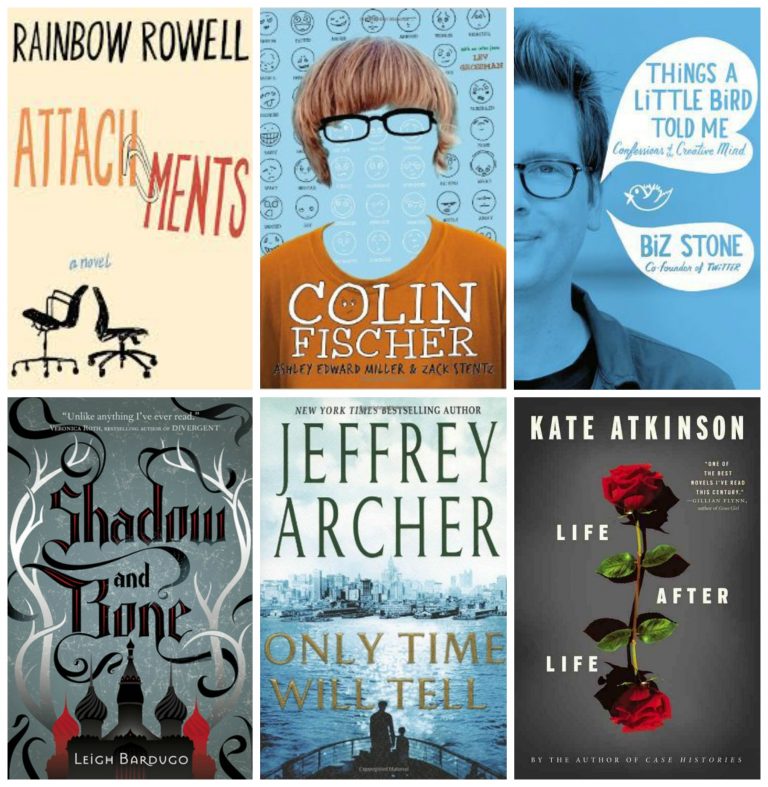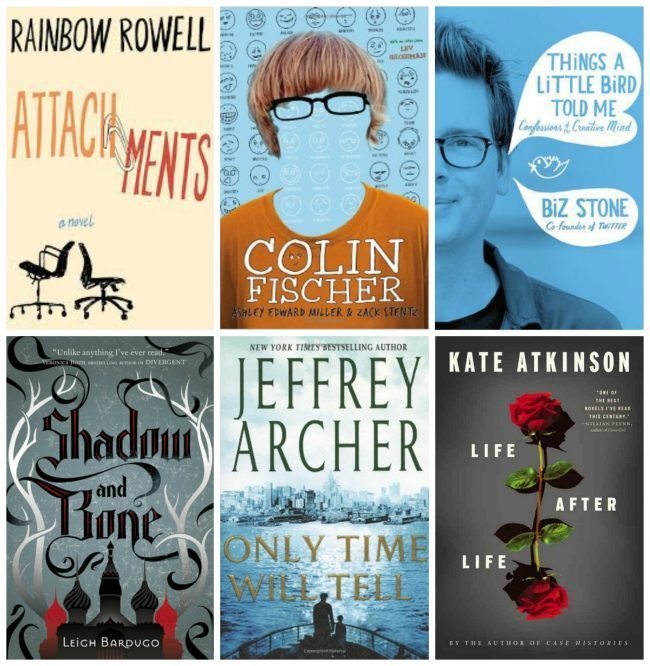 Things A Little Bird Told Me by Biz Stone
Non-fiction, but don't let that deter you. Written by the co-founder of Twitter, this was a fascinating book about the power of social media. Contains some strong language.
Attachments by Rainbow Rowell
A tech guy is assigned to read employee emails at work and ends up falling in love with one of his co-workers. A sweet, funny novel. Contains some strong language.
Only Time Will Tell by Jeffrey Archer
The first in a series that follows a family through twists and turns in business and personal life.  Originally it was going to be a five book series (the fifth book was released this year), but it's now a seven book series, a fact I didn't know when I was reading the latest book and when I got to the end and realized it was "to be continued," I almost threw it across the room.  I have to wait ANOTHER YEAR to find out what happens next??!?!?
Shadow and Bone by Leigh Bardugo (YA fiction)
I normally avoid fantasy, but this book was so well written and fast paced with an amazing heroine (Alina), that I had a hard time putting it down.
Life After Life by Kate Atkinson
A little bit slow to begin with, but such an interesting story about a girl who dies over and over again only to come back to live different versions of her life. I enjoyed the historical aspects as well. Contains strong language. Definitely PG-13.
Colin Fischer by Ashley Edward (YA fiction)
This was probably the best book I read in 2014. I may be bias because I have a son on the autism spectrum and the main character of this book has Asperger's.  I felt it was educational and entertaining.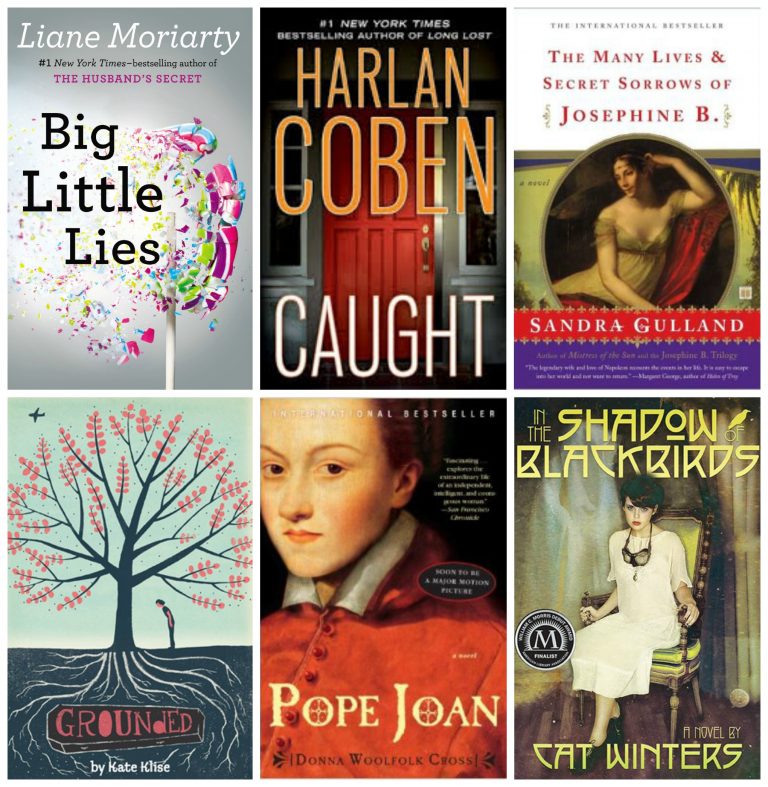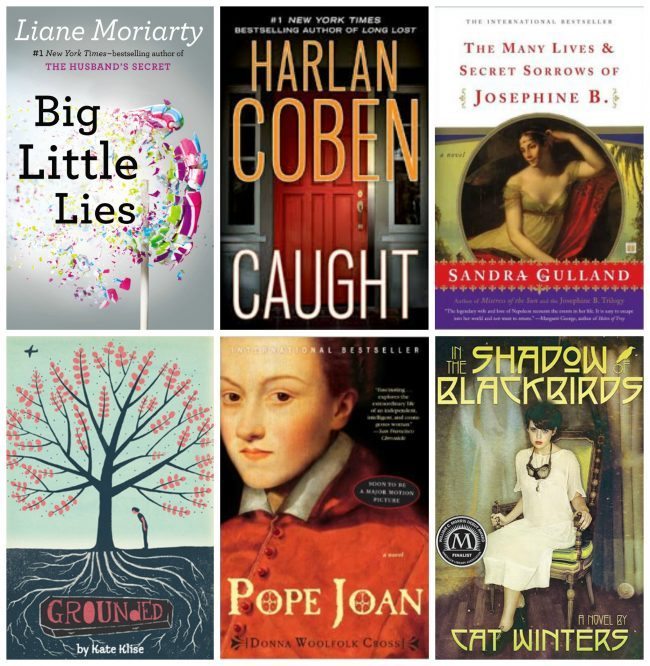 Big Little Lies by Liane Moriarty
A mix of mystery and realistic fiction told from various character perspectives. So entertaining! Contains quite a bit of strong language.
Pope Joan by Donna Woolfolk Cross
Historical fiction.  This book is on my list of top five books of all time.  Details the legend of the only woman pope in the Catholic church.
Caught by Harlan Coben
I could have added the title of just about any Harlan Coben mystery here. Well written page turners, perfect for summer.
Grounded by Kate Klise
This one is juvenile fiction, but give it a whirl anyway. Most of Daralynn's family is killed in a plane crash but  Daralynn is safe at home with her mother because she was grounded.  Hence the title.  Just a good story.
In The Shadow of Blackbirds by Cat Winters  (YA fiction)
Set during the outbreak of the Spanish flu in the United States, this is a mixture of fantasy, history, and mystery.
 The Many Lives and Secret Sorrows of Josephine B. by Sandra Gulland
This is the first in the Gulland's series about Josephine Bonaparte, all of which I highly recommend.
What's on your summer reading list?
Be sure to check out Mique's post from earlier this year with a list of "must reads" and a printable for keeping track of your books.  See that post here.  Or you can track your books on Goodreads, like me!