Want to simplify your dinner routine?  Stock your freezer with easy crockpot freezer meals!  Here are 25 crockpot freezer meals with five ingredients or less.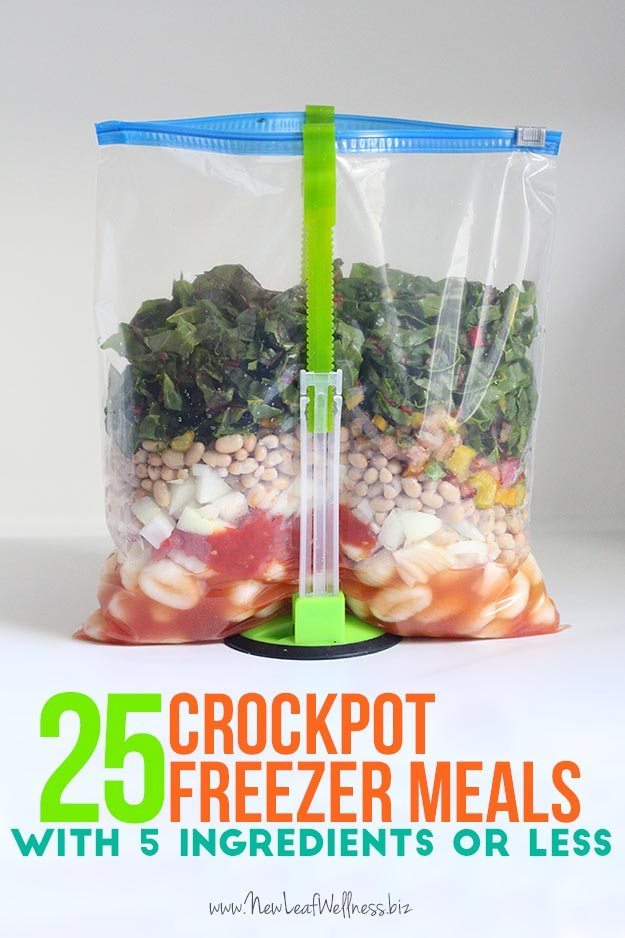 Crockpot freezer meals are a busy mom's best friend.  With three young children (and a fourth on the way), I get really excited when I come up with new recipes that are delicious, healthy, and don't require a lot of ingredients.  Fewer ingredients means less measuring, less chopping, and less money spent at the grocery store.
A win-win-win.
All of the recipes in my upcoming crockpot freezer meal eCookbooks will have 10 ingredients or less, and I decided to put together a list of recipes with FIVE ingredients or less.  These are all recipes that my family has tried and loved.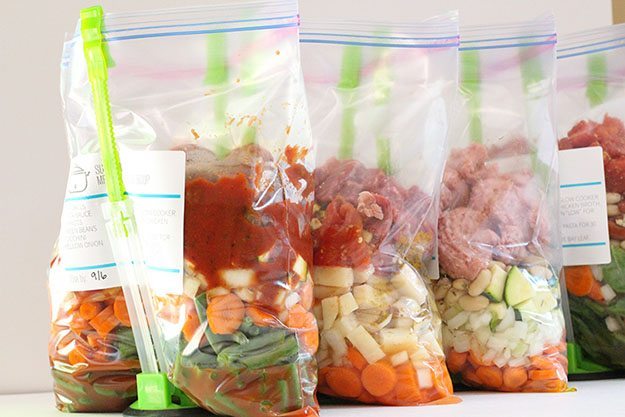 A lot of other websites will give you easy crockpot recipes that call for a bottle of store-bought dressing and a can of soda pop, but I'd like to think the recipes below are healthier than that.  I'm not opposed to using those ingredients on occasion, but I want this list of crockpot freezer meals to make your life easier on a regular basis.
To make these crockpot freezer meals, here are some items that I always have on hand.  It just makes putting them together that much easier when I'm ready to go.
Crockpot Freezer Meals
Here are 25 crockpot freezer meals that require five ingredients or less.  I've tried all of them myself and can vouch that they're delicious too.  Enjoy!
A lot of these recipes are from freezer prep sessions that I've done this year so I typed up exactly how I prep and freeze each meal into a printable pdf.  I also included a super detailed grocery list in case you want to prep all of them at once.
CLICK HERE FOR THE FREE PRINTABLE RECIPES AND GROCERY LIST
I like to serve my easy freezer meals with simple side dishes like steamed broccoli or a salad and rice.  (I even use those microwaveable rice packs on occasion when I'm short on time.  Shhhhh.)
Thoughts or questions?  Please leave a comment below and I'll respond as soon as I can.  I'd love to hear from you.