This post is in partnership with Signature Kitchen Suite. I'm thrilled to work with a brand that I 1 million percent believe in.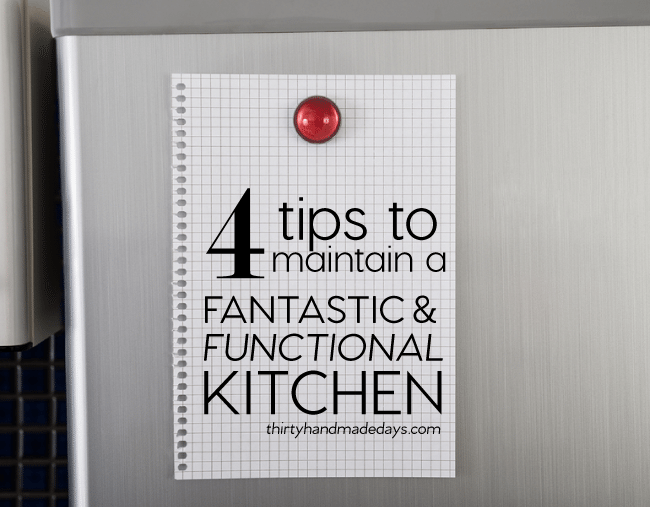 After living in our home for 8 years, last year Josh and I made over our kitchen.  It was a big undertaking but I am so happy that we did it and still love walking into that room.  It serves as the heart of our home and was definitely worth investing in.  While we tore out the cabinets and surfaces, we didn't redo most of the appliances.  We wanted to do them a little at a time and I'm glad we held off as there are some incredible new products just coming out. Hello, Signature Kitchen Suite! Today, I am teaming up with them to bring you this post where I get to dish about their new elegant line and the unique kitchens that their celebrity designers put together in the Signature Style House at KBIS 2016 in Las Vegas.
Just to refresh your memory, this was our kitchen before: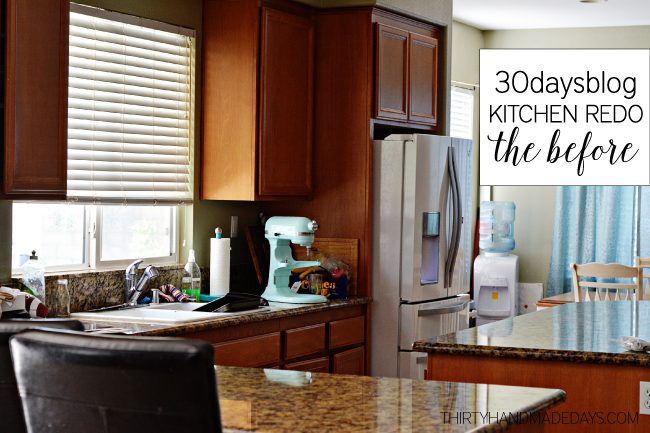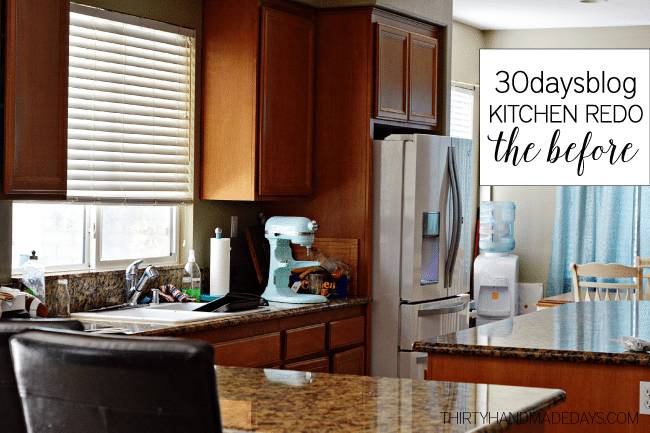 And here is what it looked like after we took all the darker wood away and replaced it with sparkling white.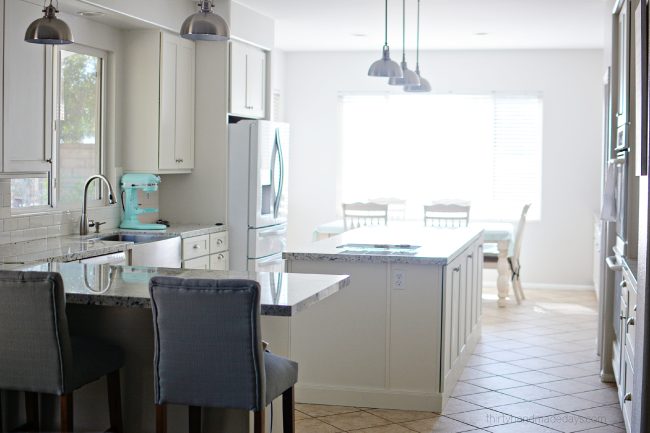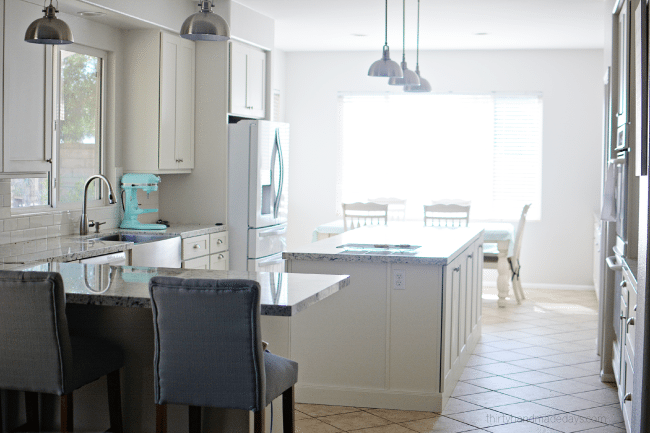 Ahhhhhh! I love it so much.  But I still don't love the appliances we put in (I know, I know…. first world problems). More on that in a bit…
Let's chat about how to maintain a functional kitchen.  While there are lots of things you can do when you are doing a makeover to change the function, most people don't want to take that on.
Here are my top ideas for HOW TO MAINTAIN A FUNCTIONAL KITCHEN:
Clean up the clutter
I know, I know.  It's not my favorite thing to do either.  You should see the mess I have going on in the corner of my kitchen right now.  But how easy is it cook and eat in a space that has stuff lying around everywhere?  Not very easy.  Take the time every day to clear off the surfaces of your counters and start fresh.  This will not only help maintain your kitchen but also your sanity.  Following a simple cleaning schedule can help with that too. 
Get the right appliances
It's important that they not only fit the feel of your space but also have the important features for your home and family. Having a tiny refrigerator for a family of 8 isn't realistic.  While having a gigantic one for a couple doesn't make much sense either, right?  While we are on the topic of refrigerators, let me fill you in on the Signature French Door Refrigerator. It has an innovative Door-in-Door® feature that offers the ultimate in convenience for better organization and easy access to the most commonly used items and the sleek design makes it look incredibly luxurious!
While I love the fridge, I have to tell you about what's coming out that I really have my eye on… I'm dying to replace our double oven.   The good news is that there is the perfect one launching from Signature Kitchen Suite at the Kitchen and Bath Industry Show (KBIS) in Las Vegas.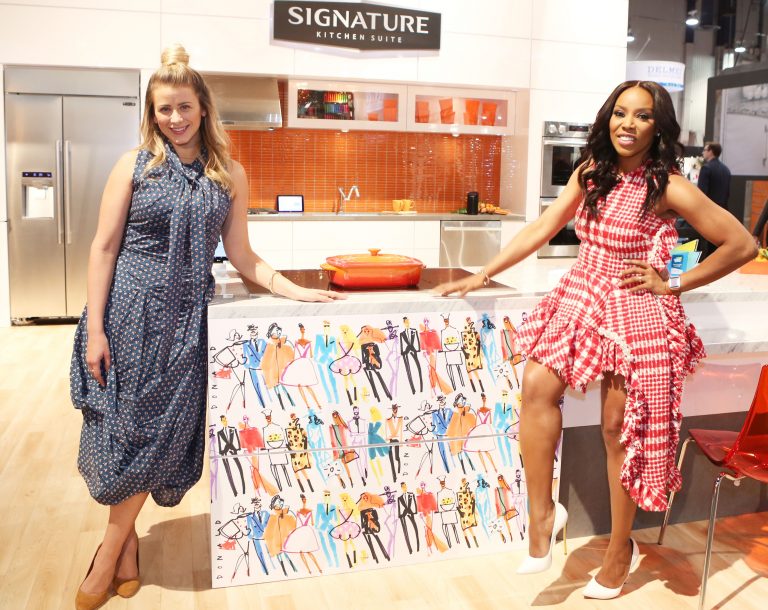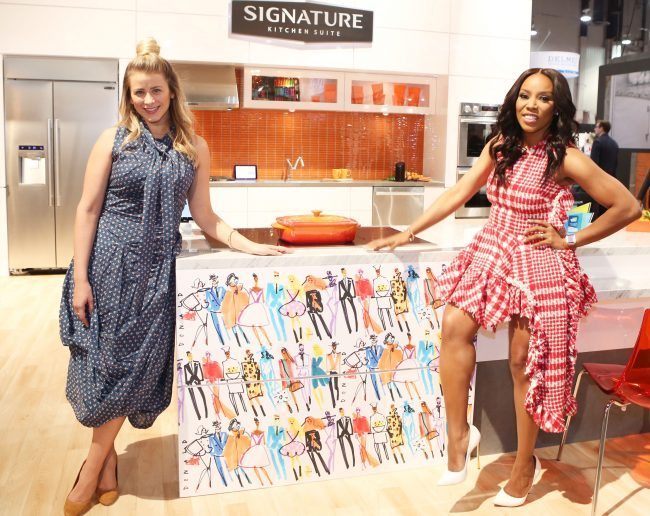 We have been very fortunate to have a double oven since we moved in.  But I'd love an updated one that matches the stainless steel sink, plus that has all the bells and whistles. The new Signature Kitchen Suite double oven has metal knobs and professional style handles. It also has enough room to be able to cook multiple dishes at one time – which is fantastic for when we are hosting family gatherings (we are kind of the designated spot on Josh's side since we have the most space).  We can all work together and have everything come out at once instead of waiting around on dishes to be done.  Plus, there is EasyClean® technology, so that when we are done eating, no one has any major scrubbing to do. Win/win!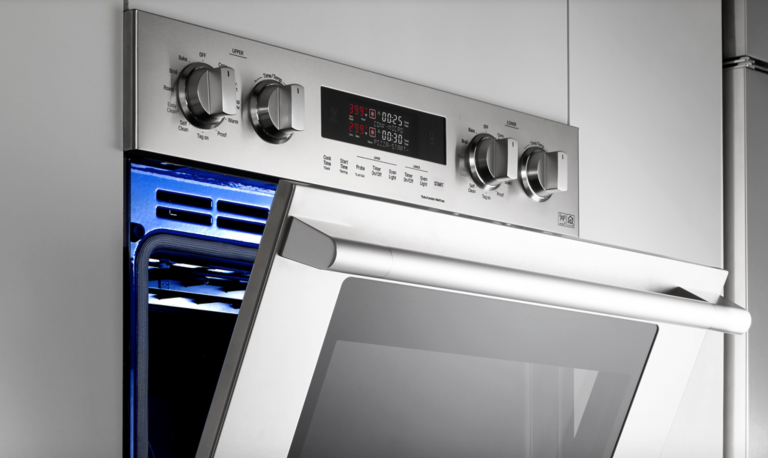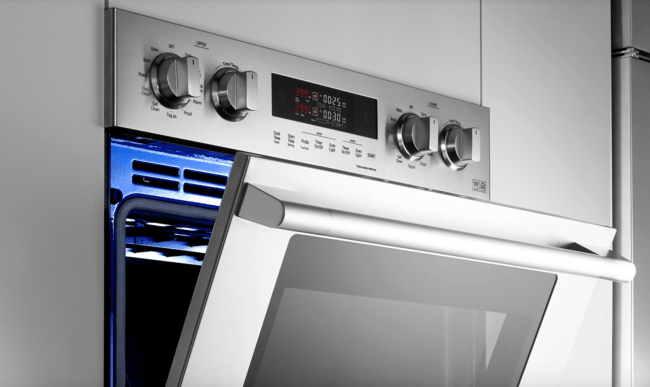 Oh, and did I mention the smart technology?! Through Wi-Fi connectivity with SmartThinQ™, we could stay in touch with any of our Signature Kitchen Suite appliances through our mobile devices. At the push of a button, we could preheat our oven remotely, ensure that the ovens are turned off if we forgot to leave them on, receive push notifications if any issues arise, and even report errors straight to the industry leading personal Kitchen Concierge™ at the Signature At Your Service™ offering. A Kitchen Concierge™?! Sign me up!
Now, on to the fantastic event!! To celebrate the Signature Kitchen Suite launch, they commissioned a team of tastemakers from the fashion, art and culinary worlds.  How cool is that?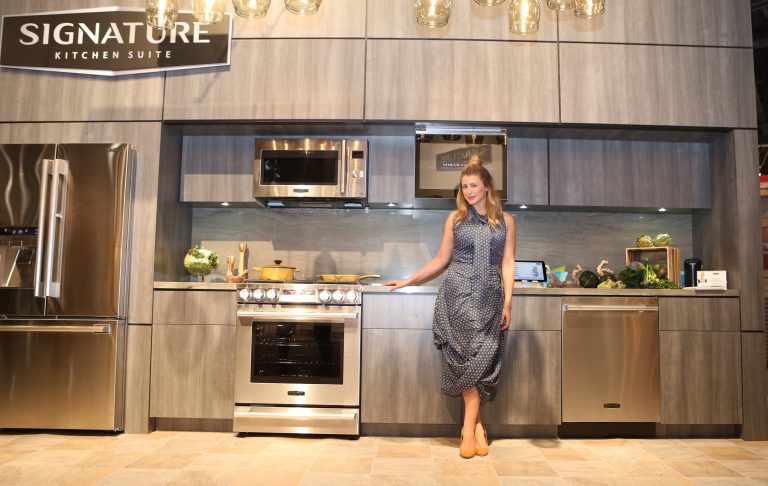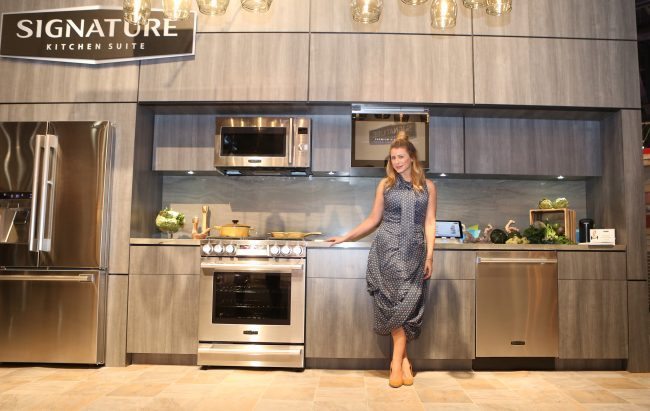 Some of the tastemakers: Lo Bosworth, founder of "The Lo Down" and certified chef; June Ambrose, author and celebrity fashion stylist; and Donald ("Drawbertson") Robertson, renowned "pop" artist known for his wild and colorful drawings that have taken the fashion world by storm and been featured in collaborations with J. Crew, Smashbox and Bergdorf Goodman, created personalized kitchen designs in three kitchen vignettes at KBIS in Las Vegas.  These experts embody the motto of "making your mark in everything you do," and they are leading their respective areas of expertise with bold thinking and innovative approaches – also key elements of the new Signature Kitchen Suite.
Anyway, all my dreams would come true with this suite of appliances.  Signature Kitchen Suite would sparkle with my white kitchen, don't ya think?
Having the right appliances in the right spot can make or break the functionality of a home. 
3. Have a designated spot for everything
This goes along with cleaning up the clutter – make sure that all of your small appliances (hand mixer, toaster, etc) are tucked away.   Designate a spot for every type of job in the kitchen.  We have a lazy susan cabinet in our kitchen that has all of the main baking supplies that we use.  It is so nice to have that and to know where to go.  If you don't bake often, that might not be a big deal to you.  But maybe your thing is grilling – so create a shelf with spices and the necessary items that you use.  We have a snack basket in the pantry and a spot in the fridge so that my kids always know where to go when they are hungry.  It has a spot! You can change the way your kitchen functions by sitting down and planning out your space well.  Re-arrange things that don't make sense.  Make it work better for everyone!         
4.  Set a schedule to deep clean your appliances
In order to further the life of your appliances it's a good idea to have a set schedule to deep clean and take inventory on them.  If you take just a few minutes a month to check in on your appliances it can make them last longer. More on this in an upcoming post!
What are some of the things you do to maintain your kitchen?  How can re-arrange things and make them work better for your family? 
If you want to see more, check out Signature Kitchen Suite on Facebook and Instagram, and you may also use the hashtag #NoOrdinaryKitchen!
This is a sponsored post written by me on behalf of Signature Kitchen Suite.