For years and years I have had "make a family binder" on my to do list.  And there it sat.  (my imaginary to do list because I am actually not a good list maker) Last summer I finally decided one day to make it.  And that was the start of my new obsession.  My name is Mique and I suffer from "BO"- that's right, binder obsession.   I have a dear friend who has used binders to organize for years.  I used to tease her a little bit about putting everything into a three ring binder but now I have seen the light.  And there is no going back I'm afraid.
By now you're wondering what this has to do with you, right?  Like…what's with all the binders?   Why would you want to take the time to make a binder?  Here's why: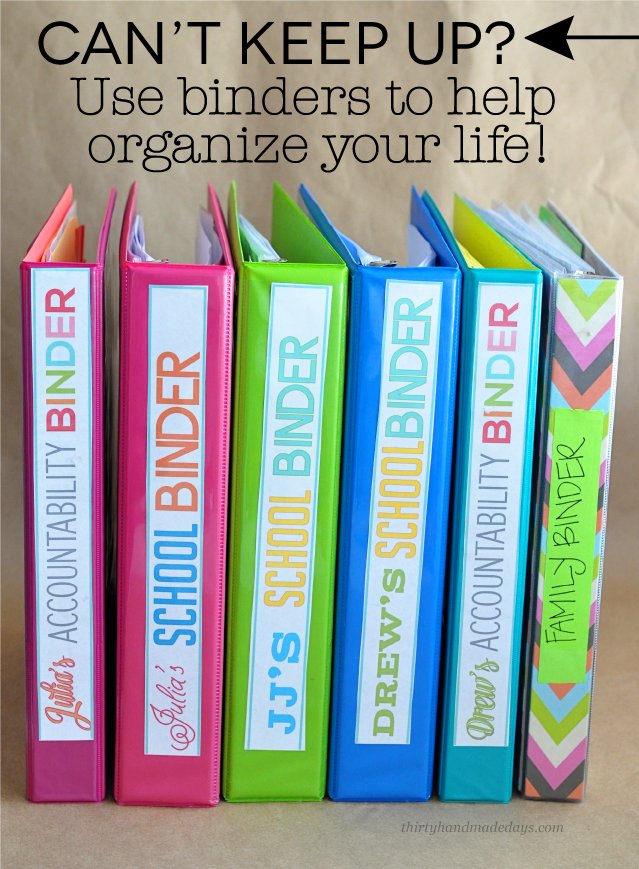 Everything has a spot.  No more searching for that one paper.  You know the one- the paper you knew where it was until you really needed it.   With a binder for everything, you know exactly where to find all of those important documents, school assignments, dates, calendars, etc.
Having a binder(s) helps you be accountable.  This is a biggie for me.  I can easily put everything out of my mind if I don't have something staring me in the face.  But if I have to look at a written budget or a printed calendar, then there is no hiding.  It might be forced accountability but hey, I'll take it.
You are able to track progress.  This doesn't go for every binder but it definitely helps with budget, accountability and school binders.  There is a clear starting point and it is easy to see how far you, your spouse, your kids have come by having it all filed in one spot.  It's the visual pat on the back you need to keep on going.
You can teach your kids/grandkids/students/ spouse how to be organized.  I really think that being organized is very much a learned behavior.  Having a spot for everything and setting an organization system will help you be the example to those around you.  If your kids have a school binder and an accountability binder, they will learn the importance of organization.
Please hear me out when I say- I am not organized by nature.  I am writing this post with a laundry room full of clothes, dirty dishes and a garage that needs decluttering.  I am learning to give myself a little space and be okay with where I am.  If you are reading this post and stuck in a rut, you are not alone.  Just decide to do a little something today.  Don't tackle it all at once.  Make little steps in the right direction.
Not sure how to get started?  Here are the products I use:
Affiliate links are included below.  You can also find most everything at Target, Walmart, any office supply store.
Binder
Tabs
Pockets
My favorite pen of all time
3 hole punch
Laminator (read why I love and use my laminator so so much!)
Laminator pouches
For mini binders:
Mini Binder
Mini Tabs
Mini Pockets
I have been asked several times how I store my binders.  I actually found a tip from A Bowl of Lemons to use a dishwashing wrack to store them.  It's hard to see it in the picture below but it's a wrack and I slid the binders in between.  They sit on a desk in our kitchen for easy access.

Shared on Instagram
Have I convinced you yet?  Here they are, the binders and coordinating sheets I have spent 21490239239023902 hours designing, compiling, photographing and posting for you:
Note: You do NOT need to do 10 separate binders.  Feel free to combine binders together.  Do what works best for you.  In case you like what I have going on, print this binder to do list and get going: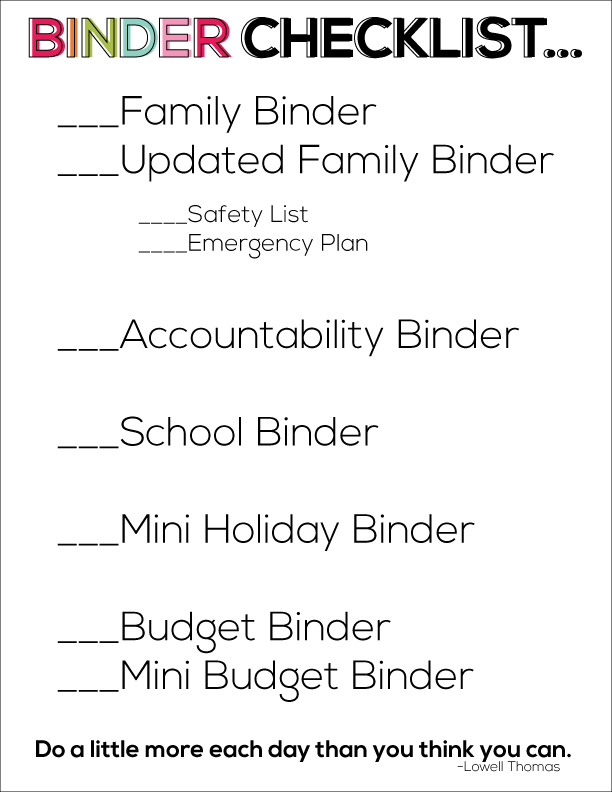 Download this checklist.  Or a blank one.  For personal use only.  Thanks!
A few other notes: these aren't editable PDF's.  They are as you see them and I can't email them.  Sorry about that.  I get lots of requests for them to be emailed and just don't have the time to do so.  If you are having trouble downloading, make sure you have a program that can download PDF's like Adobe Reader (it's free).
I have a list (yes, an actual list, not an imaginary one) of binders and sheets to add to the current ones that I am working on.  Let me know if you have other ideas that you want to add to my binder collection.