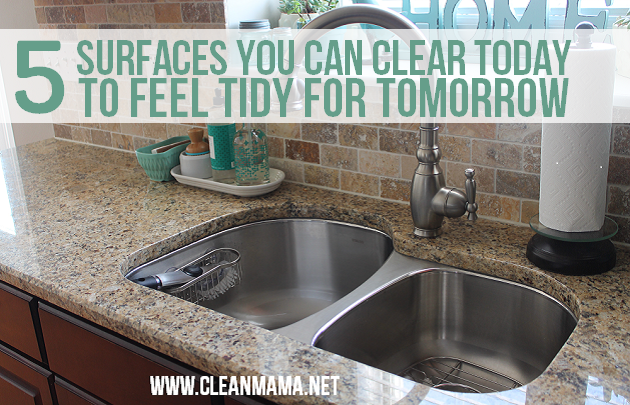 Last month I shared 5 Things You Can Do Today to Feel Organized Tomorrow and this month I thought I'd share 5 things you can clean today (right now) to feel tidied up for tomorrow. If you are like most people, it doesn't take much to feel defeated gazing around your kitchen that was just clean yesterday and realize you have to clean it all over again. Instead of trying to get it all taken care of all at once, tackle a little bit at a time and little by little you'll see progress and feel more like you're back in the land of the living. How about just 5 surfaces to clean up today? Clean and cleared surfaces just speak clean to me and they add that breathing room that your home needs. I bet you can take care of all of them in under 30 minutes. Set your timer if you have to, eliminate any distractions, and get started.
Kitchen Sink – A clean kitchen sink just screams tidy, don't you think? The kitchen sink for me is the tipping point to a clean kitchen.  I start at the sink and get it taken care of first and then make my way to anything else. Take a couple minutes and empty your sink, put clean dishes away, and load up your dishwasher. Run the dishwasher if it's full or if you don't have a dishwasher, wash and dry the dishes. Once the sink is empty, give it a little squirt of dish soap and a scrub it up. Need a little abrasive cleaning? You can add a little baking soda to the dish soap to make an all-purpose scrub and scrub away. Put out clean dish towels and enjoy a clean sink area until the next meal.
Refrigerator – Have lists and reminders plastered on the front and sides? Remove them and quickly keep or toss necessary paper and reminders. Give it a quick wipe down concentrating on the handles and getting rid of fingerprints. (If you have stainless steel appliances, you'll love this trick.) Put any necessary reminders back and gaze at your clean refrigerator. But not for long, you need to move on to the the next surface.
Bathroom Counters – If you have lots of time, go into your bathrooms, clear and wipe down all the counters. If you only have a couple minutes, go into the master or main bathroom and clear the counters and wipe them down. Put out clean hand towels to complete the cleaned up look.
Bathroom Mirror – As long as you're in the bathroom, take a minute to wipe the bathroom mirror or mirrors. Getting the toothbrush spray off the mirrors helps to give your whole bathroom a just-cleaned feeling that you'll love.
Nightstand – Begin and end the day with a relaxed space by clearing your nightstand. Return any items that don't belong on your nightstand to their homes. Give your nightstand a quick dusting and bring back any necessary items like lotion and your current reads.
Just like that you've given your house a mini (or a maxi) clean reset and you're ready for a new day! What must-do cleaning task would you add to the list?
If you liked this post, I talk about all things clean and organized on my blog, Clean Mama, I'd love for you to come visit!