This post is in partnership with CliqStudios.  I'm thrilled to work with a brand that I 1 million percent believe in.
Josh and I looked for a couple years to find just the right house for our family.  We had lived in our first home for 8 years and had outgrown it.  It's been almost 8 years since we moved into our dream home.  Over the years we have done little things here or there but there are some areas that have been bugging me.  As much as I love how big and open our kitchen is, after living in it for all these years I wanted to fix it to meet more of our needs (and wants too!).   I'll be sharing some of the process of redoing the kitchen over the next little bit. But today I wanted to talk about the top things to consider in a kitchen remodel.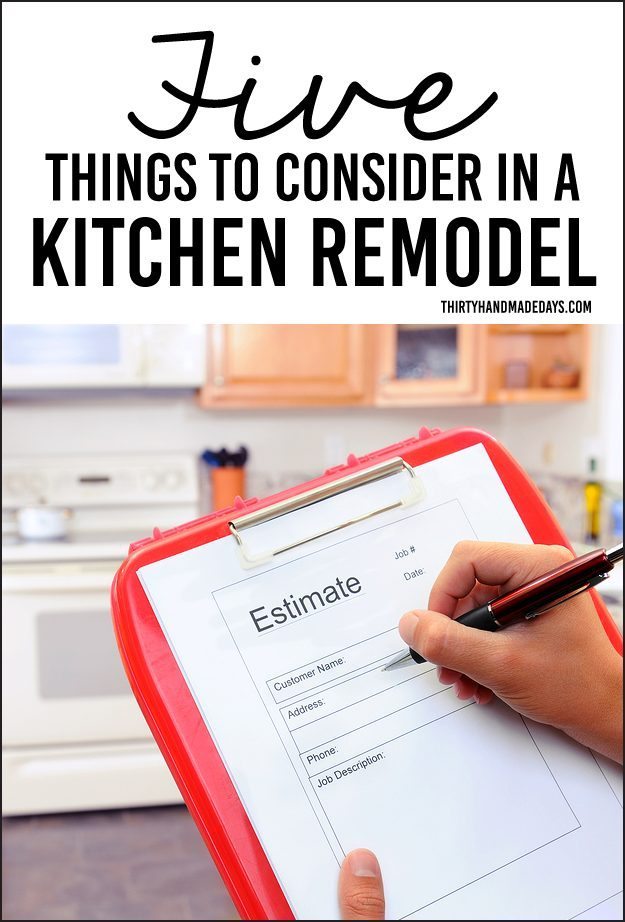 Budget
I know I'm forever talking about the budget.  But in a kitchen remodel, this is the dictates a lot.  You can spend a few hundred dollars on updating hardware or you can spend $100,000 if you have it.  We sadly do not.  I feel like you can't really even start thinking about redoing a kitchen until you know what you're working with, dollar wise.  If you are wanting an update but don't have the money now, start saving and make the goal to get there!
Time Frame
Time frame can be very dependent on your budget and whether or not you DIY or use a contractor.  Small projects could take a weekend while large ones can take easily over a month.  You have to be prepared to not have access to a stove, oven, sink, etc for weeks if you do something massive.  Timing is a big deal and I really wanted to make sure that our redo is complete before spring break.  Crossing my fingers that it is complete soon! 
Contractor vs. DIY
There are about a million and one blogs out there to help with DIY.  I am envious of some of my DIY friends skills.  I bow to their talents.  I don't have the patience or skill to tackle something this big on my own.  But if you are able- go for it!! If you are like me and need a contractor, take the time to do your research and find one that comes highly recommended.
Unforeseen Expenses
Right along with budgeting… When we started this journey we thought we knew how much everything would be, talked it over and started.  Somehow there are always things that come up.  Everyone I've talked to about it says the same thing.  Things just don't go as planned so having a little bit extra saved is a good idea.  I am still amazed at the cost of drawer pulls.
Flexibility
This goes for a few different areas- time frame and budgeting but also with some design elements.  I decided that we should follow the same basic design that we had (the bones of the kitchen, if you will) because it would be way more cost effective than starting from scratch.  I had to give up a few of my wild ideas and be a little more flexible in that way but in the end I hope it will be worth it.
Overall Design
I mean, this is the biggie.  Once the budget, time frame and contractor are hired (or you are ready to DIY), design is obviously the biggest deal.  I have spent way more time on Pinterest, FB, Instagram, looking at picture for things I like and didn't like.  I've watched and re-watched Fixer Upper (oh my word I love love love that show.  I wish Chip and Jo would take their show on the road!) because I die every time they reveal the remodeled house.  I'll spend time on this on another post too.  This is the fun part!


While I'll talk more specifically about budgeting in another post, the biggest budget thing that we had to consider from the start was our cabinets.  Our original cabinets are standard builder grade.  They weren't horrible but they definitely aren't what I would've picked out.  It was the first piece to this puzzle of remodeling to consider.  I've had lots of friends who have repainted their cabinets and they look fantastic.  I'm all for that if you can swing it. But our cabinets have been hung on, have some water damage and just haven't been well taken care of over the years.  So we knew that new cabinets were a must.  This is a fantastic guide to see if you can ad the guide with questions to ask  before deciding whether to just re-paint or re-face cabinets.
There are so many options it can be suuuuuuper overwhelming.  We decided to go with CliqStudios and have had a wonderful experience from the start.  There were so many things to consider because I reaaaaally only want to do this once.  Everything feels so final and I didn't want to make some bad decisions along the way.
We chose the Dayton in white– clean, shaker style and oh so pretty!
One of the renderings our designer, Angela, sent over. 
The way CliqStudios works is that you take measurements (there's a video to help you with the process) and send them over with I was then assigned a designer to help me figure out what we wanted and the best way to accomplish it.  Angela was very patient with me as I changed my mind a few times.  She sent over renderings, building specifications and drawings of what our completed kitchen will look like.  After finalizing all the details, she sent over the instructions on how to order.  Our cabinets arrived about 4 weeks after submitting.


I can't wait to share how the rest of our process goes.  It's been in the works for what feels like for so long!
What tips do you have for a kitchen remodel?  Any words of wisdom?
 This post is part of a series sponsored by CliqStudios.