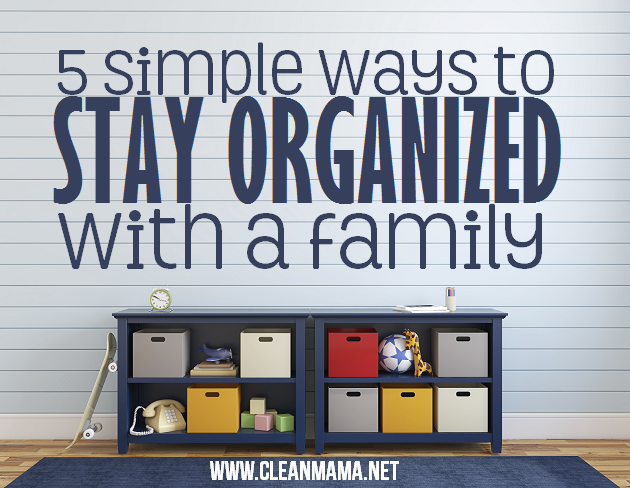 I love reading decorating magazines and perusing Pinterest but I find myself thinking that would never work in our home or the toddler would have that demolished in 1.2 seconds.  You too?  Instead of feeling discouraged with the current state of your home or what you can't do with your space to make it look like a magazine, embrace the stage that your family is in and look for ways to make your home 'just right' for your family.  Today I have 5 practical ways to organize with a family in mind.
BASKETS – Store toys and small kid items in baskets.  The items are hidden and the baskets add a decorative and soft touch to living spaces.  Add a simple hang tag or label if you'd like or just leave it without any labels and let the items do the labeling.  We have a bookcase in our living room with lots of baskets for books, cars, animals, Magna-tiles, etc.  Kids can be in the family space, take out a basket or two at a time and return the basket to its spot themselves.  I love the look on the bookcase – keep the baskets all the same or vary them for interest.  When our kids are older the bookcase will return to a full bookcase, but for now this is a great organization compromise.
FURNITURE – Use furniture with dual-purposes in mind.  Furniture is typically purchased for looks and not always storage, but make sure you are utilizing your furniture and any storage that you do have.  The coffee table in our living room holds puzzles and games and the end table holds card games in a large open basket.  If you were to walk through the living room you would have no idea any kids items were stored there.  This is a great way to keep a 'formal' living room kid friendly – my kids love to sit at the fancy couch and play games together.
CREATE NOOKS AND CORNERS – When you are organizing your rooms take time to think about what you'd like to see in that room.  Regardless of the size of your space, think about what you want to see your family doing – games, reading, watching movies, creating, playing.  Add a basket or a bin in that space with books, movies, games, or toys.  Make the corner or nook more inviting by moving a lamp over to the space or place a basket of blankets nearby.  We have a little closet in our craft room that I converted into a reading closet.  All I added were floor pillows, a basket with books, and headlamps (for reading in the dark).  It doesn't take much to create an organized (and fun) family space.
GOING UP OR DOWN BASKETS – Use baskets or bags to temporarily house items that need to be returned to bedrooms.  Kids can grab the basket or bag at the end of the day and return any items to its spot.  Playing off this idea you can also encourage cleaning up by using the 'one in, one out' rule.  If something is taken out something else has to be put away.  This is a really hard one to implement because it needs A LOT of positive reinforcement and modeling to take off, but it's worth it if you have the energy to enforce it.
MAKE IT FUN – If your family enjoys a challenge or a good game, use it to your advantage when it comes to cleaning up and organizing.  Use timers to clean up – set a timer for 5 or 10 minutes and see how much can be cleaned up.  Need a little help in the garage?  Turn your garage into a parking lot and make sure bikes get returned to their spots so they don't get a 'ticket'.  Think of ways to make cleaning up and organizing more fun for your family – something everyone can appreciate!
What would you add?  Share an idea or two that works in your home!
If you liked this post, I talk about all things clean and organized on my blog, Clean Mama, I'd love for you to come visit!