Today's post is a little different than normal.  It's geared towards bloggers or businesses.   We're talking about how to grow your Facebook page.   BUT if you don't fall into those two categories, I'd love your feedback so don't click away just yet, read on….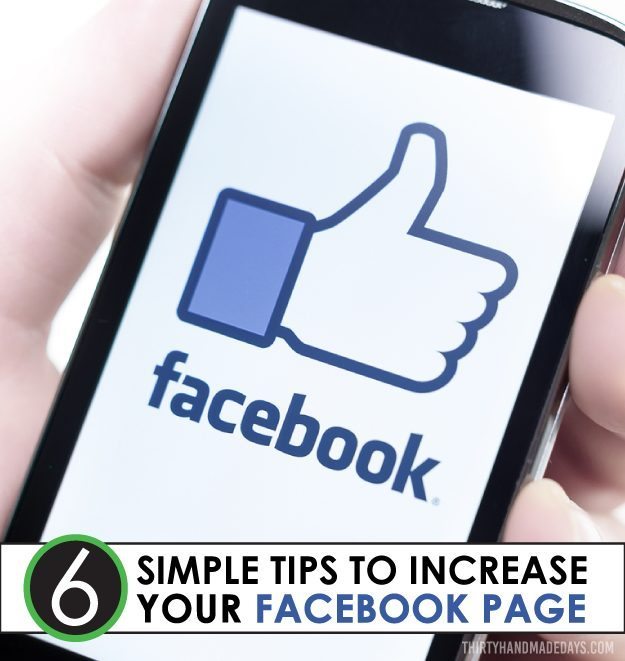 When I started this blog 5 million years ago (ok only in 2007, but still that's 5 million years in blogging numbers), I wrote whatever I wanted and hit publish.  That was it.  Social media wasn't really a thing.  Not like it is today anyway.  Now I spend a lot of time coming up with ideas, creating, photographing, editing, composing and hitting publish.  And that's just where it starts.  After that I send it out to the social media world.  Which takes – you guessed it- more time.   Over the years I have focused my time on different types of social media.  About a year and a half ago I set my mind to grow my Facebook page.  In September 2013 I had 19,000 likes.  That wasn't too shabby but I knew that there had to be a way to make it grow.   As of today I have just over 223,000 likes and Facebook is continually my number one traffic driver.  To be clear, that's not all from my page but it accounts for a lot of traffic over the last year or so as I've surpassed some big blogging goals. (yay!!)    I wanted to share some ideas to help you grow your page.  These tips are simple, maybe even a little boring, but they are legit.  If there's enough interest I'll do some follow up posts on this.
To make sure that you see all of my posts on Facebook, follow these simple tips:

Alright let's jump into the tips to increase your Facebook page, shall we?
1. Set a goal.
Just like anything else, you need to set a goal to know what you're trying to accomplish.  I'd set two goals – one huge (somewhat unattainable) and one more realistic one.  It doesn't have to be a certain amount of likes necessarily.  It can be "more interaction" or x number of shares, etc.  But write it down somewhere and work towards it.  You might surprise yourself how quickly you can get to it!
2. Find your audience and go with it.
This is something that I've learned over time.  It comes with spending time over there and getting to know the people who are visiting your page.  This is key in growing your page (if that is your goal).  I have some friends who share quotes on their pages and their FB followers love them.  Mine don't.  At least not usually.   People often ask questions about the type of content I share on Facebook.  Because I think I've got a pretty good understanding of the people who are visiting my page every day, I try to share the types of projects they like.  It's all about them, NOT me.  Side note- while most of my FB friends like organization, parenting, kid stuff, recipes and printables, I do share lots of timely posts.  For example, health at the beginning of the year, holidays throughout the year, etc.
3. Spend time connecting.
As my site has grown I've had to bring people on board to help.  It's an exciting thing!! But I haven't passed the reigns on my Facebook page.  That doesn't mean that I won't ever but for now I feel like it's important that I'm the one on there interacting, answering questions, being active with the people who visit.   Spending time connecting with people on your page is a biggie, especially in the beginning.   Don't just post something and walk away.  I try to schedule posts (did you know that? I am not up at 3am my time posting every morning ;) in advance but then I check in a lot throughout every day.
4. Study your insights.
I know, not super fun.  But insights are there for a reason.  If you haven't clicked around on there yet, you are missing out on some key information.  Insights show you pretty much everything related to your audience.  How many likes, comments, shares on each post.  How much you've grown.  What times to post are most successful for you.  Where your fans are coming from.  Every little thing.  You can spend a little time there or a lot of time.  There's also a spot for Pages to Watch.  I will get into this on another post but if you aren't using Pages to Watch, you should!
5. Network.
Besides having good content and working hard I think networking is key not only in blogging in general but also in social media.  I'm fortunate to be surrounded by amazing bloggers who I admire and respect.  Since I've been at it for so long, I've been lucky enough to meet lots of different types of bloggers.  There are a couple of ways you could go about networking.  One is to find blogs/businesses/pages similar to yours and reach out to them to collaborate.  You could also look outside of your niche to help each other bring new content to a different audience.  Both can be helpful and worthwhile.  —–> Thank you so much to those friends who have encouraged, supported and shared their knowledge with me.
6. Take time to look back on where you started out.
I have said this to other blogging friends in the past.  Facebook can be fickle.  There's no way around it.  Some weeks it's fantastic, other weeks it's dismal.  But when I look back on when I started and where my page is now, it's pretty dang exciting.  Mind blowing even.  There were no shortcuts taken and a lot of frustrating hours spent figuring what works best.
While everyone else is saying that Facebook is not worth the time, I am here to tell you that is not true.  I have seen huge growth and major traffic because of the hard work I have put in.  It hasn't been overnight.  It has been a long process.  But it has absolutely been worth it.  If you are willing to put in the effort, you will definitely see the results.
I also want to say thanks to everyone who visits not only my site every day but my page too.  It's pretty fantastic that I am working from home doing something I am passionate about and I don't take it for granted for one second.  Thank you so much!
If you have suggestions or ideas of what you'd like to see more of, let me know in the comments below.  Or if you have questions, I'll do my best to answer them.