Say it isn't so! Disneyland just increased the ticket prices AGAIN.  It might cost a small fortune to visit the Happiest Place on Earth but it's still worth it.  With a name like Mique (Mickey), you don't think I'd tell you NOT to go to do you?  But I'm here to tell you 6 ways to save money at Disneyland.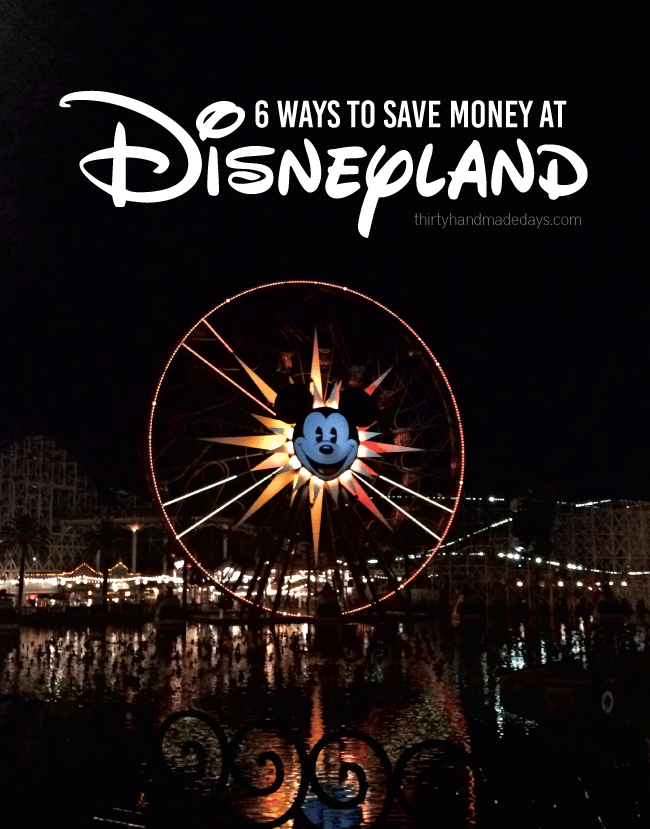 Growing up in Southern California and having lived my whole life here (except for a few years in college), I have been to Mickey's house a lot.  It became a whole different adventure for me when Josh and I had kids and we started taking them.  Honestly it's the one place that my sweet J loves being despite the huge crowds and inconsistent schedule.  He especially loves California Adventure because it's full of Pixar movie references.  We have spent many birthdays of his there and while it's always a long day, it is definitely worth it.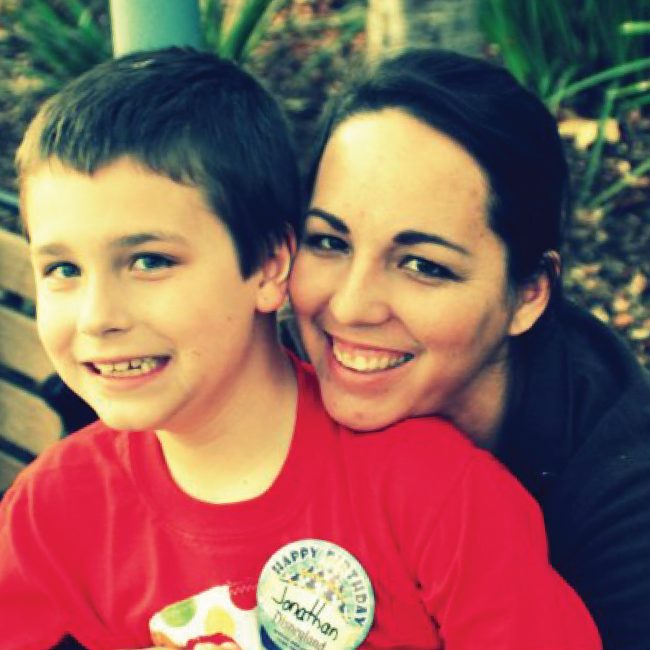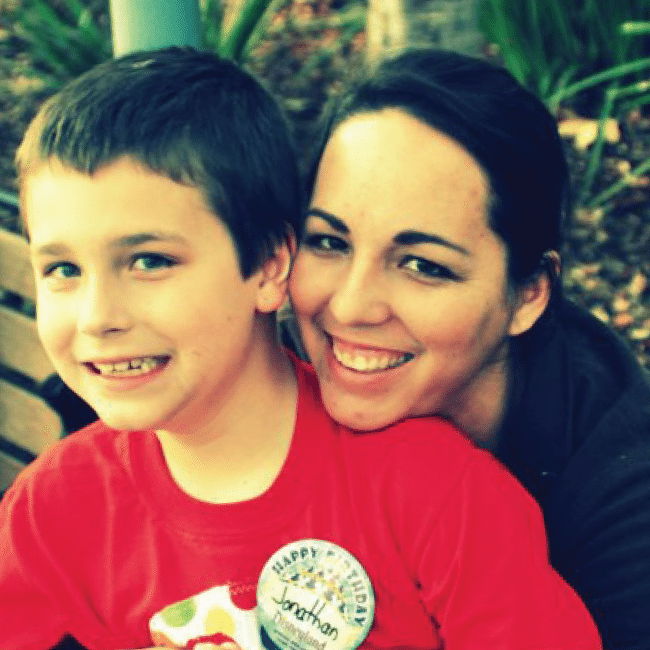 My cute J and me on his birthday at Disneyland long ago
The money aspect of it isn't my favorite though.  So this post is meant to help with that.  Here are 6 ways you can save money at Disneyland — 
Disneyland Tickets (affiliate links are used below)
Park Savers has a killer deal on tickets.
You can also get tickets from GetAway Today.
Bring in your own snacks:
Besides the high ticket prices, the easiest way to spend money is on the FOOD.  Holy cow that adds up so fast.  Especially when you are there all day or for several days with your whole family.  You can spend well over the amount of tickets if you aren't careful.  For locals it's easy to pack lunches and bring in, those traveling from afar it's a little trickier.  But with some planning, you can save big by bringing.  Have a discussion with your family before you go of the must have spots (like Dole Whips from the Tiki Juice Bar in Adventureland).
Bring water bottles and use their water fountains:
Second only to the food (and tickets), water for a family is expensive.  But in the summer months it gets hot and water is a must.  So bring in water bottles or make a goal to use the fountains they have there.  Here's a little list of where to find them:
The Plaza Pavillion restaurant on the west side of Main Street
The French Market in New Orleans Square
Rancho del Zocalo in the dining courtyard in Frontierland
Tomorrowland Terrace to the left of the order windows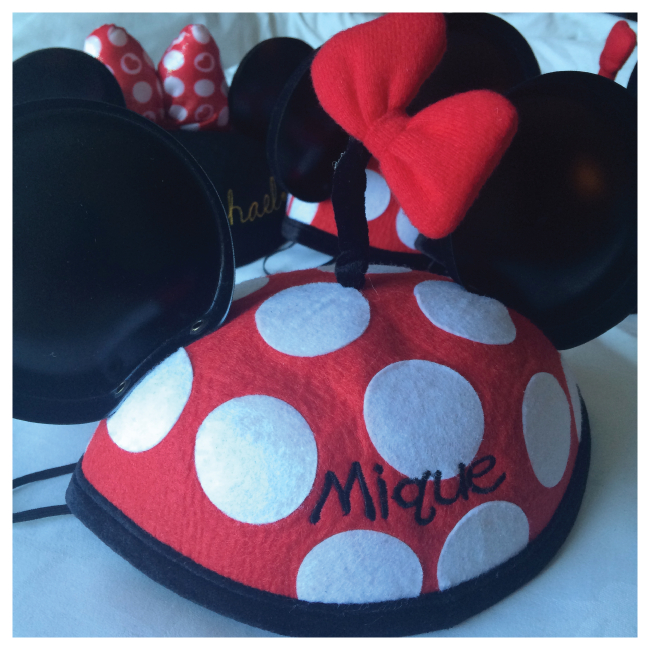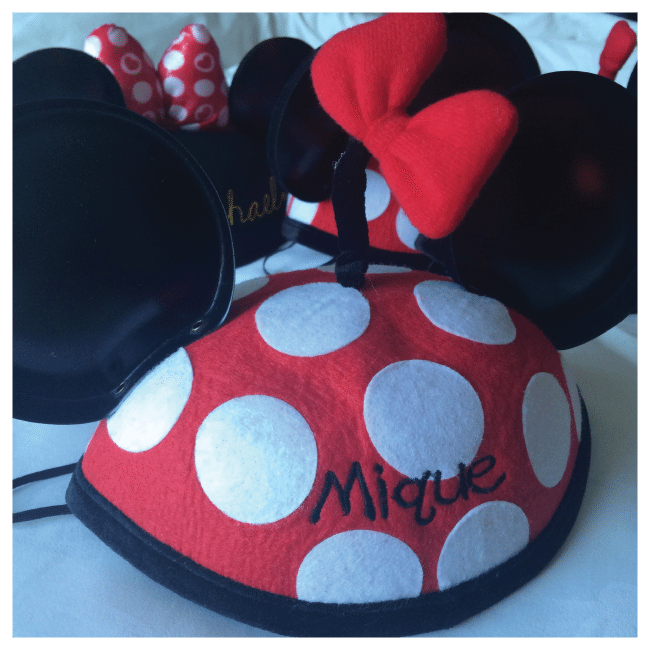 Make your own or buy Disney shirts/hoodies/clothing before you go:
As cute as the clothing and trinkets are at Disneyland, they add up super fast.  I've been able to buy shirts at Target, Amazon and Old Navy in the past.  They are usually 1/2 the cost of what you'd spend in the park.  You can make some cute stuff to wear too.   There are a few exceptions to this – one of them is Mickey ears.  Nothing beats picking out a pair of those cute embroidered Disneyland ears. (like above – thank you Rachael!)
This post from Lil Luna on what to wear is great.
Bring in your own stroller:
Truth – the strollers at Disneyland are fabulous.  But they are yet another expense.  Save the time of waiting in line and renting a stroller – bring your own!
Book character dining before:
Did you know that you can book breakfast with Minnie and friends? So great, right?  If you book before you go on your trip, you can save.  Plus then you don't have to chase down the characters that your kids want to see.  There are lots of different options so make sure to check them out.
Extra tips:
Get a cute Disneyland book to help with long lines — love this activity book!
Make a customized map – you can make your very own map before heading to the park.  No more standing there staring and trying to figure out where to go next.  Just plan it all out and go for it!
Check out special offers before planning – there might be an extra way to save.  Definitely worth checking out.