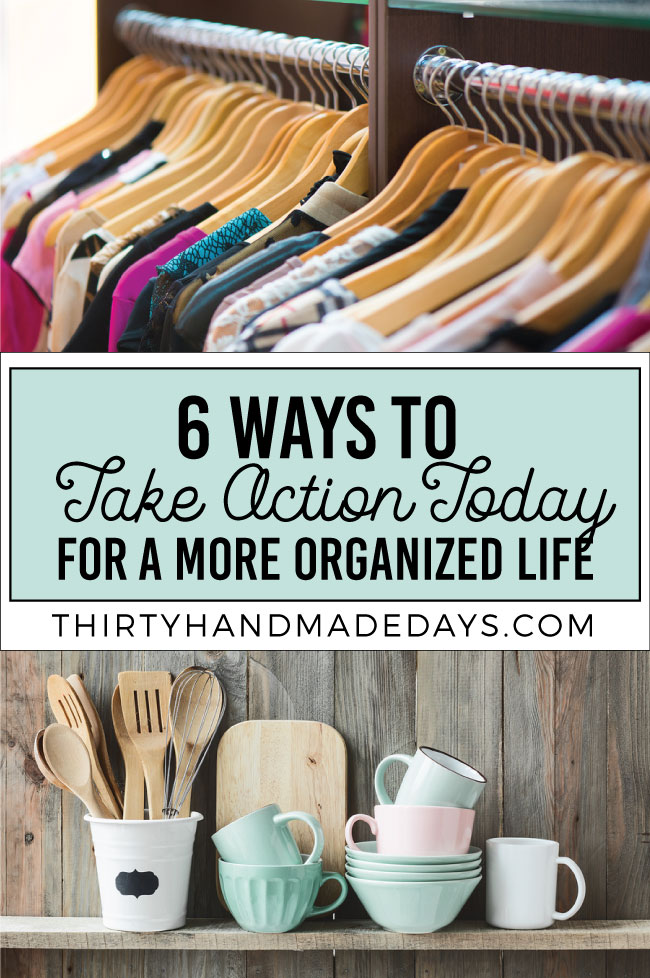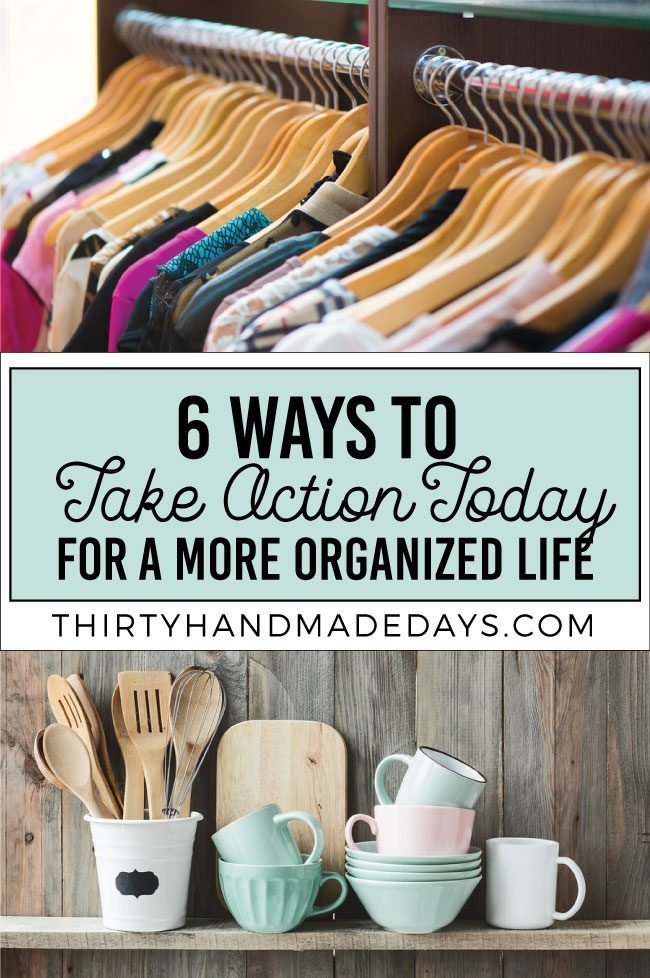 I know… organizing is tough.  It can be downright frustrating at times.  I have friends who have everything in a certain spot but then there are people like me who stuff things wherever they can find room.  Ugh.  We're going to get bet better at this, one step at a time.  Here are 6 ways to take action for a more organized life: 
Some links below contain affiliates.  
1.  STOP WHAT YOU ARE DOING AND SET SOME GOALS.
There is power in the written word.  I've read studies about people being more productive from making lists and checking them off.   If you're just not sure where to start (too many things? I hear ya!) — I would suggest starting with the smallest room in your home.  Then move onto the next.  This will give you a quick win and encourage you to keep going.  I have also gone so far as to reward myself for completing tasks.  I know that might sound silly but honestly most of the time sorting through stuff, organizing papers, and all that jazz is the very last thing I want to do.  It can be as simple as taking a 10 minute break and watching my favorite show.
I've even got some cute options for you to write your goals down.  You can download and print a Goal Tracker, Today I Will or Daily To Do List.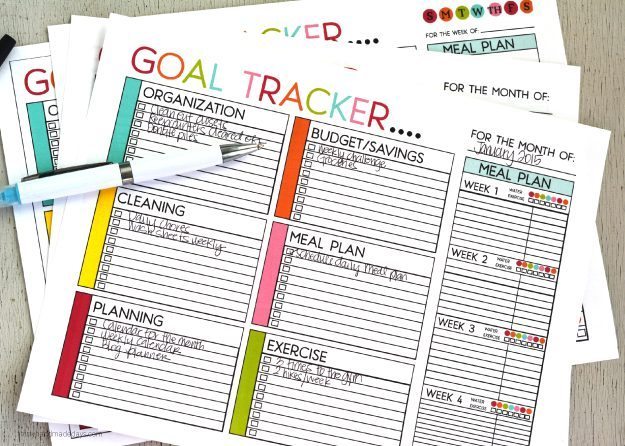 2.  DOWNLOAD AND PRINT OUT BINDERS TODAY.
In this post I walk you through how binders can majorly help with organizing.  So I won't really go too much into detail here.  But there is definitely a method to my madness with all these binders.  Just like writing down your goals, having ONE spot for all of the important information for your family is the perfect place to start.  If you only do this today, you will feel major accomplishment, promise.  I've received so many kind, wonderful emails from people who have downloaded all of my binders, who feel so much better having everything they need.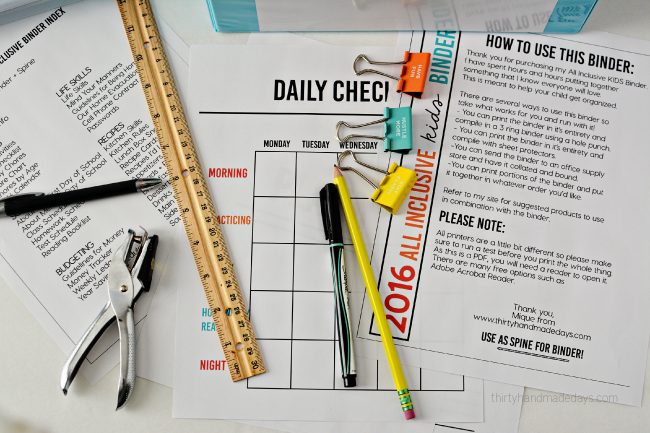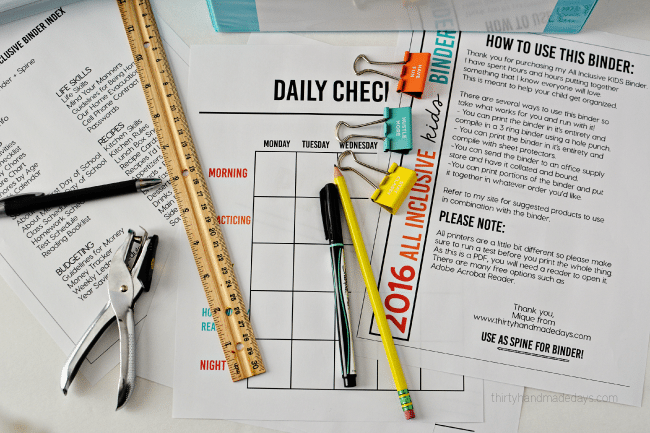 ——>> A super easy and actionable item instead of hopping from one binder post to the next (although you totally can if you want to!), get my All Inclusive Essentials Package.  Or get them individually  – Standard size, Mini size and Kids.
3. GET A 2016 Homemaking Bundle.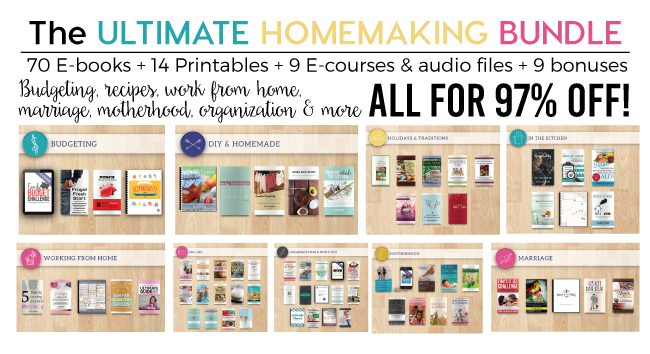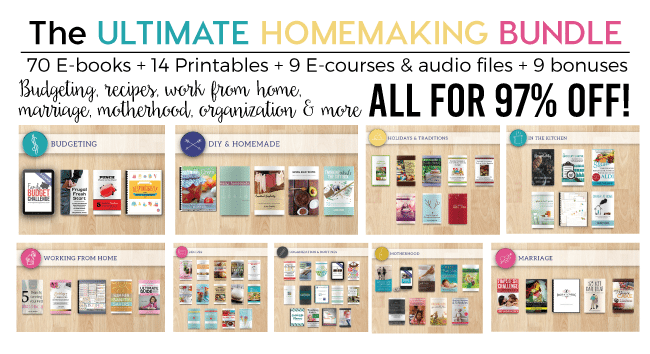 You guys, I normally don't share bundles like this but I saw it and it intrigued me.  I bought it and knew I immediately had to post about it.  I was blown away by allllllll of the information.  Truthfully there is so much in this one package that I probably won't get through it all.  But I especially love the organizing, budgeting and recipe sections.  There is also motherhood, marriage, faith and more.   The deal is so incredibly amazing that it's hard not to get it.  But it's only good for a few days, so grab it now while you can.




4.  MAKE A DESIGNATED SPOT TO SORT THROUGH CLUTTER AND GO FOR IT.
One of the easiest ways to ensure a disorganized home is to have clutter.  In order to combat that, you need to start getting rid of stuff.  For some that is easier said than done.  Josh and I have rented dumpsters to get rid of things.  Seriously.  (that's kind of embarrassing to admit)  But something had to give and that's what we decided to do.  I like the idea of having different boxes in one spot so that you always know where to go to sort through.    You can get some storage cubes and boxes to do this ASAP.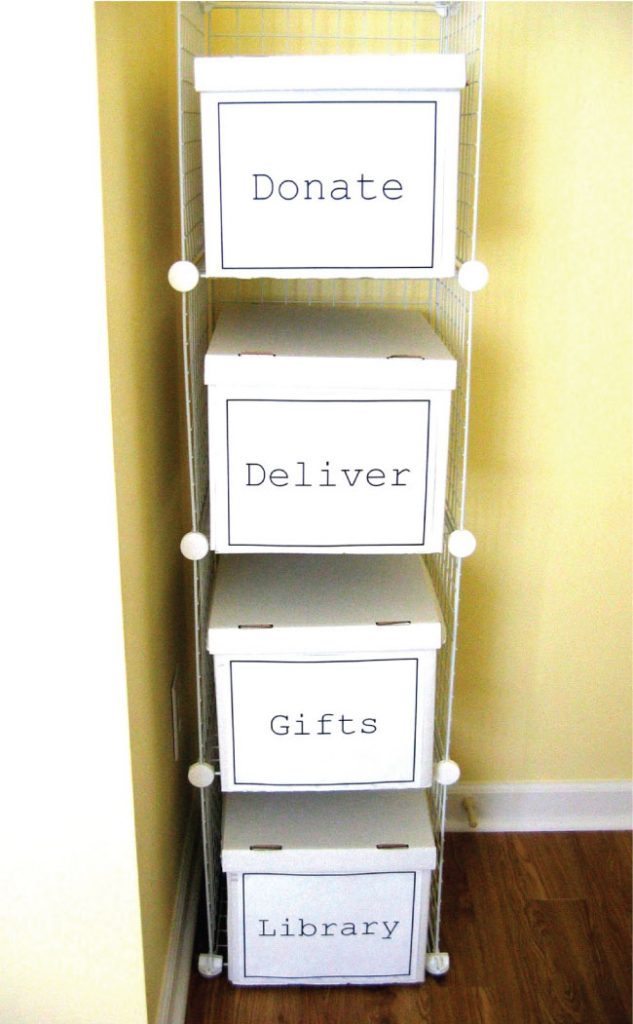 Idea from the Red Chair Blog
5. STOP THE SPENDING.
This goes hand in hand with all of my budgeting talk and it isn't very fun.  But if you can stop or limit spending on the extra stuff, you can significantly put a dent into the clutter of your home, which will then lead to a more organized life.  It's just simple math – less stuff = more organized.  But it's unfortunately so hard to do.  You don't have to stop the spending forever but if you want to have a more organized life, you should set a goal of at least 30 days while you tackle your organization systems and figure out what works best for you.  Which leads me to my last point….
6.  FIND A SYSTEM THAT WORKS FOR YOU AND RUN WITH IT.
Listen, I'm the first one to admit that not all systems are designed for all people. There are too many variables. My house is a certain size, I have kids in lots of activities and I'm trying to balance a lot at once. I'm sure it looks very different from someone who lives on their own with a smaller space.  What works for me, might not work for someone else.  Find something that is attainable and run with it.  Take one step forward instead of one backward.  Nobody is saying you have to organize ALL your spaces today.  Just do a little bit at a time if that works for you.  If something isn't working, ditch it and try something else.  You can join a challenge, ask friends or family to help you be accountable and help out, or just keep coming back to my organization posts.  :)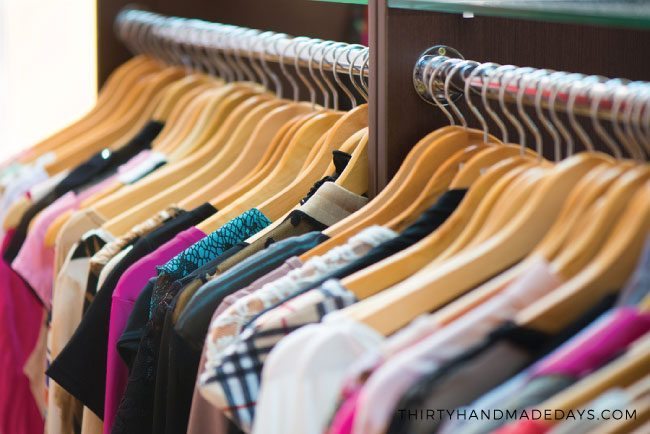 Let's do this together, one space at a time. Deal?