Trying to decide what to make for dinner this week?  I've got you covered.  Here are seven crockpot freezer recipes that my family LOVES. Free printable recipes and grocery list included!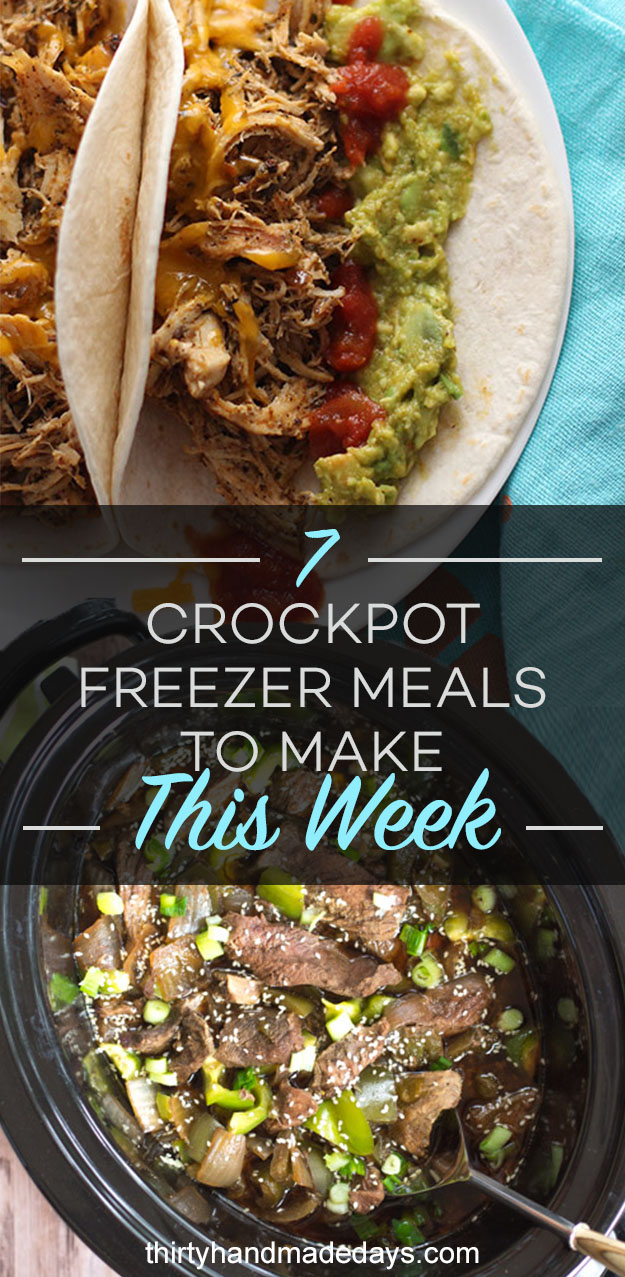 When people find out I run a crockpot blog with my husband, the first question they ask is, "Do you eat a lot of crockpot meals?" followed closely with "Do you really like working with your husband?!" Luckily, the answers are "yes" and "yes."
What makes me so obsessed with crockpot freezer meals?
The recipes can be frozen without any cooking ahead of time, so they're very quick and easy to prep.
They cook for the first time out of the freezer and don't taste like leftovers at all.
I can buy the ingredients in bulk and save a lot of money.  (I usually save $200 when I plan a month of meals at once.)
I like to set aside an hour on Sunday to make 7-10 meals at a time.  Crockpot meals are good for at least three months in the freezer, so we always have meals on-hand for busy weeknights.
Since this is such a busy time of year, I decided to make a list of seven crockpot meals that you can eat this week or freeze and space out over the next few months.  I've tried hundreds of crockpot freezer meals myself, and these are some of my favorites!!
These recipes are healthy, delicious, and budget-friendly.  They're also going to make your house smell amazing.  Enjoy, Friends.
7 Crockpot Freezer Meals to Make This Week
CLICK HERE for the free printable recipes and full grocery list.
You can add the ingredients to the crockpot in the morning or assemble all seven at once and freeze for up to three months.  The flavors and textures are varied enough to eat every night of the week, but it's nice to have a stocked freezer too.
If frozen, thaw overnight in the refrigerator or in water in the morning.  Dump the bag into the crockpot in the morning and dinner is done.

Thoughts or questions?  Leave a comment below and I'll respond ASAP. XO, Kelly