This time last year we found out that my Dad had cancer. Our family has had our fair of trials over the years but 2013 took the cake. Just shy of eight short months later, he passed away. My project today is a touchy one- an "always prepared binder." I have known that I wanted to put together this binder for awhile and even talked to my Mom about it. But I wasn't sure I could "go there" yet. Ready or not, here it is: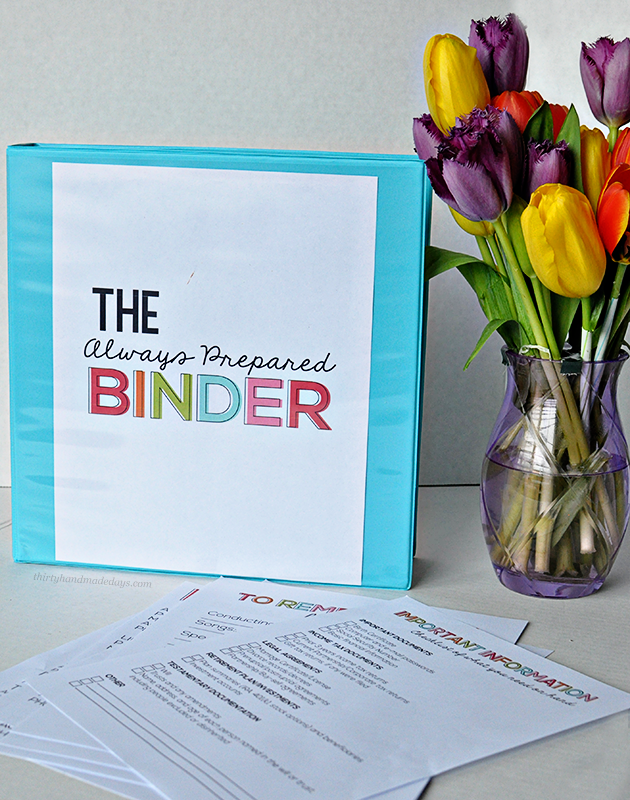 I've said over the last year that I am grateful that my Dad got the diagnosis so we could have heart to hearts and he wasn't taken suddenly. I already knew how much he loved and adored me and he knew the same from me. I knew it was "his time" to go even if I selfishly hated every moment of knowing. And still do. In that time that he was fighting for his life, my parents met with financial advisors and people who could help them make sure that things were set. Unfortunately there are many people that don't get the chance to have those appointments. And even with the time that they had, there were still some things that didn't get discussed or figured out before he died.
Thank you to Heather and Troy from Amorology who put together a beautiful wall for our Dad. And to Robin from Twigg Botanicals who made the prettiest floral arrangements I have ever seen.
When we were preparing for my Dad's funeral, there were so many decisions to make. Luckily we have a fantastic support system with awesome friends in my hometown. Some who have sadly dealt with death and who came in and just took over- which we needed so badly. My parents didn't talk about my Dad's funeral so we didn't really know exactly what he wanted. What was Dad's favorite song? Who would he want to talk? Should the kids talk? In the end, I think he was smiling down on us the entire day. We spent the day mostly smiling and laughing (with tears mixed in) and celebrating the amazing man he was. I hope he was proud as I stood up there and spoke to a room full of people whose lives he had touched. It was one of the proudest and most difficult things I have ever done- share the things I loved most about my Dad and the reasons I was lucky to be his daughter.
On the flip side, Josh's Dad did have those conversations with my mother-in-law before he passed away. He unfortunately battled cancer for many years. They were able to plan his funeral and talked about who would speak, say prayers, the songs, every detail. It made things run smoothly knowing that we were honoring him a way that he would want. The idea with these printables is that everything is prepared and spelled out to take the guessing out of anything.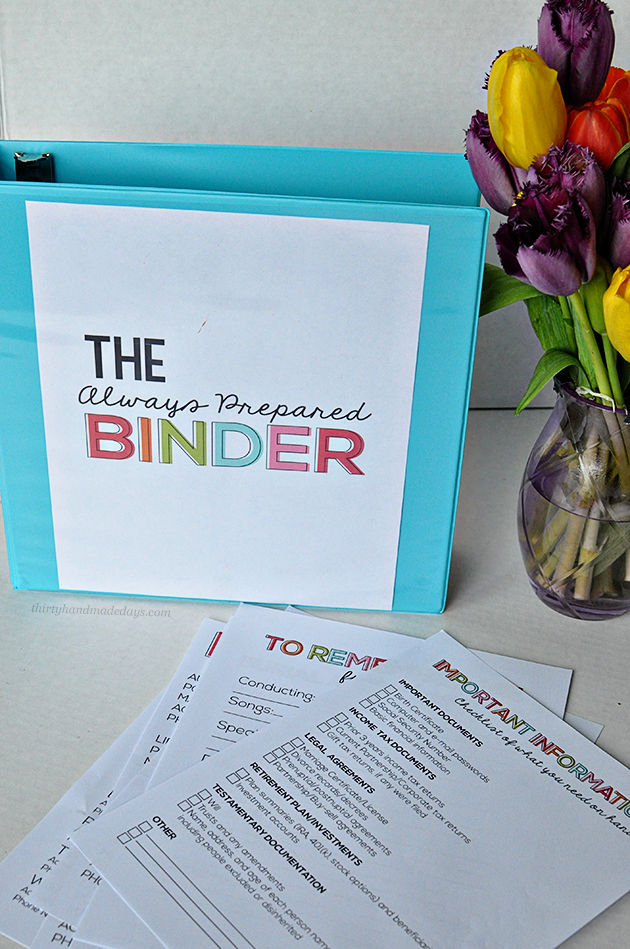 I know I normally post upbeat things here on 30days and I don't want to make it too heavy. But my hope with this binder is that – even though it's hard- you will take the time to make it and have those difficult talks with your spouse and loved ones. You can continually update it. Finances will change, preferences will change, things adapt over the years. But if there is a base understanding, the ones left behind are in such better shape. Keep this binder in a safe spot as it contains passwords and important information that you would only want your spouse or immediate family to have.
If you are looking for the binder and supplies, here are some that I have used:
Affiliate links are used below.
BUT keep in mind, you don't have to make a separate binder with these files if you don't want to. You can make another section in your Ultimate Budget Binder or your Family Binder. I made them to coordinate with everything I've designed in the past.
*Note- the checklist in this packet was created from a very helpful document that my Mom received after my Dad passed away. I altered it a little bit and made it pretty, but it's from a dear friend at Creative Capital Management.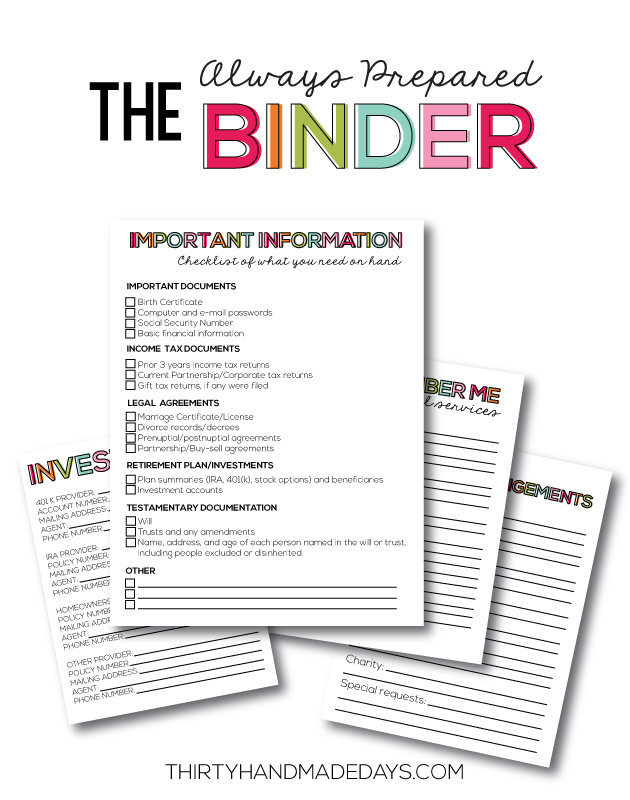 You can download it here. For personal use only.
If you have questions please refer to my Printable FAQ's.

I will be sharing some ideas on how you can help when someone passes away soon. But I'd love to hear from you – how have you helped or what has someone done for you that was helpful?