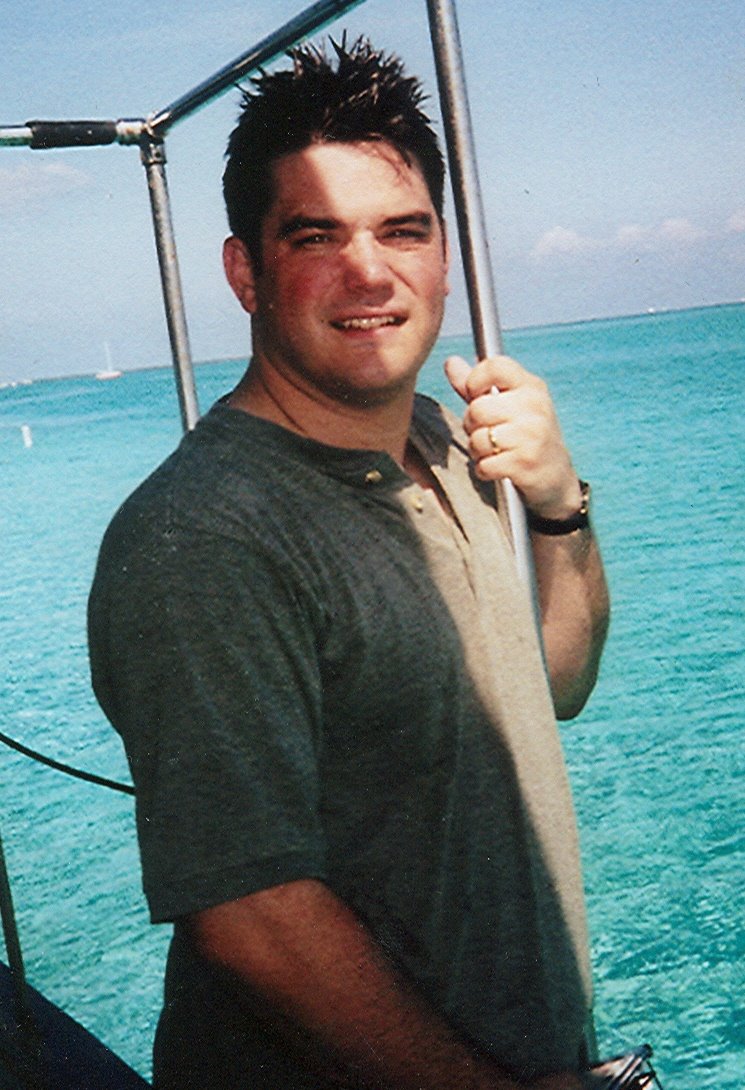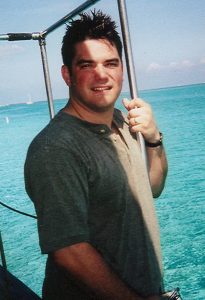 13 years ago today I married the funniest guy I could find.
In 13 years we have had major
ups and major downs.
He's the only person on the planet
that can make me laugh when I am furious.
And the one that happens to be a big softy,
even though he doesn't openly admit it. ;)
Little did we know where life would take
us all those years ago.  Sometimes it seems
like foooooorever ago. Hello oldest child that is 11
and in 6th grade. Wow. 
Other times it feels like it was just yesterday.
Saying yes. Happily. On the best day of my life.
Why yes, I was the ripe ol' age of 20 when we got married.
And it was 1998, so go easy on my dress.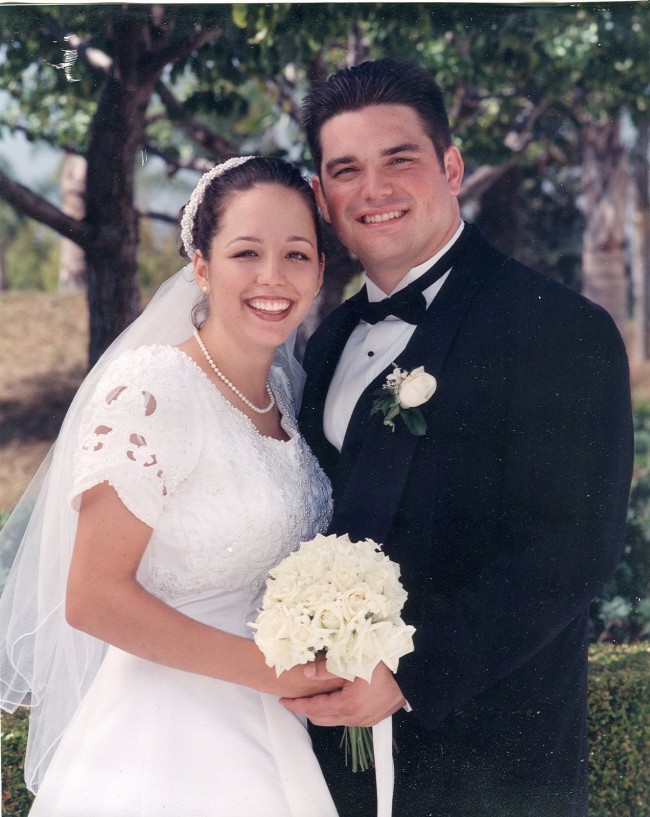 On to the good stuff: over our 13 years, we have been pretty darn creative with presents.  My very favorites weren't the ones that cost a lot of money (though those are nice too).  The gifts that I love are the sentimental ones. For example:
Anniversary Gifts: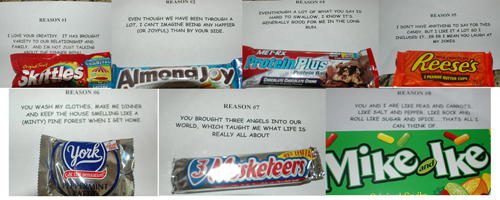 Josh sent me on a candy bar treasure hunt for our 9th anniversary.
Probably $10 total- but so sweet.
I wanted to share an idea with you that I did for our 8th that he still talks about:
ON THE HOUR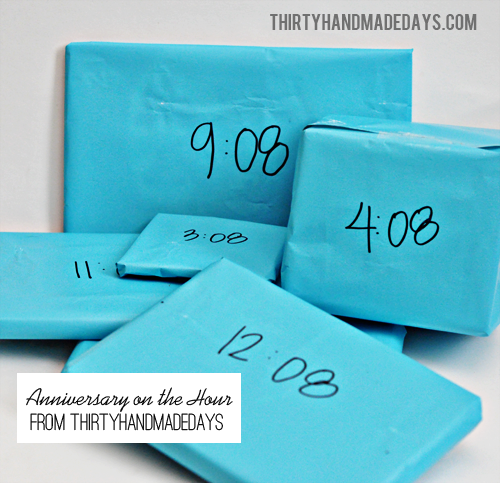 Since Josh works an office job and has a commute, if our anniversary isn't on a weekend we usually don't get to spend it together.  For our 8th anniversary I sent him with a bag full of gifts, one for every hour "on the :08."  So 8:08am he opened #1, 9:08am he opened #2, etc.  That year he happened to be coaching flag football for our nephews so most of the gifts had to do with that: a coach clipboard, whistle, Gatorade holders, etc.   They don't have to be huge presents- it's just fun to have something little to open every hour.  He's pretty impatient and said he was tempted to open them all at once but actually held out and waited until the 8 of every hour.
Have you done anything creative to celebrate your anniversary?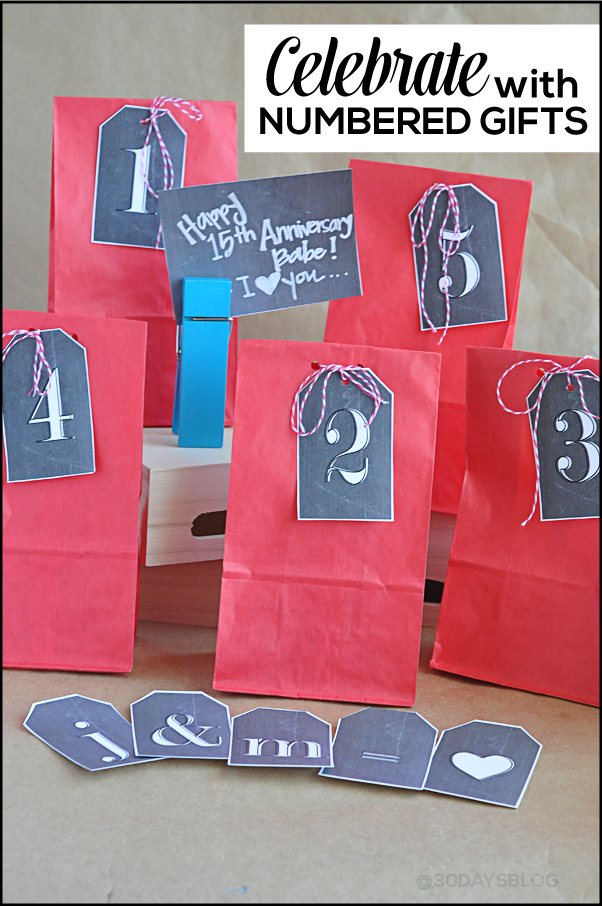 Check out another fun anniversary idea with printable tags.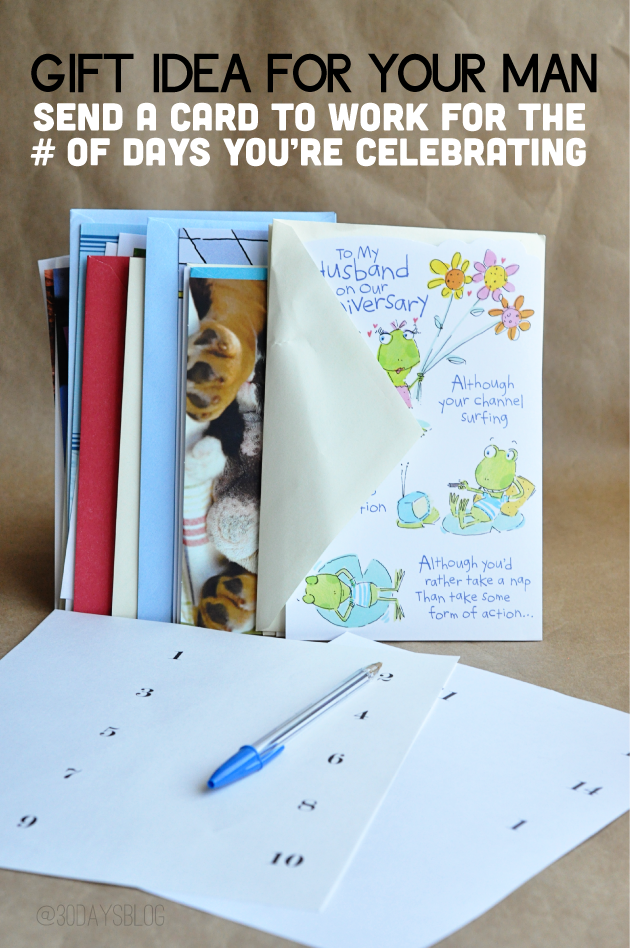 and send cards to work to celebrate your anniversary!
There are several other gift ideas and printables too.