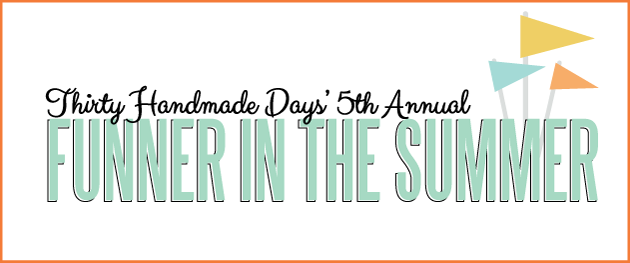 Next up for Funner in the Summer–  Landee from Landee See Landee Do.  First of all – Landee is quite possibly the funniest person I've met.  (second only to her sister-in-law Shelly)  I love being around her because she is hilarious.  She also happens to be crazy talented and have an awesome Etsy shop.  Landee shares my love of puns and I know I can always count on her to come up with something clever.  For cute home decor including awesome mantel ideas, printables, craft projects and more, visit and say hi to her!
Hi! I'm Landee and I blog at Landeelu.com. I am excited to be here on Mique's amazing blog to share this fun (and super easy) DIY Bandana Banner! For whatever reason, bandanas scream summer to me. I thought I'd try to make a party banner out of them that would be awesome to pull out and hang up again and again if we are having friends over for a summer BBQ, celebrating a summer birthday or just want an instant party! It's easy festivizing! I might have made that word up.
Here's how I put mine together…
Get bandanas in the colors of your choosing. I got these for $1 each at Hobby Lobby.
Cut bandanas into triangles. I made a template out of cardstock to make it easier (my triangles are 7.25″ across the top and the sides are 10″). Then to make it even EASIER, folded three bandanas in half, stacked them and used my rotary cutter and straight edge to cut them.
I contemplated sewing these triangles around my jute rope but decided to just hot glue them instead. It's much easier to just get out my glue gun than to pull out my sewing machine so my laziness won out on this one (as usual!).
I continued to do the above four steps over and over, alternating colors as I went and cranked out over 50 feet of banner in about an hour! I'm excited to string these up when we do our next Cousin Carnival this year!
Hi! I'm Landee and I blog at landeelu.com where I share fun crafty tutorials, printables, recipes and DIY projects along with a healthy dose of sarcasm and humor. I'm a big believer in doing what you love and I definitely love sharing my latest projects with my readers and looking for inspiration every day!
Come stop by and check out a few of my latest projects!
DIY Trundle Bed / 4th of July Polka Dot Mantel / Easy Nutella & Bananas Thank You Gift
You can also FOLLOW ME on social media (I promise it's super fun and stuff :))
Instagram (@landeelu) | Facebook | Pinterest | Google+ | Twitter (@landeelu)