What's better than a berries and chicken spinach salad?  Nothing, that's what.  This recipe is tasty, healthy and perfect for spring and summer!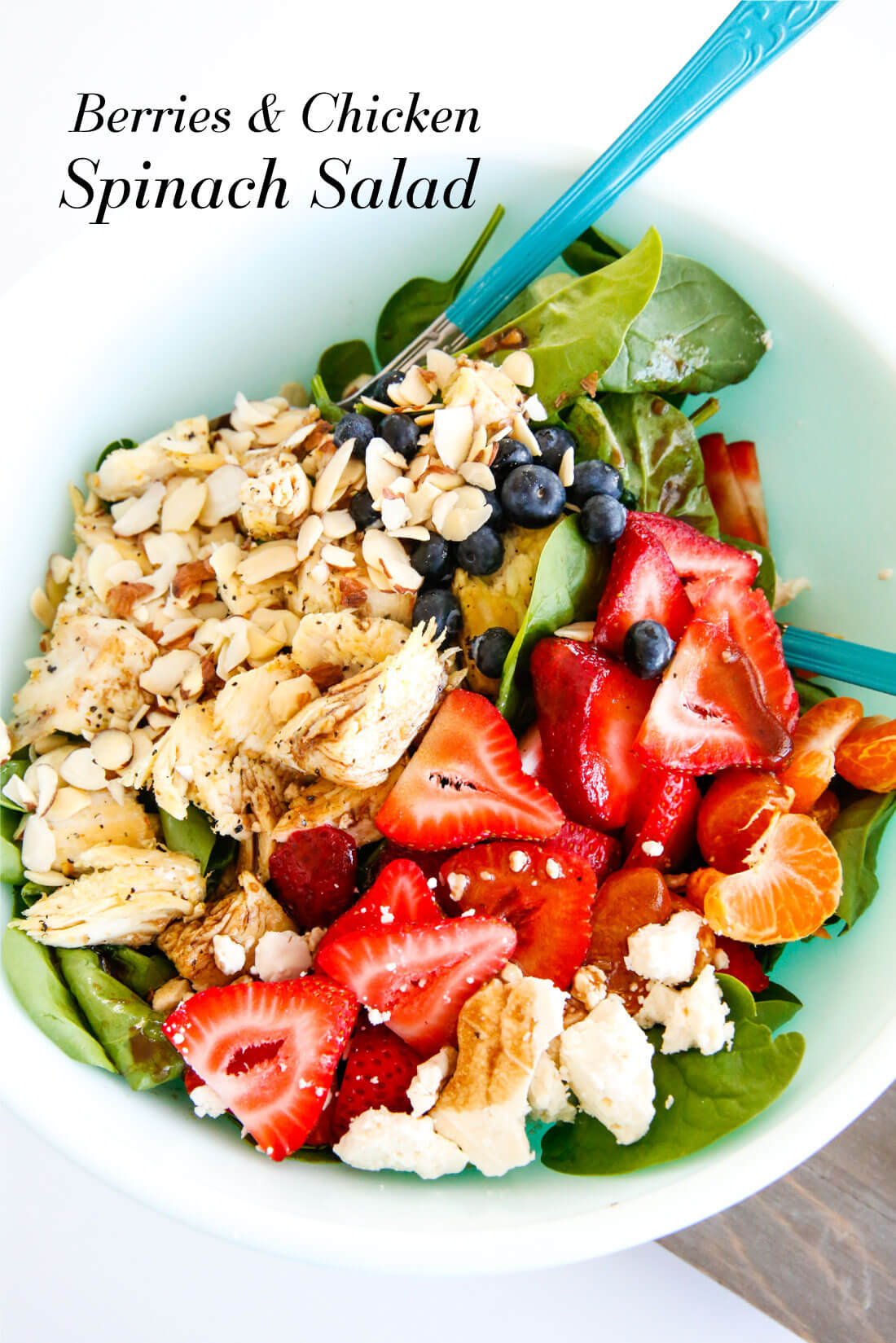 I was excited to find out that May is National Salad Month.  Did you know?  I can't wait to make all kinds of salads.  I love a good salad.  I love love love berries.  But I've always had an issue with buying things from the grocery store and having them go bad before I use them.  Wah! No fun.  It wastes time and money.  And then I found this game changer–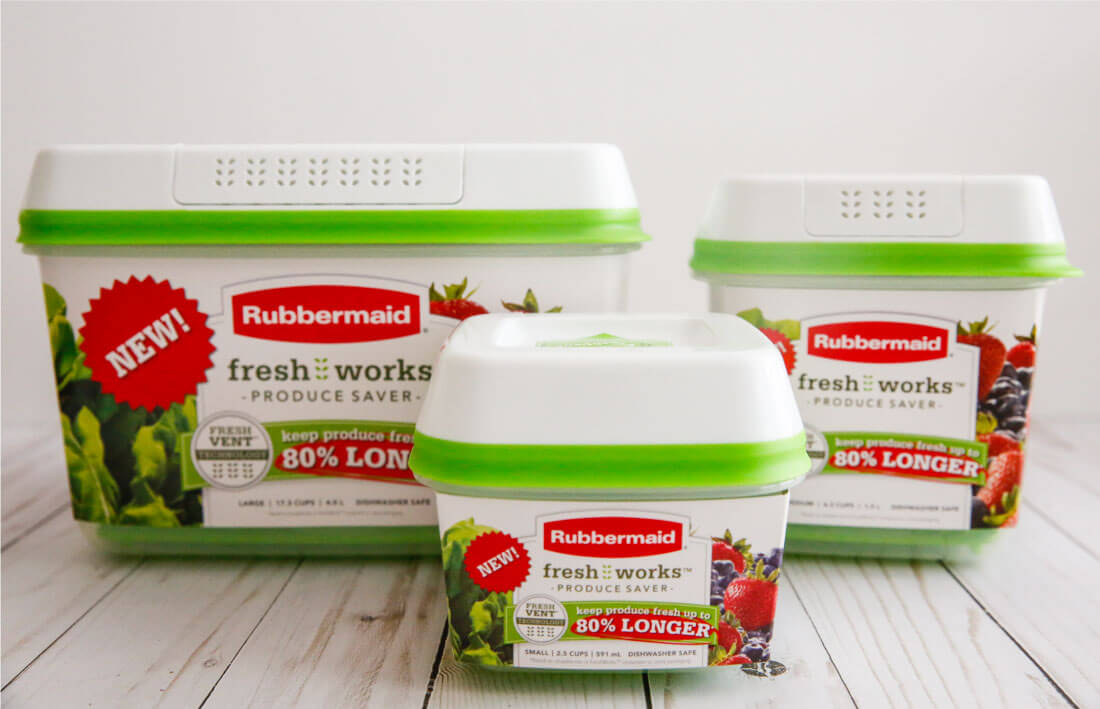 The Rubbermaid FreshWorks Produce Savers.  They are meant to keep your produce fresh for up to 80% longer. Based on strawberries in FreshWorks containers vs. store packaging. Results may vary depending upon produce and use.  It uses a revolutionary built-in FreshVent lid.  
I've always been a fan of Rubbermaid and was anxious to test out the benefits of these products.  I took all three sizes of containers and added the spinach and berries that I needed for this recipe to them.  The containers work best when produce is put directly into them without being washed, cut or sliced beforehand.  (bonus!) Here's what they looked like when I added them: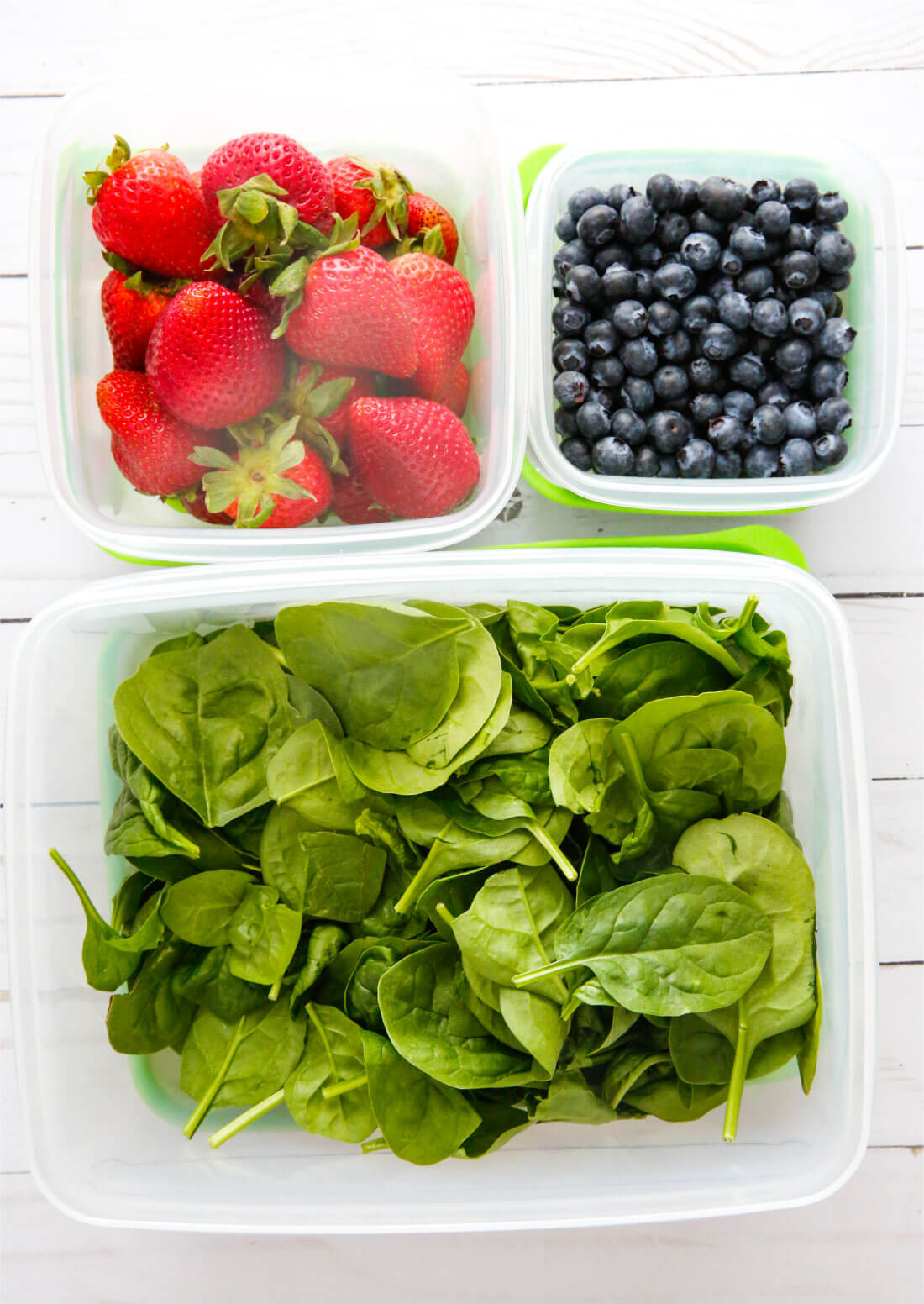 Don't worry – you don't do anything fancy.  Just open the lid and pop in whatever you want in the container.  There is a CrispTray at the bottom that keeps everything away from moisture and promotes airflow.  You'll stick the containers  in the fridge, like so: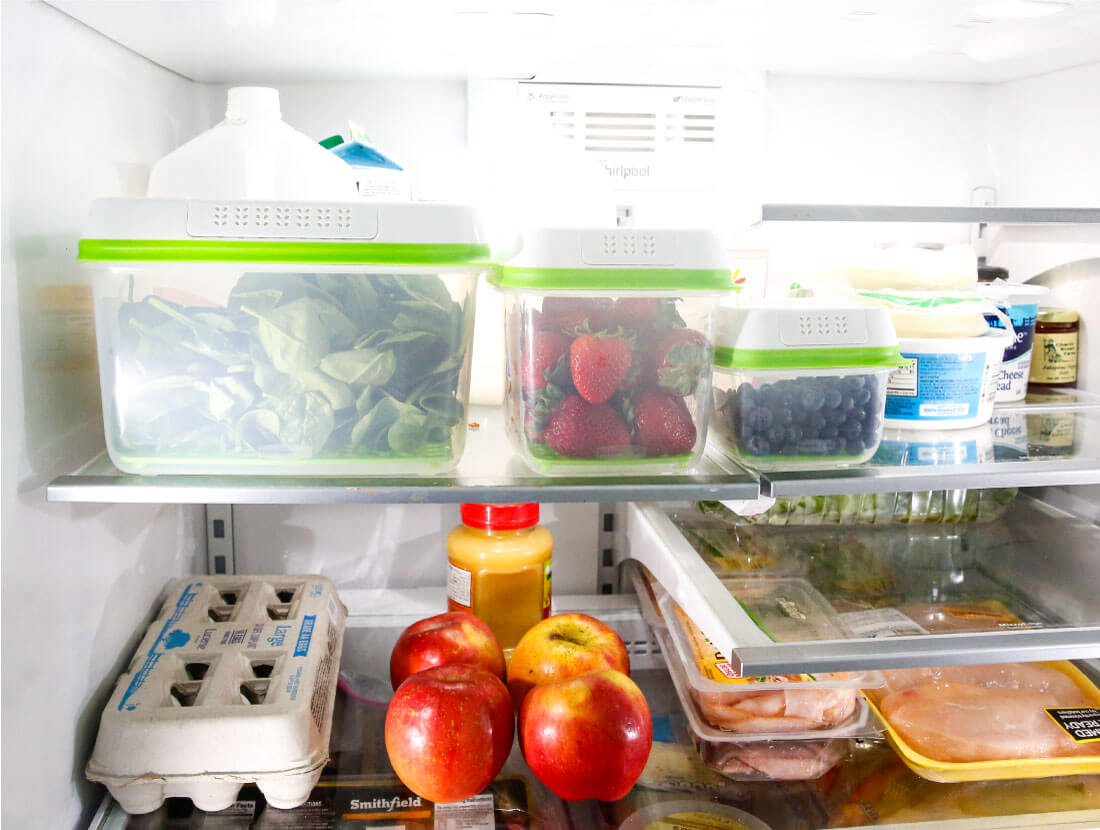 (Honest: this is probably the cleanest my fridge has looked in a long time!)
I even stuck the containers to the back so that my kids wouldn't be tempted to eat them during the week.  And after the week was up, here is how the produce looked: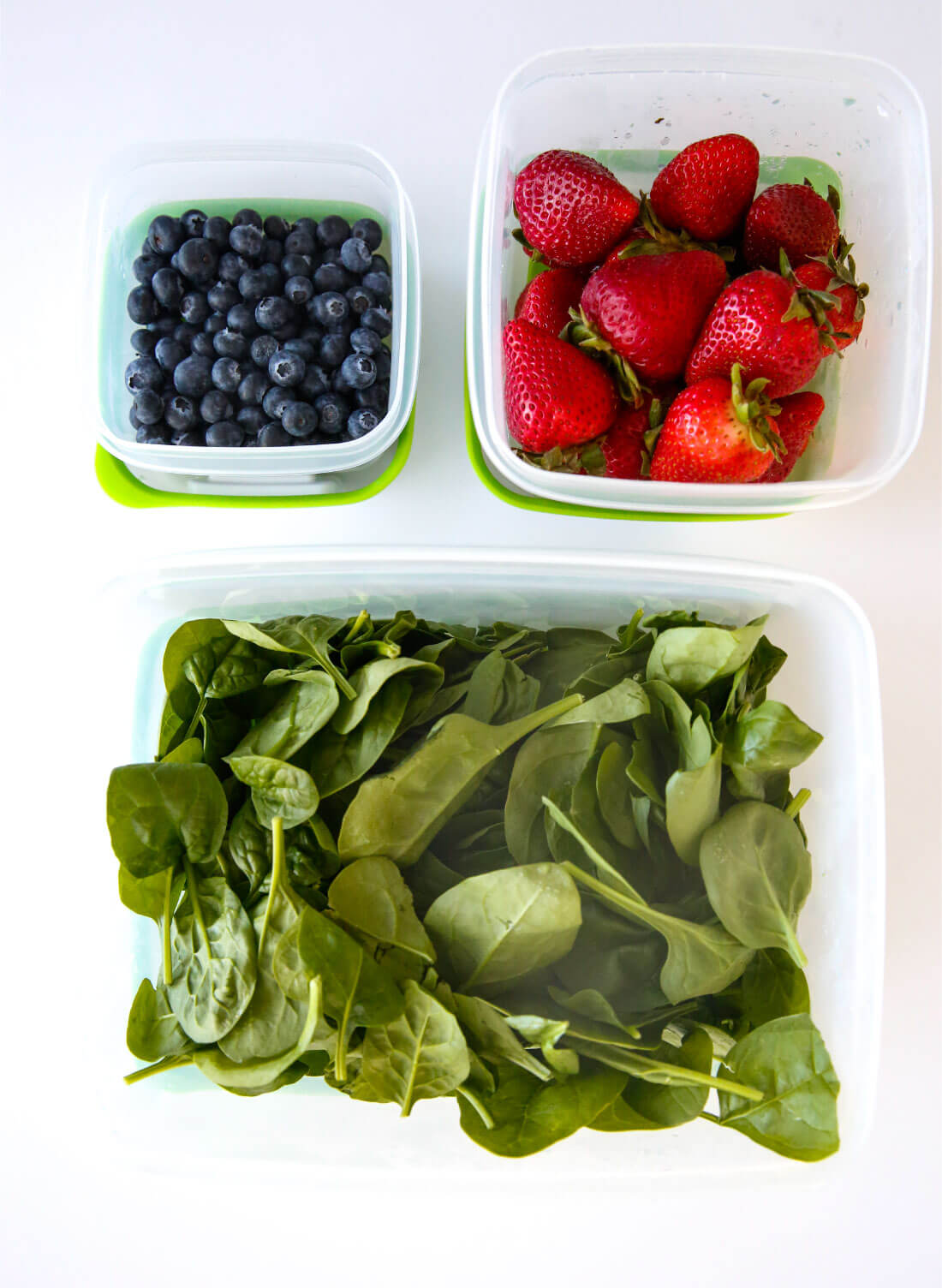 It really worked!!  Everything was still good to go and I didn't have to throw anything away.  That is unheard of for me.  Look at how pretty the strawberries turned out: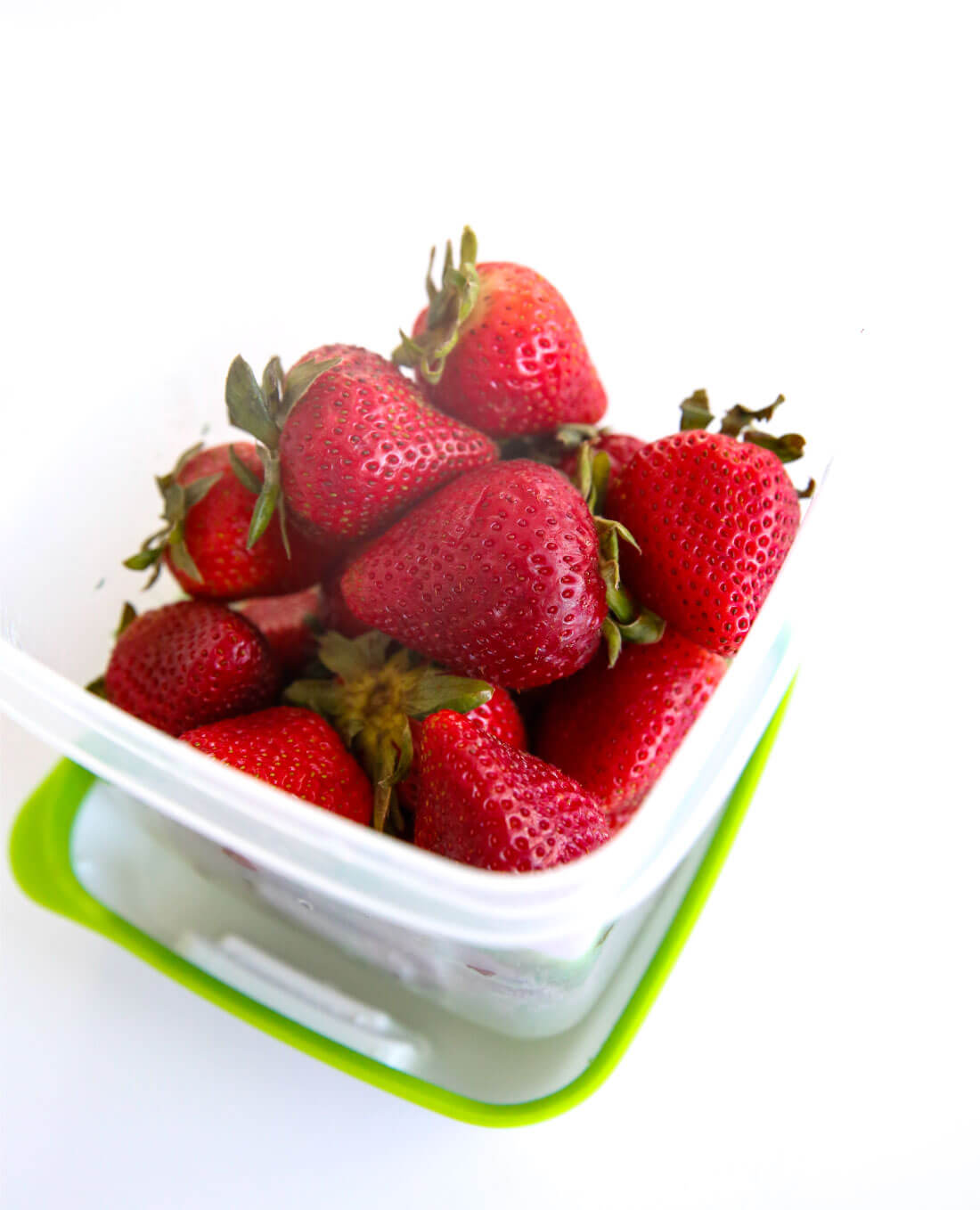 The containers are also dishwasher and microwave safe.  Yessss!  Plus they are BPA-free too.  
You can get these Rubbermaid containers at Target, Walmart, Costco, Bed, Bath & Beyond, grocery stores and Amazon.  So pretty much everywhere.  Get them! I did a quick happy dance and got to work making my spinach salad.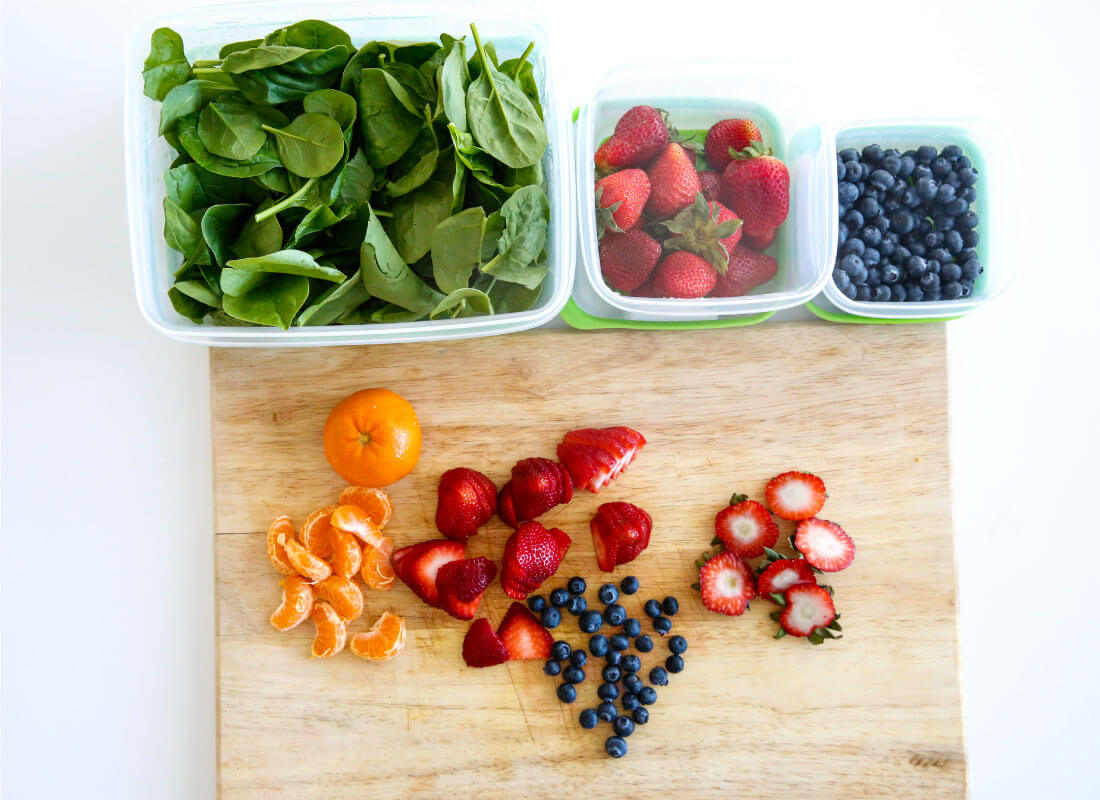 I've had salads similar to this at various restaurants (fast food restaurants even have some now!) and always love them.  It turned out so yummy!  Note that you can add nuts if you like.  I love almonds so it was a no brainer for me.  You could also substitute the feta for blue cheese.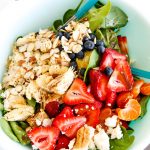 Print Recipe
Berries and Chicken Spinach Salad
What's better than a Berries and Chicken Spinach Salad? Nothing, that's what. This recipe is tasty, healthy and perfect for spring and summer!
Ingredients
1

large boneless skinless chicken breast

baked and cubed

4

c

baby spinach

½

c

fresh blueberries

½

c

fresh strawberries

½

c

clementine oranges

or mandarin oranges (approx. 2 clementines), peeled

3

tbsp

feta cheese

3

tbsp

slivered almonds

(optional)
Balsmamic Vinegarette:
2

tbsp

honey

1

tbsp

dijon mustard

1

large garlic clove

minced (jarred minced garlic can be used)

½

tsp

salt

½

tsp

pepper

¼

c

balsamic vinegar

¾

c

extra virgin olive oil
Instructions
Bake and cube chicken, set aside (I like to do a batch of chicken early in the week to use throughout for things like this!).

Wash and dry spinach. Add to a large bowl.

Wash and dry all fruits.

Slice strawberries and add to spinach.

Add blueberries and peeled oranges to salad.

Add feta cheese and almonds to the bowl.

Prepare balsamic vinaigrette and drizzle on salad.

Enjoy!
Balsmamic Vinegarette:
Whisk together all ingredients.

Store in a jar with a lid and refrigerate.
Nutrition
Calories:
2217
kcal
|
Carbohydrates:
91
g
|
Protein:
44
g
|
Fat:
192
g
|
Saturated Fat:
31
g
|
Cholesterol:
117
mg
|
Sodium:
2151
mg
|
Potassium:
1747
mg
|
Fiber:
12
g
|
Sugar:
69
g
|
Vitamin A:
11470
IU
|
Vitamin C:
143.2
mg
|
Calcium:
514
mg
|
Iron:
7.2
mg
And here is the final result: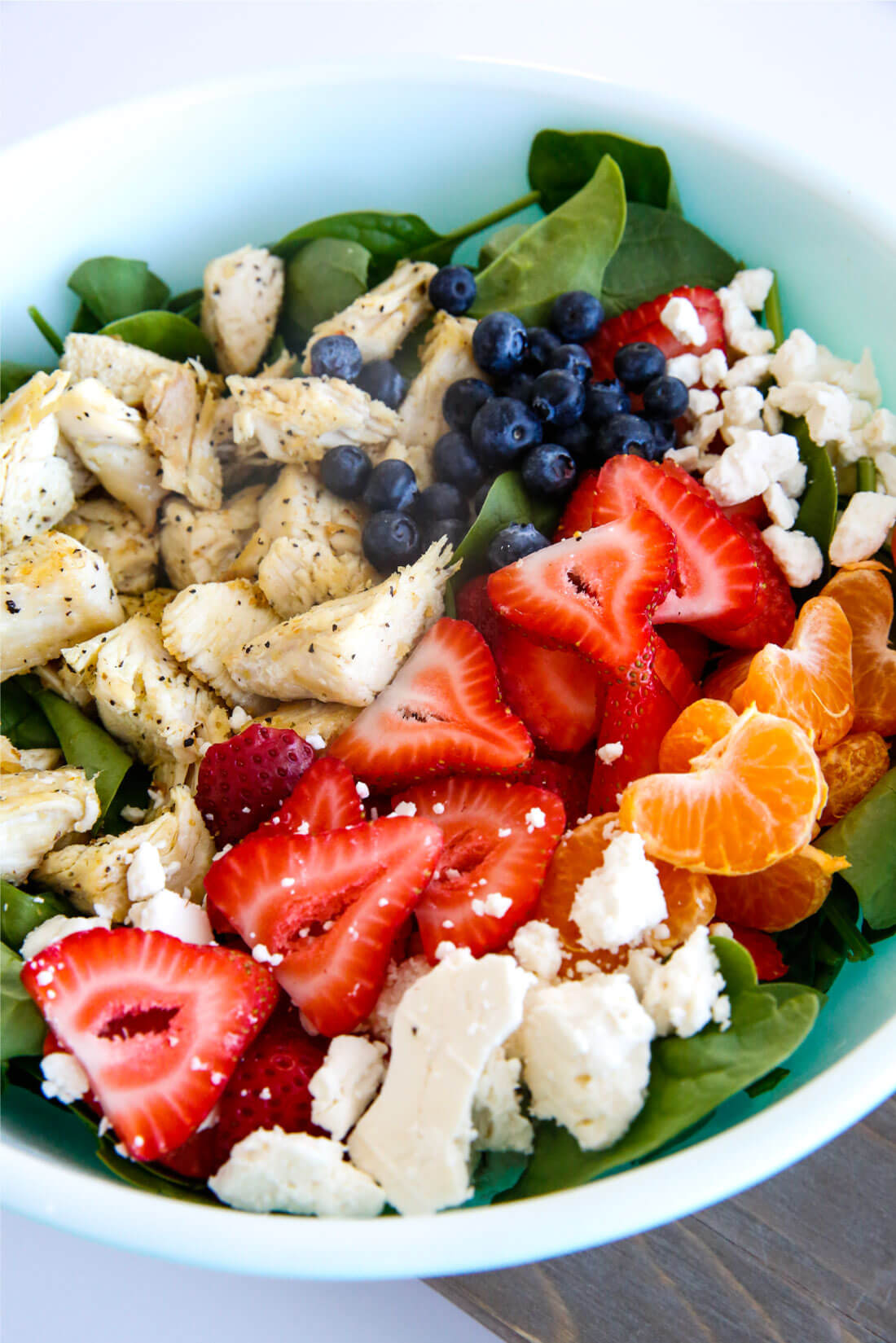 Straight up heaven in a bowl.  I'm serious!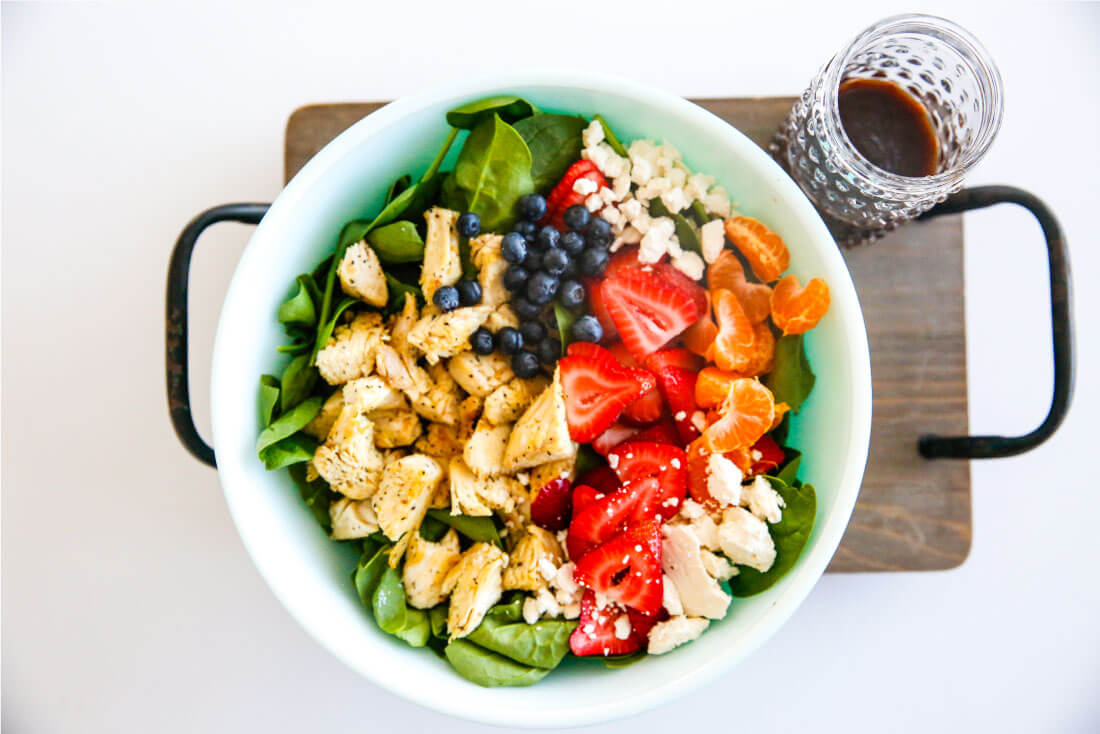 It's bright, it's colorful and it's awesome.  You pretty much can't go wrong with a bowl of spinach, fruit, nuts, cheese and delicious dressing.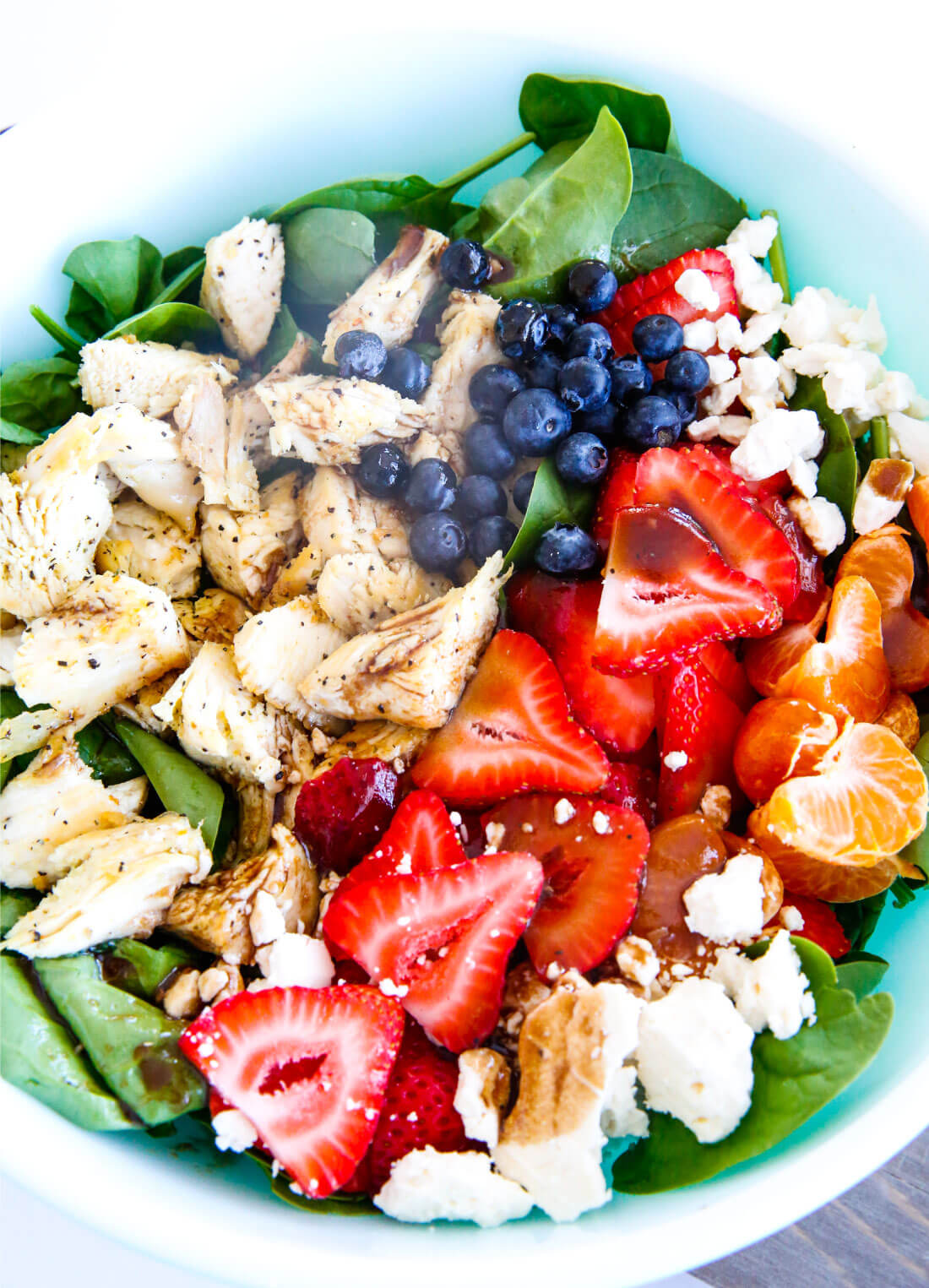 Good news! One lucky person will get to try out the FreshWorks containers.  Simply enter below: