Last week my daughter turned 10- DOUBLE DIGITS! Julia got to celebrate with family on her actual birthday. Then she had a daddy daughter date to dinner and her ears pierced. But the finale to the week was a screening of the Secret World of Arrietty on Friday night and an interview with Bridgit Mendler (Arrietty in the movie, also known as Teddy from Good Luck Charlie around here).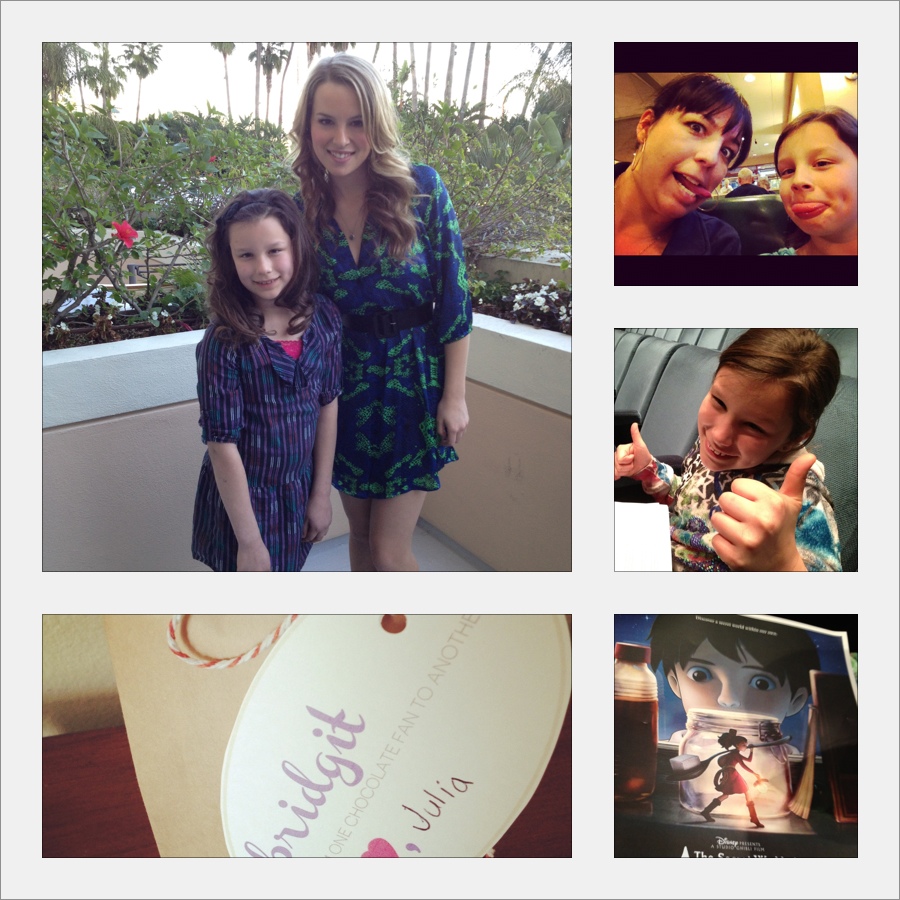 From left to right: Julia & Bridgit, me and Julia at dinner (her pick: Denny's!), Julia waiting for the screening to start, the chocolate treat bag, the Secret World of Arriety press info cover
Julia has been a fan of Bridgit since she was Juliet on Wizards of Waverly Place- so to say that she was excited to meet her in real life, huge understatement. I did a little digging and found out that she loved chocolate.  So we got some of our favorite chocolate and packaged it all cute and brought it along for the interview. 
We were welcomed with treats and drinks while waiting to meet her.  When we sat down at the table, Julia sat next to an empty chair- and wouldn't you know it, that's where Bridgit sat.  I have to admit, I got nervous but Julia handled it like a champ.  She complimented Bridgit on her outfit (which is her signature line- Julia likes to open conversations with "I like your outfit.").
The interview with four other bloggers and their daughters or nieces began.  Bridgit right away said "Have you guys had the chocolate here? It's great!" and I gave Julia a wink. (see Moms do know what they are doing sometimes)
Julia: What was your favorite part of playing Arrietty?
BRIDGIT MENDLER : I think she's a fun character. I think she's pretty spunky, she's pretty cool. I like that she has her heart in the right place. So, [it] felt like she was giving some good messages.
Question: Can you relate to her?
BRIDGIT MENDLER : I think I was pretty adventurous when I was younger. And I liked exploring outside and I was- I was into climbing trees and rocks and all that stuff.
Question: Being famous, is it harder to go places like shopping? 
BRIDGIT MENDLER : I do have trouble with that sometimes. And, and so sometimes I try and wear a hat or sunglasses and a lot of times people are respectful. But sometimes they get really excited and you can't blame them for like wanting to say hi. And I'm so happy to meet the fans of the show. And it's really flattering. But, I'm not always looking my finest
Question: Do you ever miss not being famous, being able to go out without paparazzi? 
BRIDGIT MENDLER : I haven't had to worry about paparazzi. I don't consider myself quite famous. I think I'm like a kind of a familiar face. But they really don't give me too hard of a time with it. I do think it would sometimes be easier if I didn't have to worry about hiding, because I can definitely tell when somebody notices me and I kind of like start to try to hide a little bit.
Question: What was the funnest part of the process? 
BRIDGIT MENDLER : I think it was fun because I kind of got into this story. As I was recording, I really felt like I was, in the movie. I was in the story. And each time I went, I felt like I was just watching a movie, so it was always really fun to do.
Question: During the adventure scene, were you ad-libbing?
BRIDGIT MENDLER : Well they wanted us to adlib for that part. So, for that part I kind of just had to watch the scene and then just try and go for it.
Mique: What was the hardest part? 
BRIDGIT MENDLER : Those adlib bits where I have to make a grunt or a heavy breathing at some point. And you just have to pick the moments do it a little bit more exaggerated than what you'd actually do, because if you think about it, if you're actually doing that, you might make some noises. But not as much as they kind of need to hear when you're in an animated movie. It's a challenging thing because you're not actually doing the motions.
Q : What would you tell girls, a suggestion related to pursuing careers? 
BRIDGIT MENDLER : I think a great thing about Arrietty is she has a really pure curiosity for the world? She just wants to see things and she wants to meet people. But she has really great intentions, and she meets this boy, Shawn, who is kind of having a rough time. And she's able to be a really good friend for him. And so I think it's a great message of friendship and adventure. And I think it's good. I think all girls should feel empowered like they can go out and conquer the world. I think it's important.
Q : When you were younger, what other careers did you want? 
BRIDGIT MENDLER : You know, I was a kid who wanted to do everything. I wanted to be a chef, a gymnast, the President, a lawyer, I wanted to be everything. So through my job, I can do a lot of different things.
Q : What other projects are you working on? 
BRIDGIT MENDLER : I'm working on Good Luck Charlie and I'm working on the album right now. And those are my two main projects at the moment.
Q : Are you steering yourself towards being a musician or an actress? 
BRIDGIT MENDLER : I feel like I really want to devote enough time to both of them. But I, I haven't really had time to get music off its feet so well. So I'm kind of hoping to focus more on that this year, just with the upcoming release.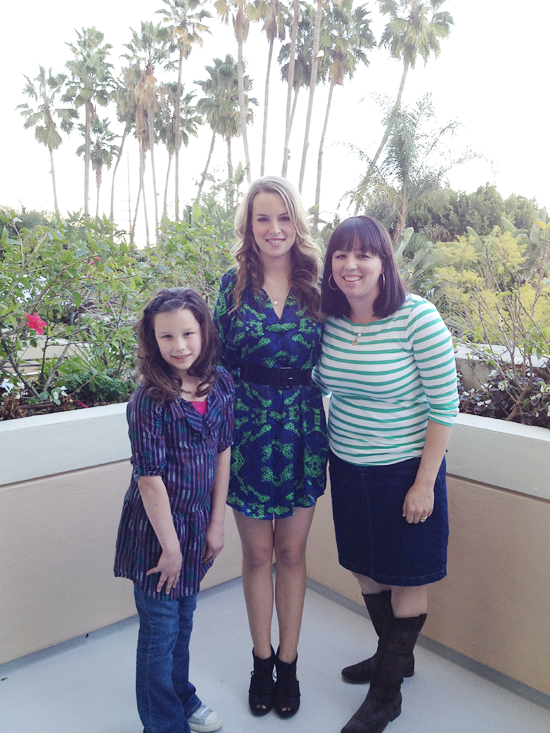 After the interview was over Bridgit took pictures with everyone.  She signed on Julia's press papers.  Julia gave Bridgit the bag of chocolates we brought and Bridgit commented on the cute tag. ;) She seemed excited about it and Julia thought it was awesome that we brought her a treat she liked. Bridgit was sweet and down to Earth- it was a great experience for all involved.
The Secret World of Arrietty opens in theaters on Friday, February 17th.


Disclosure: I received no compensation for this post.  I attended this press junket as a member of the media. As always, all thoughts and opinions are my own.