Time flies when you are having fun! What a crazy year it's been around here.  We've had some really high highs and some really low lows.  Through it all I have had the support of incredible people – my family, friends and a blogging community.  I owe you all a million thank you's.
With everything that's been going on, I consider myself lucky to have some contributors to my site and I'm looking to expand that.  So this is where you come in — I am opening up a call for contributors.  I cover a wide range of topics on 30days so I'm looking for bloggers to fit in to a lot of different spots.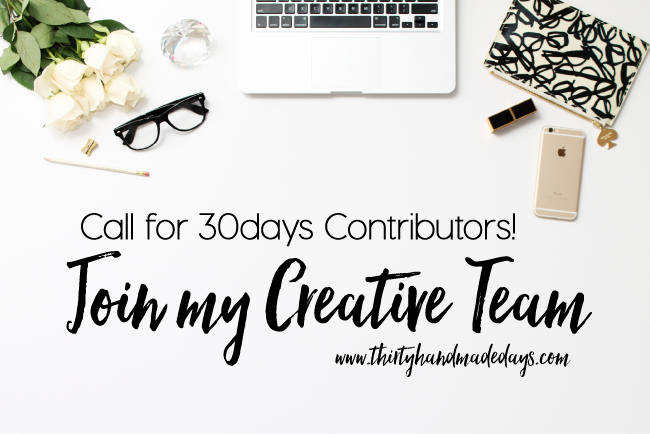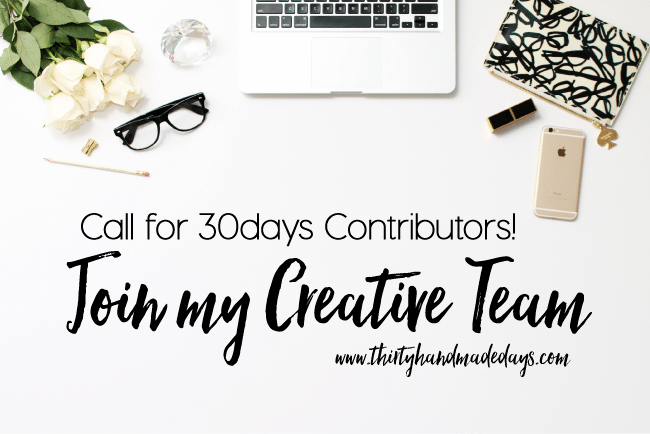 HERE'S WHAT I'M LOOKING FOR:
Before I share specifics, I have to say that top priority to me is being responsible and on time, providing quality content, having a positive attitude and being a team player.  Those are general things but super important to me.  More specific:
Bright, clear, awesome photography
A blogger (social media experience is a plus!)
Someone who fits the "feel" of my site – similar style to mine with fonts, photography, etc.
Knowledge of WordPress isn't mandatory but will be considered ahead of those who don't have experience with it.
EXPECTATIONS:
What will be required from you.. 
One NEW post a month completed and submitted by the first of the month. (this is where being reliable is a must)
Your post will be saved as a draft in your account on WordPress until it's approved and scheduled by me.  Every contributor has their own sign in.  Other important information regarding requirements for your post will be sent when you are accepted to my team.
Because it's paid content, you won't be able to re-share the post on your own blog.
Commitment from Dec 2015-May 2016.  You will have the opportunity to renew and possible pay increase after the first six months.
WHAT'S IN IT FOR YOU:
Because it's definitely not all about me..
Paid posts – A little money to put towards blogging props, new shoes, whatever you want!
Potential monthly or quarterly bonuses!
Exposure: While $$ is great, if you are looking to grow your site, I think exposure is the biggest deal.  I make it a goal to share a post a week to my Facebook page per contributor and to help you grow as much as you can.
Pinning to my Creative Team Board – those who are on my team have access to pin to a group board with 144,000 followers on it.  Boom!
Help from me – tips, tricks, information that I have learned over the years.
Headshot and bio on the Creative Team page as well as at the end of all of your posts.
THINK THIS IS A GOOD FIT FOR YOU?
Send me an email to [email protected]  Put 30days contributor in the subject line.
Please include your name, URL for your blog, links to 2-3 of your favorite posts and why you think they represent you best.  Attach 3+ of your best pictures from your favorite projects.  If you have a media kit or resume, send that over too.  Tell me a joke, make me laugh, let me know something interesting about you.  Also let me know what category you think you'd fit best in — recipes, printables, photography, quick tips, parenting, budgeting, home decor, sewing, organization, round up or something else.
Note: In addition to contributors to my site, I am also looking for behind the scenes help.  If you have social media experience, are great at organizing and managing,  editing and more, please send me an email as well.  I'm searching high and low for people to make my team as strong as possible so we can pump out the best content here on 30days.
I will be accepting applications until October 31st.  Everyone will be receive emails within a week after the deadline if they haven't already.
If you aren't interested in blogging for me but have some ideas and suggestions for what you'd like to see more of here on 30days, let me know in the comments.