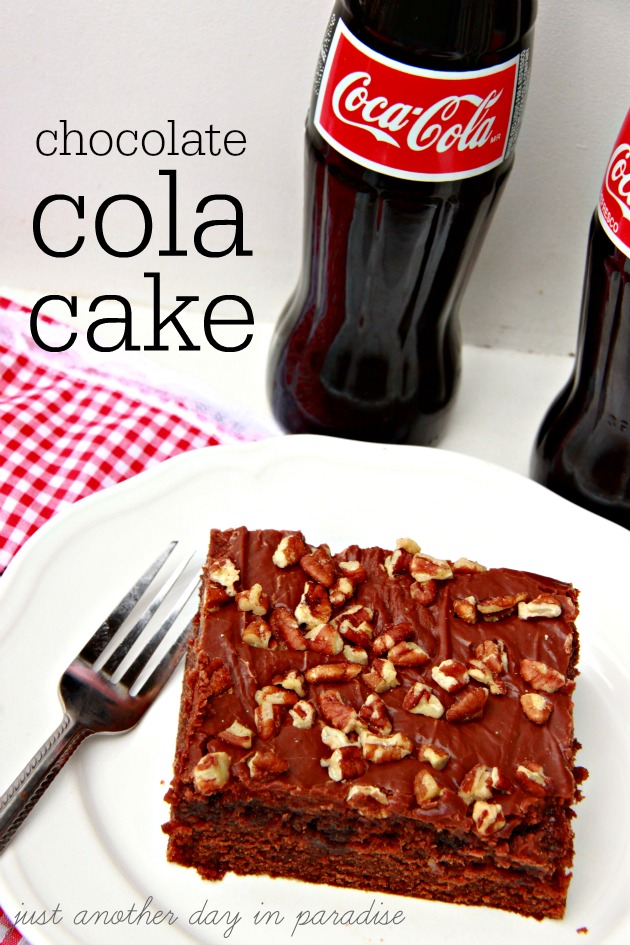 Have you been looking for the most divine chocolate cake recipe on the planet earth?
Well then my lovelies, look no further. Not only will this Chocolate Cola Cake blow your mind, but it promises to blow the mind of your cake loving friends. Hey it might even blow the mind of your non cake loving friends. I know my not-a-fan-of-cake husband enjoyed himself a couple of pieces.
So what is the secret to this best chocolate cake ever you ask?
So obviously one of the secrets to this delicious and moist is cola. There is another secret little ingredient though. One that keeps the cake from drying out and packs it with extra richness. Seriously, the leftovers are just as glorious as the just-out-of-the-oven piece. So if possible save a couple of pieces. I say if possible, because you will probably want to finish the cake and like the dish clean.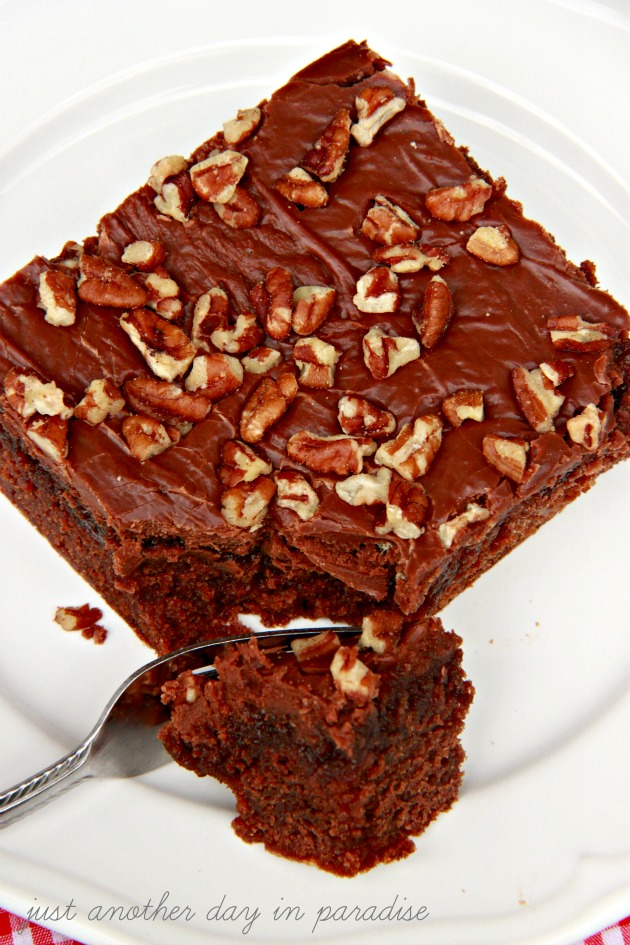 Go ahead and make this, your new favorite chocolate cake recipe, for yourself or for your friends, or for the answer to a rough day. Basically just find an excuse to make this simply delightful Chocolate Cola Cake.
Chocolate Cola Cake
Ingredients
Cake:
2 cups flour
2 cups sugar
1 cup unsalted butter
1 cup cola
¼ cup cocoa powder
2 eggs
½ cup buttermilk
¼ teaspoon salt
1 teaspoon baking soda
1 teaspoon vanilla
1½ cup mini marshmallows
Frosting:
½ cup unsalted butter
¼ cup cocoa
6 Tablespoons cola
4 cups powdered sugar
1 cup chopped pecans
Instructions
Preheat oven to 350 degrees.
Grease and flour a 9x13 baking dish.
In a large bowl combine flour and sugar. Set aside.
In a saucepan, bring butter, cola, and cocoa to a boil. Pour this mixture over the flour and sugar. Add in remaining cake ingredients. Mix well. Pour into baking dish. Cook for 35-40 minutes, or until the edges start to come away from the pan. Set cake aside.
To make the frosting, bring the butter, cocoa, and cola to a boil in a saucepan. Add in the remaining frosting ingredients. Mix until smooth. Pour the warm frosting over the cake.