Katie from Sweet Rose Studio is here to share Christmas Cookie Exchange printables.  Yay! I love these.   Are you following my Holiday Bake Craft & Crochet Series? By the end of the month Skip to My Lou, Your Homebased Mom and I will have shared over 100 fabulous handmade gift tutorials.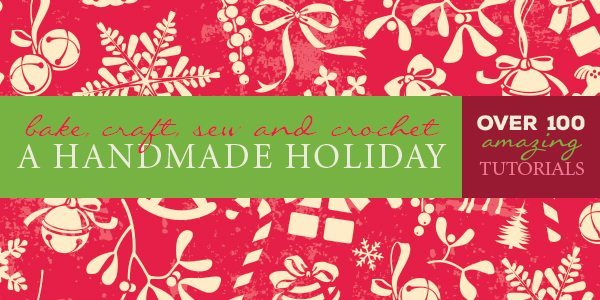 Each day be sure to visit the guest poster's blog for a chance to win BIG! Up for grabs is a Cricut cutting machine, a Blendtec blender, a Baby Lock sewing machine and a $300 Michaels gift card! Grab a new entry every day! Enter to win the Cricut Machine and Holiday Crafting Bundle!  Take it away Katie…
Hello 30 Handmade Days friends! My name is Katie and I blog over at Sweet Rose Studio. I am so incredibly excited to be here today as part of the Bake Craft Sew series. I've watched this series evolve over the past few years and I am so honored to be asked to be a part of it now.
When I started thinking about what I wanted to share with y'all, I immediately thought about one of my favorite kinds of parties that is commonly hosted during the holiday season: the cookie exchange. I love that we get to walk away not only with oodles of yummy cookies, but also recipes so we can re-create them for years to come.
I have this thing about organization though; I like things to coordinate, to match. I have a serious issue when I go home with 10 different recipes that are on 10 different pieces of paper or recipe cards. Blame it on my OCD or that I'm just crazy, but it gives me a nervous twitch. Today I'm solving that problem for us all!
I put together a set of free recipe cards, plus a cute cover card so you can either bind them as a book or add them to your recipe box — whatever strikes your fancy.

If you think those cookies look delicious, you can head over to my site to get the recipe right now. Don't Cranberry Chocolate Chip Cookies sound absolutely fantastic?
Thanks so much to Mique for having me here today!
I am so blessed to be a wife to my high school sweetheart and mother to our three sweet, crazy kids. In my past life I was an elementary school teacher, but now I am a stay-at-home-momma by trade and absolutely adore what I do. I do have to say that I'm not great at limiting myself to doing one single thing though. I really do love anything remotely crafty and creative and I have a passion for party planning and styling. I'm trying to teach myself to sew one stitch at a time and you can regularly find me with a sippy cup in one hand and a glue gun in the other with my camera hanging around my neck. I am a self-professed Oreo and Chapstick addict and I'm excited to be delving in Project Life for the very first time. You find me on Facebook, Pinterest, Instagram, and Twitter.
Like this project? You may also enjoy these ones: Pretzel Christmas Trees, 12 Days of Christmas Advent Calendar, Easy Glittery Deer Christmas Ornament
Now head on over to Sweet Rose Studio for the giveaway: