With a little creativity and these Christmas party ideas, your next event will be the talk of the town!

Christmas Party
Not sure what to do or where to start for a Christmas party? I'm here to help you with some inexpensive ways to make a big impact!
I know, I know – Christmas is so soon. But I was recently asked to help with our church Christmas party and shared some of the ideas on Instagram. People asked for more information so here we are… if nothing else, these ideas can be used for future Christmas parties.
Christmas Table Decorations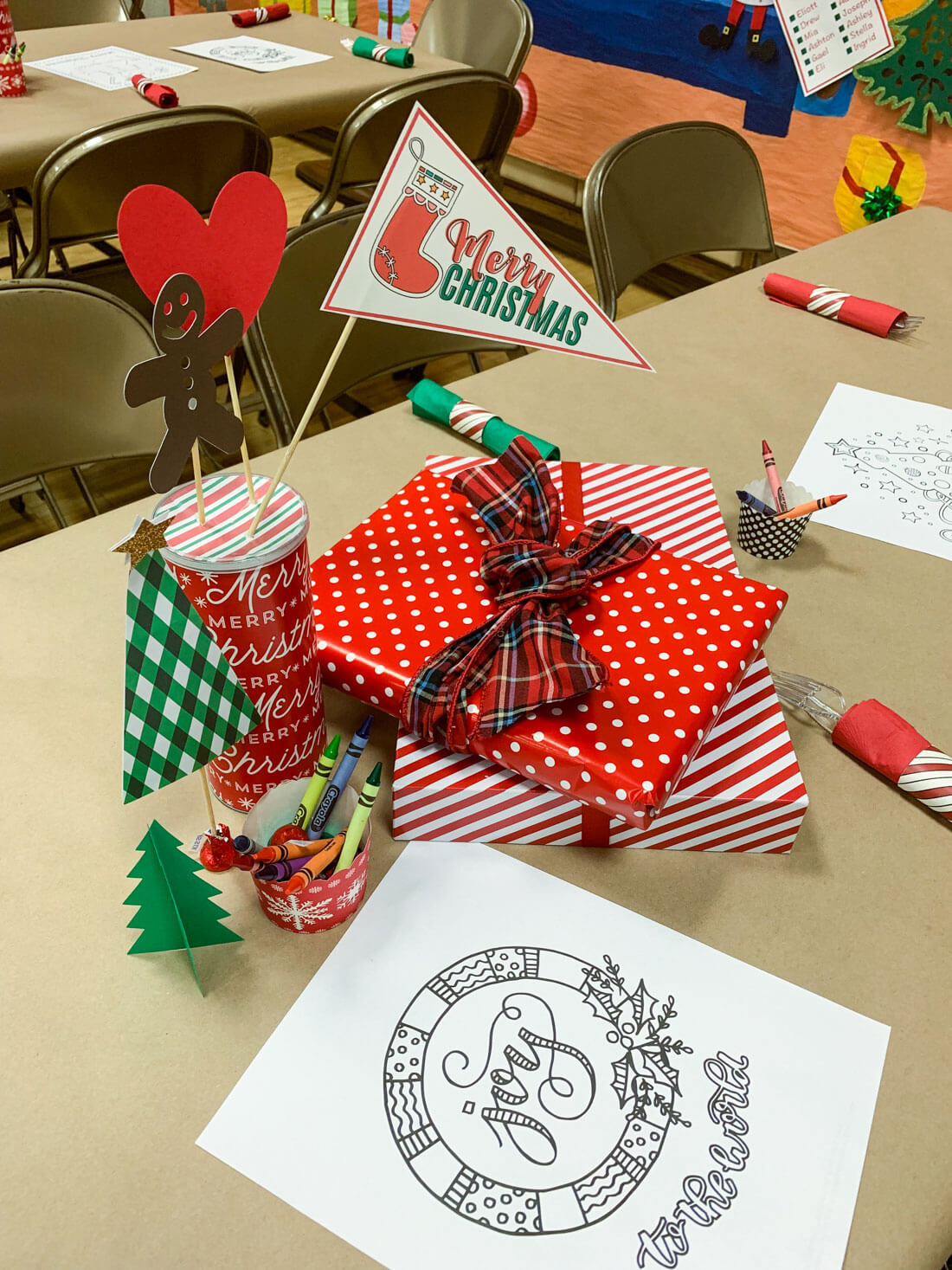 This was my part in the Christmas party – the table decor and centerpieces. Because it was such a large space with so many guests (almost 300 people) and a small budget, I knew I had to get creative. I tried a few different ideas and went to set up the night before the party. It wasn't looking quite right so I added even more to the tables. That tells you right there that you can make it happen in a really short amount of time.
To make centerpieces like the ones pictured, here's what you need:
Cricut (or something similar)
Kraft Wrapping paper
Gift boxes – purchased at Target
Wrapping Paper
Ribbon
Pringles (I bought these at the 99 cent store)
Bamboo sticks
tape
Scrapbook paper
Hershey's Kisses
Drill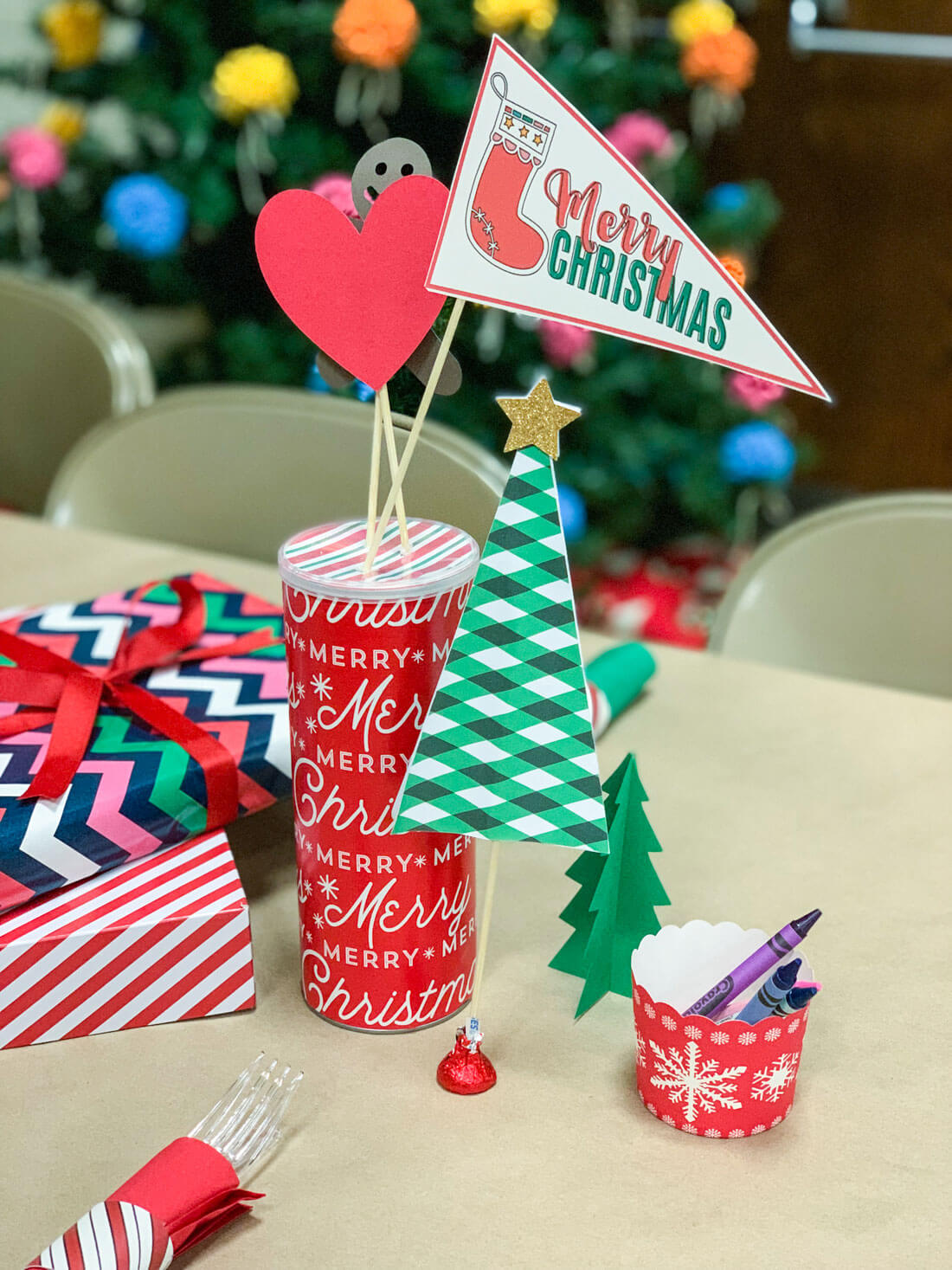 PRESENTS
Start with wrapping gift boxes – this might have taken the longest time of anything. If you have a lot of time and are trying to decorate a large space, start collecting boxes (think Amazon deliveries) in advance. I bought the gift boxes but wish I had more time to collect ones without paying for them.
COLORING PAGES AND CRAYONS
I had been wanting an excuse to buy this crayon set forever and wouldn't ya know? This was the perfect excuse! I walked aisles at the store trying to find a way to display the crayons before figuring out I could just use cute baking cups (they come in big packs and are under $5 if you get them at Home Goods).
Print out Christmas Coloring Pages – I have several coloring pages on here. These ended up being a big hit with the kids as they had to wait for food and festivities.
KRAFT PAPER "TABLECLOTHS"
The thing that took us the longest for the tables was rolling out the kraft paper on the tables. That took hours. Especially with those round tables! We ended up piecing 2 sections together per table. The 800 foot roll only cost $50 and was through Amazon so it came quickly. The kids also enjoyed coloring on the kraft paper and that's why I used it. Win/win!
CHRISTMAS TREES
While looking through Pinterest, I came across this cute idea for Christmas trees using scrapbook paper and Hershey's Kisses. The only thing I did in addition to her tutorial was add a glittery star at the top. I cut out my trees and stars with my Cricut and it was fast. Mine were double sided because people were sitting on both sides.
I also made mini Christmas trees with a Cricut cut out that I found in Design Space. Another easy addition.. but it did take a bit of time since I had so many tables I was putting together.
PRINGLES CANS
The week before this party, I helped with a football banquet and made centerpieces using this tutorial. When I made the centerpieces, I left the Pringles in the can to give it weight. Instead of eating them (and with 30 tables… that would mean Pringles for months!), we kept them in there and I had Josh drill holes through the top of the can. The top of the Pringles can is 3″ round so I used a 3″ inch circle punch to punch out scrapbook paper and cover up the Pringles sign.
I then added my shapes and flag into the holes that Josh drilled. Included in those cans were – 1 heart, 1 gingerbread man and 1 "Merry Christmas" flag.
Download the "Merry Christmas" flag printables here.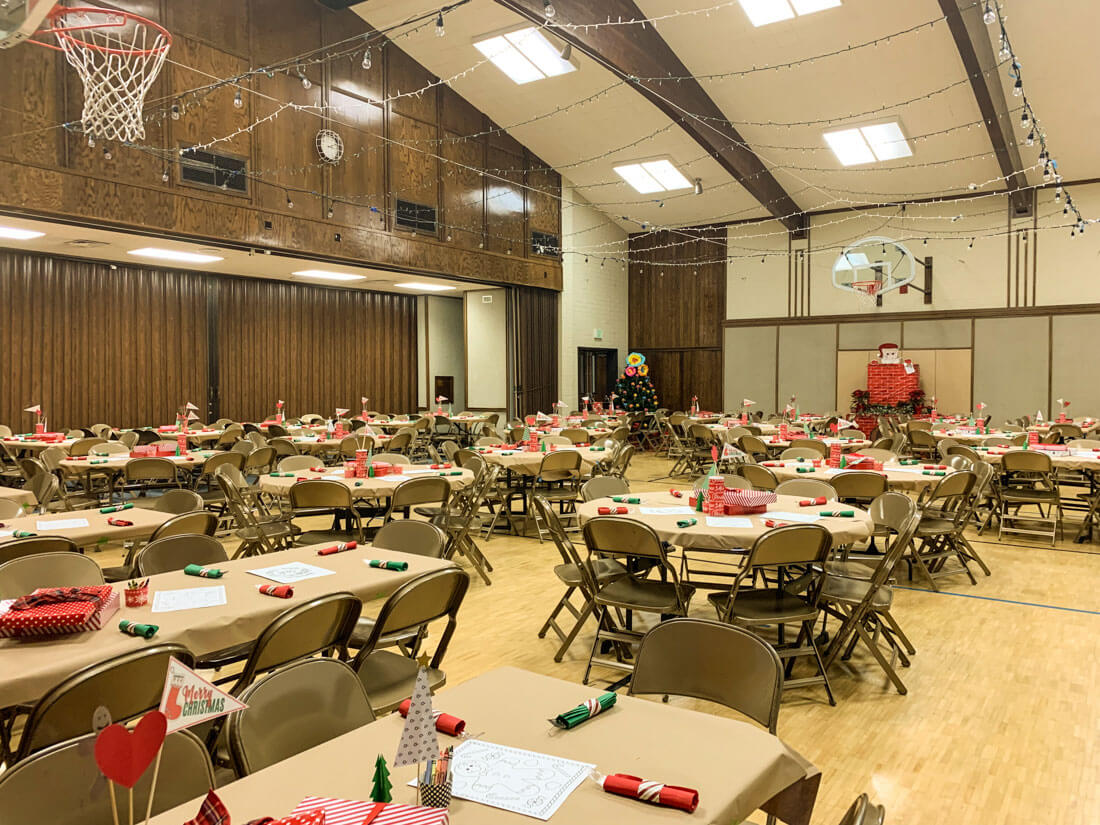 Christmas Party Games
We didn't play any games for our church Christmas party but they are always the highlight when we have them. Here are a few posts with great ideas: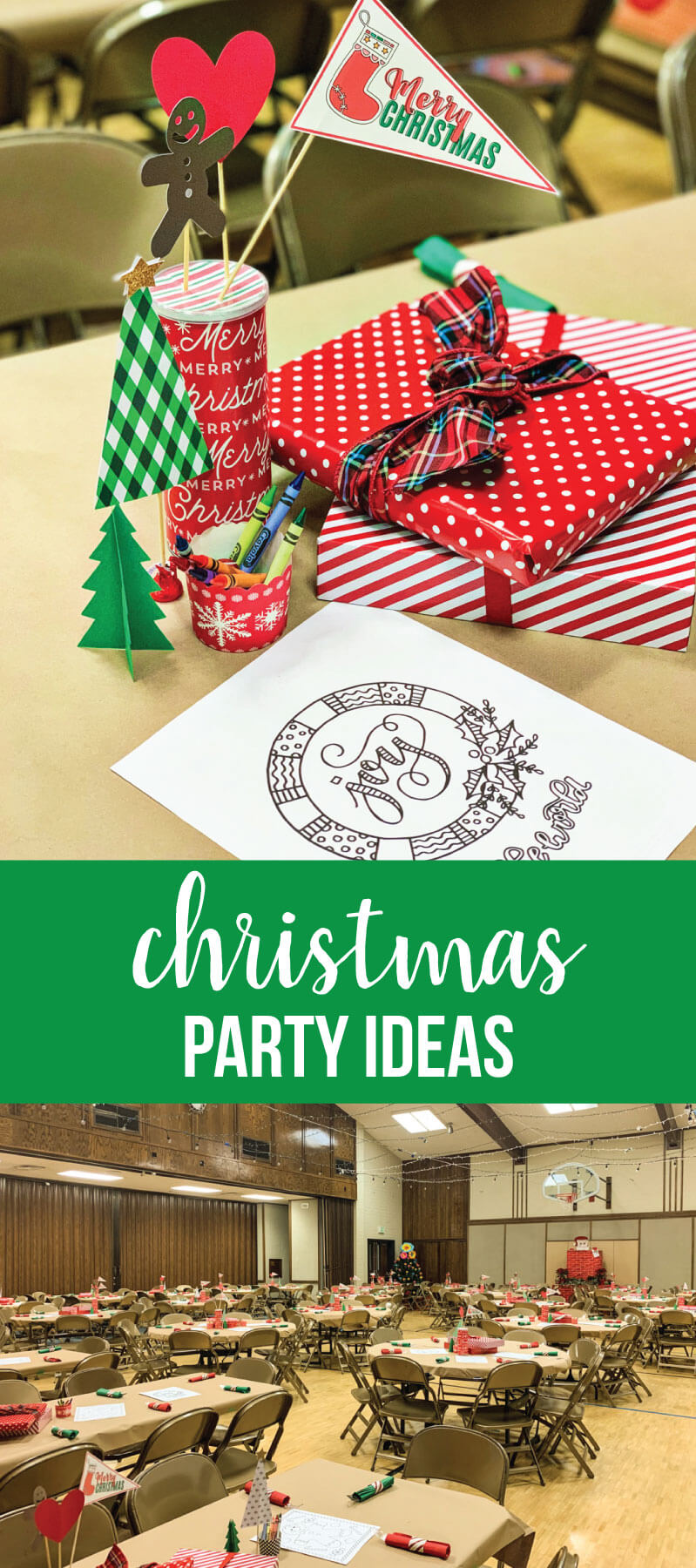 Other Christmas Ideas
If you love these Christmas party ideas, you're going to love these other Christmas ideas. Please click each link below to find the information: