Have you heard of crockpot freezer cooking? It involves adding a bunch of ingredients to baggies and freezing them for the crockpot. The genius is that you don't have to do any cooking ahead of time – since most crockpot recipes tell you to add all of the ingredients to the crockpot raw you can freeze them that way too.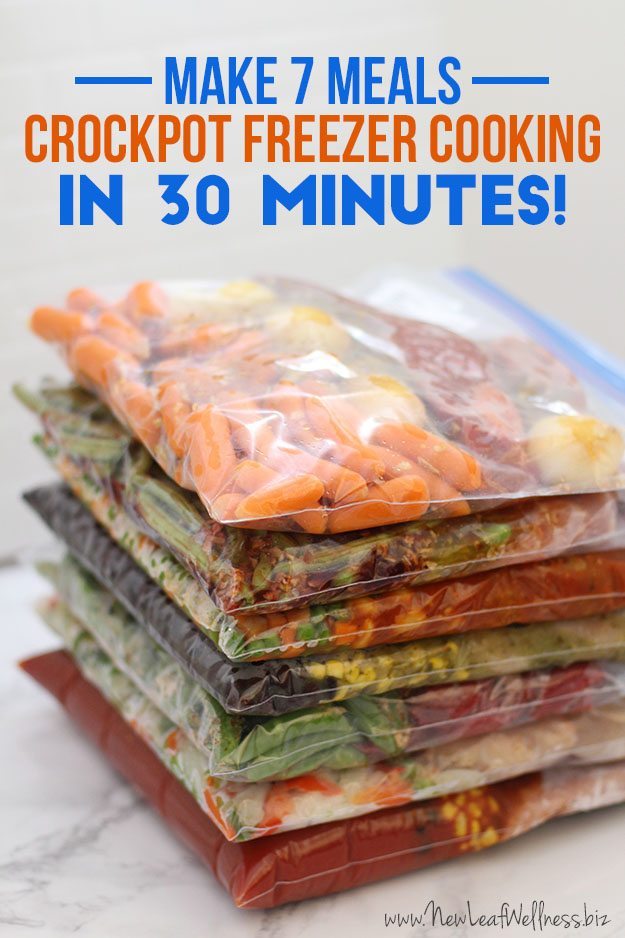 Here's what I love about crockpot freezer cooking:
You can make a bunch of meals at once and stock your freezer for busy weeknights.
The ingredients are frozen raw and cook for the first time in the crockpot so they don't taste like leftovers at all.
You can buy the ingredients in bulk at the grocery store when they're on sale and save a lot of money.
I started making a lot of crockpot freezer meals when my third daughter was 8 months old and never looked back. After making hundreds of meals and writing four best-selling crockpot freezer eCookbooks, I figured out how to make them healthy and budget-friendly too.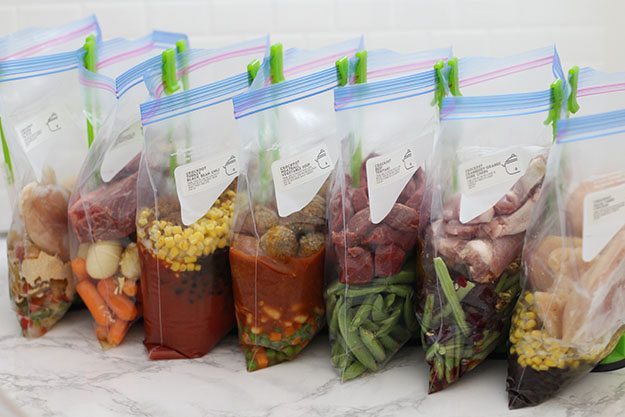 Here are seven crockpot freezer meals that I made in 30 minutes last week:
Crockpot Cranberry-Orange Pork Chops (inspired by this crockpot cranberry pork roast recipe)
Crockpot Beef Teriyaki
Crockpot Chicken Fajitas
Click here for a free printer-friendly version of my recipes, grocery list, and freezer labels.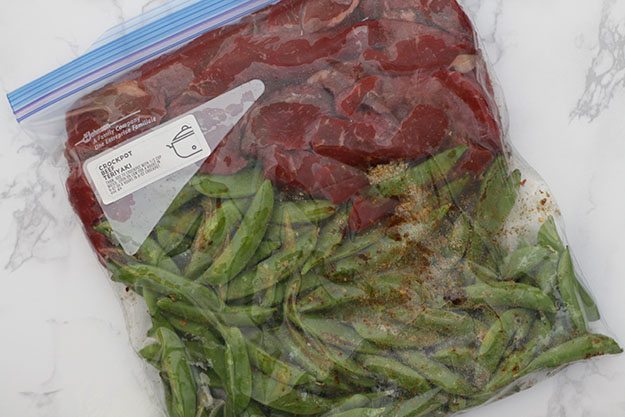 What's so great about these crockpot freezer meals?
They all include fresh or frozen vegetables.
They all have six ingredients or less (some only have three!).
None of them require any measuring – simply dump the veggies, meats, and sauces into the bags and freeze.
Since I didn't have to do any measuring, cleaning my kitchen was super easy too. All I had to do was add my strainer and knife to the dishwasher (I used the knife to get some of the ingredients out of jars) and rinse some cans for the recycling bin.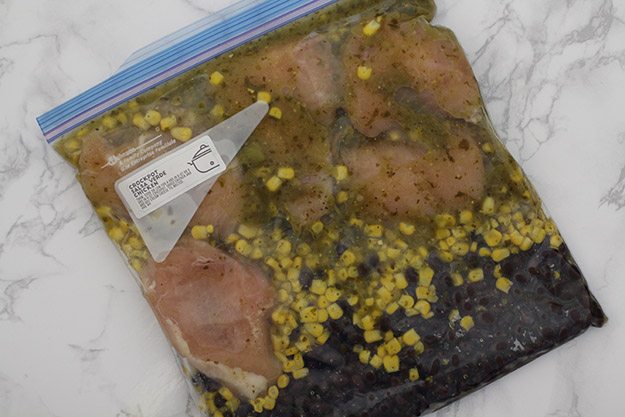 Here's how I make my meals quickly and efficiently:
I print the recipes, grocery list, and labels ahead of time and go shopping.
When I get home, I leave all of the ingredients out on the counter and set my kitchen timer for 30 minutes.
I fill one bag at a time by sticking on its label and layering the veggies and canned goods at the bottom, spices in the middle, and meat at the top.
Then I seal all of the bags at once and freeze for up to three months.
When we're ready to eat them all I need to do is thaw overnight in the refrigerator or in water in the morning and cook in the crockpot for 4 hours on "low" in a 6-quart crockpot or 8 hours on "low" in a 4-quart crockpot. Add a side of rice or fresh bread and dinner is done!
Have you tried crockpot freezer cooking before? If you have any questions leave a comment below and I'll respond as soon as I can.