Curious what a Disney Cruise is actually like? All of the details including food, stops, activities and more.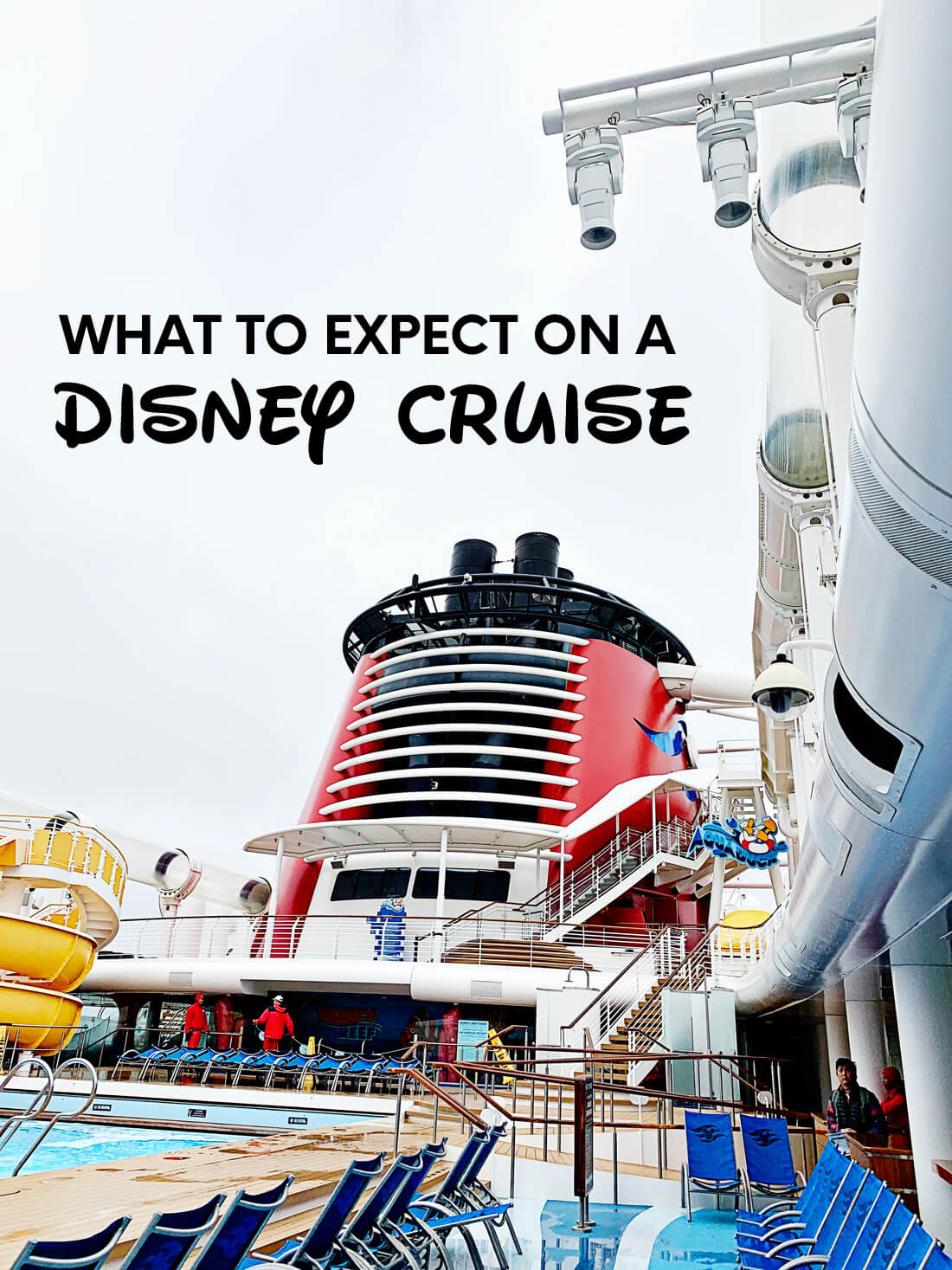 As a part of the Disney Creators event, our family had the opportunity to experience a Disney Cruise after a few days at Disney World. We boarded the Disney Dream and got a glimpse into more magic!
This wasn't my first cruise but it was my kids' first time going on a cruise. What a way to kick things off!
Disney Cruise Ships
While we were aboard the Disney Dream, there are several ships in the Disney fleet.
Soon after we arrived home, they announced the new schedule for the upcoming year and it is AMAZING!! I'm dying to make it to Europe and Greece.
Our cruise was a 3-Night Bahamian Cruise from Port Canaveral. It went from Port Canaveral to Nassau, Bahamas then to Castaway Cay and back to the port.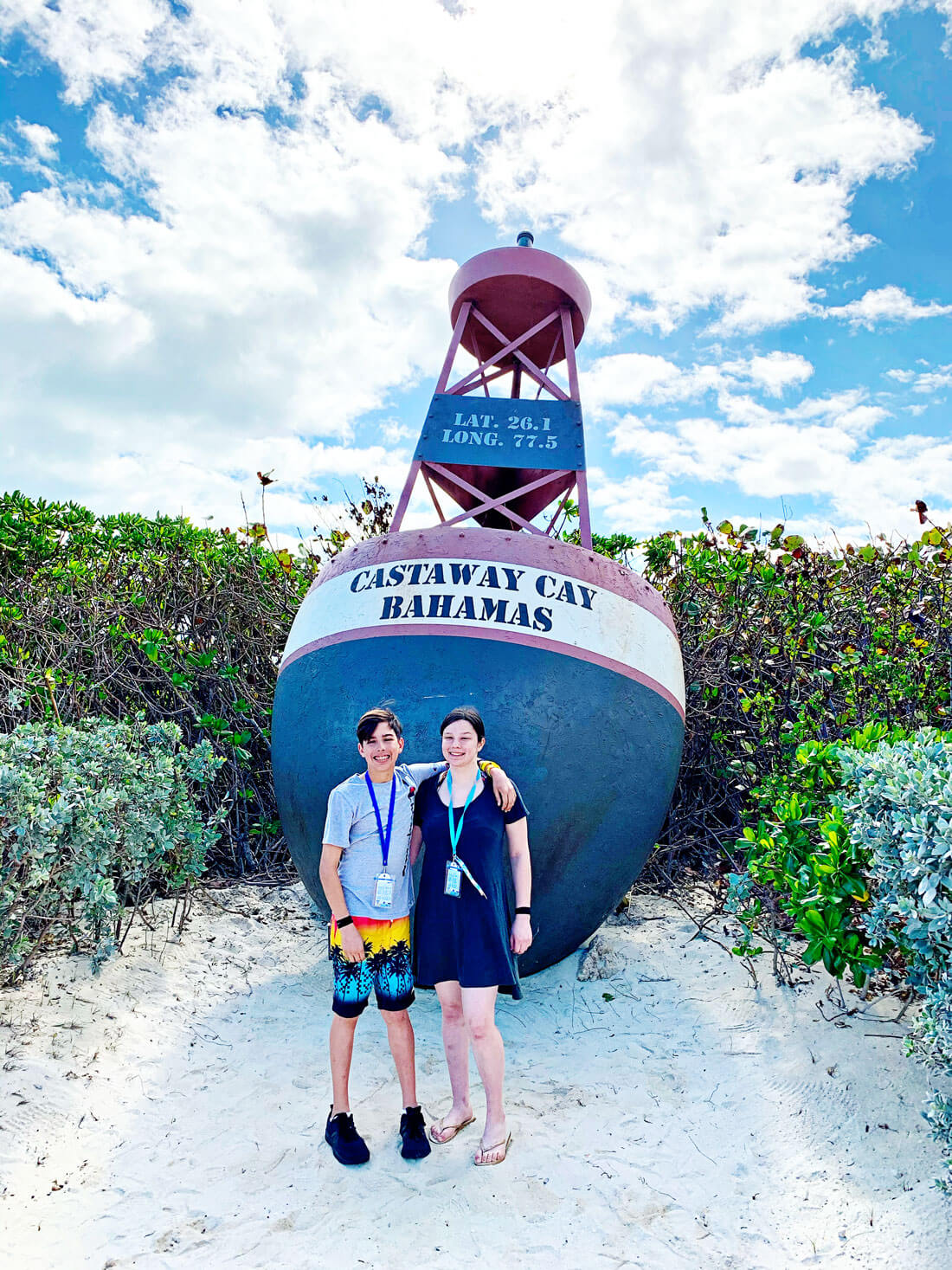 More coming up on Castaway Cay in another post! It deserves its own post.
Disney Cruise Door Decorations
First things first – you do NOT have to do door decorations. If it's not your thing, don't do it. If it doesn't make a difference to you, let it go. But there will are cute doors all over the ship. This is what I put together for our door: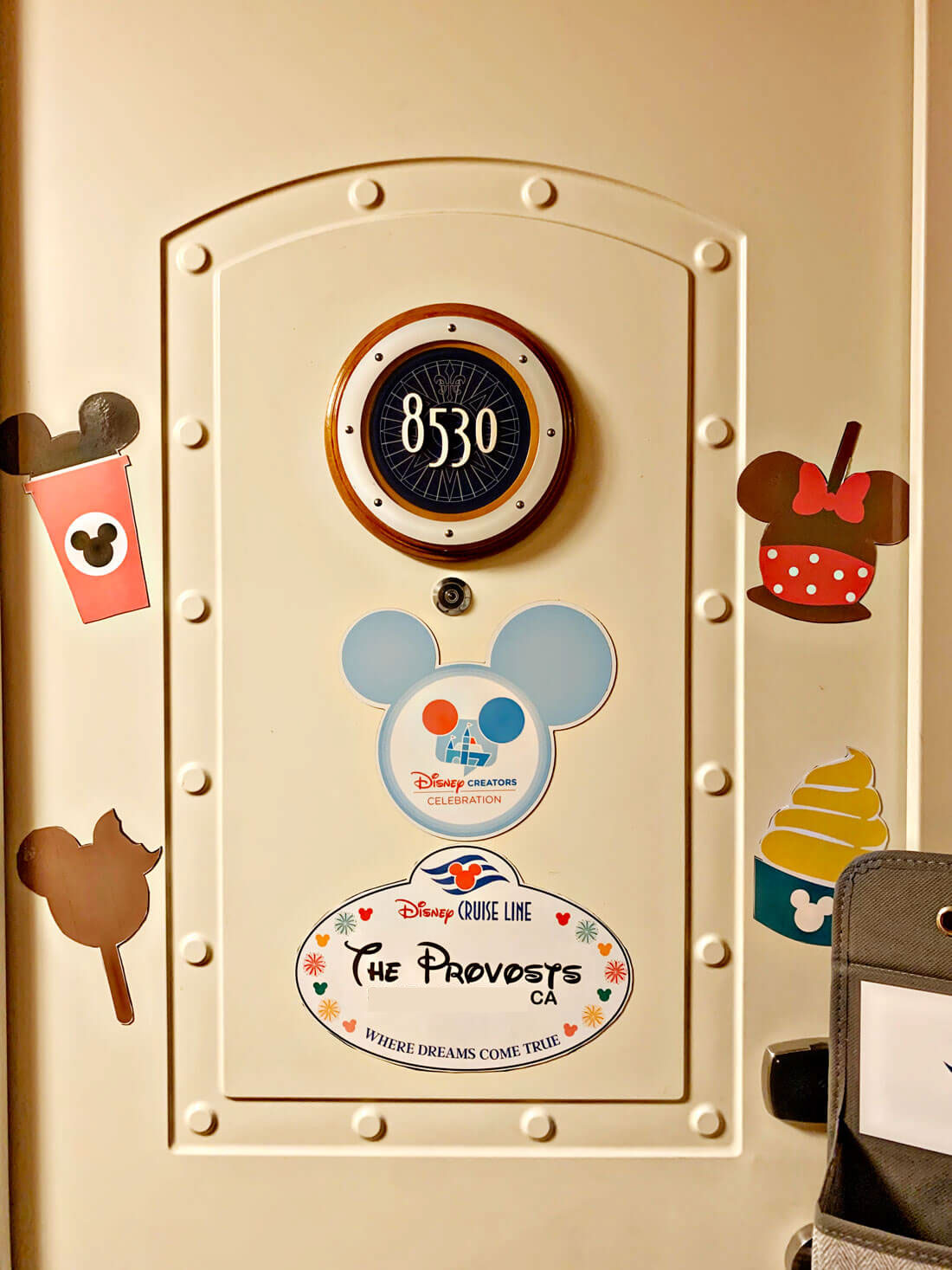 Since ships have magnetic cabin doors, a lot of people make or buy magnets to stick on their doors. They are flat and easy to carry. The only thing you need to account for is the time that it takes to make or buy them!
Do you want to learn how I made our magnets? I'll share my process soon! I'll also share all about Fish Extenders – what they are, why you'd want to participate and more!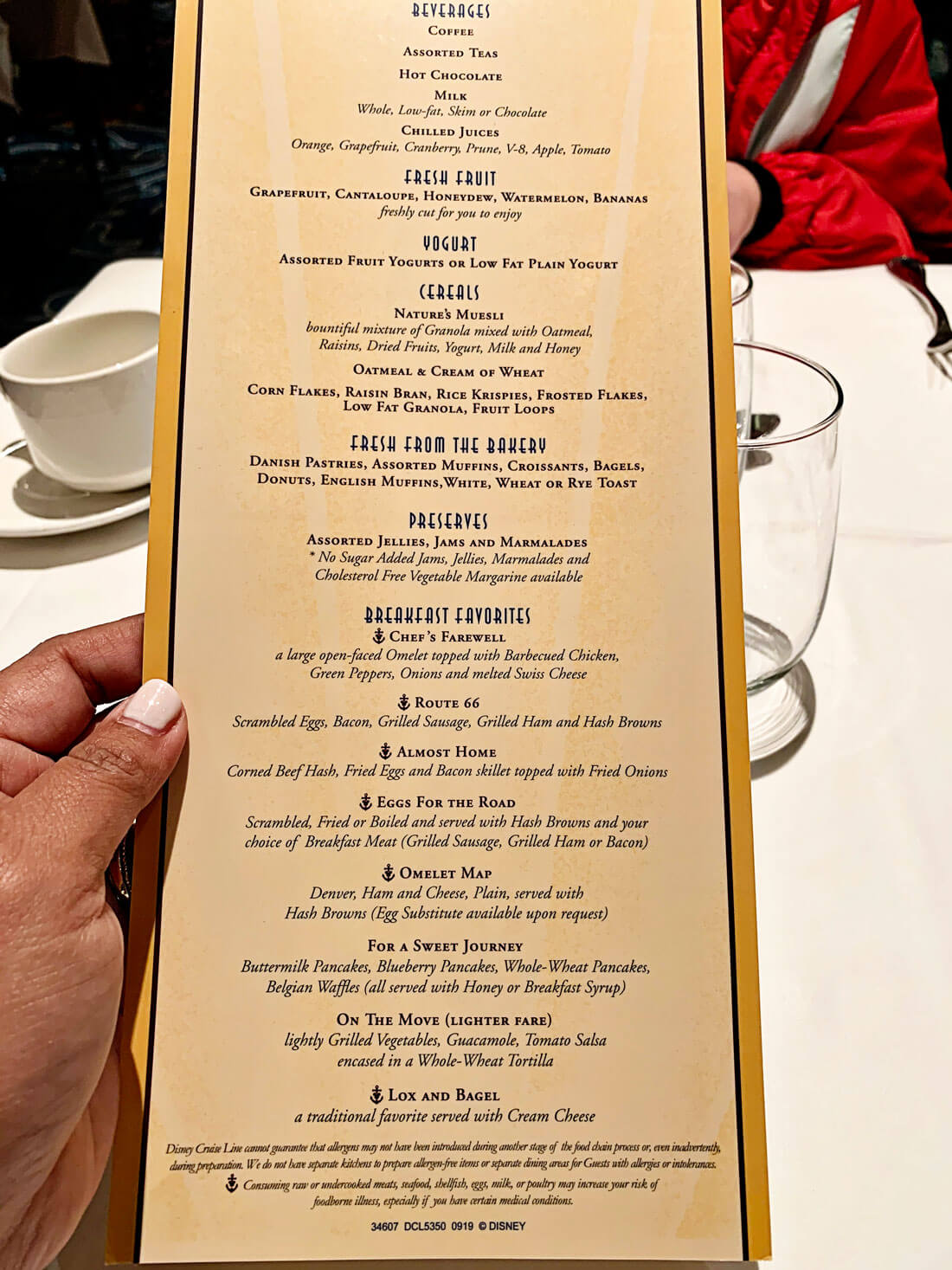 Food on Disney Cruise
Cruises are known for their food. Some say cruise food isn't great. Some people say that they could live off of cruise food forever. I would be able to eat Disney cruise food for the rest of my life. There is a ton of variety, all of the different spots had plenty of options. and all super tasty. Here's what we had on our cruise:
Animator's Palate – so much fun! We ate here the first night and enjoyed
Enchanted Garden – it's inspired by the gardens of Versailles
Royal Court – this is a spot fit for a queen or king! It lives up to it's name. My kids tried escargot on our last night here!
Cabanas – a buffet style top deck place to eat.
Flo's – this is a casual spot where you can get burgers, pizza, salads and sandwichs
Eye Scream Treats – all the ice cream you can ever want!
Room Service – don't forget to take advantage of room service. It's 24 hours and complimentary! A lot of people that were on the trip with us ordered breakfast one night ahead so that it was ready for them in the morning. Super smart!
Don't forget to ask for a chocolate Mickey Ice Cream for dessert at dinner!
Most all of the food on a Disney Cruise is included in the cost of the cruise. There are a few exceptions which I will talk more about in another post.
Cruise Activities
There are activities going on throughout the entire time while onboard. If you want to just hang out, you can do that.. but if you're looking to be entertained, Disney has that covered big time!
THE SHOWS – do not, under any circumstance, miss the nightly shows on board a Disney Cruise. They are truly one of a kind. Even my apprehensive, not a fan of musicals, husband raves to everyone about the shows that we saw. We were able to watch Beauty and the Beast as well as Believe on our trip. The sets, the actors, every single thing was magical about them.
THE GAMES – there were trivia games, BINGO – which my Julia won $195 at!, and lounges where you can hang out and play your own games if you want.
POOLS/RECREATION – We didn't take advantage of the pools and spas because the weather wasn't the best on our trip. But there was always a line at the Aqua Duck, a fun over the deck slide on the top floor.
There were also basketball courts, miniature golf (with a Disney theme of course), and movies playing all of the time.
One thing we didn't do much of was character visits. Having big kids, it wasn't our thing… but there were character meet and greets all throughout the cruise. If you have younger kids or really love characters, take advantage of them being all in one place.
Disney Cruise Kids Clubs
One of the best things about this cruise was the kids clubs. Since our kids hadn't been a cruise before this, none of us really had any idea what to expect. We were able to sign my youngest into Vibe on the first day and we barely saw him for the rest of the cruise. He was in absolute heaven. Because my daughter had already turned 18, she wasn't able to hang out in Vibe except for Open Hours.
It's a Small World Nursery – this is for babies 6 months to 3 years. There is a small fee associated with using the nursery.
Oceaneer Club/Lab – for kids 3-12 years old
Edge– meant for tweens 11-14 . years old
Vibe – for teens ages 14-17 years old
Take advantage of these clubs!! They are seriously the best and make it so much fun. Since Disney has an app onboard, you can easily communicate with your kids or those who are taking care of your kids at any time. I can't say enough how much we loved this part of the cruise.
Disney Cruise Pirate Night
One of the things I didn't know existed until I started researching was Pirate Night. Pirate Night is another thing people go ALL OUT for. The people watching on this night is the best! Not all Disney cruises have pirate night but if they do, be prepared to have a great time. They have singing, games, dancing, fireworks and a full dinner and buffet.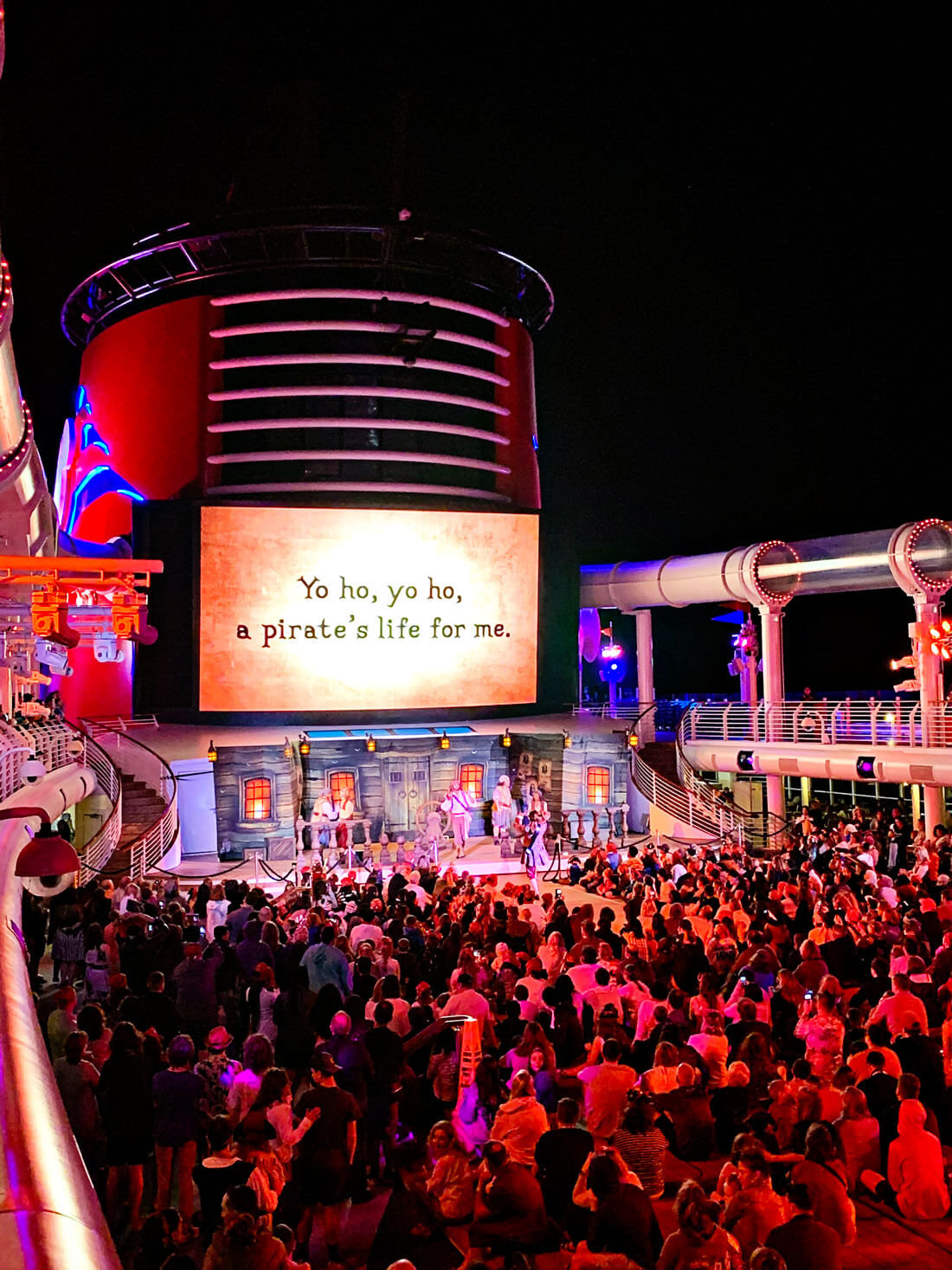 When I say that people go all out, they get dressed up in every kind of pirate costume you can think of. There are people that look like Jack Sparrow himself. And then there are people like my family who wore pirate shirts and called it good.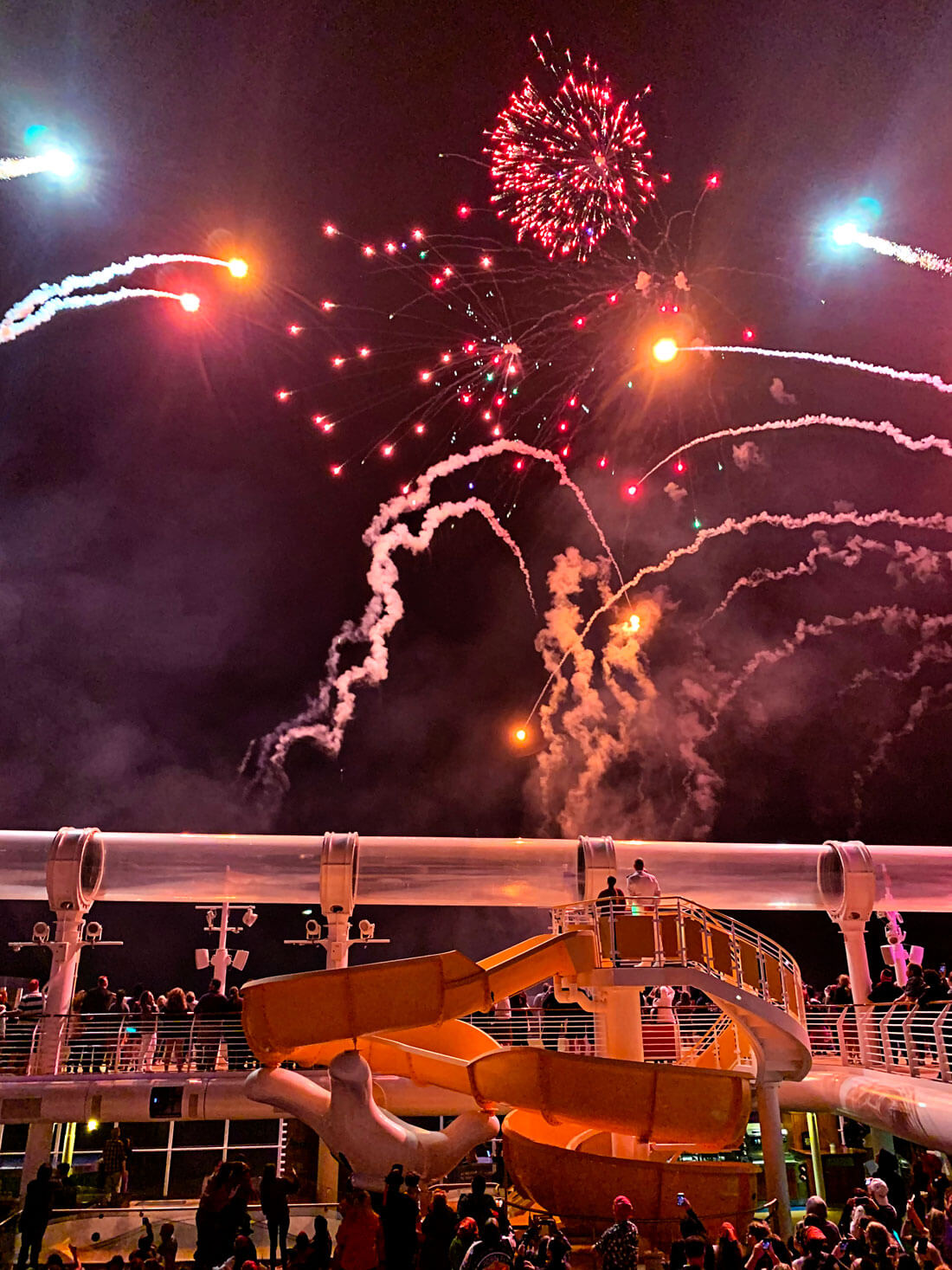 The fireworks show on Pirate Night was amazing. Disney doesn't do anything half way!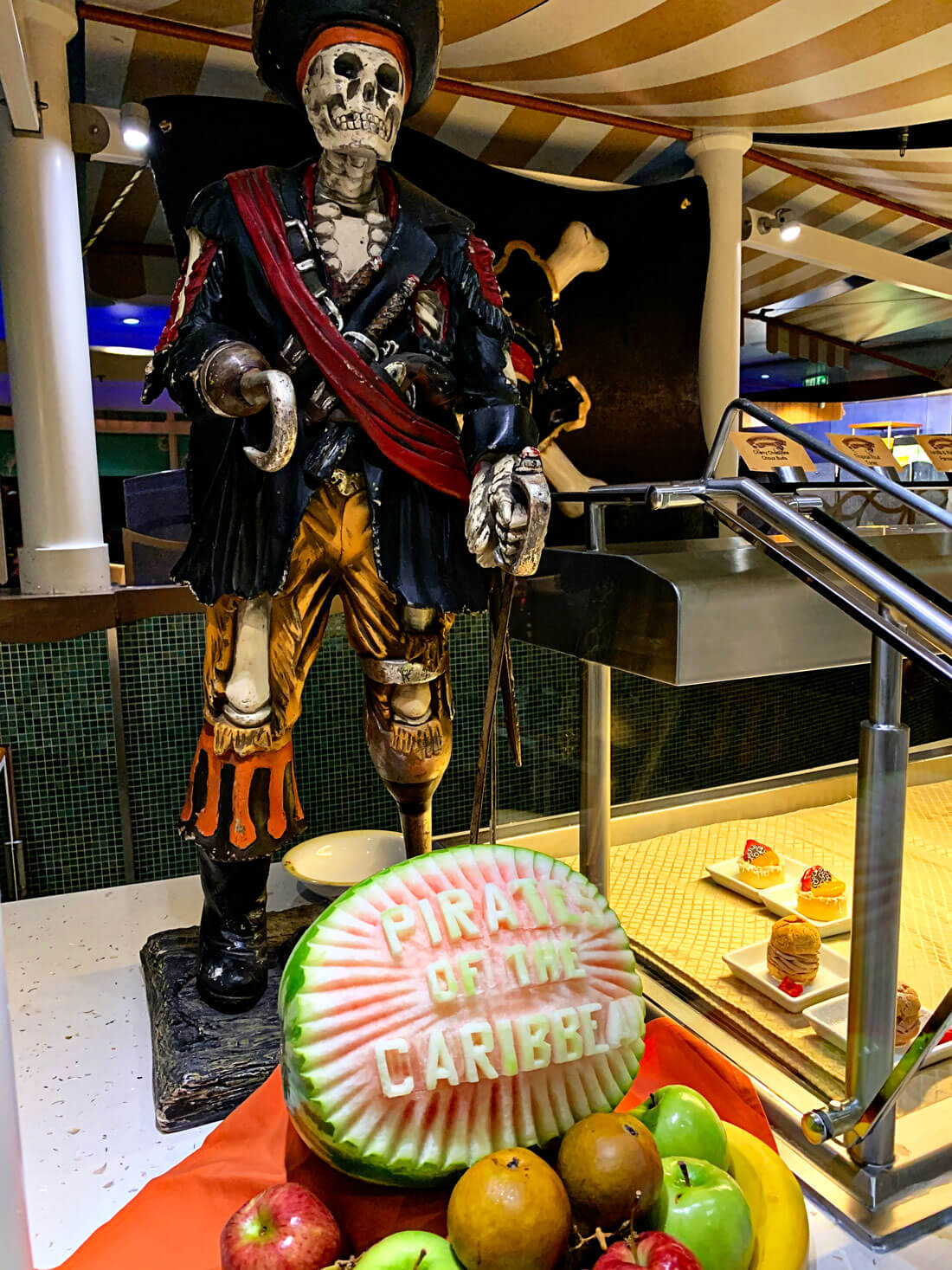 There's so much more that I can't wait to tell you about from our Disney Cruise! Have you ever been on one?