Hello there! I'm Jes from Mommy Envy and today I am sharing with you a tutorial on how to make this fun artwork for Christmas. Last year my mom took me to a painting class. One of those lady night out deals and we had a blast. We painted a fun winter landscape and I still display it in my living room. I've been itching to paint again and it took me some time to remember some of the tips and techniques but I think I finally got it!
I started out by putting together some scrap wood I picked up in the "as is" pile at Home Depot. I love this pile because it's so easy to make signs out of the scrap wood and it's heavily discounted. I loved the wood I picked up this time, it was a tongue and grove that I cut down to 13 inches. With two pieces I put a strip of glue in the groove and put them together to make a sign.
I love this! It looks like 4 pieces put together and I love the light grey weathered look it already had! I actually ended up using the back which only looks like two boards. I was worried about the paint seeping under my stencil. Next time I might use vinyl which would help with seeping paint.
I used my Silhouette cutter to cut a Christmas tree out of some cardstock paper. It was a color I didn't like so I saved it for making stencils.
I taped down the Christmas tree stencil and got to work. Have you ever painted with a stencil? It's really important to dab your brush and not use brush strokes. This will help keep your paint inside the stencil and avoid seeping. For this project you will need your wood sign (or pick up a fun canvas!), your stencil, a sponge brush (medium), and a couple different colors of green paint (a light, medium and dark).
I use paint a lot when I make my own chalk paint for furniture and home decor projects. I picked up my paint from the oops paint section at Home Depot. I love picking up paint there and this paint sat in my collection for a while. I don't often use green so I am glad I had so many different shades.
Not so pretty by themselves right?
It took me some time before I figured out the best way to paint the tree. I started by painting the tree all over with the medium green color. Then I dabbed the tip of my brush to make a fanned affect with the other two colors. It was a fun pattern but it wasn't what I was looking for. Then I put a phone call into my mom. She reminded me that I need more defined highlights and midtones. So with a medium tone as my base I let it dry. Then I used a plate to put two paint colors on my sponge brush. I used the light green and medium on the brush at the same time (light on the tip faded to the medium on the rest of the brush)
With the same dabbing motion I put the highlights on the tips of the branches. Once that dried I added the dark green right under the light green to make it really pop.
If I were to do this again I would probably start with the dark green as a base, let it dry, then add the light green and medium green at the same time again.
I am normally using chalk paint so it was fun to step out of my comfort zone and try something a little more artsy! If you want to see more of what I do you can check out some of my favorite posts!
How to Create a Gallery Wall You Love
My First Chalk Painted Dresser
Thanks so much for sharing this super cute Christmas tree sign tutorial Jes.  I love it! Head to Mommy Envy for more fun ideas.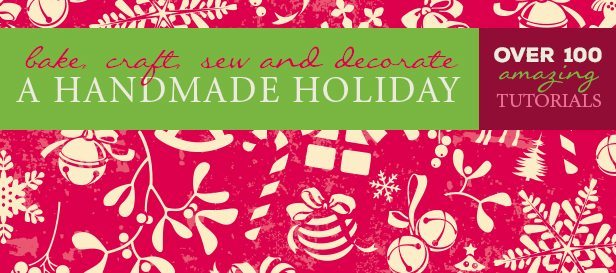 Make sure to check out Your Homebased Mom for BAKE, Skip to My Lou for SEW and Classy Clutter for DECORATE.  We're all sharing fun posts throughout the entire month to get you inspired for the holidays!