I'm happy to Michele from the Scrap Shoppe hanging out here today to show you how to make cute photo ornaments.  Are you following my Holiday Bake Craft & Crochet Series? By the end of the month Skip to My Lou, Your Homebased Mom and I will have shared over 100 fabulous handmade gift tutorials.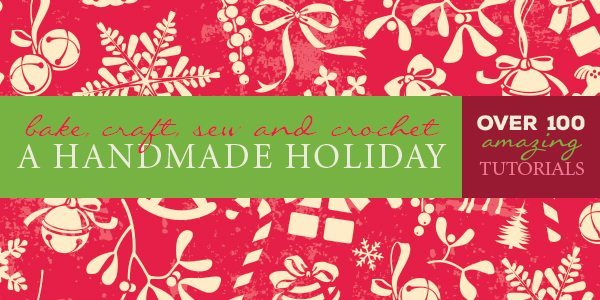 Each day be sure to visit the guest poster's blog for a chance to win BIG! Up for grabs is a Cricut cutting machine, a Blendtec blender, a Baby Lock sewing machine and a $300 Michaels gift card! Grab a new entry every day! Enter to win the Cricut Machine and Holiday Crafting Bundle!  Take it away Michele…

Hello, friends! I'm Michele from The Scrap Shoppe. I'm so excited to be a part of BAKE CRAFT SEW again this year! A handmade holiday is the perfect holiday in my opinion. Not only is it less expensive in the long run, but it feels more meaningful to me as well.
Today I'm sharing a super simple DIY Photo Tag Ornament that can be used as gift wrap decor and doubles as a cute new ornament for the Christmas tree!
Every couple of years we have a new family photo taken, and I love to give these out as Christmas gifts. To mix things up this year, I'm giving them out in ornaments!
Supplies:
faux snow
ribbon
plastic ornament
photo (horizontal 2.5″x2″ will work best)
chalkboard tag
chalk pen
tweezers (not shown)
liquid adhesive (not shown)
Remove the top of the ornament.?Carefully roll the photo and insert it into ornament. Use a pair of craft tweezers to get it into position in the front of the ornament.
Make a funnel with a piece of scrap paper and fill the ornament with the faux snow. Tie a bow with the ribbon and glue to the top of the ornament.
Tie on the chalkboard tag and fill out who the gift is for. The tag can be easily removed when it's time to hang the ornament on the tree. Use a wire ornament hanger to attach the ornament to the gift.
Easy peasy, right? And a fun way to present our new family photo at Christmas!
I hope you're inspired to make these yourself!
Michele is a wife and mommy to 2 little boys. She recently gave up her job in the field of science to pursue her dream of spending more time with her boys and becoming a full time blogger. When she's not playing superheroes or building Lego mansions you can find her creating at The Scrap Shoppe. She doesn't shy away from any type of media so you never know what sort of project will show up on her blog next!
Now head on over to The Scrap Shoppe to enter to win the Cricut giveaway: