Let the fabulous giveaways continue! Today I've teamed up with some blogging friends to bring you a brand new DSLR camera.  Woohooooo! If you already have one, this would make a fantastic gift for the holidays.  Am I right?   Here's who I joined up with: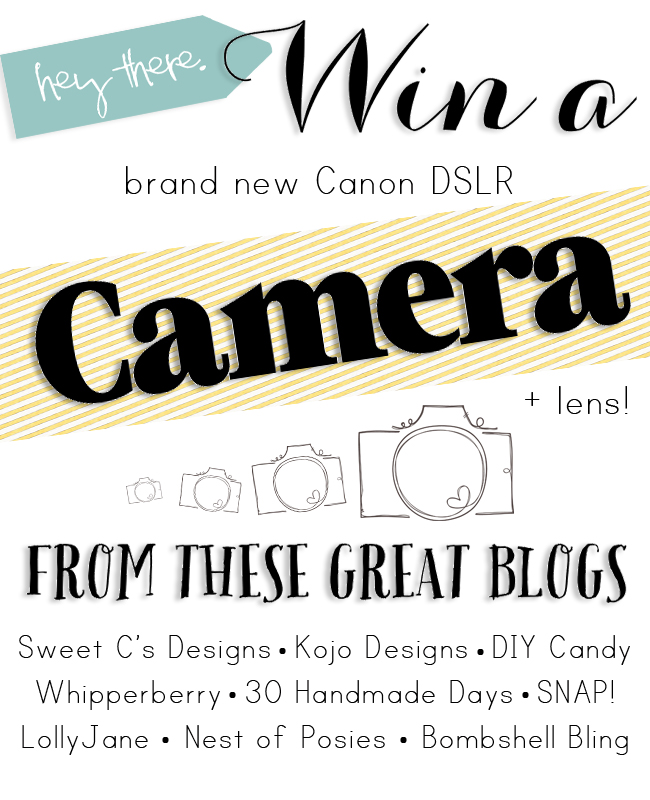 Sweet C's Designs , DIY Candy , Whipperberry , 30 Handmade Days , Bombshell Bling , Nest of Posies , LollyJane , Kojo Designs , SNAP!
Do you have a DSLR on your wishlist?  Or do you already own a nice DSLR?  I have a few suggestions for what to add to your wishlist.  These are all items I own or that are currently on my wishlist and recommended by others.  (Note: affiliate links included)  This list would be perfect to slyly send over to your loved one to give them ideas for the holidays.  (wink, wink)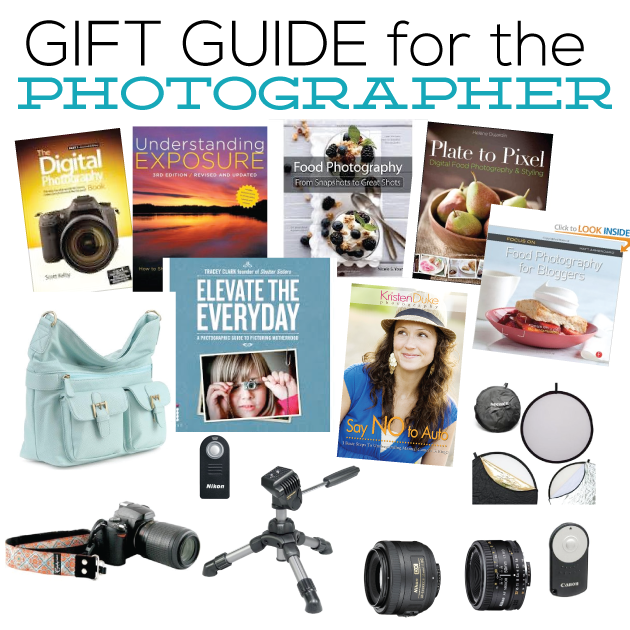 BOOKS
My favorites- always learning!
Basic Photography
1. The Digital Photography Book by Scott Kelby
2. Understanding Exposure by Bryan Peterson
3. Beginner Books by Kristen Duke
4. Elevate the Everyday: A Photographic Guide to Picturing Motherhood by Tracey Clark
These are all fantastic for styling (food related and otherwise) for blogging:
5. Food Photography by Nicole S. Young
6. Plate to Pixel by Helene Dujardin
7. Food Photgraphy for Bloggers by Matt Armendariz
LENSES
This is the expensive part.  I've had the same Nikon D90 for years but keep buying new lenses.  (but it's time to upgrade my body soon too!)
8. Nikon 35 mm (this is the one I use most for my blog photos)
9. Canon EF 35 mm
10. Nikon 50mm 1.8
11. Canon 50mm 1.8
EQUIPMENT
Things that will make your life a little easier!
12. Neewer Reflector
13. Tabletop Tripod
14. Nikon Wireless Remote
15. Canon Wireless Remote
PHOTO EDITING SOFTWARE
Perfect for the beginner – 16. Photoshop Elements
17. Lightroom 5
18. Adobe Photoshop CS6
ACCESSORIES
19. Gracie Mint Jo's Tote
20. Capturing Couture Summer Bliss
Let's not forget the camera, in case you don't win this one:
(these are great beginner cameras)
Canon Rebel T3i
Nikon D3100
Alright, on with the giveaway!! To enter simply follow the steps on this widget:
a Rafflecopter giveaway

And just in case you missed it, I'm having a Flash Giveaway over there that ends tonight Nov 18, 2013 at 5pm PST – As a way to thank my awesome Facebook readers, I'm giving away a $25 gift card to Amazon!  Just leave a comment on the Facebook post here – It's a Round Robin Giveaway, so you can click around and enter 5 other gifts from 5 other Facebook pages!