This is a sponsored post written by me on behalf of  Shutterfly.  I'm happy to work with a company that I believe in!

This is the year of home updates for our family.  We've been tackling our to do list one by one, slowly but surely.  We've had a cut out in our family room since we moved in and I've never liked it.  We finally got that fixed (8 years later) by adding some built ins, just in time for the holidays.  So I'm giving you a little tour of our Christmas decor for this year + some downloads if you want to things to your home.  Or use them for gifts too!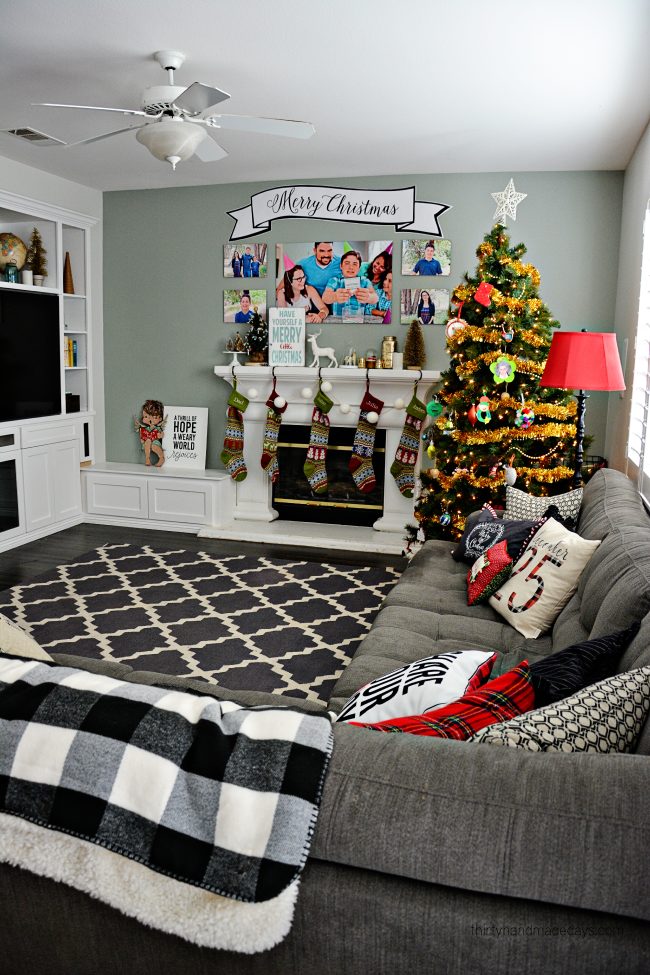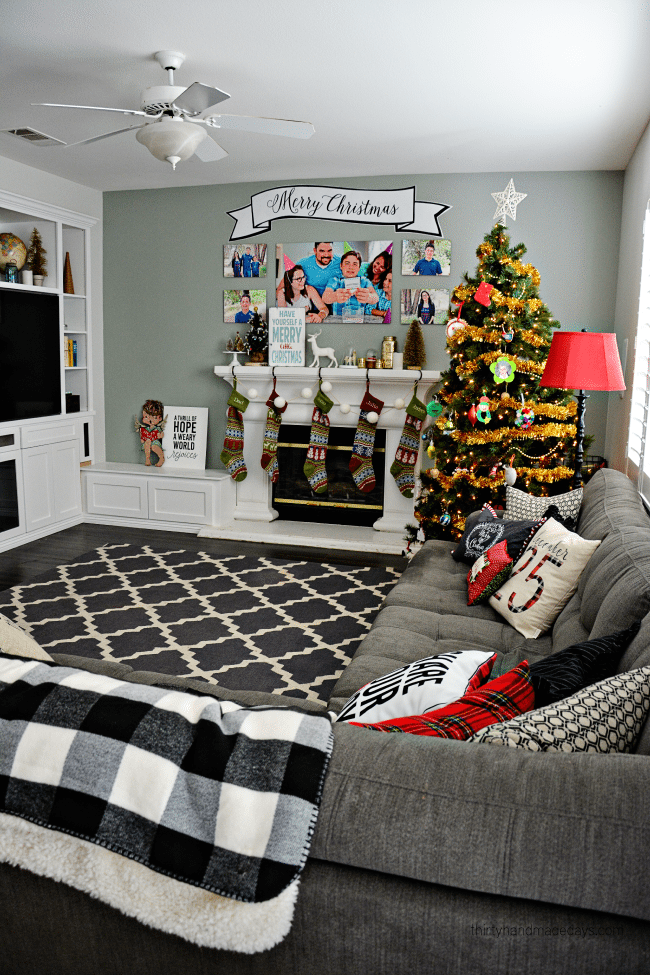 There is still some work to do but so far I'm in love with how everything has turned out.  Read on to find out what we did..

Ok so this is what the family room looked like during the redo.. You can see what the hole looked like before the built ins were added.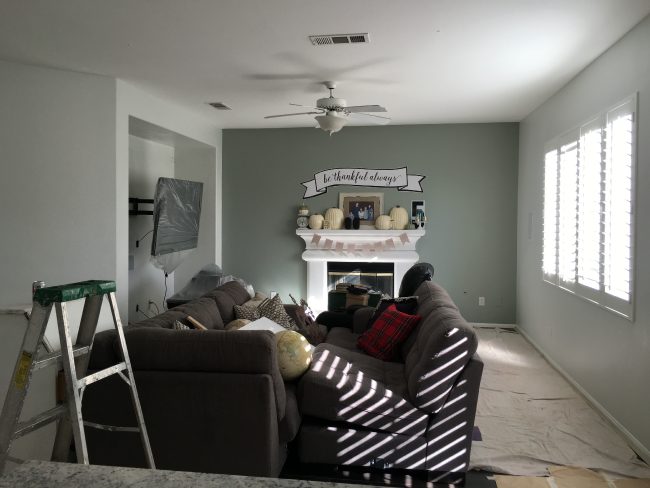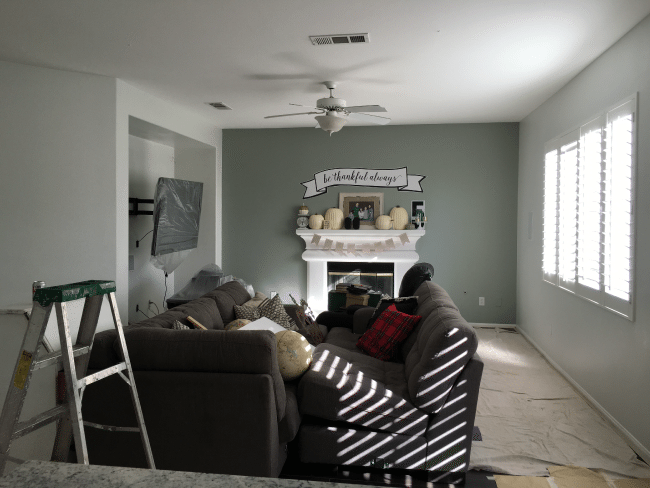 Up until recently we had kind of beige walls that I didn't like.  A few years ago that wall with the mantel was dark brown.  Yuck.  It made the whole thing look so so dark.  Last year we painted it this grayish color.  And then a couple weeks ago we had all the other walls painted a barely gray (more white) color and I'm in love.
With all of the renovations, I wanted to added a photo wall.  I went back and forth on which pictures to use, what style, size, etc.  It was agony.  I'd like to think that I'm pretty decisive most of the time but when it comes to things like this, I deliberate for days and drive myself (and anyone who will listen around me) crazy.  In the end I went with metal prints from Shutterfly and couldn't be more thrilled.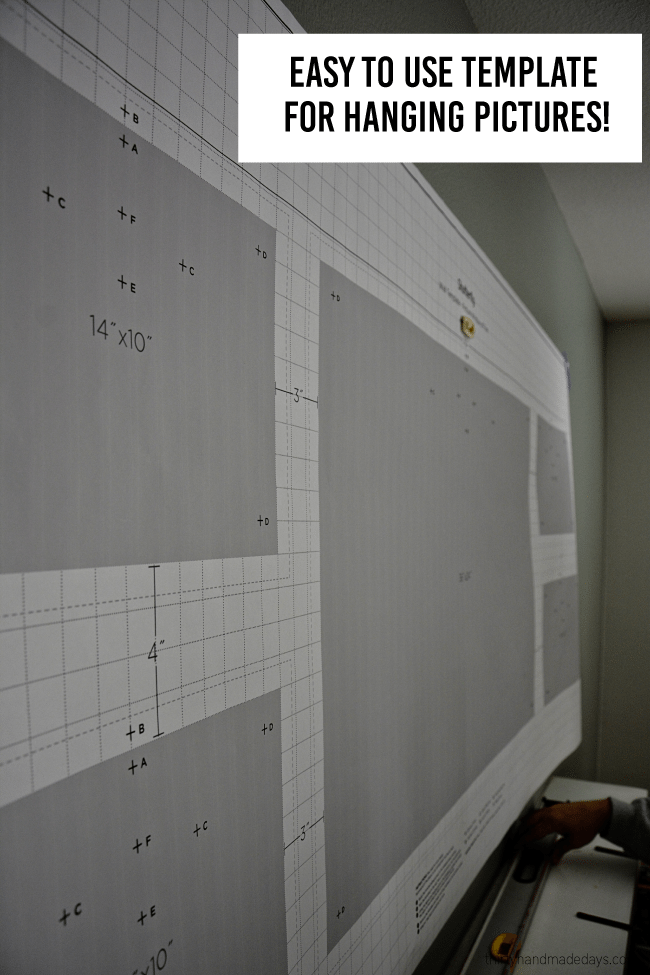 They have a really cool Design a Wall program on their site.  It lets you see how things will look on your wall –  you pick out sizes, arrangement, etc.  And then when your prints arrive, you can use this handy dandy template to hang your pictures.  It was a LIFESAVER.  (Josh only threatened to stop the project twice this time – compared to 29109214829482 like normal)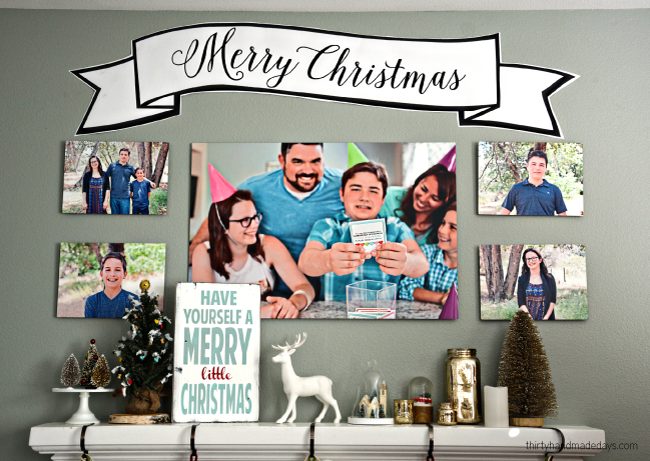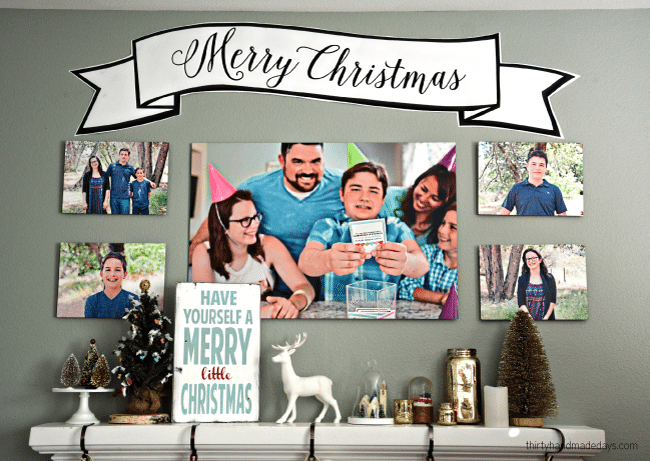 I am obsessed with how this wall turned out.  To say that I love the prints on metal is the worlds biggest understatement. They are thin and clean, easy to hang and fantastic!!  Things will look a little bit different when it's not the holidays and I don't have all the stuff on the mantel.  I know they will look amazing year round and I am in love with that big ol' print in the middle that we used for my book.  It captures our family perfectly.   I can't say enough about the incredible Alyssa from Blyss Photography who took all of these pictures.  She is ridiculously talented and I'm lucky to now call her a friend.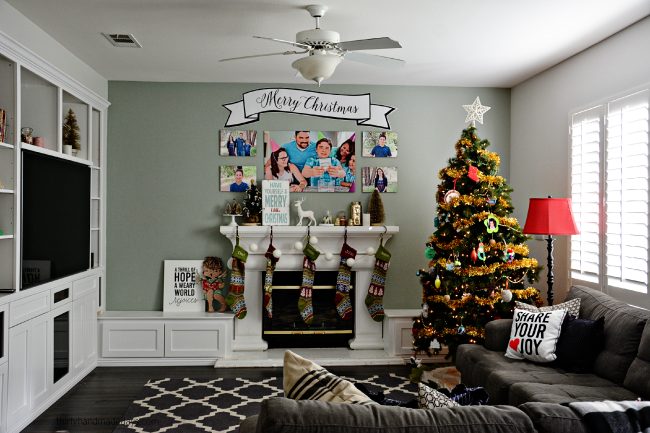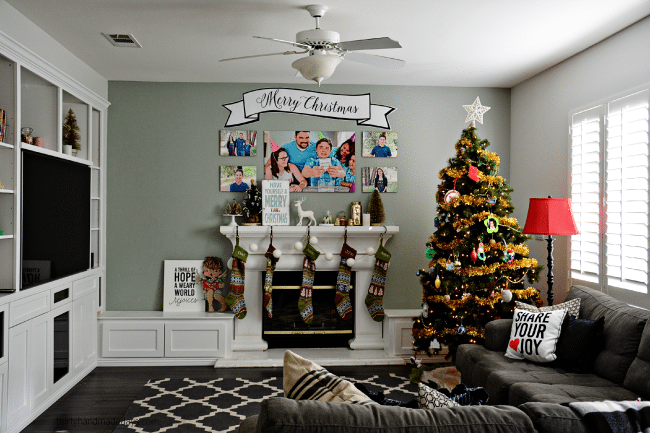 Along with the prints, I created a pillow and a sign that turned out awesome (if I'm allowed to say that about my own work).  "Joy" is our family word.  It was my Grandma's name and my Mom has sprinkled it throughout her home.  I'm drawn to that word and trying to live a life full of joy.  I wanted to make a pillow that had it on it but not alone so I created this "Share your joy" pillow.  It's bold, it's cute and it is great for the holidays but also throughout the year.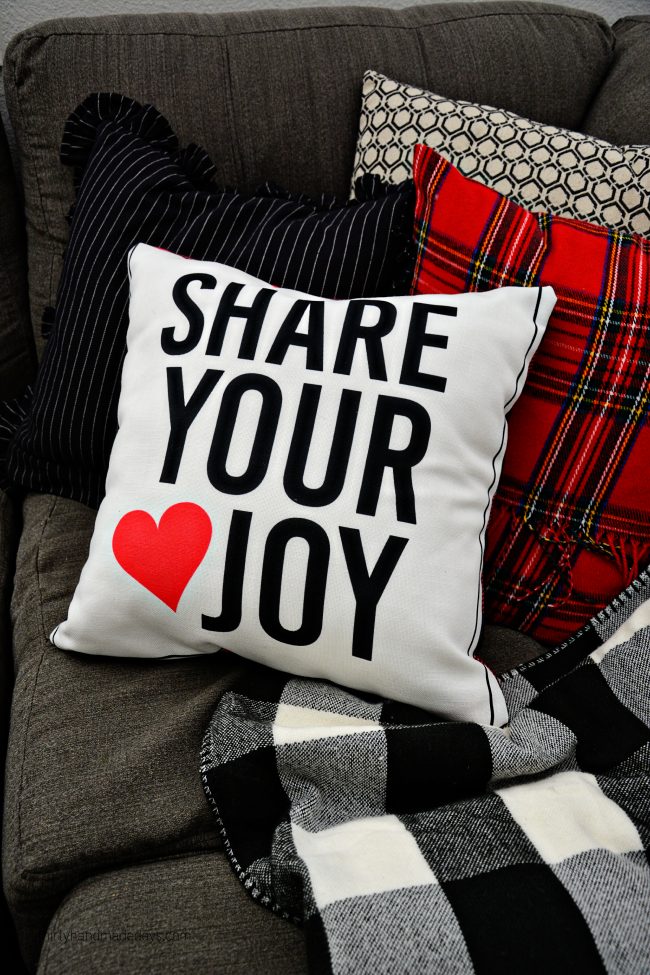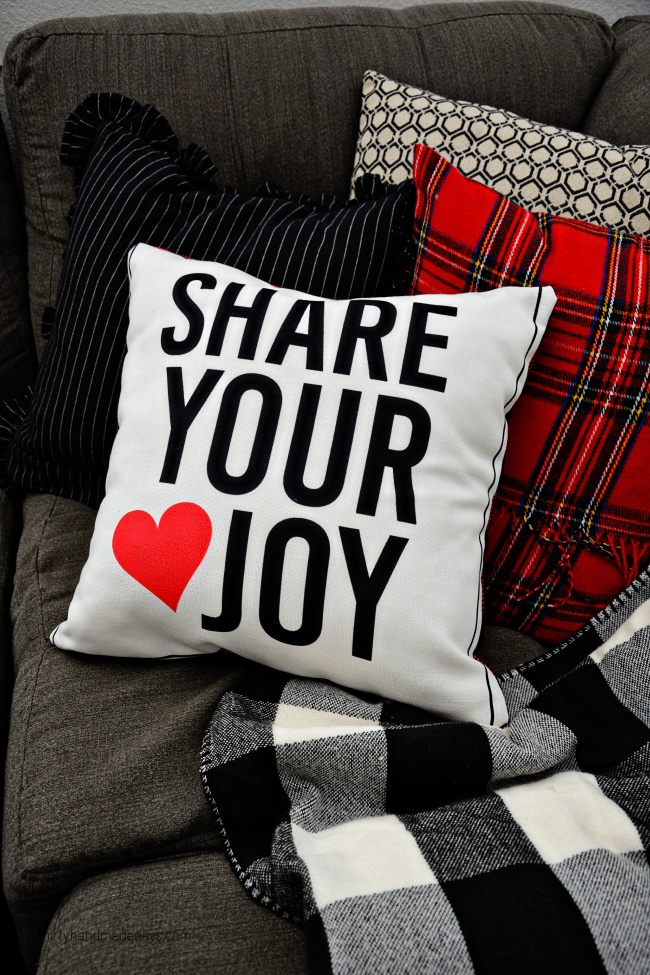 Didn't it turn out cute?!  On the back I made a plaid (because I obviously love plaid this year!) and I love love love it.   You can easily make your own pillows  on Shutterfly.  After downloading the designs below, select the "upload your own design" option in the pillows on their site.  Add the images (designs) where it prompts you to and ta-da! You have cute custom pillows.  I'm pretty sure anyone would love prints and pillows for a gift! I know I would.  Wouldn't you?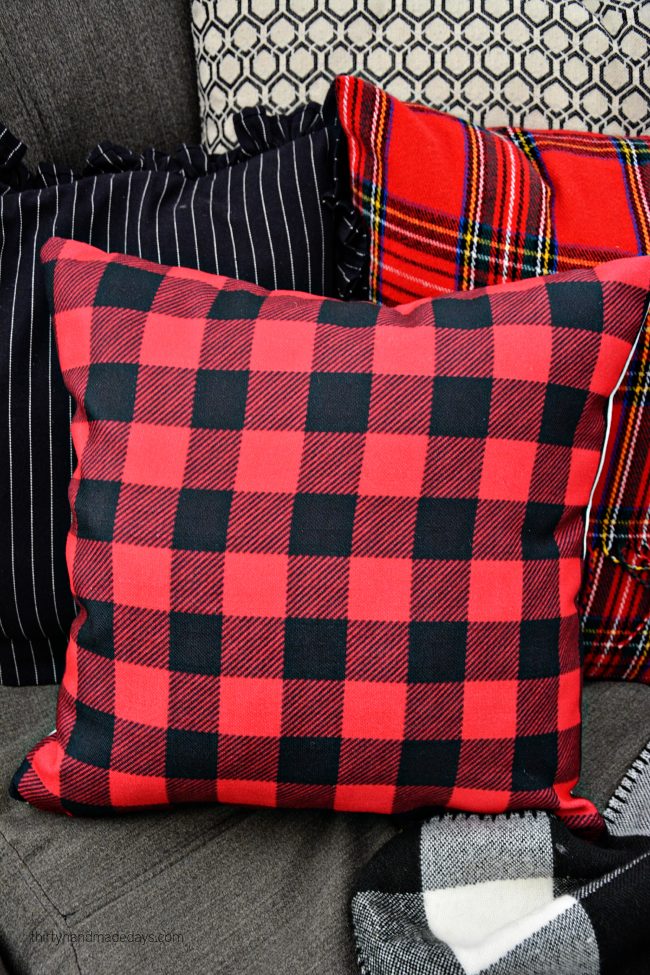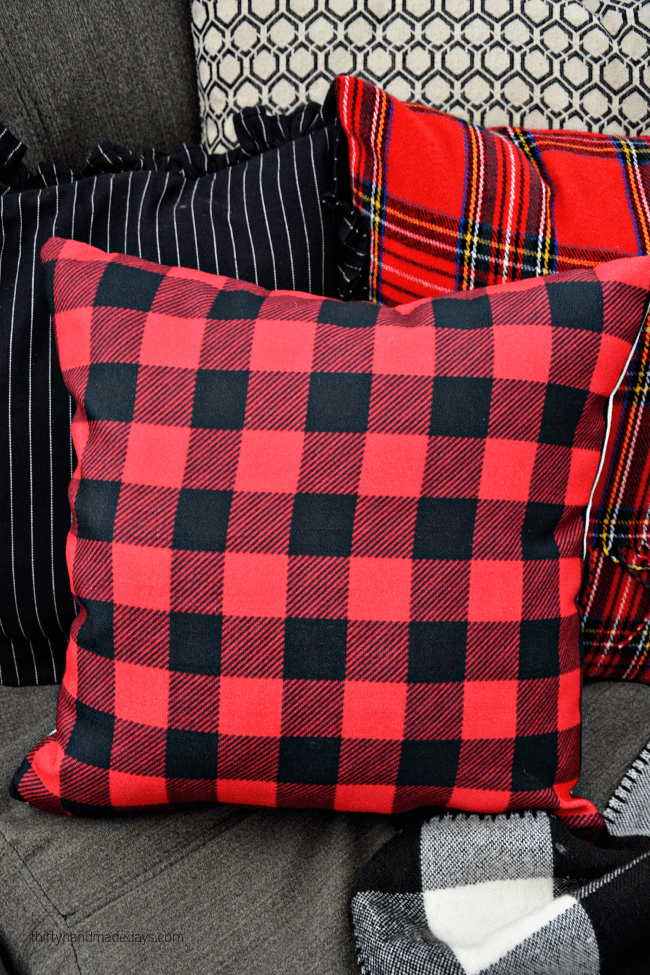 I might have a pillow obsession but it's an easy accessory to add in and out of each room.  I have some that are always on the couch but others that I change out.

I'll do another post more specific to the built ins another time but you can see how the room is now set up.  I added this Merry Christmas banner inspired by Just Destiny.  A fun little addition to the mantel.  You can read how she created hers and then download the one that I made below.   I threw caution to the wind and let the kids decorate the Christmas tree.  Is it how I'd do it? No.  But they had fun, made memories and are happy with it.  When the lights are turned off it glows just as pretty.  (I'm choosing my battles here people)  I have traditional colors with a mix of a gold and vintage-y vibe.  Kind of like last year's Christmas decorations.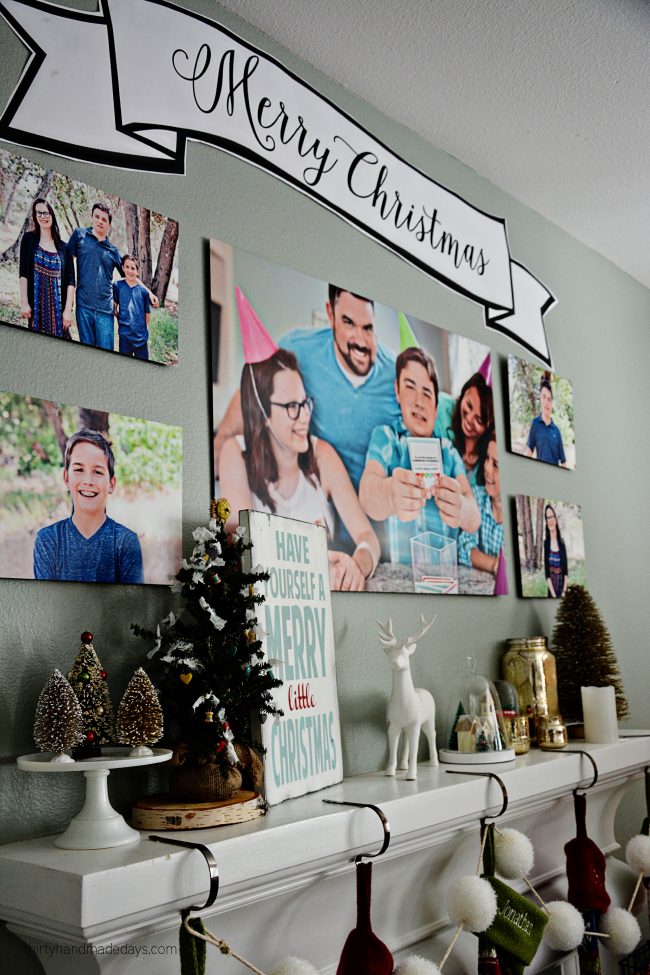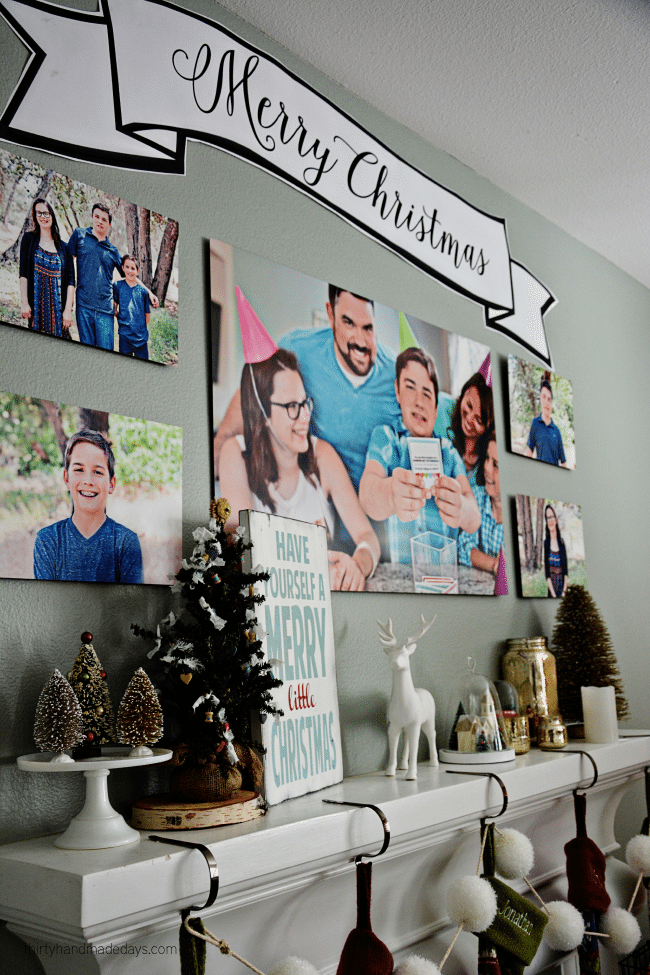 I'm making the files available for personal use only (not to be resold or altered)  in case you want to order for gifts this holiday season.  The pillow I designed is 18×18.  Click the links below, right click and save as, then upload them at Shutterfly.  Enjoy!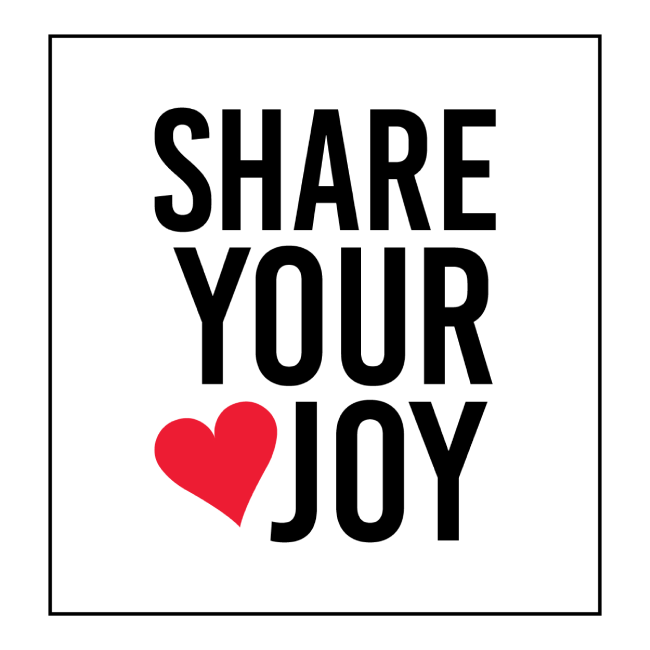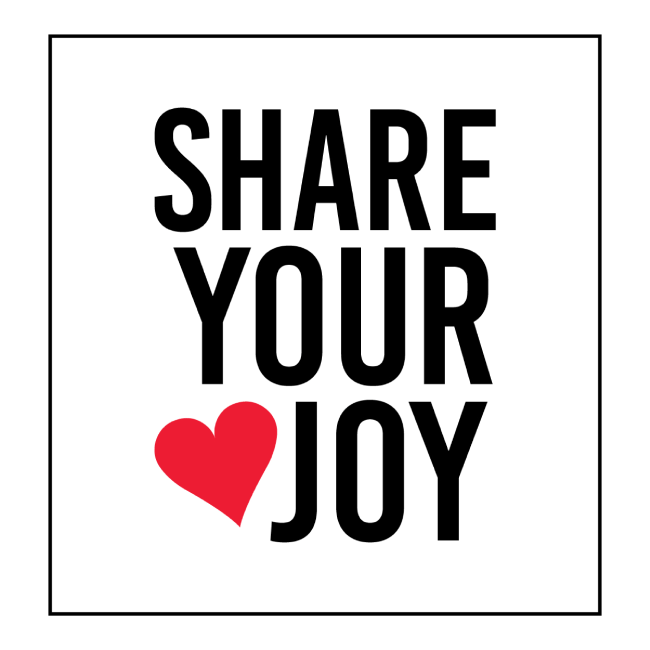 Pillow Front 18″x18″ – 2000 pixels x 2000 pixels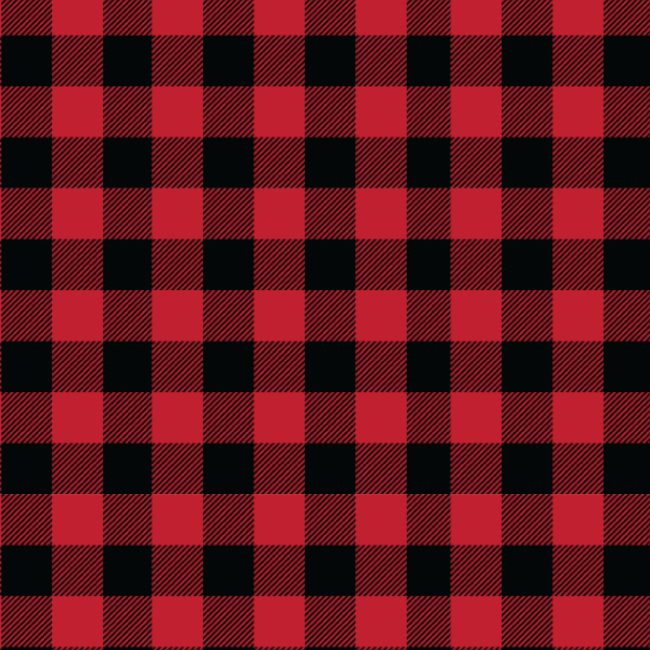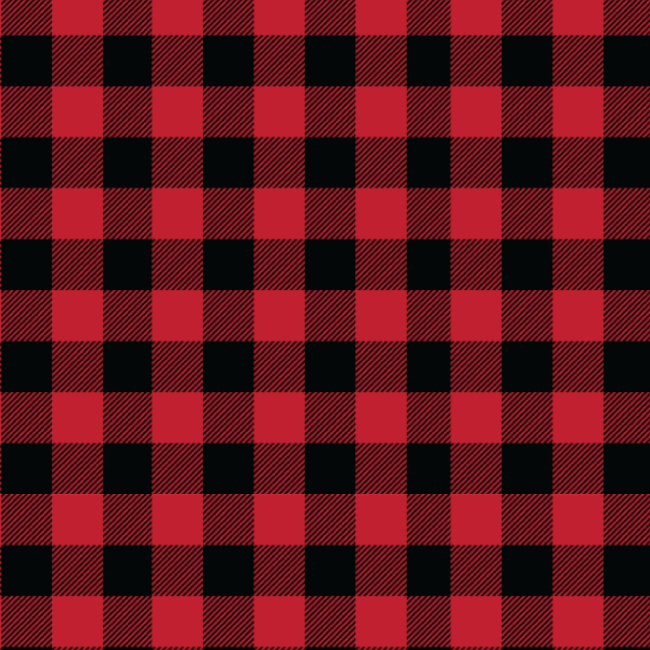 Pillow Back – 18″x18″ – 2000 pixels x 2000 pixels


Merry Christmas Banner – 2'x6′