I started this gig about 9 years ago (which is about a million in blogging years).  It wasn't until 2011 that I shifted my focus and got serious about Thirty Handmade Days.  Before that I was mainly posting on my family blog but I found myself spending more and more time on this little creative blog.    I never anticipated that it would turn into a full time job.   I'm super grateful for that and all of the opportunities that blogging has given me.   I wanted to share some of the things that can make a big difference in having a successful blog.  P.s.  There is a giveaway for YOU at the end of this!
(affiliate links are included below)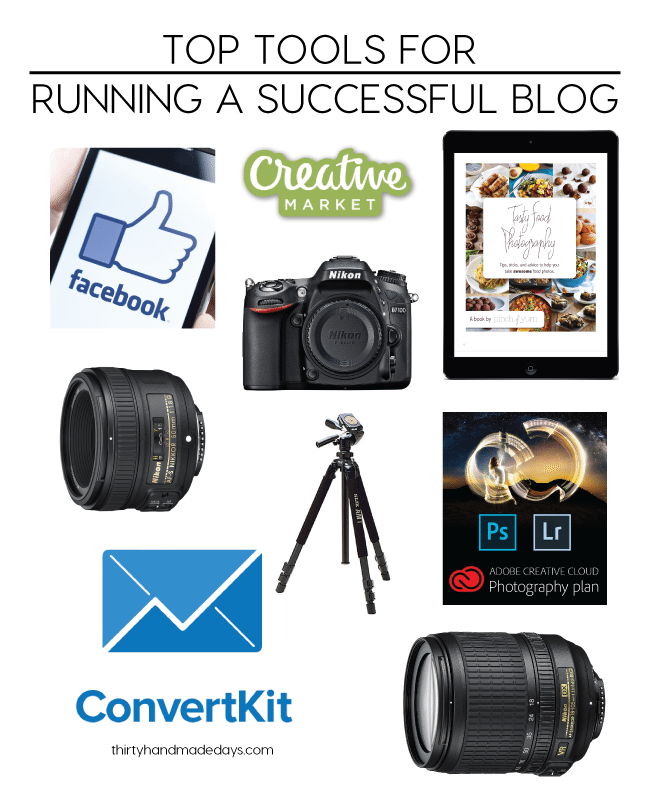 Camera & Accessories:
One of the make or break things in blogging is the quality of pictures.  I have been a Nikon girl since Josh bought me a SLR (yes before digital cameras) over 15 years ago!  I currently use a D7100 and my favorite lenses are the 50 mm,  35 mm, and 18-105 mm
A few other things I use:
Tripod – recently purchased at the recommendation of lots of friends
Photoshop & Lightroom – used to edit all of my pictures
Illustrator – used for all of my designs and adding text to images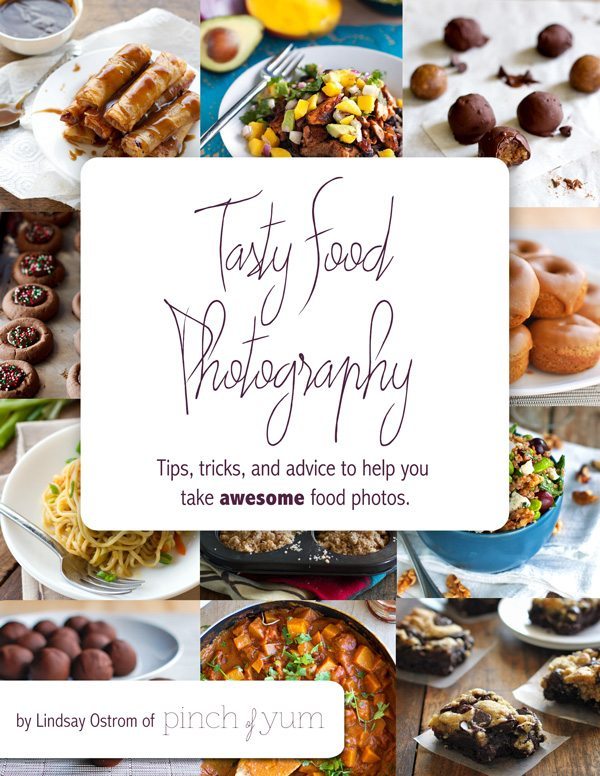 My all time favorite book for photography tips is Pinch of Yum's e-book.  I have purchased so many different books and e-books for photography but I love their style.  I love the pictures they take and I love the way that this e-book is laid out.  It is written in such simple terms and I can't say enough about it.  GET IT!!!  Click here to view more details
Facebook :
One of the things I talk to other blogging friends about a lot is FACEBOOK.  People have pretty divided feelings about it.  Some people are beyond frustrated with how things change quickly, while others have seen the crazy amount of traffic Facebook can bring.  I have worked hard to get to know my audience over there and feel like it's definitely worth the time.  I would encourage anyone starting out (or even if you've had a blog for awhile) to work on your Facebook page.  I've written about it before: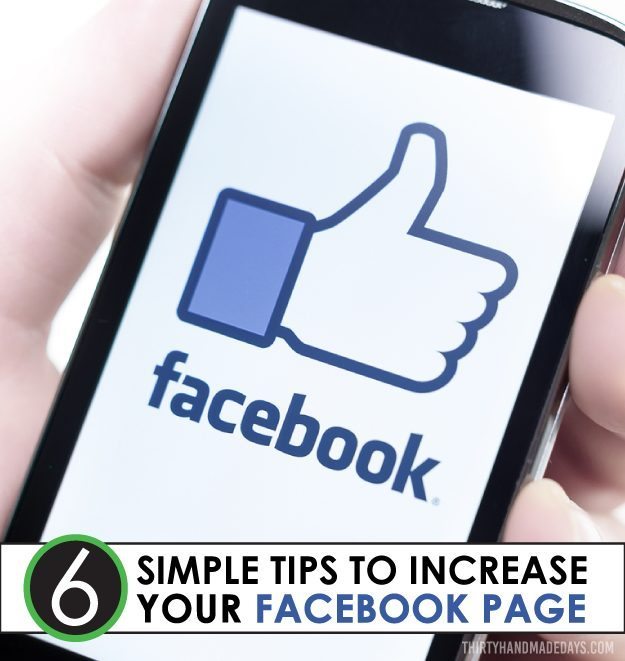 6 Tips to Increase Your Facebook Page
Newsletter:
This is somewhat of a new field for me.  I've had a newsletter for awhile but recently I changed the way that I do it.  I used to have a MailChimp account but I wasn't really happy with it.  I happened upon some info about ConvertKit and it blew my mind.   I have grown my newsletter list from 12,000 to over 60,000 since October.  There was definitely a learning curve but I watched tons of videos, read blog posts and tried to get as much information I could get my hands on.  I spent time learning about it and it has paid off for sure.   Definitely look into getting your own account and making it work for you!
By the way – if you haven't signed up but want access to a free recipe e-book and printables that only subscribers can get, sign up here:
Design/Fonts:
I'm admittedly a font snob.  I spend hours pouring over fonts.  It's sort of silly I know.  But just like good photography, I think fonts can make or break a site.  I use free websites like DaFont.com and Font Squirrel but I also purchase fonts from Creative Market.  Like this January bundle – I can't resist a good deal!   These are some of my favorite fonts that I use over and over —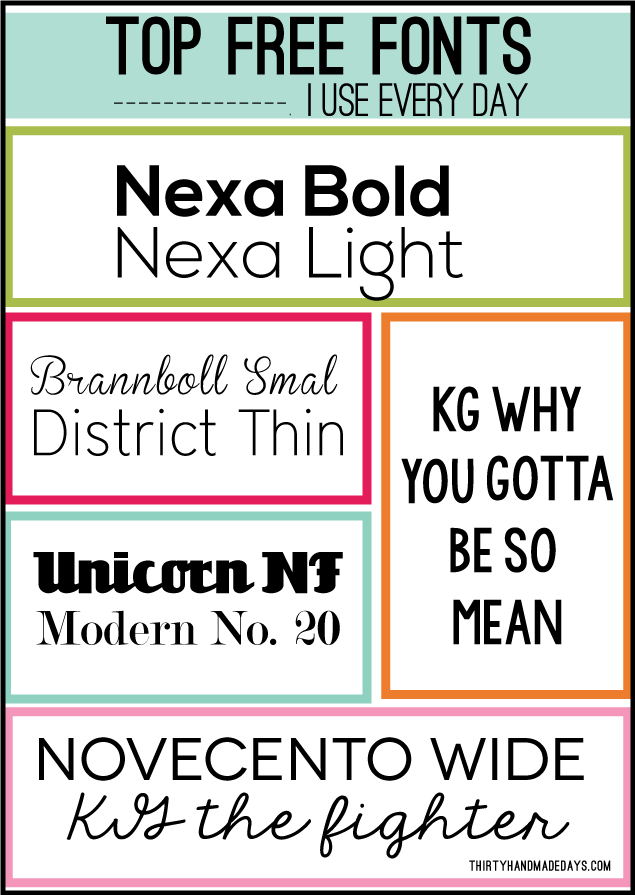 Fonts I Use Every Single Day
I'm excited to have the opportunity to partner with Jessica from Fantabulosity.  Jessica has a fun blog full of recipes, home decor, parties, and more.  Head on over to her site to see what I mean!  We're giving away something that will help you start on your blogging adventure if you are interested… or if blogging isn't your thing, you can use it to take pictures of your cute kids, your dog, your vacations – anything you want!  To enter, use the widget below (be patient if it doesn't show right away – it will!):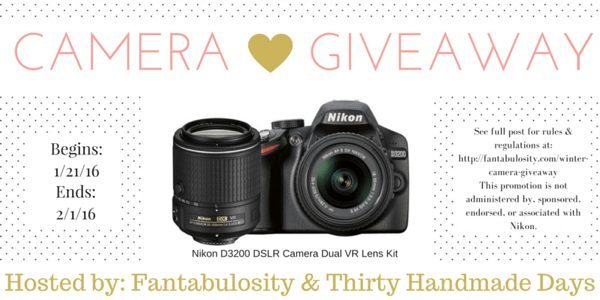 a Rafflecopter giveaway
So — have any questions for me about blogging? Leave them in the comments below.  
Giveaway Terms & Conditions:Fantabulosity's "Winter Camera Giveaway" – Nikon D3200 DSLR Camera Dual VR Lens Giveaway – TERMS AND CONDITIONS
Void outside the 50 United States and where prohibited. Do not proceed to enter if you are not at least 18 years of age and a legal resident of, and located within, one of the 50 United States at the time of entry. By participating, you agree to be bound by these Official Rules and the decisions of Fantabulosity, which are binding and final in all matters relating to this contest.
NO PURCHASE NECESSARY TO ENTER OR WIN. A PURCHASE WILL NOT INCREASE YOUR CHANCES OF WINNING.
This promotion is not administered by, sponsored, endorsed, or associated with Facebook. Nor is this promotion administered by, sponsored, endorsed, or associated with Nikon. Fantabulosity self-purchased the prize to giveaway to participants.
SPONSOR
Fantabulosity, 614 Walmart Dr. PMB: 150 Farmington MO 63640
CONTEST PERIOD
The "Fantabulosity Winter Camera Giveaway" ("Sweepstakes") entry submission begins at 3:00 a.m. CST on January 21, 2016 and ends 3:00 a.m. CST on February 1, 2016 ("Sweepstakes Period").
For purposes of this Sweepstakes, a day is defined as beginning at 3:00 am CST and ending at 2:59 am CST the following day to complete the 24-hour cycle (each, a "Daily Entry Period"). Fantabulosity's computer is the official timekeeping device for the Sweepstakes.
Announcement of winners will be published on February 2nd, at 9:00 a.m. CST on the Fantabulosity blog.
HOW TO ENTER
The Contest will use "Rafflecopter" as its Official Contest platform. Entrants can complete specified actions to increase their chances of winning.
During the Sweepstakes Period, entrants must complete and submit the entry form on the Rafflecopter Widget, found in the Fantabulosity blog page: http://fantabulosity.com/winter-camera-giveaway.
Each participant in the Sweepstakes must be the rightful owner or have authorized use of the e-mail account indicated by the participant's e-mail address. In the event of a dispute concerning the identity of the winner submitting an entry, the winner will be deemed to be the person in whose name the e-mail account is opened. The e-mail account must be opened prior to the commencement of the Sweepstakes.
No automated entry devices, bots and/or other programs and/or software are permitted for entry. Fantabulosity reserves the right to disqualify any winner whose winning entry appears to have been the result of mechanical reproduction or other violations of these official rules.
LIMIT
Entries received from any person or email address beyond the Submission Period will be void. You may only use one (1) email address to enter this Sweepstakes.
ELIGIBILITY
This Sweepstakes is open to legal residents of the 50 United States, 18 years of age or older. Employees of Fantabulosity, its affiliates, subsidiaries, advertising and promotional agencies and family members (spouse, parents, children and siblings and their spouses) and individuals living in the same household of such employees are ineligible. This offer is void wherever prohibited, and is subject to all federal, state and local laws. By participating, participants agree to these official rules. Fantabulosity may report, as required by applicable statute or regulation, the value of the prizes and the identity of the winners, to appropriate taxing authorities.
WINNER SELECTION/DRAWING
All winners will be determined at the end of the Sweepstakes Period by random drawing by an authorized representative of Fantabulosity from all eligible entries received, using the random selection process of Rafflecopter. Odds of winning are dependent upon the number of eligible entries received. All decisions are final in all matters relating to this giveaway. Except as specifically provided herein, the prizes are guaranteed to be awarded.
WINNER NOTIFICATION
Potential winners will be notified via electronic mail.  Winner will have 24 hours from email notification, to claim their prize.  If winner fails to confirm mailing address of where prize should be shipped, within 24 hours, Fantabulosity will choose another winner, and previous "winner," will be disqualified.
PRIZES
To one (1) Winner, Fantabulosity will award 1 (one) Nikon D3200 DSLR Dual VR Lens Camera Kit.
Total list value of all prizes shall not exceed $500 (USD). Prizes are awarded "as is" with no warranty or guarantee, either expressed or implied by Fantabulosity.
Winners may not substitute, assign or transfer prize or redeem prize for cash, but Fantabulosity reserves the right, at its sole discretion, to substitute prizes (or portion thereof) with one of comparable or greater value. Winners are responsible for all applicable federal, state and local taxes, if any, as well as any other costs and expenses associated with prize acceptance and use not specified herein as being provided. All prize details are at Fantabulosity's sole discretion. By accepting the prizes, the winners agree to the release or his or her name and/or likeness for potential publicity purposes, where permitted by law.
LIMITATION OF LIABILITY
By entering, participants agree to release the sponsor and their agents from all liability, injuries, loss and/or damage of any kind arising from their participation in the Sweepstakes and the acceptance and use/misuse of any prize and agree to be bound by the Official Rules.
All expenses and travel costs incurred as a result of seeking or winning a prize are the sole responsibility of winner. Any expense or cost not expressly stated in the description of the prize above is the sole responsibility of winner.
Fantabulosity is not responsible for printing or typographical errors in any giveaway-related materials; stolen, lost, late, misdirected, and damaged, incomplete, illegible or postage-due mail. By participating in this giveaway and accepting a prize, each winner agrees that Fantabulsoity, and its affiliates, agents and promotion agencies shall not be liable for any and all losses, damages, rights, claims, and actions of any kind in connection with the giveaway or resulting from the winner's participation in the giveaway, acceptance, possession, use, or misuse, of any prize, including without limitation, personal injury, death, and property damage, and claims based on publicity rights, privacy or defamation. Fantabulosity reserves the right to cancel or modify the giveaway if fraud or technical failures compromise the integrity of the giveaway as determined by Fantabulosity in its sole discretion. Fantabulosity reserves the right, in its sole discretion, to disqualify any individual who tampers with the entry process or otherwise violates any of the rules of the giveaway.
PRIVACY
Email addresses submitted for this Sweepstakes will be used to contact the winner and be included in our mailing list, unless the participant has opted to unsubscribe to our mailing list to receive newsletters and special offers. Email subscribers may unsubscribe at any time.