Hip hip hooray! Yesterday was my birthday but today I'm giving one 30days reader a gift. I've collected a few of my favorite things to giveaway.   If you're new and stopping by from my blog friends giveaways- hello! Welcome.  I'm Mique and I love making printables, recipes, gifts and anything creative.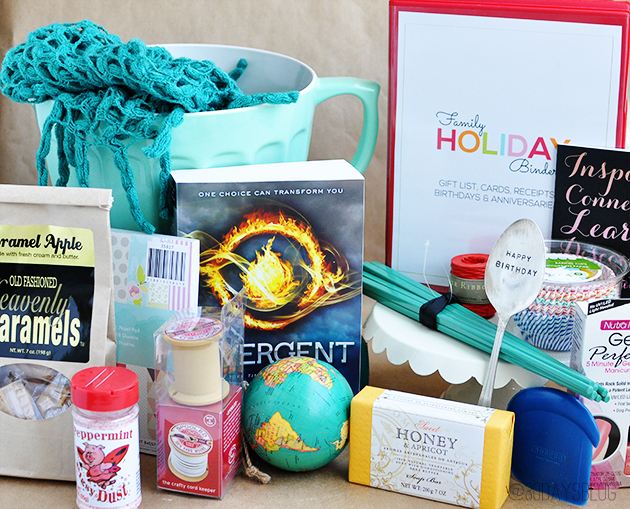 After the smashing success of last year's Favorite Things Giveaway, we are back for another round. That's right-we have gathered up our favorite things to give away, and YOU have the opportunity to win them! Not only is this giveaway a fantastic way to drum up gift ideas for anyone and everyone on your list this year, it is a great Wish List Idea Generator for yourself as well. Every single giveaway basket is chock full of fabulous, tried-and-true, favorites and gift ideas. Even if it's a treat, always fun to give to a friend with a note that says, "Enjoy one of my favorites" for Christmas, birthdays, or just because.
To enter-
Check out the gift collage below
Scroll to the bottom to see the details for MY favorite things giveaway
Enter to win my gift basket at the giveaway below
HOP to all of the other sites to enter to win their gifts!
Look around and enjoy the sites of the creative bloggers–they will not disappoint!
*Note- if you receive an error message, click to the blog's home page
Click on each link to view each site, and enter to win their favorite things gift. If you receive an error message, click to the blog's home page.
1. Bombshell Bling//2. BruCrew Life//3. Capturing Joy with Kristen Duke//4. Click It Up A Notch//5. Crazy Little Projects//6. Diary of Dave's Wife//7. Eighteen25//8. I Heart Nap Time//9. Kojo Designs// 10. Landee See, Landee Do// 11. Live. Laugh. Rowe.//12. Lolly Jane//13. Love the Day// 14. Lil' Luna//15. My Sister's Suitcase//16. NoBiggie//17. Or so she says…//18. Six Sisters Stuff//19. Something Swanky//20. Tatertots and Jello//21. The 36th Avenue//22. The Dating Divas//23. The Girl Who Ate Everything//24. The Idea Room//25. The Pleated Poppy// 26. Thirty Handmade Days// 27. Tidy Mom // 28. Your Homebased Mom// 29. A Pumpkin and a Princess
At first I wasn't sure what I was going to gather for my basket.   I had a blast putting together my favorite summer things but didn't want to repeat what I put together for that.   Then I went shopping and kept picking up things and saying 'Oh I LOVE this,' and 'Oh this is perfect!'  It's kind of all over the place but things that I really really love.  These items would be perfect for stocking stuffers, hard to buy for friends or family members or for YOU just because.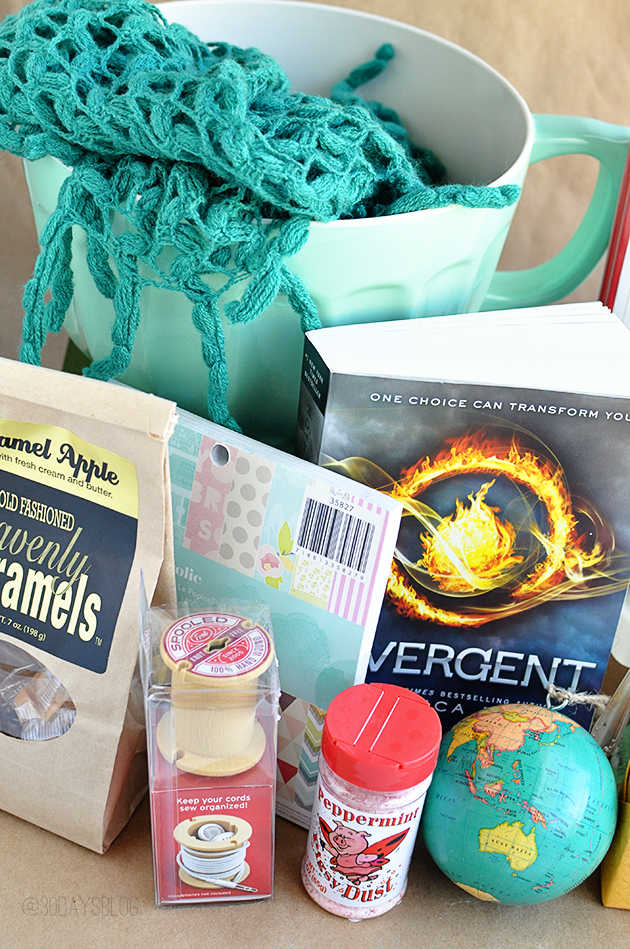 Here's the breakdown of what's included in my basket:
 Divergent  …. my favorite series.  If you like the Hunger Games, Matched, or Delirium, you have to get this series!
I loved Insurgent too and am finally just starting Allegiant (don't spoil anything for me!)
Teal scarf
Because nothing is better in the fall than a sweater, boots and scarf, right?
Mint Melamine Mixing Bowl We bake A LOT and have several mixing bowls.  This mint one jumped into my shopping cart.  It's darling.
Heavenly Caramels
Mmmmmm…..caramels are my favorite.  Yum!
Globe ornament
I love globes.  I saw this ornament and knew I had to have it.
Peppermint Piggy Dust 
I posted how to make your own crushed peppermint a couple years ago.  (SO easy) But when I saw this I thought it was funny and had to add it to my basket.
Teal chopsticks Josh somehow got me to love sushi (which is a miracle considering the first time we went he had me eat octopus and I swore I'd never go again).
These teal chopsticks? SO cute.
Dear Lizzy 6×6 paper pad Once a paper hoarder, always a paper hoarder.  Elizabeth Kartchner is the cutest.  I love everything she makes.  5th & Frolic is a favorite.
Spooled Ear Bud Cord Storage
I love this little guy. So perfect for a stocking stuffer or the person that is impossible to buy for.  Or me! :)
Red raffia ribbon
You can never have too much ribbon, right?
Honey & Apricot Soap
Smells so good and anything honey related is a given for me.
Striped cupcake wrappers
Just because they are adorable.
Pan scraper
Random much?  It's the little things that make life soooo.much.easier.
Happy Birthday stamped spoon
How cute is that spoon? To use on your special day or to decorate with too.
Scalloped white metal cake stand
I might have a little obsession with cake stands.  Maybe.  This one is toooo cute.  Love it!
Inspire small notebook
Fits perfectly in your purse to jot ideas down on.
1 Mini Holiday Binder
Did you see the mini holiday binder I posted about with 14 (!!!) printables?  It was a labor of love and I'm proud with how it turned out.  This one is done and all ready to go!
Note: I bought every item for this giveaway. Pinky swear promise.  But there are affliate links above.  Just keeping it honest and all that.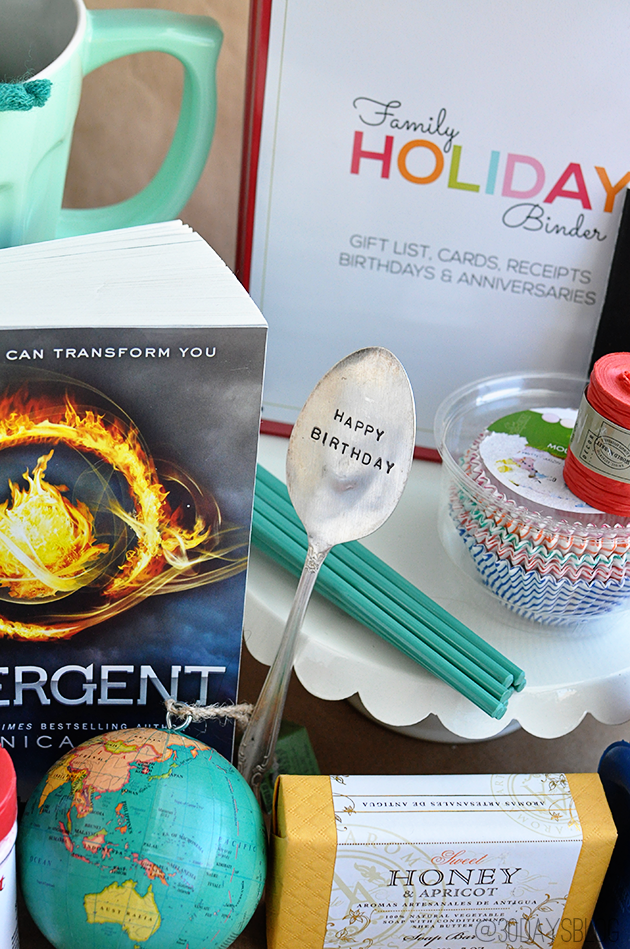 Now it's time to enter to win my gift giveaway
There are several ways you can enter, you can choose to enter just once, or multiply your chances to win with more entries. Good luck!