I'm not sure when it happened but it did.  I turned into my Mom.  I say cliches backwards, I click in my sleep (remind me to tell you about that sometime) and I love looking through other people's stuff to collect things.  I have fallen in love with thrifting and antique shopping.  If you follow me on Instagram you've probably seen me post some of my favorite finds.  I'm here to tell you simple tips to become a thrifting pro.  That your mama or grandma can be proud of!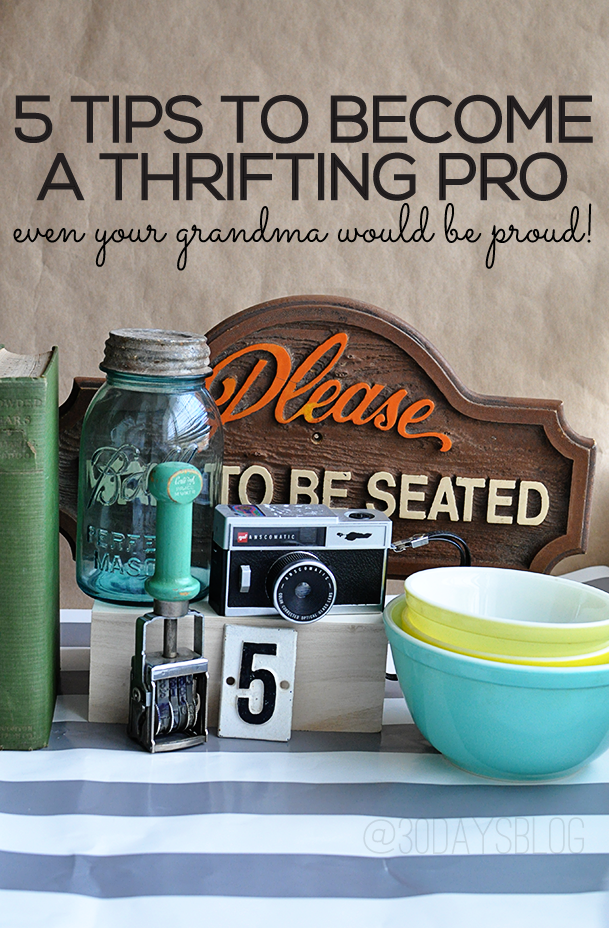 Do your research
Figure out what you like and then do your homework.  The internet makes this so so so easy.  There are tons of online antique valuation guides.  You can search for all kinds of things to find out a base or average cost of what you can expect to pay for the items you are looking to collect.
Go often
I have found some amazing pieces.  But it's not because I go to my thrift shop once a year.  I go often.  Sometimes once a week.  I'm a place in my life where I can do that.  When I had itty bitty kids I couldn't go very much.  But now I run errands and make an antique stop on my way home.  Sometimes it feels like I'm spinning my wheels.  And then I find a $5 globe and I do a happy dance in the aisle. 

Bring cash
In some places this doesn't matter.  At my local antique mall or thrift store they don't care if I bring cash or not.  But if I go to stores out in the middle of nowhere, or an estate sale, this is a must.  Make sure to carry all kinds of denominations.  If you come bearing $20's, it won't make negotiating very easy.
Grab it while it's hot
It's happened to me more than once.  I've had my eye on something, unsure of whether or not I want to purchase.  I wait, wait, wait and then go back to purchase and it's GONE.  I recently had this happen with the cutest Tom Thumb coral typewriter.  I'm still crying myself to sleep about it.  If you see something that you can't live without, get it.  Part of the fun (and frustration sometimes too) is that there is constant turnover.

Learn the art of negotiating
This is something I struggle with.  It's more of a "do as I say, not as I do" tip.  Most of the time, people are willing to negotiate on pricing of items.  I have come across items that say "$25 firm" a lot.  You know what that says to me?  That most items are NOT firm prices.  But there is a fine line in negotiating.  You don't want to go WAY under the asking price and offend the seller.  However there is usually some wiggle room to work with.  I've found that the more I try to negotiate, the easier it becomes.  Some people are naturally awesome negotiators.  Others (like me), are not.  Practice, practice, practice.  The more you do it, the more confident you will become in your abilities.
What are the things that I gravitate towards?  My list has grown as I've gone thrifting more and more but on the top of my list these days are: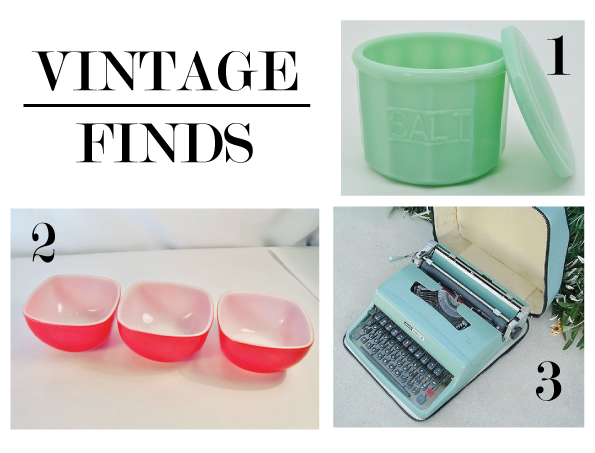 Jadeite– have you heard of Jadeite? I love the look of it.  It's become hot over the last few years.
Vintage Pyrex– oh Pyrex how I love thee. The bright colors, the retro designs. Pyrex kind of set my antique collecting on fire.
Typewriters– I asked for a typewriter for Christmas when I was ten or eleven. I have loved them ever since.