My family loves to grill during the summer so I'm excited about this freezer-to-grill shish kabob recipe.  Simply chop the meat and veggies, marinate them, and freeze them for later.  Then, when you're ready for dinner, throw them on the grill and you've got quick and easy shish kabobs!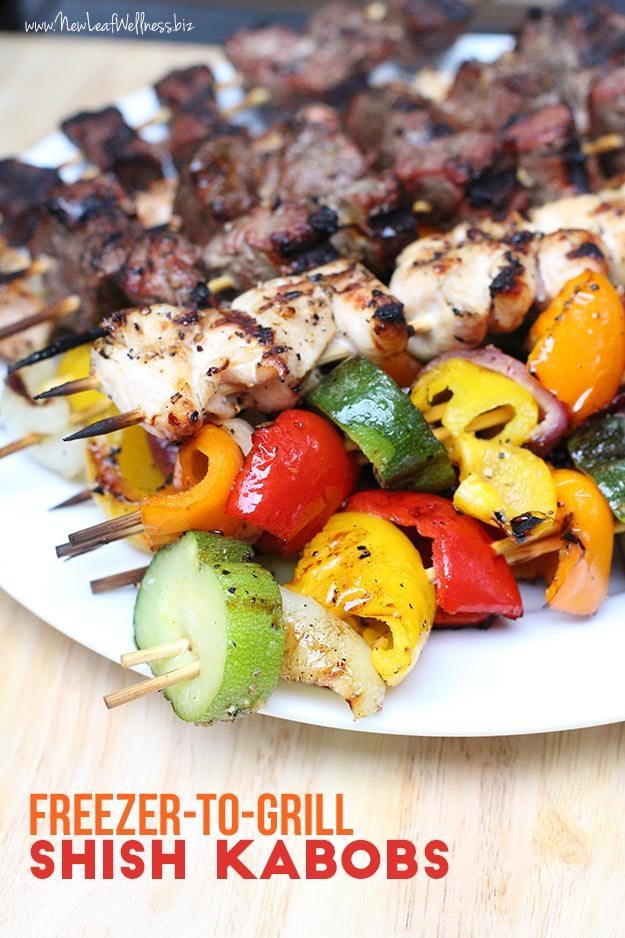 After prepping 28 slow cooker freezer meals with my mom I decided to freeze some meals for the grill too.  I love the idea of having food for the grill waiting at our finger tips.  No need to waste time chopping and marinating on busy weeknights.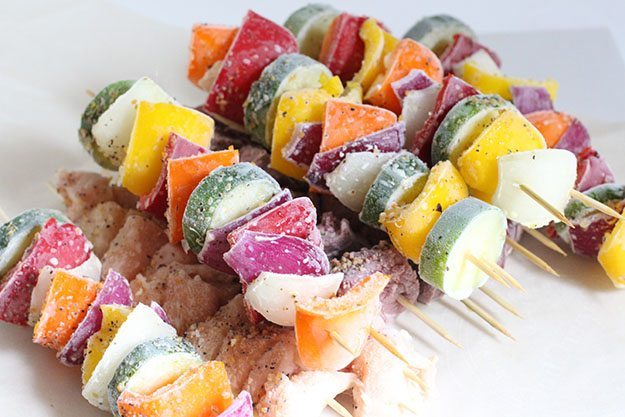 There are two main reasons why I love making these shish kabobs ahead of time:
All I need to do the day-of cooking is throw them on the grill.
I can take advantage of meat and vegetable sales at the grocery store and make these healthy and delicious shish kabobs at a fraction of the price.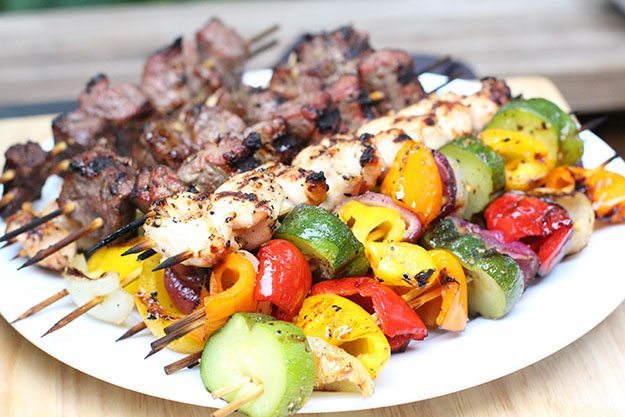 Since these shish kabobs cook for the first time out of the freezer, they taste exactly like fresh shish kabobs.  You would never know that they were frozen beforehand.  Yay!
While I like to freeze these shish kabobs for busy weeknight dinners, they're also perfect for summer BBQ's and get-togethers.  Make a bunch at once and freeze them so you can relax the day of the event.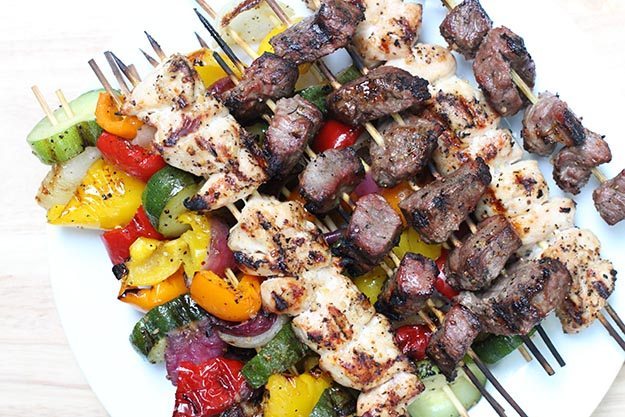 I like to marinate my shish kabobs with extra virgin olive oil and whatever spice mix I have on-hand, but feel free to get creative.
How To Make Shish Kabobs
Freezer-to-Grill Shish Kabobs
Serves:
Yields: 4 servings
Ingredients
1 pound boneless chicken tenders
1 pound boneless sirloin steaks
3 bell peppers
1 zucchini
1 small red onion
1 small yellow onion
½ cup extra virgin olive oil
2 tablespoons of herbs and seasonings (You can use something as simple at Montreal Steak Seasoning or try one of the homemade marinades in this post.)
20 bamboo skewers
Instructions
Cut meat and vegetables into squares that are 1-2" across.
Thread onto bamboo skewers. (I use two skewers per shish kabob so that the meat/vegetables are less likely to fall off.) I recommend placing the meat and vegetables on different skewers because the meat might need more time cooking on the grill.
Baste liberally with extra virgin olive oil.
Sprinkle with your favorite herbs and seasonings.
Place in two 9x13" baking pans, cover with layers of plastic wrap and foil, and freeze for up to three months.
When you're ready to eat, thaw overnight in the refrigerator and cook on the grill.  Serve with rice and enjoy!