I'm excited to introduce Larissa from Just Another Day in Paradise.  Find her on Instagram and Facebook, She's shared some fun projects in the past here on 30days and I know she'll be posting some fabulous ideas over the next several months.  Like this adorable Love Potion Kit gift idea: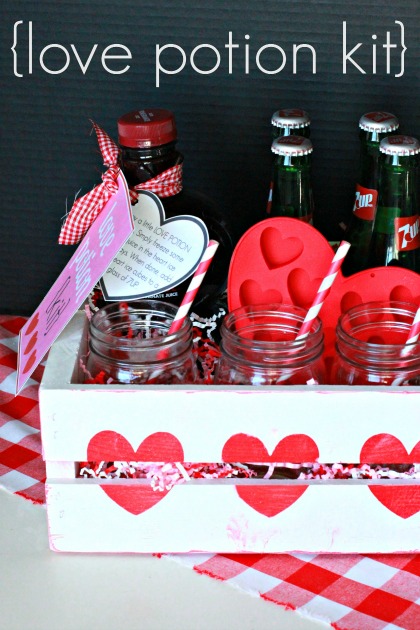 I kind of love putting together a good gift basket. I mean, who doesn't love receiving a lovely container full of coordinating goodies? Not this gal.  So it seemed only fitting that around Valentine's Day I needed to channel my love of gift baskets to create  love themed kit.
I came up with this ultra lovely, fun and very Valentine-approved Love Potion Kit. This would make a great teacher gift or a neighbor gift.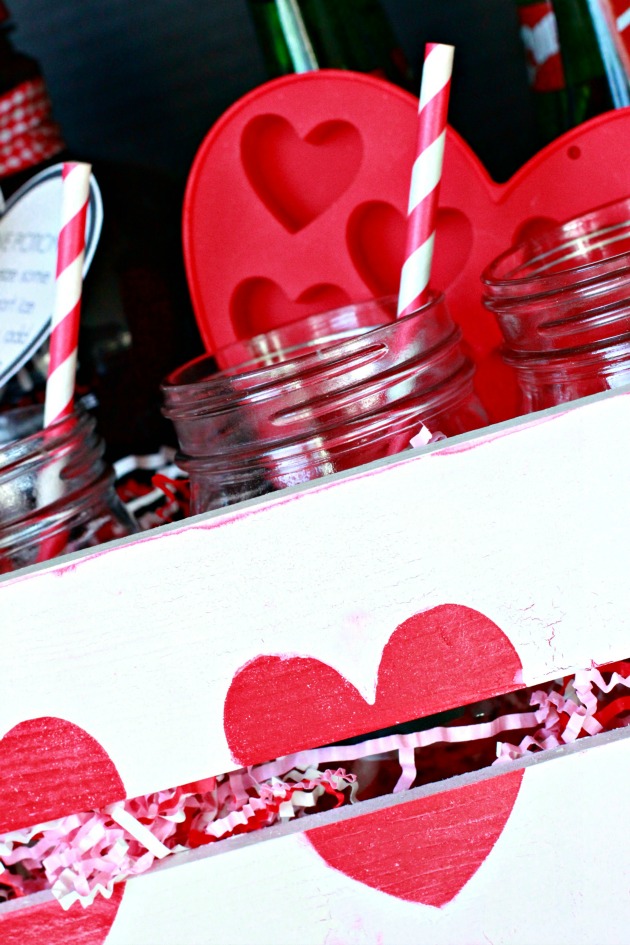 In order to make your own Love Potion Kit, you only need to gather a few lovely things. Some of these items you probably already have in your stash.
I started with a plain wooden crate, available at most craft supply stores. I painted the box red and white using spray paint.  I love adding paper confetti to a wooden crate. Try it sometime. You will probably get addicted. Don't say I didn't warn you! Ultimately I use it because I feel it makes the gift basket that much more legit.
Time to fill the crate.
Here is what I put in my Love Potion Kit—
1 container of POM pomegranate juice
Glass bottles of 7-up
mason jar for glasses
striped paper straws
heart ice cube tray (which can be found at JoAnn, Michaels, Walmart, or Ikea)
Love Potion Kit Printable (Download HERE)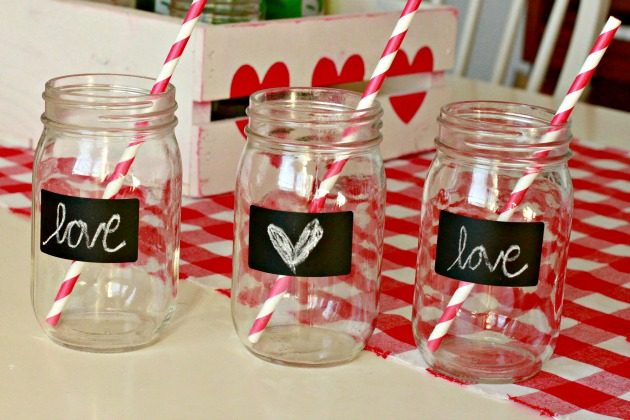 You can add your own lovely flair by using different embellishments.
I added chalkboard labels to the front of the mason jars. That way little love notes can accompany each Love Potion Drink.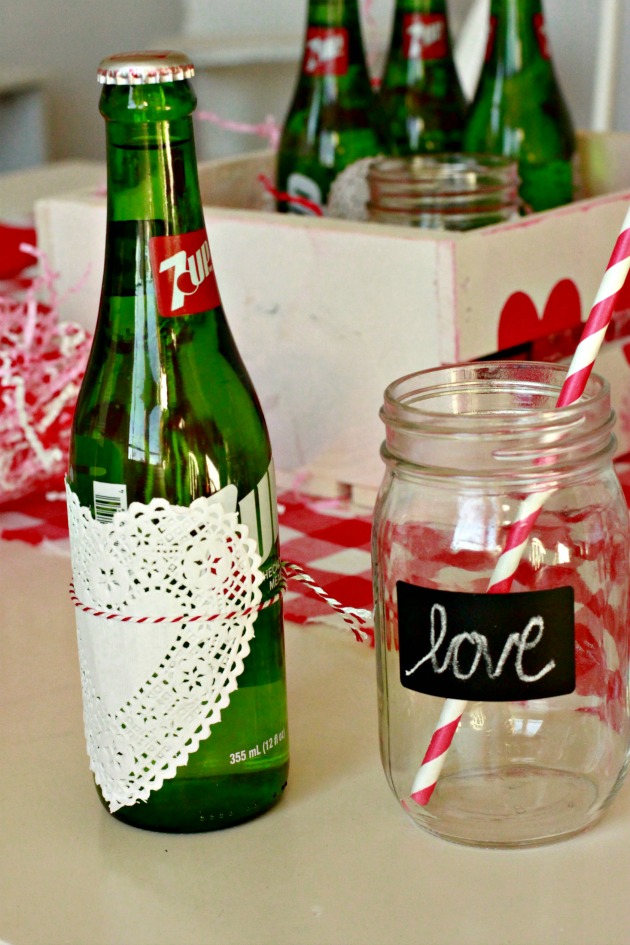 The vintage looking 7UP bottles are insanely cute. I dolled them up a bit with paper heart doilies and baker's twine.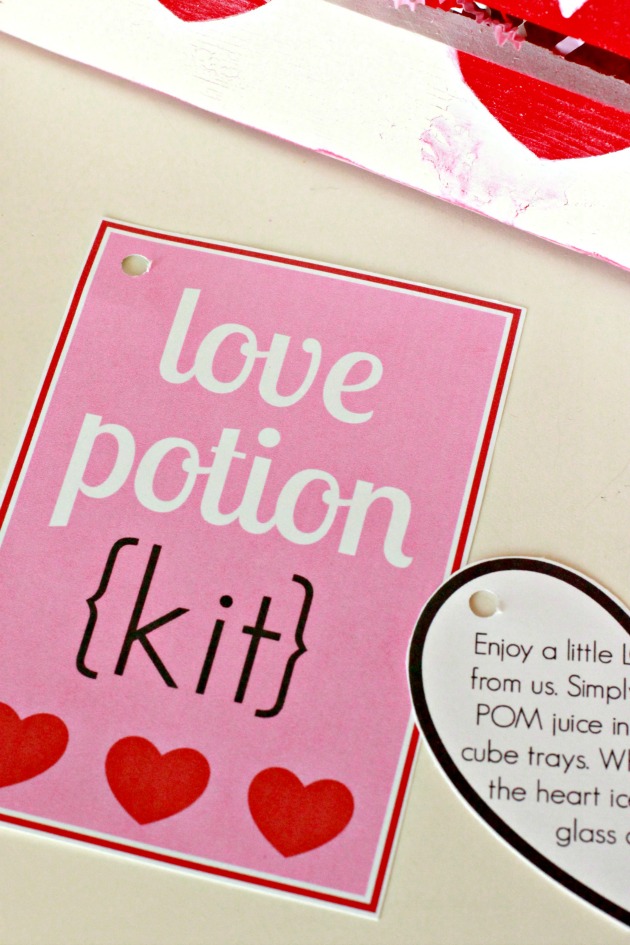 I created this Love Potion Kit printable with a heart-shaped instruction tag to go with it.  Once the Love Potion Kit is all assembled, just print and cut out the tags. The tag just lets the receiver know how to concoct their own Love Potion.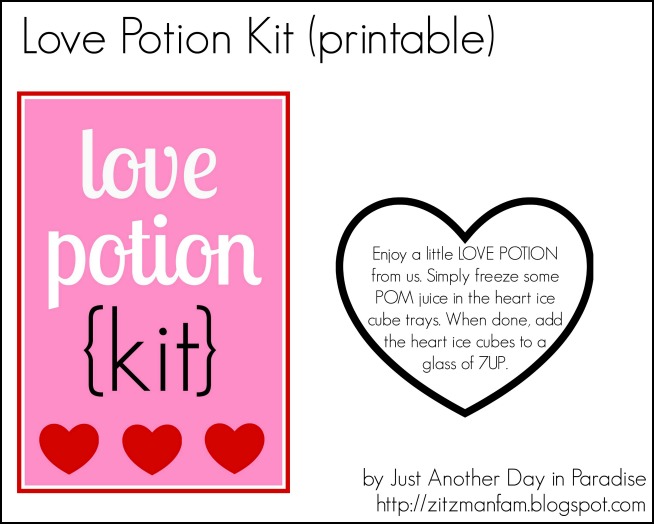 Download HERE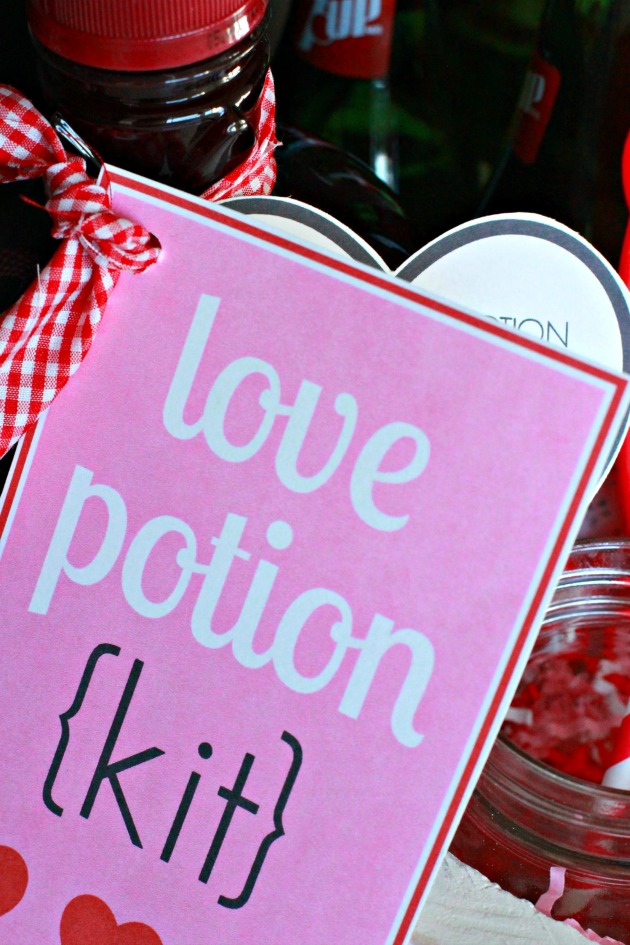 Tie on the tags with a bit of fabric. Place everything together in the crate. Give away to a teacher, neighbor, your spouse, or a friend.
Nothing says Happy Valentine's Day like some love potion.