This is a sponsored post written by me on behalf of  Fiskars.  I'm happy to work with a company that I 100% believe in.
Every year it's a big struggle to figure out what to get the men in my life for Christmas.  They either have what they want or they are very particular (ahem) and it makes it so hard to shop for them.  I ask for suggestions, pay close attention and try to find the perfect thing.  You know what else is tricky?  Wrapping the gifts.  Because I don't want them to be too girly or frilly but I don't want just regular old wrapping either.  I've got some fun, simple gift wrapping ideas for guys today.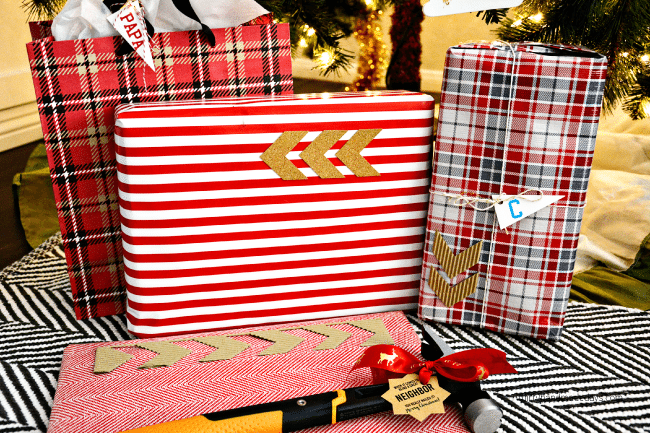 I had fun coming up with some new ideas and cool ways to make presents pop just a little bit.  Part of the fun was playing with these amazing products: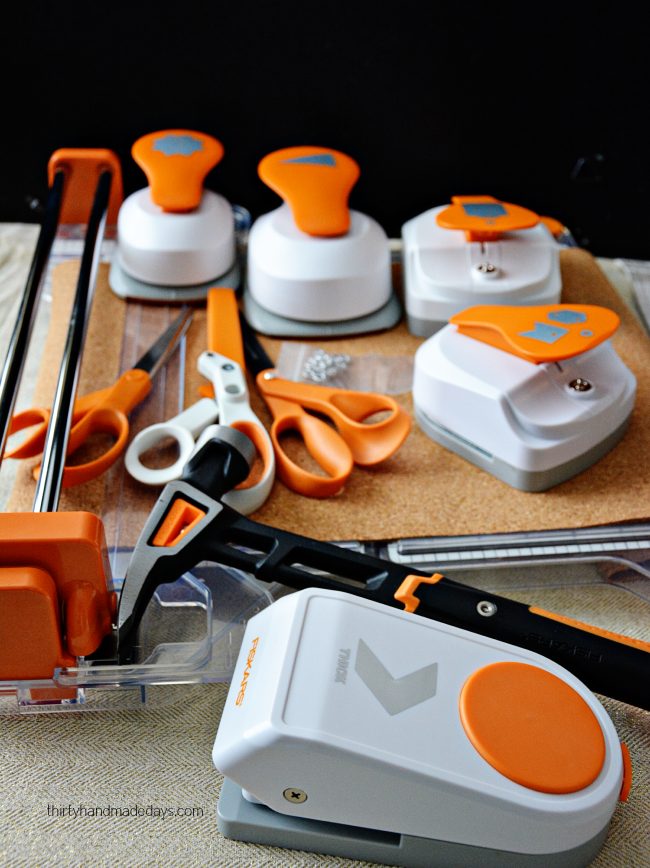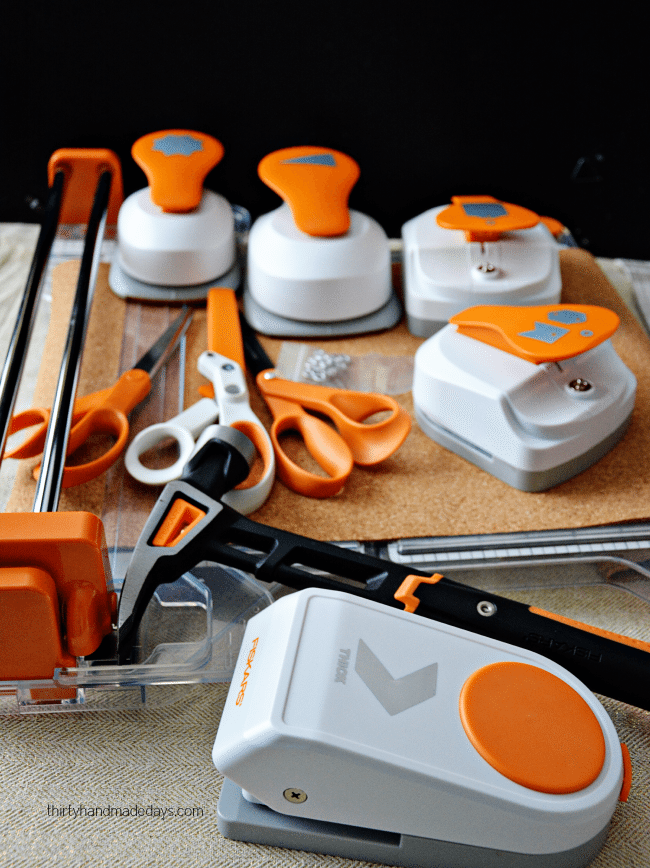 I am obsessed with Fiskars.  Always have been.  The punches, scissors, and more.  We've got a paper trimmer and all kinds of other doodads in my craft supplies that I've had for years.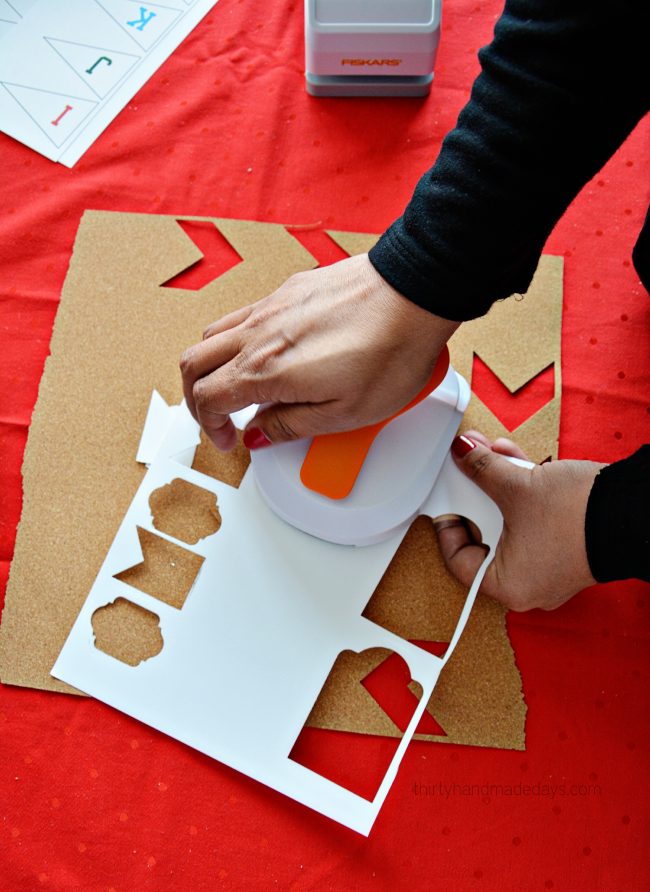 Some of the products I used: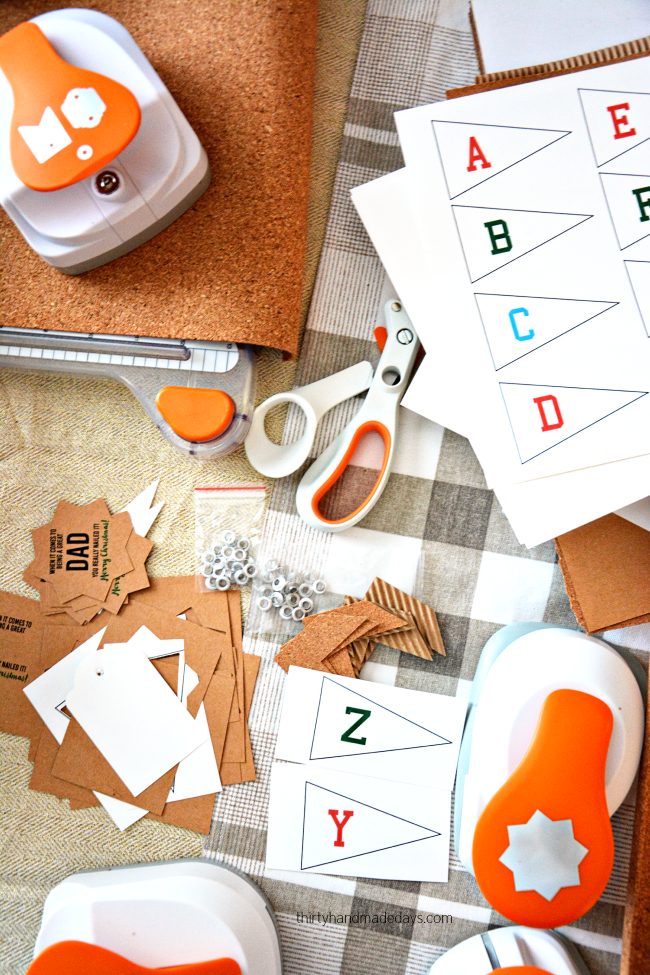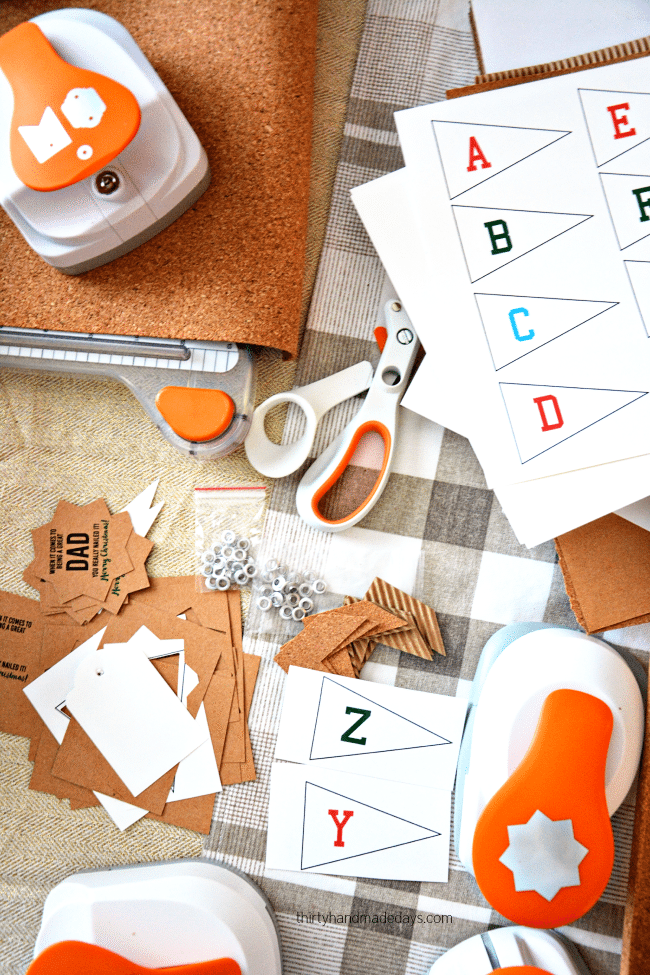 I created some tags that work perfectly with the Banner Year Lever Punch and the Sealed with a Star Lever Punch too.  You can make a million of them and punch punch punch.  It's like magic.  And you know what else is magic?  The ProCision Rotary Bypass Trimmer, which cuts through major stuff – like cardboard and thick paper and all kinds of other stuff.  Life changing.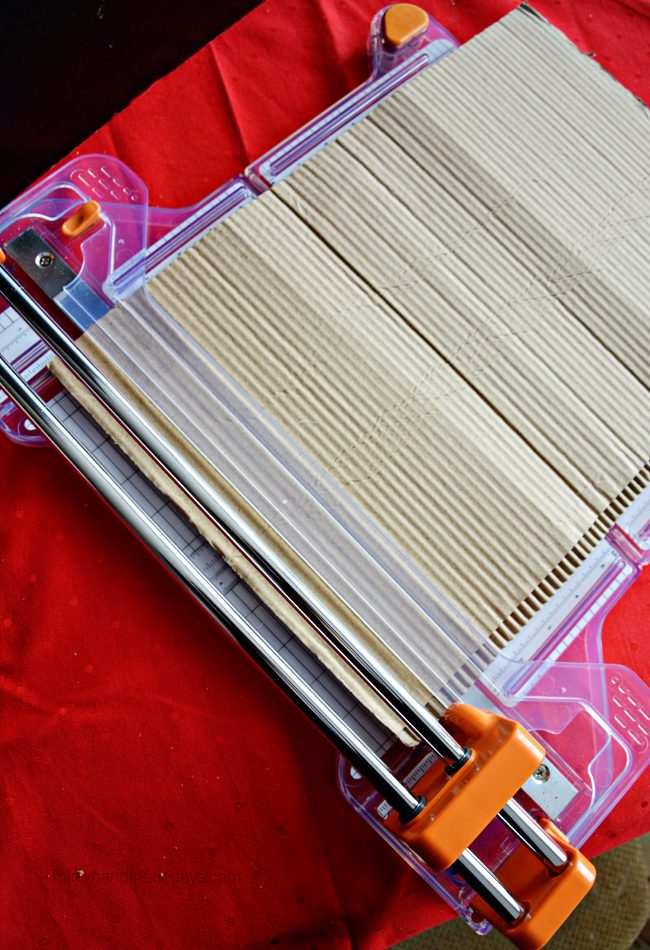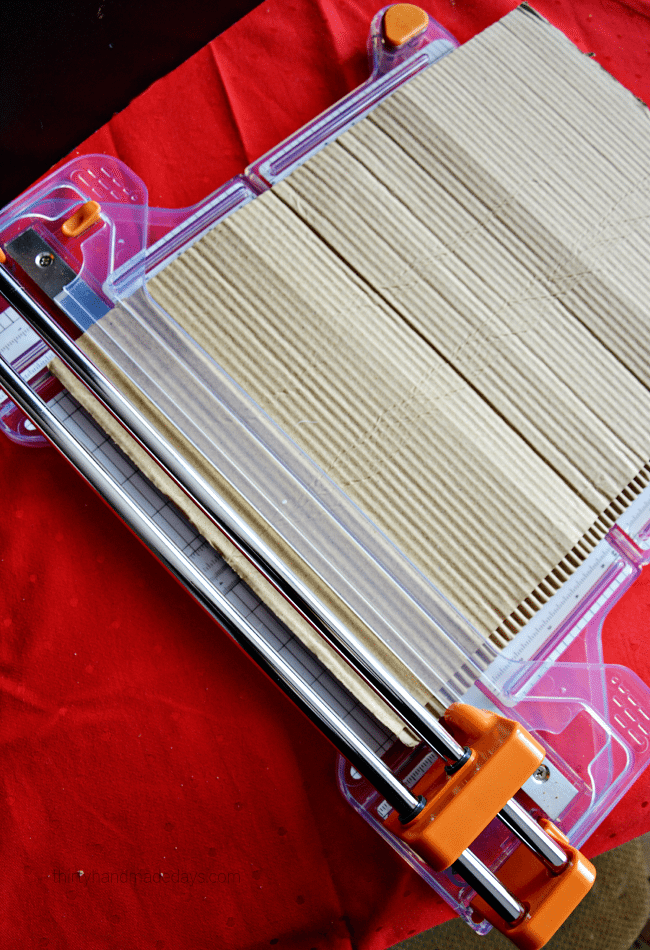 Even better is going to cut the wrapping paper and the scissors slide right through.  Am I sounding a little dramatic? I don't mean to but anyone who has wrapped 29103910319 presents know how much the right scissors and products can make.  Right?  I know you all have my back on this one and you must try Fiskars Amplify Mixed Media Shears. These shears are designed for cutting through thick and heavy mixed media, so they're perfect for gift wrapping and holiday crafting projects!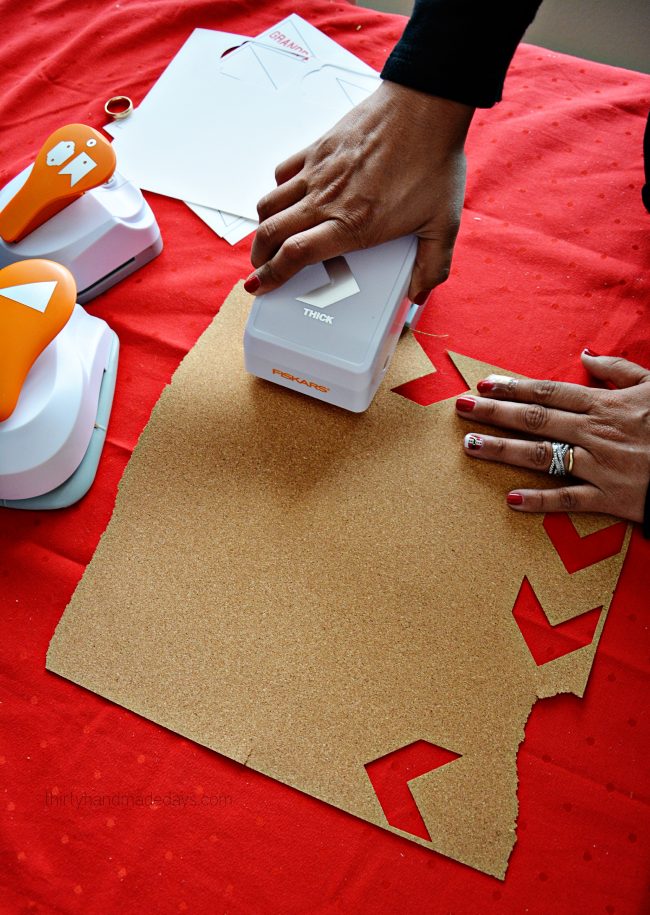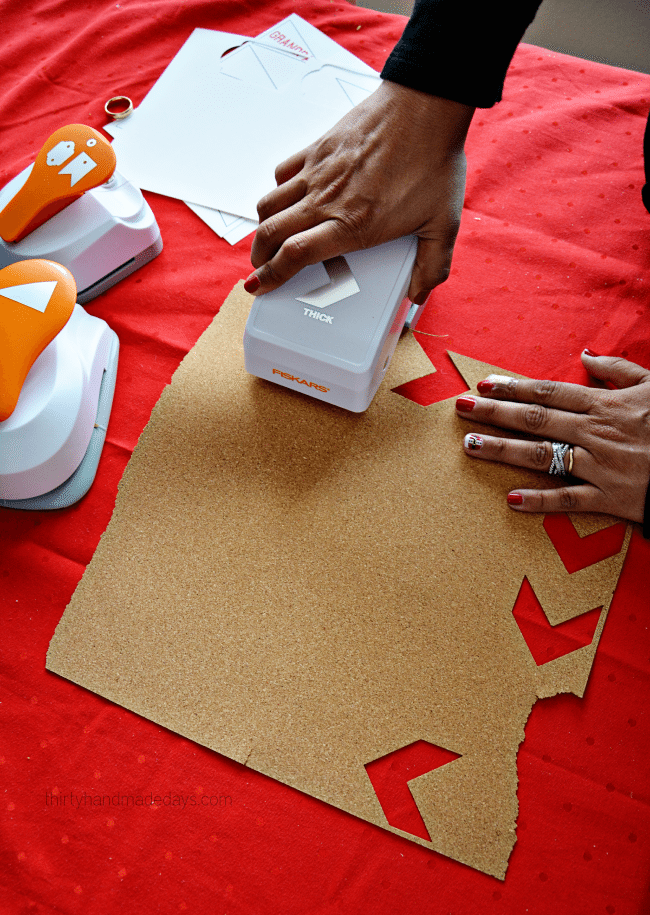 I obviously LOVE the Chevron Thick Materials Punch too.  It is massive and punches through everything!! I used it with corkboard, cardboard, cardstock and more.  I feel like its gender neutral and using the kraft colored stuff makes it even more "manly."  After punching through, I adhered each piece to the top of the packages.  A fun little detail.  Even my 13 year old squealed when she saw the packages with the chevron design on them.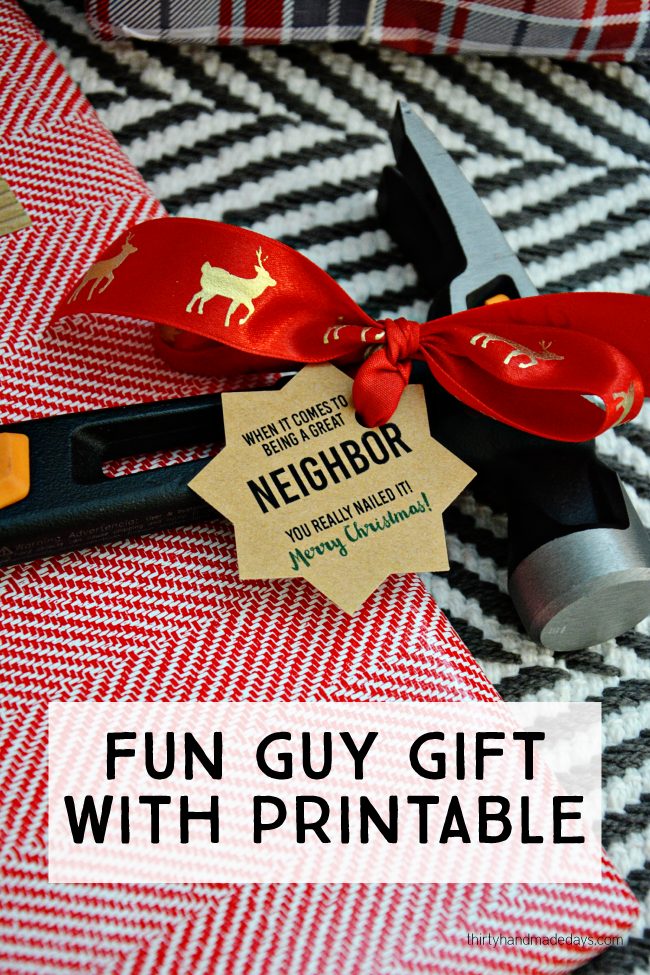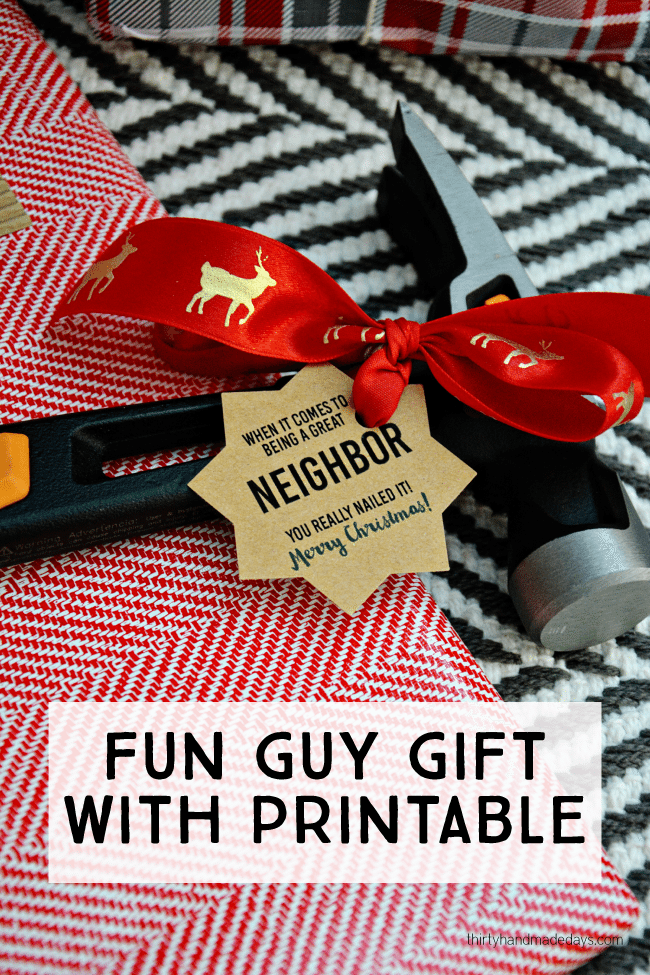 If you're looking for something clever and punny (you know you can always count on me for that!) – I got this awesome new Fiskars Isocore General Use Hammer and made a tag to give to dad, grandpa, teacher, neighbor, etc. The Isocore General Use Hammer is awesome for a bunch of common jobs and is the perfect gift for the handyman in your life! (or someone that you want to be a handyman – wink, wink) Get the hammer, print the tag and punch it out.  Tada- easy gift idea with very little work!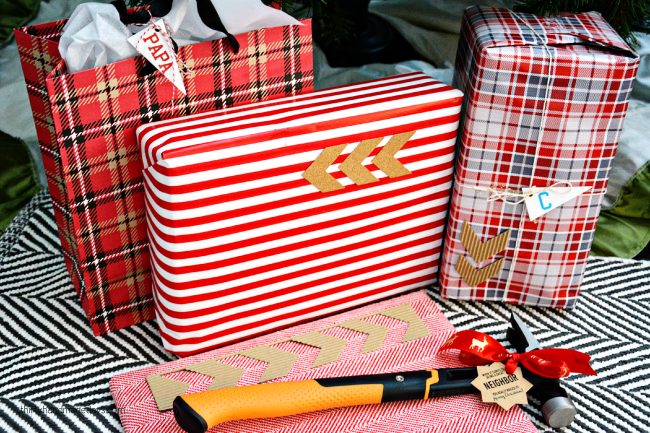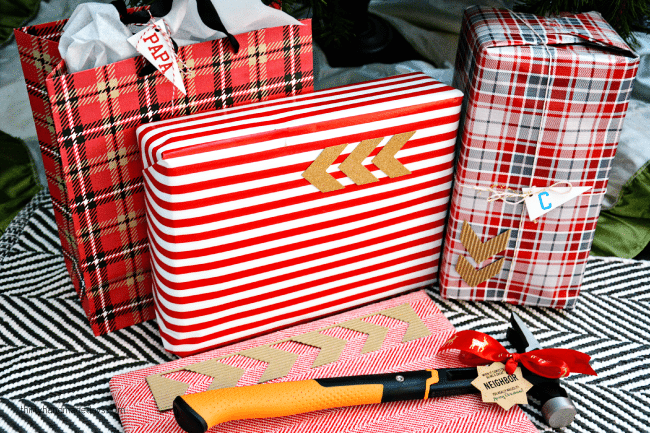 Download the set of printable gift tags to add to your packages.  Enjoy!
For more information on Fiskars crafting products, check out their website or follow Fiskars on Facebook, Twitter, Instagram and Pinterest!