This post brought to you by FrogTape brand painter's tape. All opinions are 100% mine.
If you've read 30days for a bit you know that I loooove putting unique gift ideas together. It's one of my most favorite things to do. I've done welcome to the neighborhood gift, all kinds of anniversary gifts and more. Why not a gift for a house guest? I put together a cute scallop painted box with some travel items to make any house guest feel comfortable and attached a fun printable too.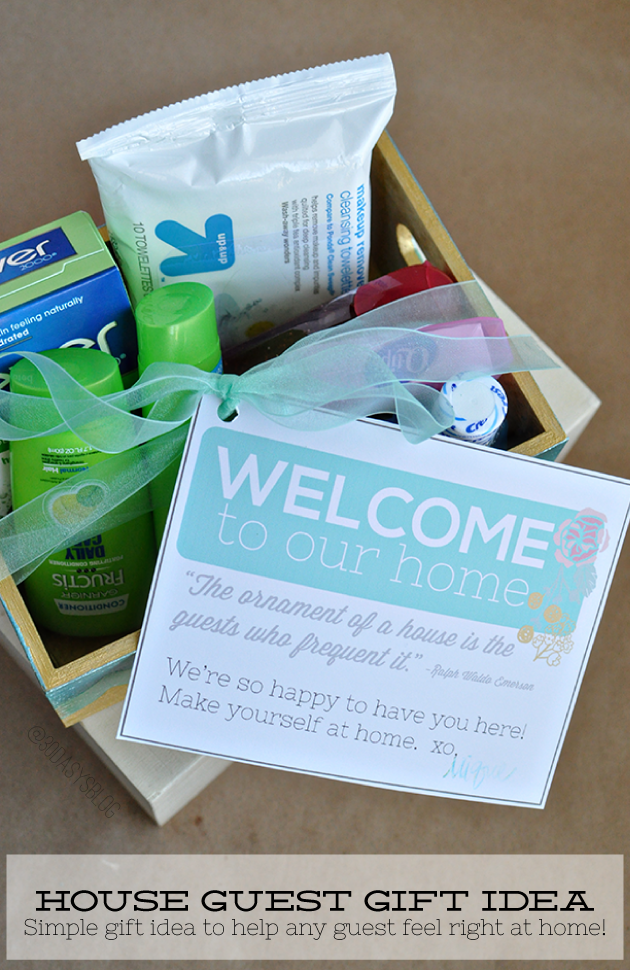 A few months ago I created a Diet Coke Kit with a painted striped box. I used Frog Tape and fell in love. I'd heard about it a ton but hadn't used it before. It changed my life. Ok maybe not my life but it's pretty amazing.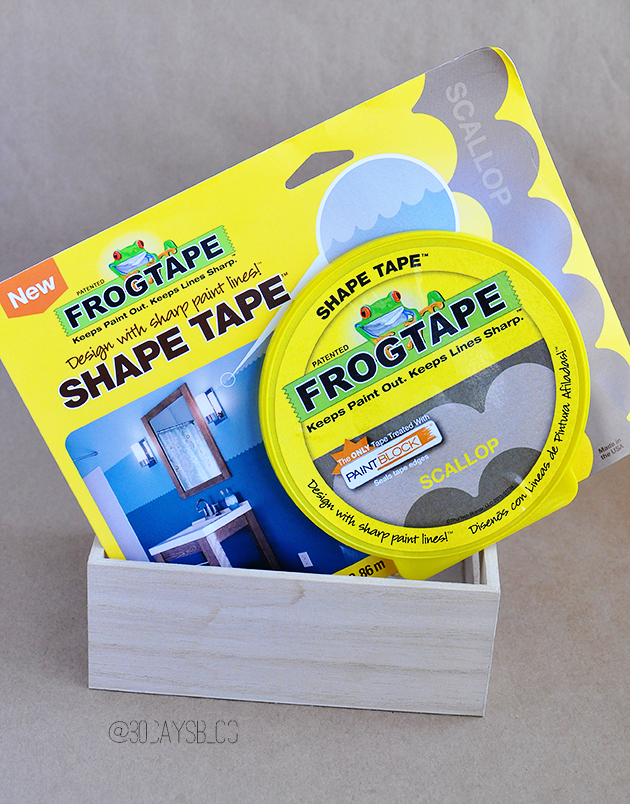 Now they have Shape Tape with precut designs- Chevron, Wave and Scallop. The reason I love it so much is that it seals so well but isn't hard to get off. The big guys told me that it's treated PaintBlock® Technology, a super absorbent polymer that reacts with the water in latex paint and instantly gels to form a micro-barrier that seals the edges of the tape, which helps prevent paint bleed. It also has a slit liner on the back of the tape so that it's easier to apply. You can remove one half of the liner, position the tape and remove the other half. Genius! They thought of everything for this tape. To make my gift box, I needed these supplies plus some paint: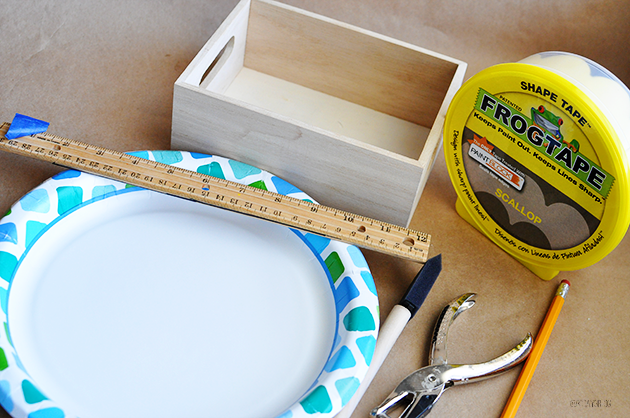 The hole punch is for the printable.
I decided on some fun colors and went for it. After I created my project, I realized that I had way too many steps and could've avoided it all had I thought about it a little more.
Here's what I'll do next time around:
Paint a base coat.
Use the color you want for the middle section.
Apply the Shape Tape™ to the middle of the box.
Use a ruler to make sure it's even on all sides.
Paint the upper section with one color and lower section with another.
Remove tape. Voila!
Once I painted my box, I filled it up with trial sized bathroom products: shampoo, conditioner, a fresh bar of soap, body wash, toothpaste, deodorant, Q-tips, and facial wipes.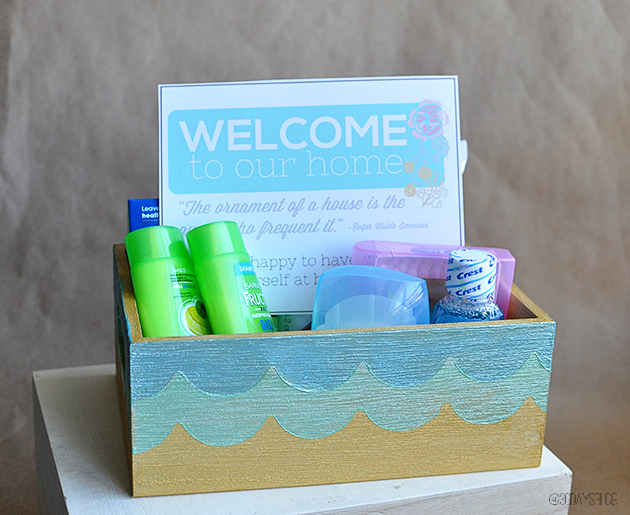 I know I'd super appreciate a welcome box like this one at someone's home. You could fill yours with treats, snacks, your guests favorite things, pretty much anything you want.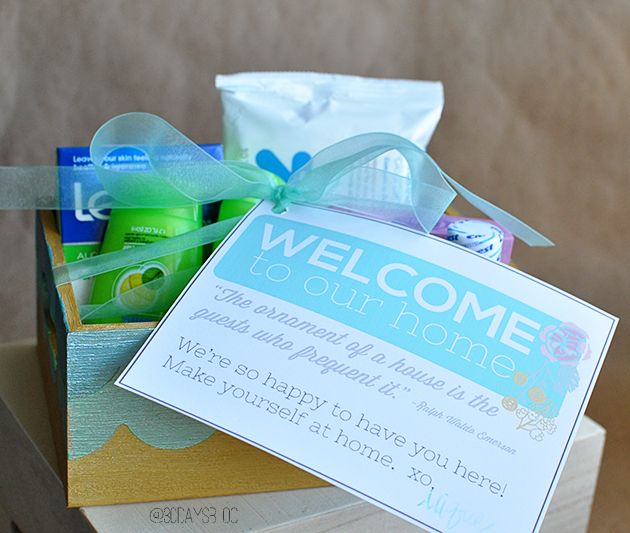 I printed out my little welcome tag. And then attached with a ribbon. Download your Welcome to our home printable (2 per sheet). For personal use only.
I'm excited to make some more fun projects using FrogTape™ Shape Tape®. I love this stuff! I posted a sneak peak on Instagram and everyone asked where they could get it- it's available at Lowe's, Walmart and Menards in the US.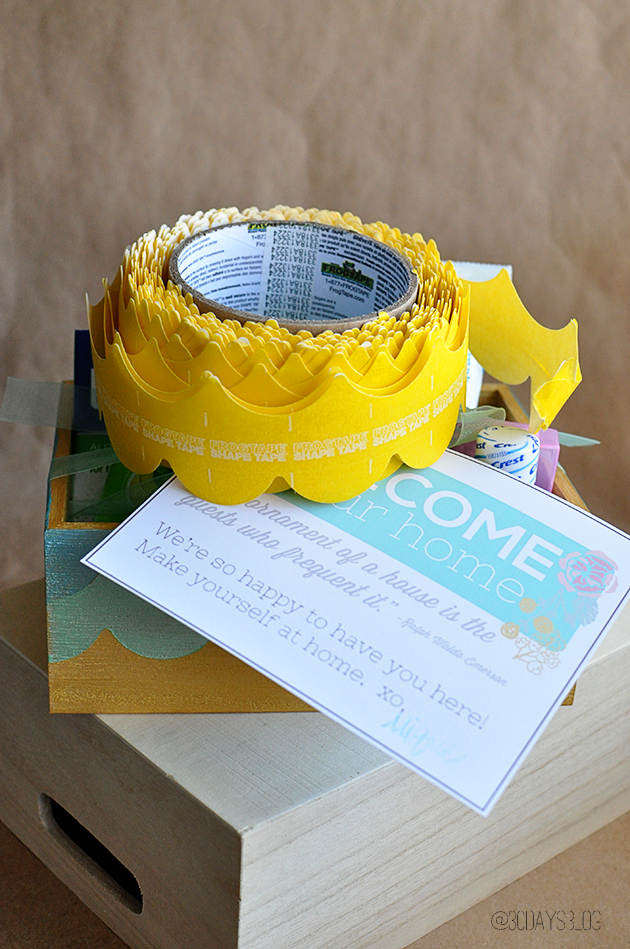 Want to see more ideas? Check out this little video:

Catch FrogTape® on Twitter @FrogTape too.

How do you welcome guests to your home?